SEMrush is always about the rush. But it's not only about SEM anymore!
Let's face it: not every business manages to win 1 million users and grow its toolkit tenfold. For SEMrush, these two pivotal milestones were achieved in 2016. This was a truly remarkable year for us!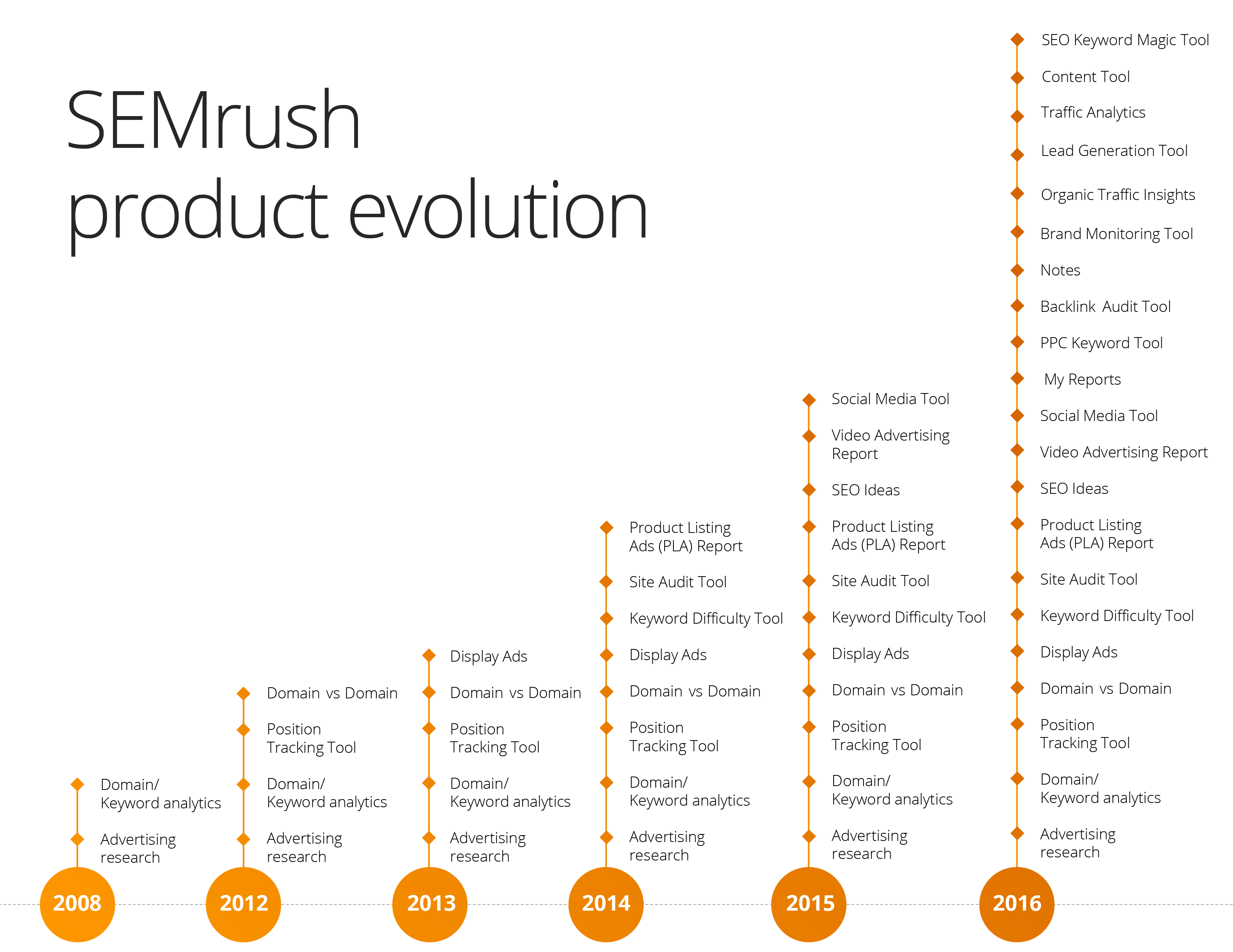 There's one more important number we can't help but share with you. Throughout 2016, 100 important updates have been released, which makes us confident that SEMrush is now an all-encompassing marketing suite.
Yes, we do mean it. Hundred major updates, all triggered by our customers' voice.
Let's take a closer look at them.
We grouped the updates into 9 niches highlighting the most important news in each one:
To the readers that reach the bottom of this post, you'll find some highlights of what you can expect from SEMrush in 2017.
Keyword Research
For several years, SEMrush has been one of the leading keyword research solutions out there. But we know there's always room for improvement when it comes to finding, categorizing and analyzing keywords.
So in 2016, our goal was to expand and strengthen our keyword research toolkit even more. Here's what we have accomplished:
Update 1: SEO Keyword Magic Tool
Finding the best keywords with high volume and low competition is a constant challenge for every SEO specialist. The new SEO Keyword Magic tool saves you precious time by automatically calculating keyword potential based on the following metrics:
CPC and volume

Keyword difficulty

Competition level

SERP features
In a nutshell, the new tool gathers data from all the integral keyword research tools in one place to help you determine what keyword is best suited for your needs. What more could you ask for?
Update 2: Beefing Up Keyword Databases
Throughout 2016, SEMrush has constantly worked to expand its keyword databases. We had a few large updates we want to share.
Back in March 2016, we doubled the UK database up to 12 million keywords. And in April, we did the same for our Australia and Italy databases!
Update 3: Beefing Up SEO Keyword Magic Tool
In November, our SEO Keyword Magic tool got a new boost by expanding its database selection from the US only to provide data for 20 countries.
The US database now reaches up to 160 million search terms in the SEO Keyword Magic tool as well. The chart below shows some of the recent changes to the SEO Keyword Magic tool databases from 2015 to 2016: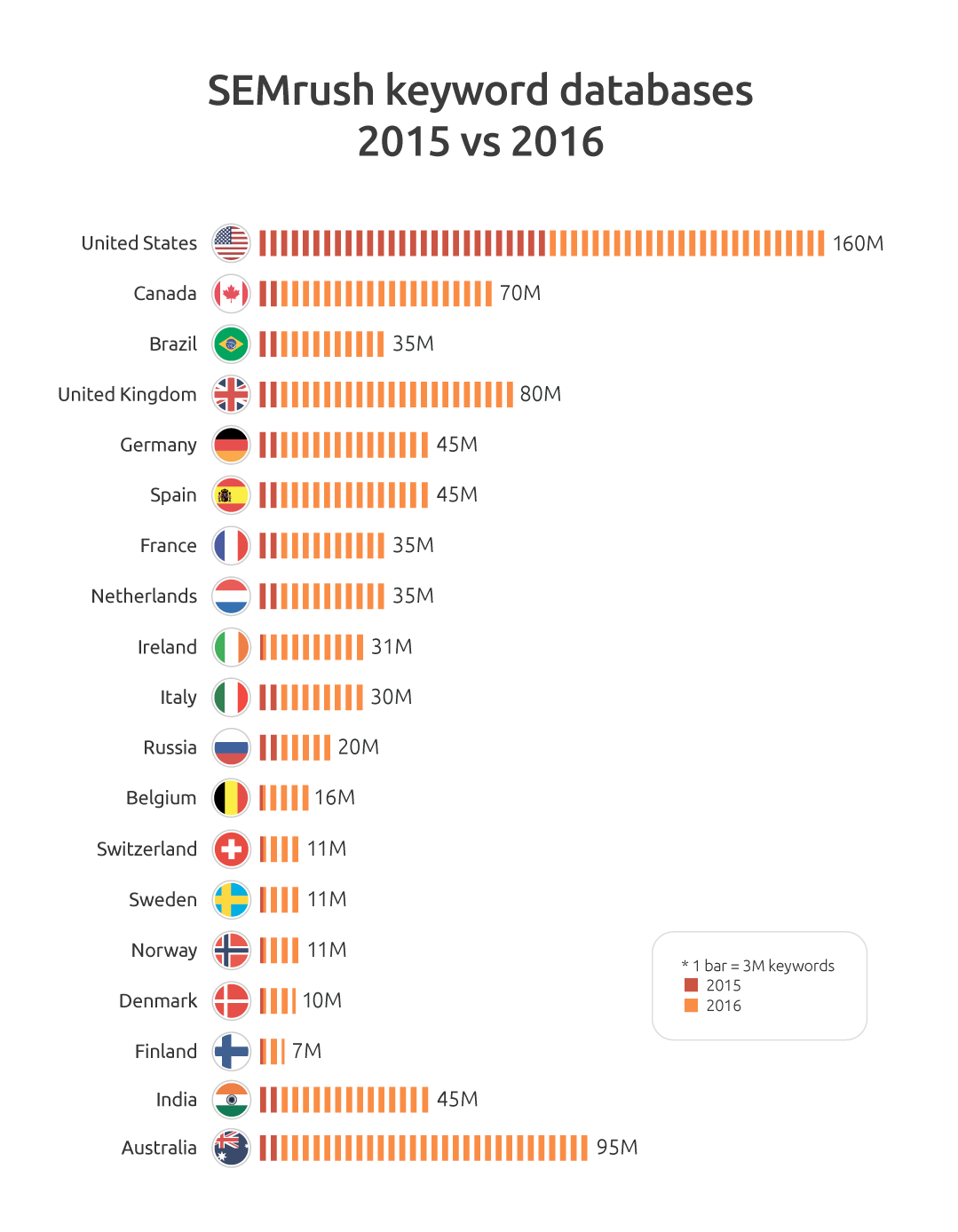 And we keep growing!
Update 4: Organic Traffic Insights
In October 2016, SEMrush presented the 'not provided' solution within its new Organic Traffic Insights tool. It's incredibly straightforward to use: connect your Google Analytics account and we'll enrich its data with all the keyword statistics from SEMrush.
Along with solving the 'not provided' problem, Organic Traffic Insights helps you analyze traffic volumes, conversions and user behavior on a keyword level, using the Search Console integration.
In 2016, we had a lot more news on keyword research. Find out more here.

Link Building
In the 2016 State of Link Building Survey, 64 percent of respondents reported that over 25 percent of their SEO work is dedicated to securing links. So, despite being in a "settling down" period, link building is still an important part of every SEO pro's workflow. When Google released the Penguin 4.0 algorithm in September, the necessity of keeping your backlink profile clean became as relevant as ever.
In 2016, SEMrush expanded its link building toolbox. Here are the most important updates:
Update 1: Backlink Audit Tool
Built in a completely new format, the Backlink Audit tool helps conduct an all-encompassing backlink analysis: from finding all links using Google Search Console integration to sending them directly to the Google Disavow tool. Each of your backlinks is evaluated according to 45 toxic markers, that helps you instantly estimate its toxicity potential.
Once the Backlink Audit Tool has analyzed all your links and toxicity level, you can then group the ones you wish to disavow so that you can submit them to the Google Disavow tool. (SEMrush can also submit the list for you if granted access to your Google Search Console.)
This update will help you prevent domain's rankings from being impacted by Google's sanctions and take proactive actions when dealing with consequences.
Update 2: Comparison by Referring Domains
Are you wondering which one of your competitors has the best link building strategy? We've added a new feature in the Backlink Analytics tool for you. Now you can easily compare yourself with up to 6 rivals in terms of links and see how you perform against your competitors.
Update 3: New and Lost Backlinks
If you have ever monitored backlinks growth and reduction manually, you know how easy it is to overlook precious data. With the new 'Lost & Found' feature, you can avoid that issue! This report shows the new and lost backlinks in different colors so it's easy to filter them out for further analysis.
Eager to know more about link building related updates? Check out all the news in the Backlink Analytics and Backlink Audit sections.

Technical and On-Page SEO
When it comes to on-page SEO, many people rely on automated website checkers for the simple reason that such tools are the best time-savers when it comes to identifying technical issues.
The SEMrush Site Audit has become one of the most popular technical site checkers out there (in our opinion!) This year, we updated SEO Ideas tool which had finally released from beta. Here are the most important updates of 2016 related to these two tools:
Update 1: International SEO Report
A new Site Audit check, hreflang implementation issues, will be released in December. This is the first of a series of 4 new checks that SEMrush will implement for its brand new report - Technical International SEO.
If you're a brand running with multiple international versions of the same site, you'll certainly appreciate this new feature!
Update 2: AMP Checks
2016 started with a new Google initiative called Accelerated Mobile Pages (or AMP), which generated a lot of buzz in SEO circles. Google claims this is a new era of mobile content, but so far the number of websites using it is still limited.
If you jumped onto this bandwagon and create AMP versions of your website's pages, you can now audit them in SEMrush as well.
Update 3: Google-Analytics-Based Ideas
User Experience is an important ranking factor for search engines. Luckily, user behavior can be easily monitored by Google Analytics, which is available for any website. So our new SEO Ideas feature provides you with Google-Analytics-Based Ideas. This feature shows which pages you may need to make more attractive to your users using the Google Analytics data.
If you need more technical updates from SEMrush, we have them all here.

Competitors Research
Competitive intelligence is where SEMrush started. It's our bread and butter! However, now this is only one of our focuses.
This year, along with the enhanced Position Tracking tool, we introduced a completely new feature that goes far beyond the metrics we used to track before. Have you wondered how amazing it would be to tap into your rival's Google Analytics account? Then keep reading - the first update is just for you!
Update 1: Traffic Analytics Tool
Traffic Analytics gives you full access to data on your competitors' domain traffic.
You can see the distribution of incoming traffic between direct, search, social and referral traffic acquisition channels. We show you the top 5 referring sites, social networks and search engines which send the most traffic to the analyzed domain.
On the 'Destination Sites' tab, you will see a full list of sites where users go after leaving the domain. Nothing will escape your notice now!
Update 2: Rankings Distribution
This Position Tracking report allows you to view and compare up to 20 most important competitors with one click. In a nutshell, it shows you the online market share of you and your competitors.
Now its easier to estimate the visibility, traffic volume and the number of keywords in TOP 3, TOP 10, TOP 20 and TOP 100 ranking ranges for each of your rivals.
Update 3: Position Tracking Alerts
Sometimes it might be hard to find the time to check your reports and try to figure out which keywords have gone up and down in rankings. So our recently created alert system will notify you of any important changes by email.
There are five alert options available: 'Changes by more than', 'Enters the top', 'Leaves the top', 'Gains more than', and 'Loses more than'. A domain's threshold may be a number from one to 100.
Read other news concerning solutions for competitors research here.

Content and PR
90% of all organizations use content in their marketing efforts. This means that a majority of SEMrush users are interested in creating better content and distribute that content in the proper way. 
With this in mind, SEMrush introduced a huge set of tools for content writers and PR specialists this year. Let's take a look at the most important updates:
Update 1: Content Tool
You're not blocked to check the performance of your content posted to your own domain, but when you post something on another website, you face a lack of analytical information.
This is where our new Content tool comes to rescue – it will help you evaluate how well your content published externally is performing. This means you can review how well the content is engaging readers and gaining quality backlinks, and whether it's being indexed for relevant keywords in search engines.
Update 2: Readability and Content-Length Ideas
The SEO Ideas tool has also added useful features for content focused marketers.
The 'Readability' idea will assess your online text in terms of how difficult it is to read based on the Flesch-Kincaid readability score.
The 'Content-Length' idea suggests that you either increase or decrease the word count on the webpage you're trying to optimize, based on a comparison of the number of words on your webpage to that found on your successful rivals' pages.
Update 3: Brand Monitoring Tool
This tool, now operating in 9 languages, is designed to help PR and marketing specialists track and manage online mentions for any targeted keyword or phrase. It points out new opportunities for promoting and marketing your brand. The tool also helps filter out mentions with or without backlinks to evaluate the SEO impact of your PR efforts.
To enjoy the full list of updates for PR and content specialists, follow this link.

Social Media Marketing
In 2016, social networks have proved efficient as a channel where companies do get leads and sales. But, as any other marketing channel, social media should be used properly. What works in SEO and PPC can be completely useless for Facebook and Twitter.
The major SEMrush social media updates are aiming to help marketers get actionable insights and implement them into their strategy to get faster and better results.
Update 1: Top Content
There's no more need to scroll down all your rivals' social media pages to find their best-performing posts. Just add them to your campaign and we'll show you which posts got most likes, shares and comments for a given period of time. Get a quick understanding of which formats are performing better in your niche and add them to your content calendar.
Update 2: New Platforms
Started out with only 3 social networks (Facebook, Twitter and Google+) available for tracking, the Social Media tool has expanded in 2016. We've added Instagram in March, Youtube in April and LinkedIn in October.
This means now you can track your accounts in 6 social networks using SEMrush. And more platforms are coming!
Update 3: Hashtags Analytics
Hashtags are incredibly powerful if you want to increase the coverage and virality of any social media post. So we've embedded a new report in the Social Media tool: Hashtags. Now you can see an overview with all the hashtags that were used in your or your competitors' posts. Take advantage of this data to identify the most attractive hashtags and skyrocket your audience.
There's been a lot of talk around the Social Media tool this year. Read all the news here.

Paid Advertising
With its extensive range of formats, paid advertising remains one of the most important promotional channels. Paid ads show great results both alone or in combination with inbound marketing methods, so this is definitely the reason to integrate them into your marketing mix. SEmrush introduced several new features for PPC specialists this year. Here are our most significant news:
Update 1: PPC Keyword Tool
From now on, you'll never find yourself alone on your way to preparing a PPC campaign. The brand new powerful tool for PPC specialists gracefully brings together the functionalities of multiple tools, such as online key editors and Excel files. What's more, it helps you discover intersecting keywords in different groups and add them as negatives in order to avoid ad groups competing. This feature is exclusive to SEMrush, so we strongly advise you to give it a try!
Update 2: Updated Display Advertising Tool
Display Advertising, in our toolkit from 2014, is getting a second wind this year. We've updated it entirely - from interface and look to the redesigned ad collection system. Now we collect data on more than 2,6 mln advertisers and show them in a handy and usable format. Find the best performing ads of your competitors and get inspired!
Update 3: New US & UK Databases for Video Advertising
As publishers are now aggressively investing in promo video experiences, it gives brand marketers more opportunities. In order to keep up with the industry, we've extended our databases to one of the most booming and promising regions for video advertising – the United Kingdom. We've also refurbished our US database in order to improve the experience of exploring and analyzing YouTube data on in-stream video ads and channels.
Learn more about new tools and features released in 2016 for PPC, video and display advertising pros.

Business and Enterprise
Data is precious. But, as any valuable product, data needs a nice package. We took care of this too. In 2016, we released several updates aimed to help both big agencies and freelance marketers streamline their workflow. There's no need to spend hours on reporting and sharing data, as it became easier with the following SEMrush solutions:
Update 1: Lead Generation Tool
Created specifically for digital marketing agencies and independent SEO consultants, the tool offers great ideas for earning extra clients. It is set to automate the lead acquisition process by generating a widget to embed on your website. With this widget you can offer site visitors a free SEO audit in exchange for their email address. So, if you're interested in earning more client leads, be sure to stock your arsenal with our new product.
Update 2: New Report Builder
A convenient reporting system is a real time-saver for both big agencies and freelance specialists. SEMrush makes it super-convenient to share the results of your work with colleagues, CEO or clients with the new My Reports tool. You can now quickly build a report using widgets and get an immediate preview of what it will look like - just move the graphs and charts as you wish. Use it whenever you need a well-organized and visually supported report on the fly, or when an unexpected presentation is ahead.
Update 3: Notes
This update is extremely helpful for understanding what events may have influenced website metrics. It lets you create notes associated with any type of your activities or technical updates. For instance, you can add comments like 'TV campaign started' or 'Mobile version launched'. Notes related to the most important technical updates (like 'Penguin 4.0') are automatically added by SEMrush, so you always understand the reason behind each traffic change.
Update 4: Project Sharing
If you'd like your boss, colleague or client to take a look at the results of your online campaign in its entirety, there's no need to create several reports for each project anymore. Now you can grant read-only access to your SEMrush projects with a single click in order to get collaborative ideas, present your results and receive anytime feedback.
SEOquake
Our free browser extension is experiencing a true rebirth in 2016. It is now available for Chrome, Firefox and Opera, and the version for Safari is about to be released. These are the main features and functions added to SEOquake during this year:
Update 1: SEOquake in 7 Languages
Our users are people from all over the world. For some of them exploring the SEOquake interface might have been confusing. But now everything's clear as we have translated our tool into multiple languages: English, Spanish, German, French, Italian, Portuguese, and Russian.
Update 2: Integration with SEMrush
It's finally happened: SEOquake is now integrated with the vital SEMrush reports: Site Audit, Backlink Audit, Traffic Analytics and Display Advertising. Now it's easy to get more actionable insights for your SEO strategy: just go to the SEObar and click the 'Connect SEMrush' button.
Update 3: Keyword Difficulty data in SERP
The Keyword Difficulty score helps you estimate how much effort it will take to seize your competitors' positions in organic search for a particular keyword. Now all SEOquake users can see this score directly in Google SERP! In case you need a more detailed report, just click on the 'Full Report' link to get to an SEMrush's Keyword Overview page.
Want to see other SEOquake news? Check them out here.
Some 2017 Highlights
Being open-minded and transparent to our users is essential for us, and this is what we surely want to bring along with us to 2017.
Let's get into a little more detail. According to Vitalii Obishchenko, SEMrush Chief Product Officer, the expansion of SEMrush toolkit will be giving more room for improvement and new updates next year:
"We're planning to keep extending our product range. And this growth will affect new marketing niches as well as those we're already present in. By broadening our horizons, we'll be introducing more innovative tools for content marketers and social media specialists. We're also looking to focus more on lead generation solutions and develop a toolkit for chief marketing officers."
It was our eagerness for feedback that drove us towards releasing 100 new features and reaching 1 million users this year. Your opinion makes us grow and improve!
Share with us your thoughts about the best SEMrush 2016 update!