Many of you have used SEMrush Traffic Analytics to watch other websites' traffic for quite a while. But still, many of you are unaware of the reasons why this tool is considered one of the most powerful in the SEMrush suite. Let us explain...
SEMrush Traffic Analytics is a highly effective market intelligence aggregator, transforming petabytes of web traffic and visitor behavior data into insightful graphs and charts that you can use to make informed business decisions.
Alongside the values that SEMrush Traffic Analytics can bring to the table, there is one extra that users of the paid add-on can enjoy exclusively. It's the new Market Explorer tool that can broaden your vision of the competitive landscape and open up new frontiers. It has been added to the Traffic Analytics add-on that has stayed available for the same price.
Below you will see 10 things you can learn if you go further than the basic Overview report in Traffic Analytics, and you will discover the hidden benefits of the Market Explorer as well. As a free user, you can start by exploring the full range of data we offer for three sample domains (ebay.com, amazon.com, searchengineland.com).
So, first things first.
#1 - Market Explorer
If you want to know who your competitors are (besides the few that you already know like the back of your hand), how the market's evolving, and what your in-market audience is like, this is the tool for you.
Market Explorer provides you with understandable Market Overview graphs. From the visualization, you can get to know seasonality and typical digital marketing channels for the entire industry you're analyzing.
When researching new markets, the first things to know are top players and key performance benchmarks. Market Explorer provides you with these stats, allowing you to take the next step and go deeper into in-market audience research — demographics and interests are all presented in the interface.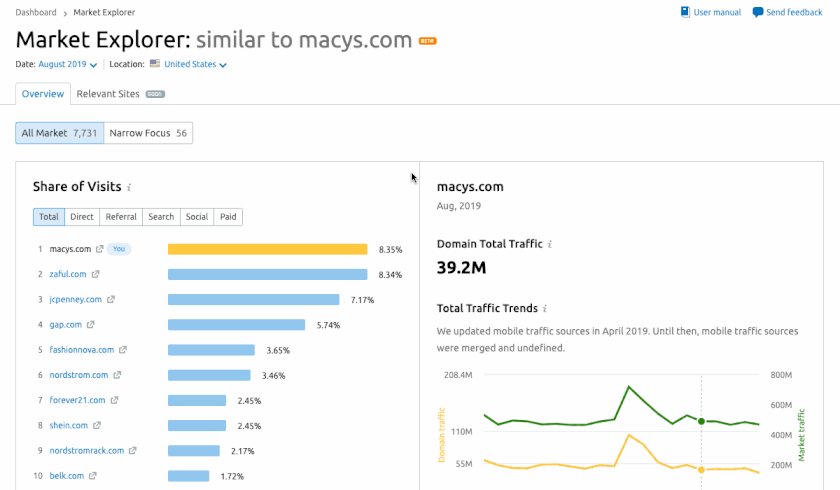 GIF
Make sure to benefit from the opportunity of obtaining Market Explorer in a bundle with Traffic Analytics for the same price.
Meanwhile, here are more reasons to add Traffic Analytics + Market Explorer to your subscription.
#2 - Top Pages
If you could learn just one thing about your competitors, we bet you would say conversions; this is what the Top Pages report can help you shed light on — and even more.
The real killer feature of SEMrush Traffic Analytics presents you with a list of the most visited pages of any website. These can be checkout, trial, and thank you pages, as well as links to the most popular products/services and categories, top blog posts, regional versions of the domain, and PPC landing pages.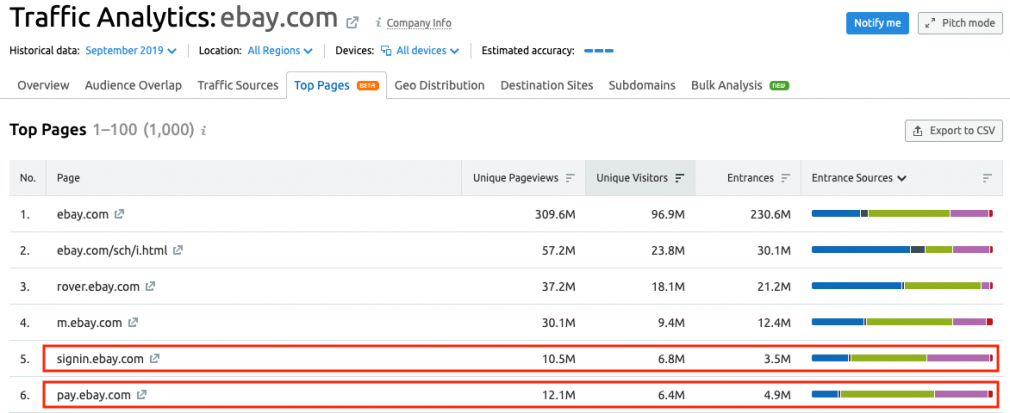 There are numerous insights you can get from Top Pages, and all you need to do is enter a URL into the field.
#3 - Audience Overlap
You may be wondering how much of the target audience you actually share with your competitors; there is a SEMrush Traffic Analytics feature that can visualize these estimates. In the Audience Overlap tab, you can compare from two to five domains and see the percentage of users that visit both (or all) of them.
This data can help you determine how the target audience develops their preferences and what market share you still have to cover. The insights you can gain from Audience Overlap can be helpful in making decisions on media placements, partnerships, and business expansions.
#4 - Traffic Sources in Detail
Who doesn't want to know where competitors' traffic comes from? SEMrush can give you much more than just breaking it into direct, referral, paid, and social. Along with Google, we track Bing, DuckDuckGo, Yandex, and 8 additional search engines. The same applies to social media. The full Traffic Sources report can be sorted by social network, giving you insights into the capabilities of each one separately.
Speaking of referral traffic, you can look at the most successful current partnerships of the target website and (in combination with historical data) the past.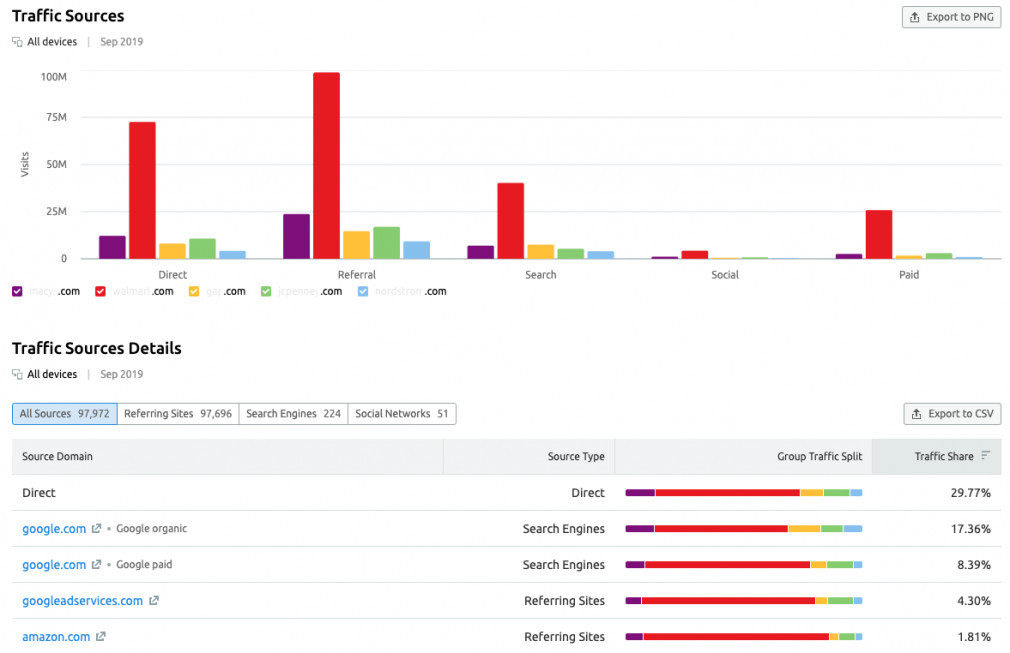 What is even more exciting is that now you can compare traffic sources for many competitors, detecting Group Traffic Split and Traffic Share individually for each channel.
Switching between the tabs, you can find ideas for media placements and digital strategy rollout. For example, you can just look at the top referring sites (i.e., most successful partnerships) of the target domain in the present and (in combination with historical data) in the past. Then consider outreaching the same or similar platforms for backlinks and co-marketing.
#5 - Mobile and Desktop Traffic
Mobile internet usage has become an integral part of most people's daily lives, enabling consumers to access almost any website on the go. In August 2019, mobile devices, excluding tablets, accounted for 51.68 percent of web page views worldwide. That is why it is so important to see how many people visit a website via their mobile devices.
Mobile devices usage varies greatly from country to country, industry to industry. So you can keep track of it all, we offer you the opportunity to switch between the desktop and mobile traffic data not just in the Traffic Overview tab, but also in the Traffic Sources, Geo Distribution, and Subdomains tabs as well. The switching option is available only for paid users of the Traffic Analytics + Market Explorer add-on.
With this information, you can analyze mobile and desktop traffic at different levels. Below you can see that, for this site, the US and Canada are the majority of the visitors that browse the website from mobiles, but in Japan and Brazil, they explore more from desktops. For global e-commerce and retail companies, this data can be valuable for strategic planning.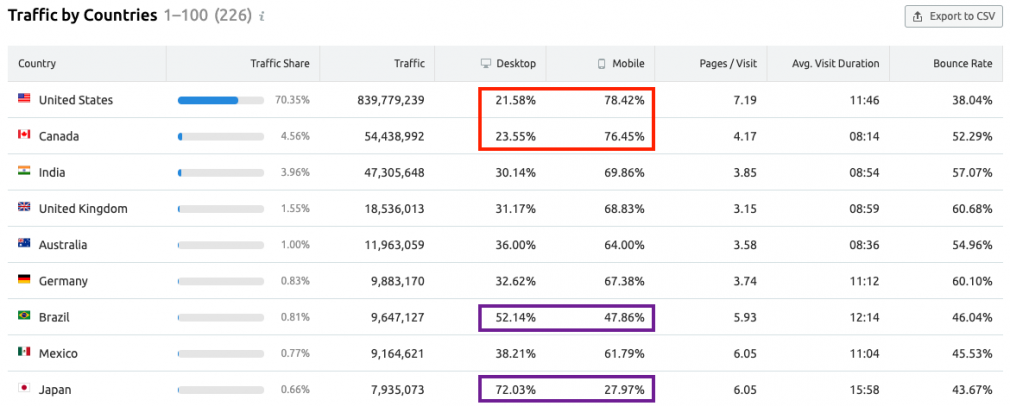 #6 - Historical Data
The digital marketplace is continually changing, and what is true today may have been very different yesterday. Historical traffic data lets you make conclusions about supply and demand fluctuations and the factors that cause them. You can assess the state of your competitor's or prospective partner's business, and more.
Historical data (since April 2016) is available to paid users of the Traffic Analytics + Market Explorer add-on in all the tools' reports. It includes the breakdown by sources for mobile traffic, starting with April 2019.
Use historical data to evaluate the performance of both ongoing and completed digital marketing campaigns carried out by the target company.
#7 - Regional Behavioral Analytics
Understanding the regional representation of your rival or potential partner and assessing the competition in the target location is almost impossible without in-depth visitor behavior analysis.
In the full Geo Distribution report, you will find data on the target website's total traffic, broken into desktop and mobile, the contribution of each country to it, and major engagement metrics.
You can also sort each of the Traffic Analytics and Market Explorer reports by geographic region to analyze the specifics of the local market.

#8 - Destination Sites
You may know where the traffic comes from, but where does it go? In the Destination Sites report, you will find data about top destinations that visitors reach directly through hyperlinks on the analyzed website. This data can tell a lot about the preferences and activities of the audience you are looking at or help you spot some trusted websites in the niche for establishing future partnerships*.

*Use the menu at the top of the page to choose a specific location or change the time horizon.
#9 - Subdomains
Search engines treat subdomains as individual websites, and they are often used to increase traffic and strengthen the authority of their primary domain. In addition, big international companies often launch separate subdomains for payment pages and languages they are covering. So knowing which subdomains of a target website are responsible for acquiring the most traffic is the key to understanding this site's strengths, weaknesses, spotlights, and even sales volume*.

*Use the menu at the top of the page to choose a specific location or change the time horizon.
Let's say you are choosing a SaaS provider; just look at the product subdomain, play with the filters, and gain a clear understanding of the product's popularity in different countries and on different devices.
#10 - Bulk Analysis
With every passing year, the price of one resource is growing steadily: time. To help you save some of it, yet not at the expense of quality of your performance, we have added one more feature to SEMrush Traffic Analytics.
Bulk Analysis allows you to rank up to 200 websites in a click. All you need to do is copy-paste the domains of your prospects, leads, potential partners, or media platforms and you will receive the main traffic stats on the whole list in bulk.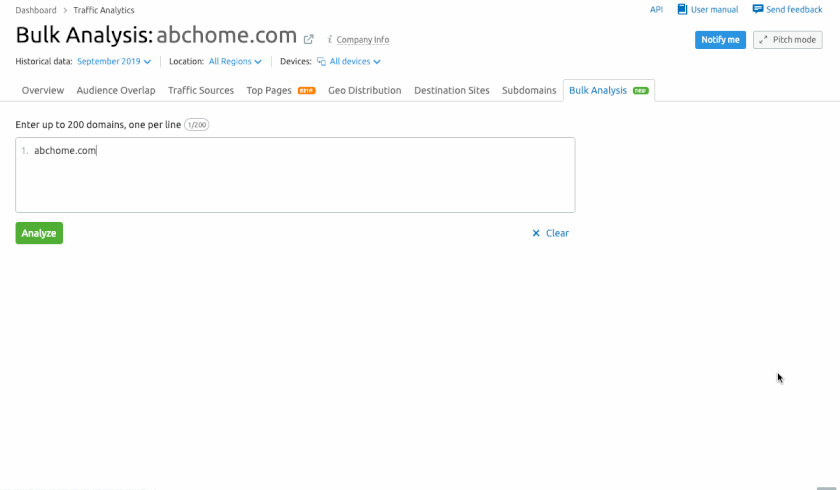 GIF
With this data, you can prioritize researched companies for further outreach.
Filter, Export, and Fly!
As you can see, with the full set of Traffic Analytics reports and Market Explorer, you can answer a lot more questions than just "Where does my rival's/prospective partner's traffic come from?" Here are some of the questions our tools can answer: 
Does the target website have a responsive audience?

How do they react to various marketing campaigns?

What is your target audience like and what are their interests?

Does user behavior change depending on the region/season?

What devices do people use to access the target website?

How well does your business of interest stand against its competitors in the long term?

What is the situation in the target market or niche?

Does your potential partner or media get enough relevant traffic?
You can also export all this date in a .csv file (to combine with other data at your disposal or integrate and manage in any format). 
If you are interested in enhancing the services you provide with Traffic Analytics data, we offer the opportunity to work via API. Drop us a line at mail@semrush.com.
Analyze any market by website traffic
Strategies, audience behavior, regions, devices, and engagement