Of the five major social platforms, LinkedIn is the best for B2B marketing. One study found that more than 80% of B2B leads from social media come from LinkedIn.
Clearly businesses are finding leads on this vast social network, but can you make sure you're actually maximizing your lead generation potential?
Whether you're just starting on LinkedIn or are ready to take your LinkedIn lead generation to the next level, following are a few key changes to make to your profile so you can get the most out of your social marketing.
1. Perfect Your Settings
If you want your profile to help you generate leads, those leads need to be able to find you. Start by ensuring your LinkedIn profile is public and giving yourself a custom URL. To ensure your profile is public, go to your profile and click the blue "View profile as" button, then "Manage public profile settings."
Make sure that "Make my public profile visible to everyone" is selected. From there, you can choose which parts of your profile are visible.
This is also the page where you can add a custom URL. It is best here to use your full name so that people can easily find your profile. If that is not available, add some descriptive elements, such as linkedin.com/johnsmithCMO. The more professional, the better for both personal branding and SEO purposes.
2. Use Your Language to Target Leads
If you want to maximize your LinkedIn profile's lead generation potential, you must make each change with a core demographic in mind. Consider the buyer persona of the leads that are most valuable to your business and make sure you are speaking their language. Attracting a manufacturing company CEO might look much different than speaking to a tech startup marketing professional.
Below we can see how this language manifests in one user's personal headline. Innovation, customer engagement, and increased sales are all key challenges and important language for this user's target personas. He manages to include these words without looking spammy or stuffed with buzzwords.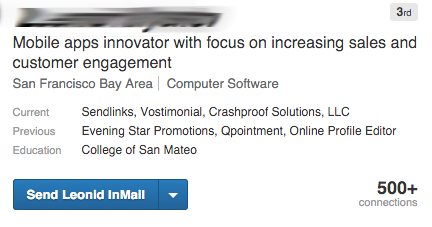 The specifics of your profile will depend on your business strategy and your own persona research.
3. Distill What You Do
Your LinkedIn profile may be the first thing that a potential lead sees, before they know anything about your company or role. For this reason, it's essential that you offer a clear and concise description right off the bat. Your profile headline and summary is the best place to do this. Again, be sure to use language that is directly applicable to the leads you want to attract.
In the example below, the user explicitly mentions who he helps and how within his personal summary. Potential leads know instantly whether he is someone that can help address their challenges.

4. Image is Everything
While you might not think that your LinkedIn photo can make a difference when it comes to lead generation, it definitely can. One eye tracking study suggested that LinkedIn profile viewers spent nearly 20% of their time on a profile looking at the photo, so you want to be sure you're looking your best.
There are plenty of available guides and the Do's and Don'ts of LinkedIn profile photos, but suffice to say it should be as clear and professional as possible. When you project an image of professionalism, you are much more likely to be attractive as a vendor or partner.
5. Publish or Perish
Creating stellar original content is one of the best ways to generate high quality leads on your website -- and that truth extends to your LinkedIn presence as well. LinkedIn Pulse is the site's publishing platform that was only recently opened up to the general public. When you publish on LinkedIn Pulse, your connections on the site will be notified and it will show up on your profile, as seen below:
Publishing a post on LinkedIn Pulse is a great way to add emphasis to those items on your profile that you want to emphasize and to build your reputation as a thought leader. Both of these objectives can help you generate leads through your LinkedIn activity.
6. Up Your Participation Grade
No matter how perfect your profile looks, if you are not fully participating in the LinkedIn community, you are not going to generate as many leads as you could. There is a huge number of groups available in every conceivable industry and niche. The groups you join appear on your profile and will help interested leads know where your expertise and interests lie.
7. Be a Leader
Being an active member of popular LinkedIn groups can be a great way to accelerate your lead generation process, but starting your own group can be even more effective. That's because when you are the owner of a group, you can actually email your group members, using LinkedIn announcements. Use this functionality as a way to generate discussions about key industry topics, establish thought leadership, and nurture potential leads.
8. Share Your Slides
In 2012, LinkedIn acquired SlideShare, making it easier than ever to share your B2B marketing presentations as content on LinkedIn. The built in lead generation feature means you can easily prompt viewers of your presentations to give you their contact information and opt in to your marketing efforts. In order to make this work, you have to actually share presentations.
9. Prepare a Portfolio
The LinkedIn portfolio option is ideal for showcasing your personal projects, including presentations and larger scale projects to which you have contributed. This helps to establish your expertise and can encourage prospects to visit your company site and ultimately become leads.
10. Company Page
In the first 9 tips, we showed you how to optimize your own personal LinkedIn profile in order to maximize the B2B leads you want to generate. However, a company LinkedIn page is an absolute necessity for B2B lead generation as well. Your company page is a repository for new updates about your business and can act as an extension of your homepage, showing potential leads who you are and what you care about. As an individual, be sure that you are following your company page and continuously updating it.
Below, you can take a glimpse at HubSpot's company page, which according to them, generated "the highest visitor-to-lead conversion rate of the top social networks, almost three times higher than both Twitter and Facebook."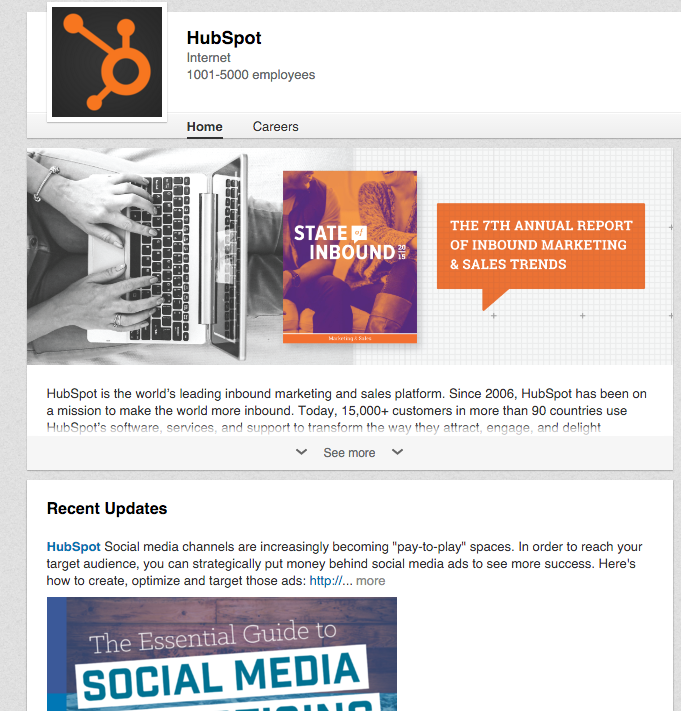 A company page is also another place to post inbound marketing content, from whitepapers and ebooks to webinar invites. The LinkedIn Showcase page feature also makes it possible to create separate LinkedIn pages for different brands and businesses that are under your corporate umbrella, making it easier to further segment your lead generation tactics.
LinkedIn can be an extremely effective tool for B2B lead generation, if you know how to use it. By spending just a little more time on your LinkedIn presence, you can get a lot more out of it. Start with these tips and watch how it affects your incoming lead numbers.
Gillian Singletary is the Content Director at ManoByte, a full service Inbound Marketing agency. When she isn't creating sparkling content for ManoByte clients, she's probably petting a dog.