Customer retention is one of the most important elements for success in any business of any size. On average businesses  lose about 20% of their customers per year, and this can reach as high as 80% in some industries. Just imagine if you could be holding on to some of these customers through better retention strategies. While focusing on getting leads and new customers seems obvious, one of the downsides to emphasizing this too much is that all-in-all brands often lose more customers than they end up gaining within a one-year period.
With some strategizing and committing to retaining customers, your business could experience real growth this year. A lot of these strategies do depend on what kind of business or industry you are operating, yet there are some unique ways to improve your customer retention rate that are somewhat overarching and can extend to all businesses. Check some of these tips out below:
1. Listen to Complaints and Bad Reviews
Most articles on customer retention do not begin on a negative note, and neither does this one. This is because a customer complaint or a bad review online should actually be taken as a blessing in disguise. Too many customers will walk away from your business without ever letting you know what you did to turn them off from your company. When you get a complaint or bad review, listen to it. Take it as an opportunity to improve your services and customer relationships. Chances are that if a person spoke-out then there are other customers that are feeling the same way.
2. Go Old-School: Give Customers a Call!
One of the most undervalued strategies for customer retention in the age of the Internet is an actual phone call to check in and see how things are going. Depending on the type of business you are operating, there is likely a different system for seeing how frequently clients interact or the last time they made a purchase. The point is that you shouldn't limit your reach to those you might feel you are about to lose. A couple of times a year you should have you're team divide and conquer calling customers – ask them where they've been, how they are doing, and what they have thought of interactions with your business over the last year. This will allow you to gauge how people are feeling about your company and intervene where it is necessary. Most of all, it shows that you care. An email marketing message is easy to send out (and still absolutely worth your time, which you can learn more about here), but taking the time to call individual customers really shows that you are taking extra time to keep them coming back.
3. Create an Exclusive/VIP Program
One of my favorite nail salons that I've ever gone to (after living in three major cities) has a VIP program that I joined – and I have to say that this really set them a part from the rest. In this exclusive VIP club they offered monthly promotions for "members only" such as discounted pedicures, 1/2 off specials, a free manicure on your birthday, etc., so it really feels like you are valued as a regular client.
You become a part of this program by paying $10/year and then receive the offers monthly via email. Something like this helps make sure the person is inclined to drive 20 minutes away from where they live to continually go to the same business (your business). This is especially important for businesses that relies on "regulars" and/or that have a client base that is likely to move and choose convenience above all else.
4. Always Go a Step Further (and Four Examples)
YotPo explains on their blog that the easiest way to stand out as a business is by "going the extra mile" for customer retention as often as you can. They claim:
 ..it should become a mantra within your business that every employee adopts and works towards.
There are several ways to go a step further than most businesses do, so here are some examples of best business practices that can set you apart from the competition and help to retain customers:
5. Engage on Social
Follow your customers on their personal social media accounts and engage with their conversations (especially as they pertain to topics which surround your industry). This gives them a subtle reminder that you are still there and are interested in engaging with them on a personal level.
6. Reward Referrals
If customers are referring their friends and family, you want to make sure that you thank them for it. You can do this by having a referral rewards program, or simply by reaching out to thank them. There are also several tools you can use to help make this happen (including SEMrush), which you can learn more about here.
7. Host and Attend Social Events
Similarly to our discussion on good old-fashioned phone calls, too much interaction focuses on the online world. The problem with this is that even if your online presence is really good and you almost exclusively interact with your customers online, they are still real people interacting in the real world. Take some time to create social events where people can come to interact with other customers and staff. Even taking a group of customers out to lunch once in a while really makes the claim that you will always go a step further for your customer base.
8. Send Thank You Cards 
When a customer becomes a member of your business or makes their first purchase it is nice to send them a "thank you" card to show that you appreciate them. You can do this via email, but it is especially nice when you send a hand-written note. Even though a thank you card is such a small gesture, it really lets people know that you are willing to take things that extra step for them. I think these gestures also tend to stand out because sending paper mail is diminishing.
9. Send a Message of Integrity and Lifetime Value
Customer retention is about the small acts to make people feel valuable, but it is also about being a business with integrity and offering products/services that have lifetime value. Start by asking the question: why would a customer choose us over another company? Some reasons customers are particularly satisfied with the businesses they return to is that they are offered some type of guarantee that your business will be there to support and assist them after they purchase or sign with you. Make this visible and known. Make sure that you let customers know why they can depend on your business for years to come. Ultimately, think of every customer relationship as a life-long one from the beginning and let them know you think of them in these terms.
Here are some suggestions on how to make this clear to customers:
Offer a warranty of some sort on your products, or even better a lifetime guarantee.
Show reviews on your site and ask customers who you have helped out in long-term relationships to post to your reviews so that new and future customers are able to see this.
After a purchase, send out information on how your business will be there to support their recent investment in your company over others.
Below is a great example from Rainbow Sandals of how to make this strategy work: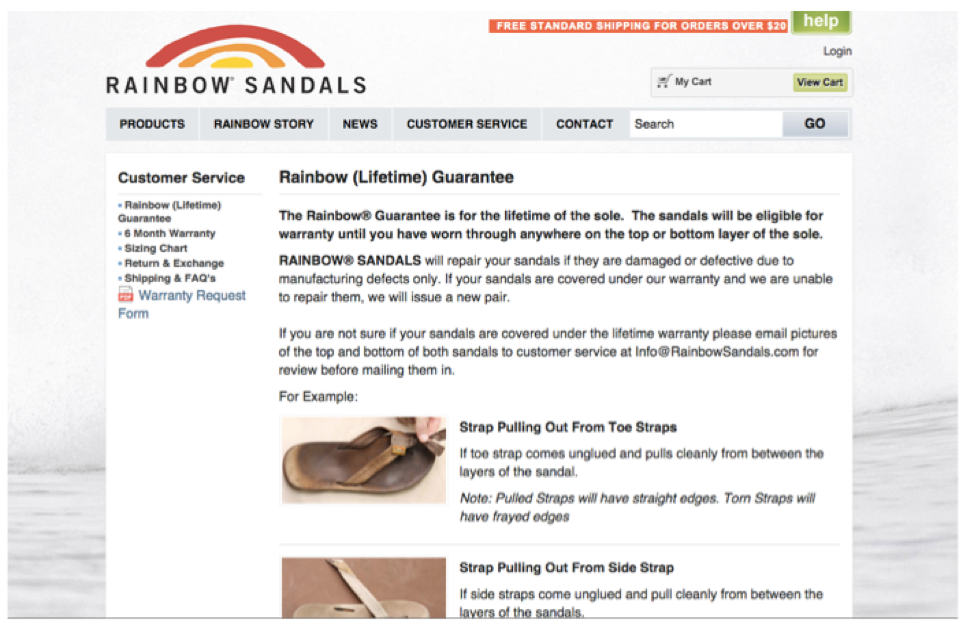 10. Remember: Quality > Speed
When you think about customer retention, you may think that there is an inherent sense of immediacy. While you do not want to lag too much at reaching out to customers, there is something to be said for quality over a speedy response. According to Help Scout, quality matters more than speed. They site a study by the Gallup Group that claims customers were nine times more likely to be engaged with a brand when they evaluated the service as "courteous, willing, and helpful," versus the "speedy" evaluation, which only made customers six times more likely to be engaged. When you are entertaining the idea of "just getting to it" or spending more time and doing a quality time to retain a customer, always choose the latter. You will have more customers stick around and your retention rate will be far more likely to improve.
Which of these customer retention methods has worked best for you? Let us know in the comments.