You already know that the link building game has completely changed...
...and that building spammy, low-quality backlinks to your site simply doesn't work.
Not only has this made white hat link building harder, but a lot more expensive to boot. Well I'm here with some great news: you don't need to drop 5-figures for a fancy "content marketing agency" to get your site to the top of Google. You can still get the top top-notch backlinks you need on a limited budget. Here are 11 link building strategies that won't break the bank:
#1: Broken Link Building
Broken link building is a killer SEO strategy that's an SEO agency secret weapon. All you do is find pages with lots of links on it that's related to your niche, find broken link on that page using free software like Screaming Frog, and reach out to the site owner to let them know about their problematic links. Obviously you also want to offer one of your links as a replacement.
#2: Quality Paid Directories
Despite what you may have heard, web directories are far from dead. In fact, for most businesses, these web directories are one of the fastest ways to get dofollow links from aged, authority sites. A few paid directories that I use for my clients include Best of the Web, The Yahoo! Directory, Family Friendly Sites, and JoeAnt.
#3: Fiverr
If you've been doing internet marketing for a while I know you use Fiverr more often than you'd like to admit.
But if you're creative, you can find people willing to post your article (and backlink) on their site for $5. This is a bit different than guest posting because they site owners will usually let you drop an anchor-text link inside the body of the article. A link in the body is slightly more powerful than a link in an author bio area.
#4: Guest Blogging
Yes, it's time-consuming to find sites that accept guest posts, write an article, submit your post and go through rounds of edits. But as long as you know your business (and I'm sure you do!), you can usually bang out a high quality article in an hour or two of work.
#5: Business Profiles
These aren't the most powerful links in the world but they do send Google the brand signals that they're paying more and more attention to. The best way to find authoritative sites to post your business's profile on is to head to a site like Knowem.com and enter your business's name.
And the site will show you your "online real estate" that you haven't claimed yet.
#6: Press Releases
I'm not a huge fan of most fancy press release packages (like via PRWeb), because to me, paying $350 for a single link is crazy. However, I do think press release links pass some SEO value and help make your link profile look natural. When submitting a PR just make sure that the site you submit to is Google News approved. A low-cost Google News syndicated option I like is Empowerednews.net. You can submit your PR to that site for $2!
#7: Get Blogger Reviews
I'm absolutely flabbergasted at how few businesses give out free stuff to influential bloggers. If you have a physical (or even digital) product, why not mail it to some of the top bloggers in your niche? If they like what you have to sell they'll probably write a blog post about it and link to your site.
Pro tip: Mommy bloggers tend to be the most appreciative of this sort of thing. They usually have a large readership but not much money, so your free gift goes a long way.
#8: Link Begging
This is a time intensive — but not money intensive — process. In fact, before the arrival of SEO agencies and link packages, this was the only way to build links!
Here's how to do it
1. Create an insanely useful piece of content and post it to your site. In my experience, large lists and highly-visual content tends to get linked to most often.
2. Find resource and links pages that exist to link out to outstanding content like yours.
Here are a few search strings you can tap into to find them:
"your niche" + "helpful resources"
"your niche" + allinurl:links
"your niche" + "links page"
You'll likely come across pages like this: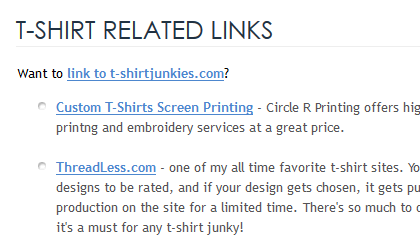 These are perfect because they actually exist just to link to helpful resources like the one you just built.
Pro Tip: Add the site.edu or site:.gov operator at the front of your search to find authoritative pages from .edu and .gov domains.
3. Email the site owners and ask them to add your content to their list. This strategy can be combined with broken link building from the beginning of the article.
#9: Infographics
I know what you're thinking: "Infographics are cheap? I looked into getting one of those done last year and the guy wanted to charge me $4,000."
Yes, if you want an absolute top-of-the-line infographic made, it's going to cost you four-figures.
But if you DIY parts of it, you can usually get your infographic made and distributed for less than $400. To get to that price point you will need to do the conceptualization and research on your own. Once you get your data together, hire someone on Odesk or Elance for the design. Then, either ditribute it to infographic directories and niche-bloggers on your own or hire someone to do it for you.
#10: Become a Local Sponsor
If you run a brick and mortar business you need to start building links from local resources. Local sites like chambers of commerce, conferences, and other businesses are usually more than willing to link out to you if you ask. And they tend to have fairly authoritative link profiles to boot.
#11: Help Out Universities With Discounts and Scholarships
Most University websites — which tend to be some of the most authoritative on the internet — are reluctant to link out to commercial sites... with one exception. If you can offer them something of value — especially a scholarship or discount — they'll be happy to link to your site.