So, your competition is beating you really badly in the search results. But don't worry. There are plenty of things you can do about it. Have you: 
Conducted research on your competitors? 
Analyzed their content marketing strategy? 
Figured out why they get so much more traffic than you? 
Clearly your rivals are doing something right. But you don't have to lag behind.
So many great SEO tools are available to help you analyze the competition and come out with a more effective strategy. Semrush is by far one of the most powerful SEO tools on the market, and it's the one I like the most.
About Semrush
So, what does Semrush do and how does it help with your content marketing? Semrush is an SEO tool that does your keyword research, tracks the keyword strategy your competition uses, runs an SEO audit of your blog, looks for backlinking opportunities, and lots more.
Internet marketers all over the world trust Semrush. It is also used by a number of businesses, big and small. Major companies such as Apple, Amazon, Samsung, Forbes, IBM, and more use this tool. 
Semrush has a massive database of over 20 billion keywords and 808 million domains crawled. It tracks things like the organic position of a domain or landing URL on Google's SERPs (search engine results pages), copies of AdWords ads and their positions, Cost-per-click (CPC) ads, competitor analysis, and so much more. Overall, it can make a huge impact on your content marketing from strategy, to research, to optimization, and beyond.
Why Is Content Marketing Important?
Content marketing is the process of creating and distributing content online, usually to support a larger marketing strategy. Its goal is to increase your visibility online and foster relationships with your target audience in a way that is entertaining, helpful, and informative. 
Great content allows you to hold on to your visitors, capture leads, sell products, and create a positive association with respect to your brand. 
Here's what a great content marketing strategy does for you:
It builds your own community of loyal customers who keep returning
It makes you an authority in your niche
It helps you engage with your customers and get constant feedback
It generates quality content, which can do wonders for your SEO
It adds value to your business and helps you stay competitive
So, what does Semrush do for you? How does it help with your content marketing? Let's find out!
12 Great Reasons to Use Semrush for Content Marketing
Semrush has tons of reports and features designed to help marketers climb the SERPs. Here are my top 12 reasons why I find Semrush so helpful for my content strategy.
Reason #1: More Effective Keyword Research
Your keyword strategy should be the bedrock of your content marketing plans. Keywords are how your customers find you. Semrush can empower your keyword research and content optimization with an amazing amount of SEO intelligence.
For example, using Semrush's Keyword Magic Tool, you can find and target the keyword phrases likely to get you the most search traffic.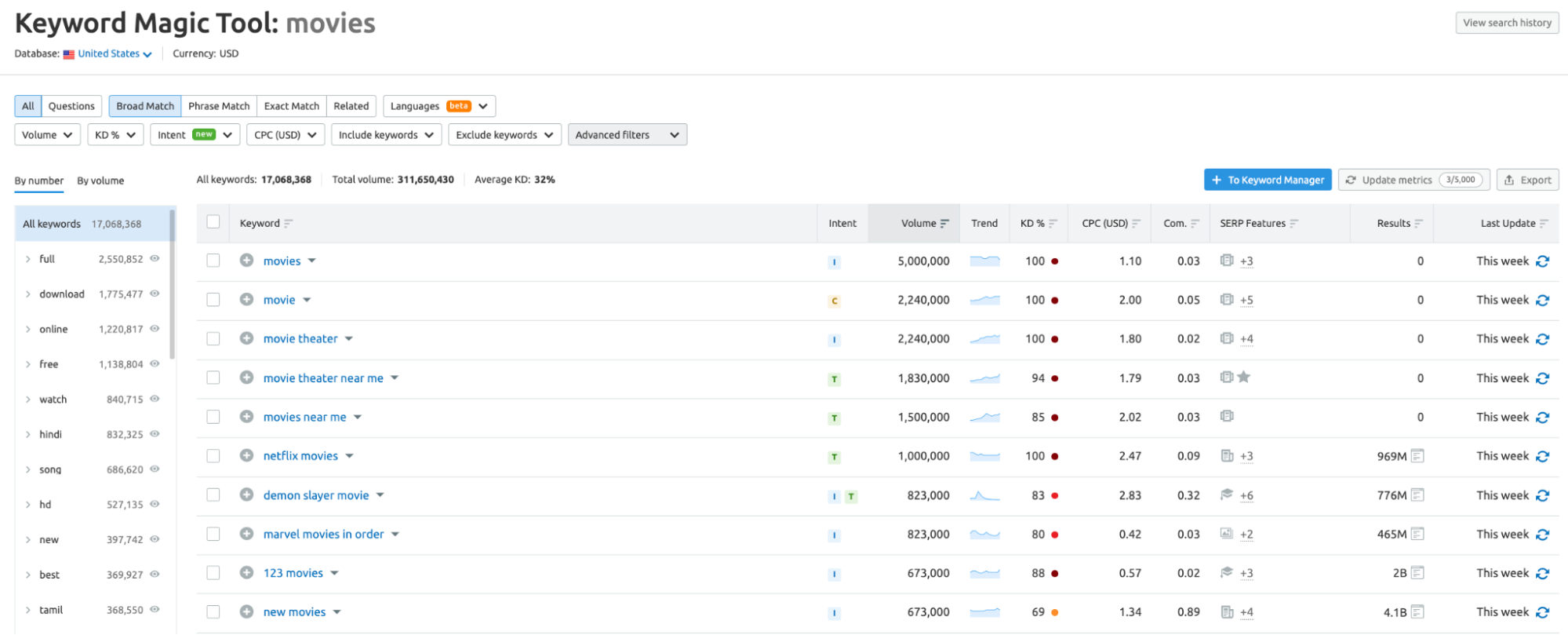 Semrush can help you find different keyword variations associated with a particular root word, helping you to better understand how people actually search online. This takes the guess out and helps you identify user behavior much faster.
Here are just a few examples of what you can find: 
Average cost-per-click (CPC)
How many URLs appear in the results for a keyword
SERP features present for a keyword
Top ranking sites for a keyword
Reason #2: Analyze Your Site's Performance
Before analyzing your competitors, it is important that you first understand your own site, as it currently stands. With Semrush, you can take a deep dive into your site's performance in just a few clicks.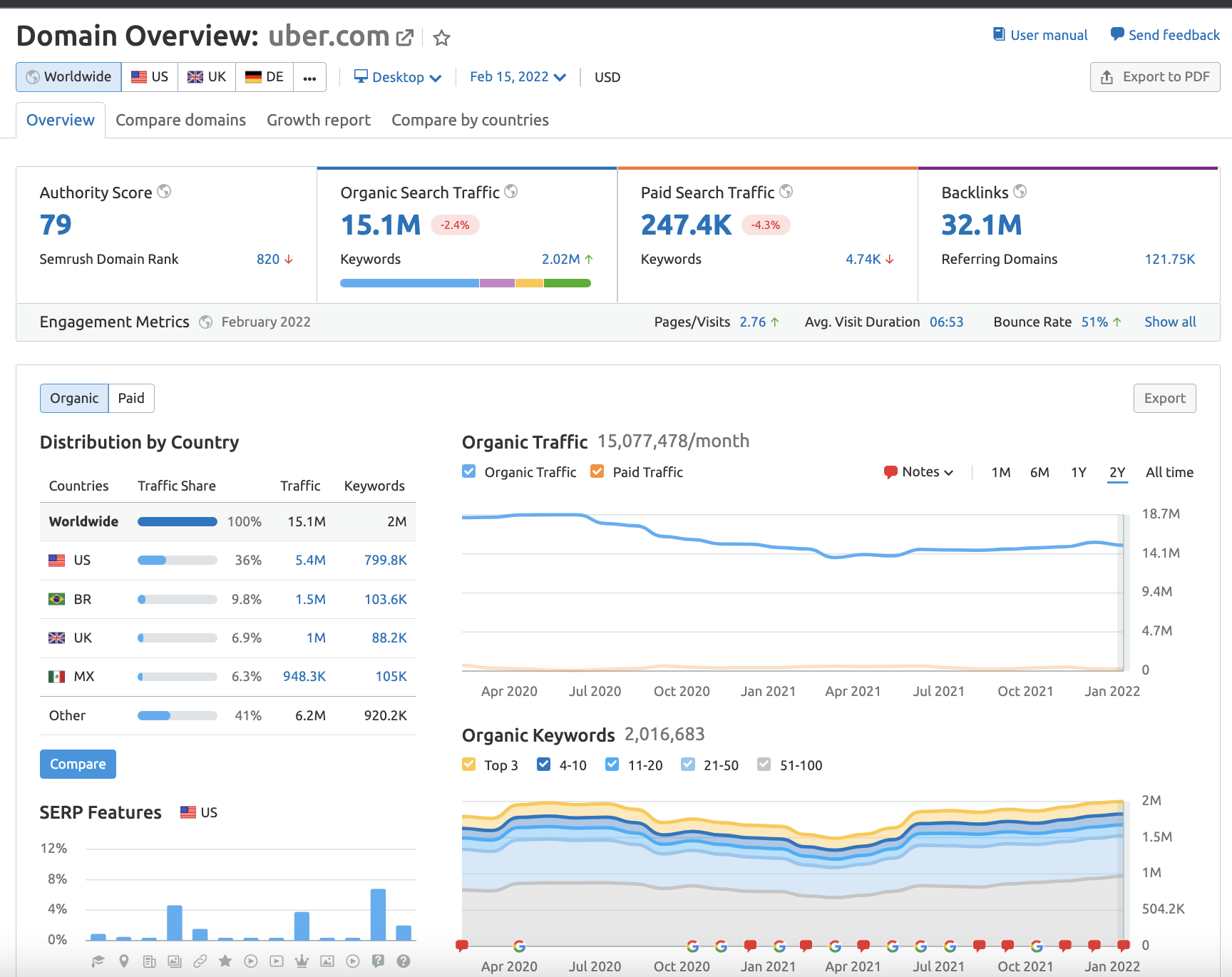 Semrush's Domain Overview tool gives you a snapshot of your current organic and paid traffic, backlinks, performance in search, and more. Semrush can also analyze trends over time and even see how you are ranking on Google for specific keywords, on a real-time basis. 
Use what you learn to identify your site's current strengths and weaknesses and set a foundation for your digital strategy going forward.
Reason #3: Investigate the Competition
Out of over a billion websites out there, some of them might not be so different from your own. That's why it's so important to stay aware of the competition and how they're doing. 
Semrush's Organic Research tool can give you a deeper look at your competitors. You can even find out which keywords generate most of their traffic.

But that's not all. Using the Keyword Gap tool, Semrush can also compare your keyword profile with your competition to identify gaps in their strategy and your own.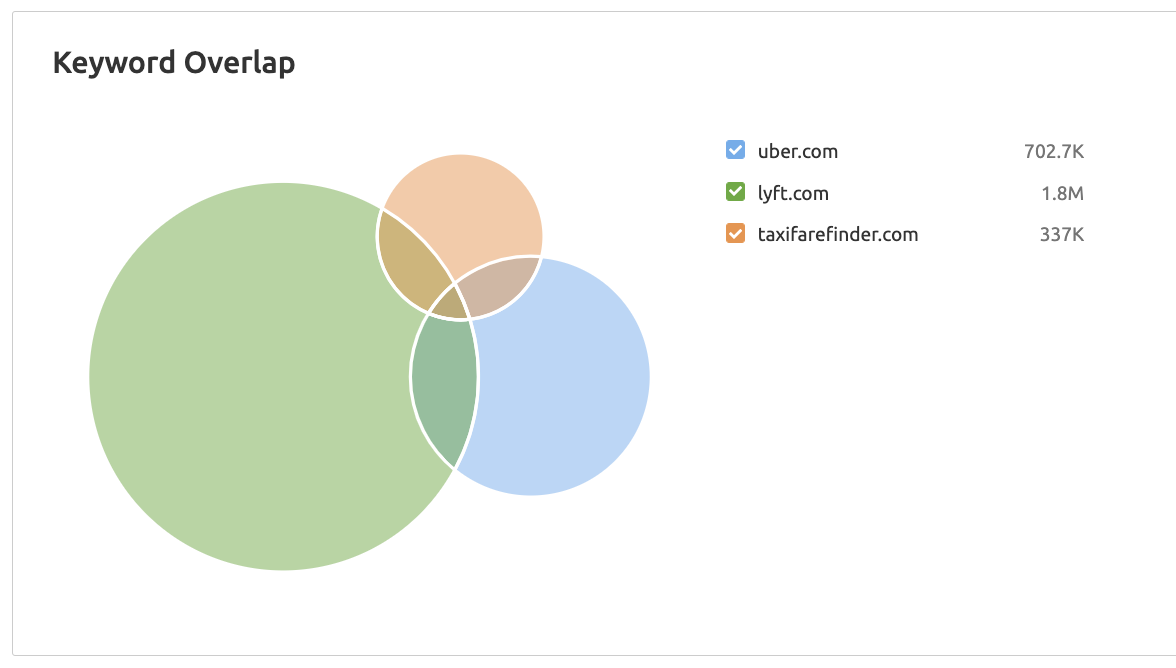 Make the keywords you find a part of your own strategy by creating content that targets these search terms.
Reason #4: Generate New Content Ideas
Semrush is a great tool for brainstorming new content ideas for your blog. 
For example, if you enter the keyword "content marketing" into Semrush's Topic Research tool, you'll find many more highly efficient, trending subtopics like "pain points," "content marketing strategy," "marketing techniques," and so on.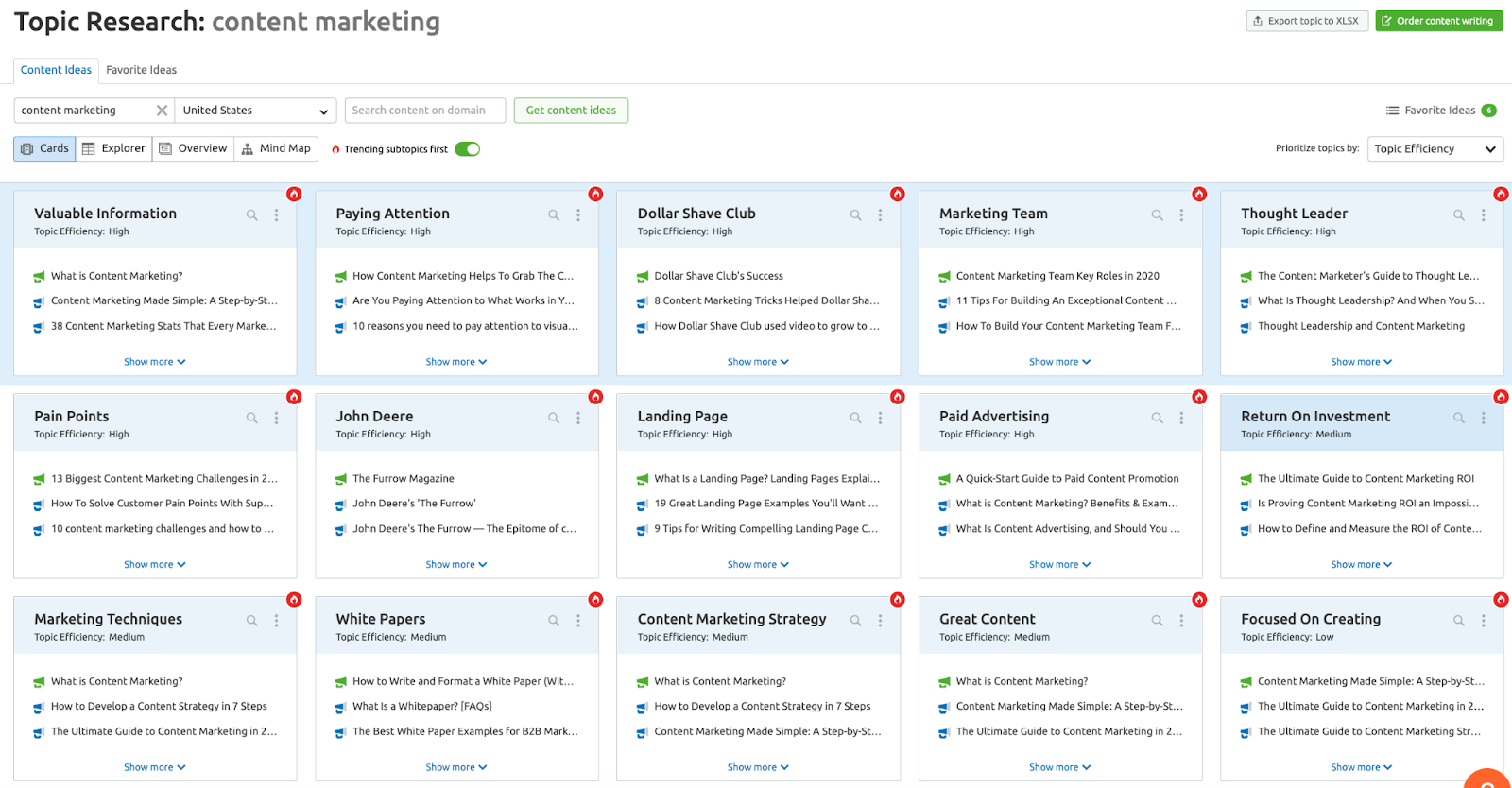 Beneath each subtopic, you'll also find examples of how others have covered that topic, along with how well each headline resonates with its audience, and popular questions you might want to answer.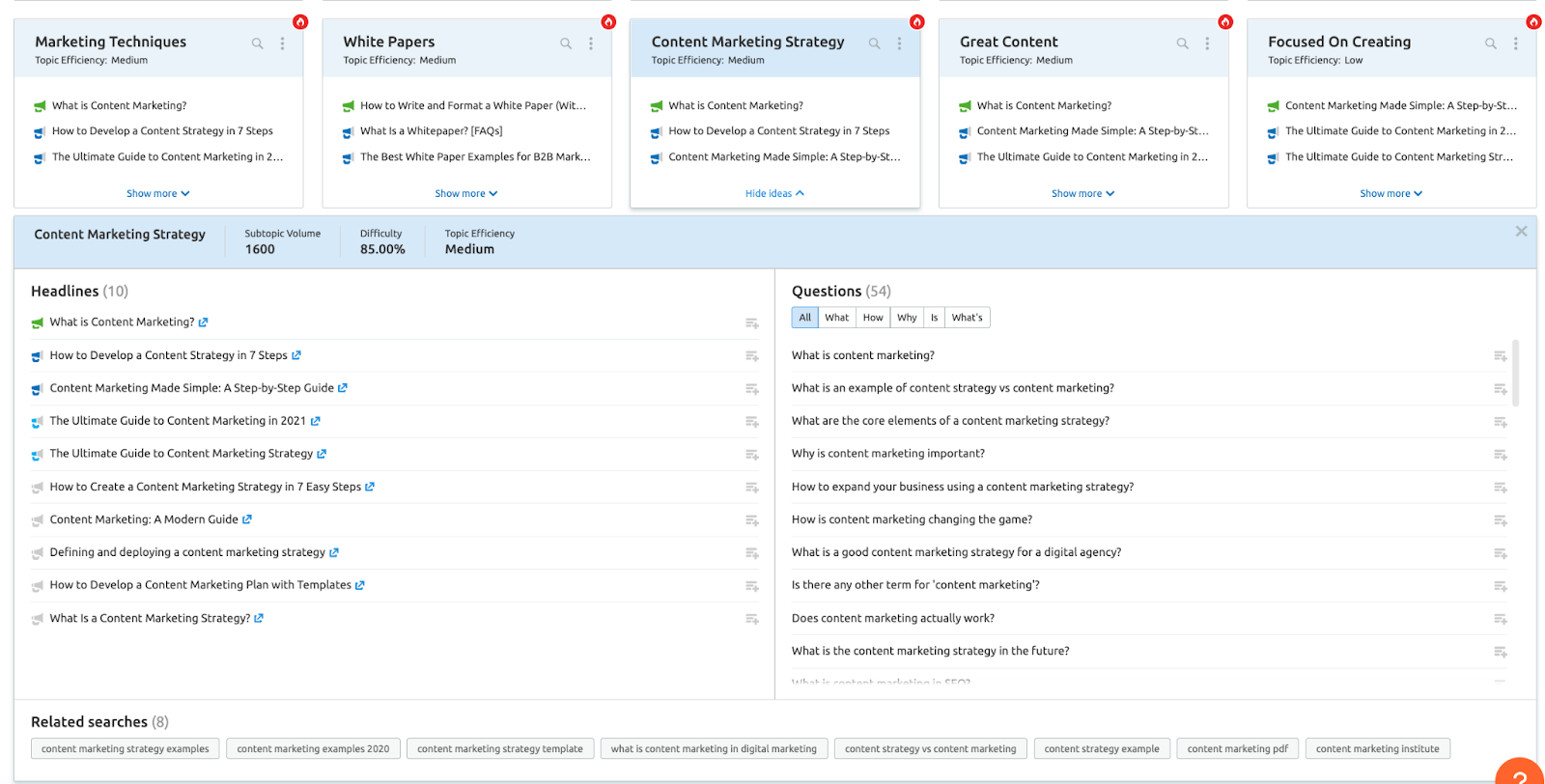 Use this information to create unique content that truly speaks to your audience.
Reason #5: Create Writer- and SEO-Friendly Templates
Once you've decided what topics to write about, Semrush can automatically create an SEO-optimized content template to help your writers craft more successful content more easily.
Simply enter your target keywords into the SEO Content Template and let Semrush do the rest.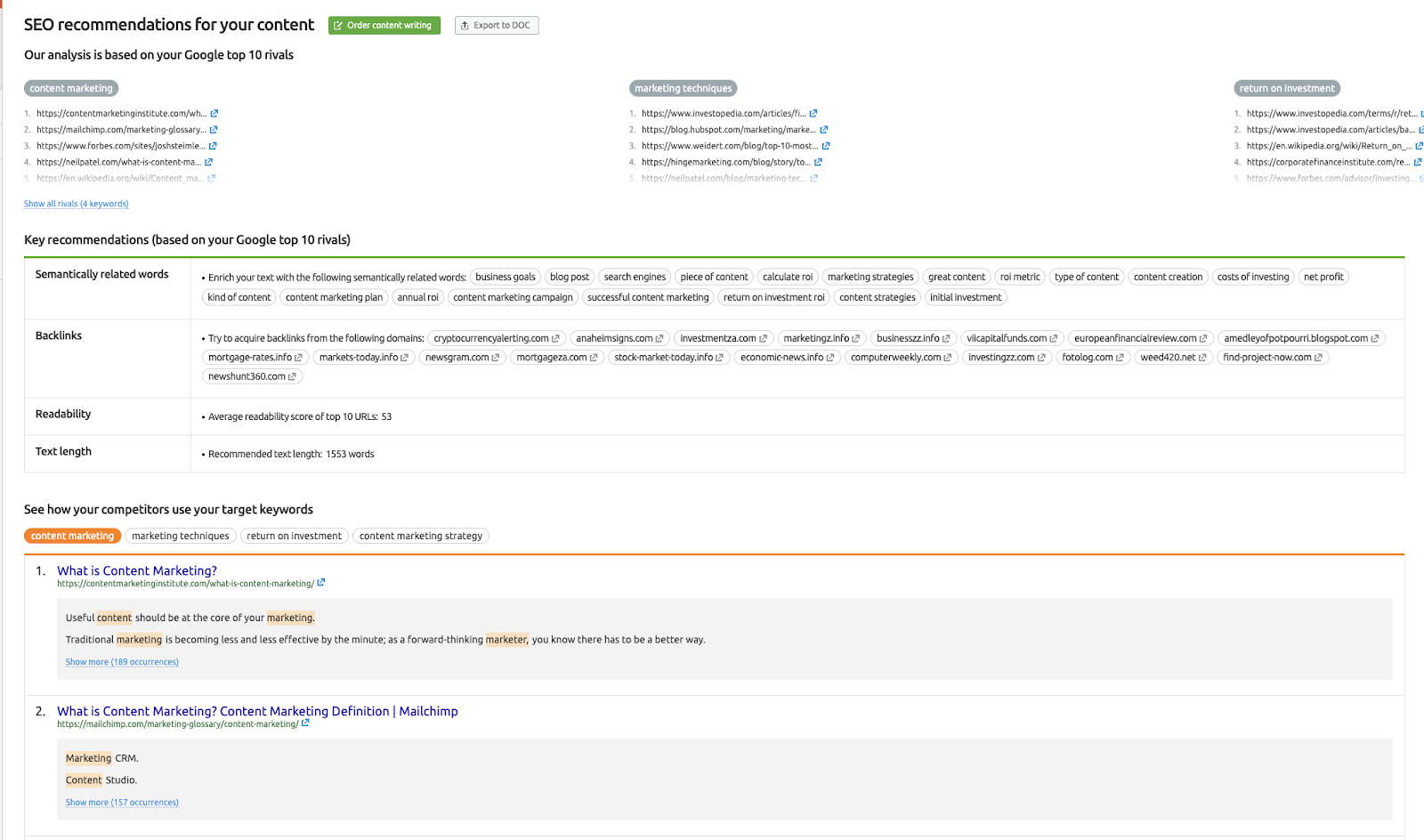 Semrush will then provide a list of semantically related words to include in your article, suggested length and readability targets, and potential sources for backlinks. You can even analyze how the competition targeted these keywords, all without leaving Semrush. 
Use this to streamline your content creation process and empower your writers.
Reason #6: Track Your Past and Current Rankings
It's not enough to target new keywords. You've also got to stay abreast of your current rankings. Semrush can automatically track your performance on the keywords that are most important to your brand.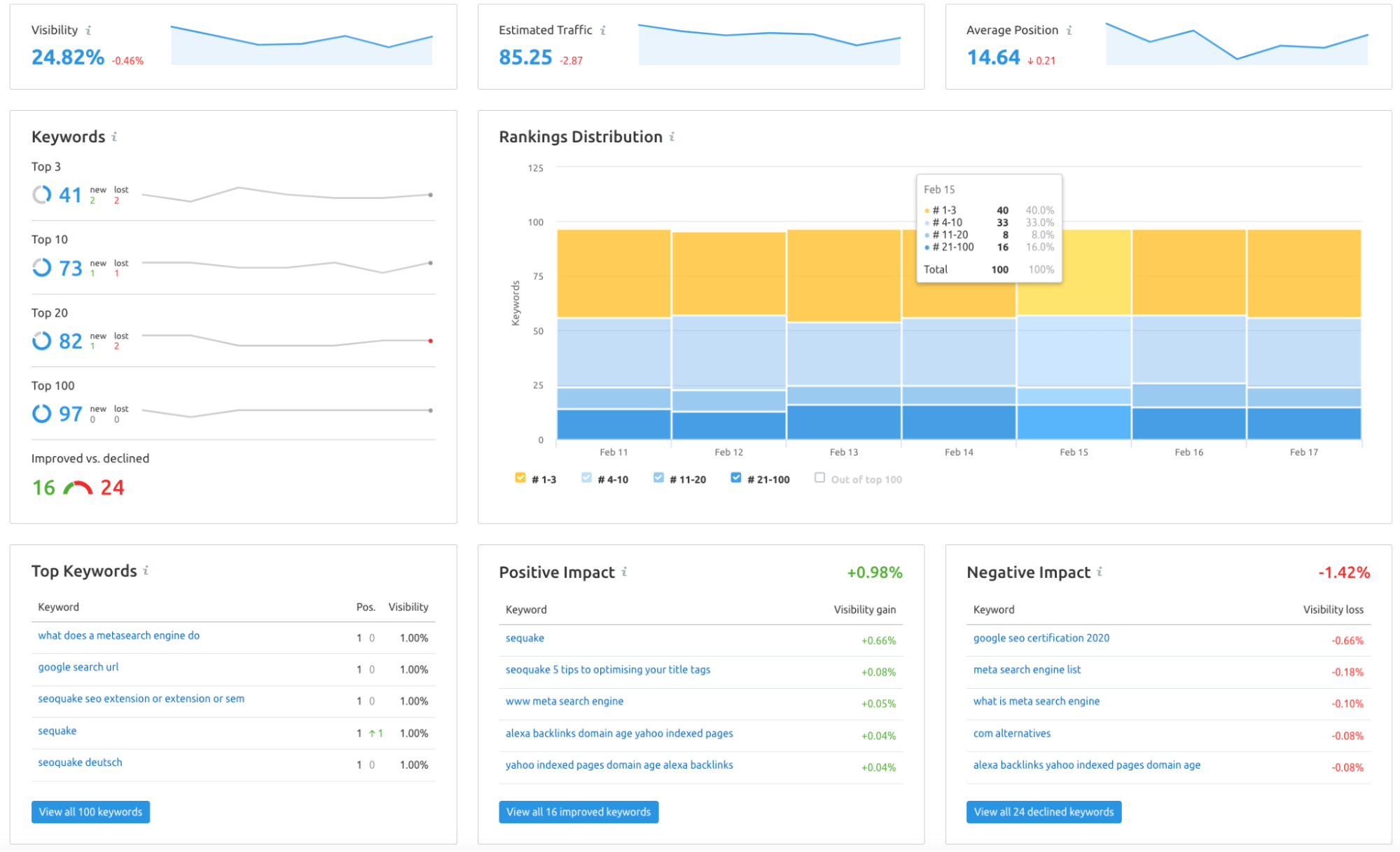 Semrush's Position Tracking tool can automatically keep an eye on your performance overall, including your average position, traffic, and ranking distribution trends. It can also help you identify which keywords are improving or declining. With a Guru subscription, you can even track performance across multiple devices and locations down to the postal code.
With Semrush, you can learn from your wins and losses. Then you can incorporate any declining keywords into your SEO strategy to bring those rankings back up.
Reason #7: Analyze Your Competitor's Competition
Semrush does more than just help you analyze your competitors. It can also find their competitors. More specifically, Semrush's Organic Research tool finds all the websites that are ranking well for a similar set of keywords. Then it tells you how much traffic each site received from the top 20 keywords.

Use this to form a more comprehensive picture of your competitive landscape.
Reason #8: Analyze & Maintain Your Existing Traffic
Looking after your existing traffic is absolutely essential. You may rank highly for a while because of new traffic that is coming in, but if you start losing your existing traffic, you won't stay there for long. Luckily, Semrush doesn't just help you get new traffic. It also helps understand where it's really coming from, so you can maintain it more effectively.

With Semrush's Organic Traffic Insights, all you have to do is choose what you want to track (your domain), connect to Google Analytics and Search Console, and choose the regional database and device type you'd like to analyze. Then Semrush will automatically interpret your organic traffic, telling you:
Which keywords are actually bringing traffic to each page
How long that page's visitors are likely to stay there
How many individual users and sessions that page earned
Its bounce rate
How much all that data has changed, positively or negatively
With all this data at your fingertips, you can stay on top of your progress and pivot your strategy to address unexpected dips in traffic.
Reason #9: Find Better Advertising Opportunities
One of the best ways to make money online is to display ads on your blog along with other advertising opportunities. A number of businesses pay a lot of money for traffic generated through Google AdWords, which can be really expensive for competitive keywords.
A great way to monetize your own blog or website is to reach out to these companies to display their ads on your site or to join their affiliate programs. Semrush can play a vital role here.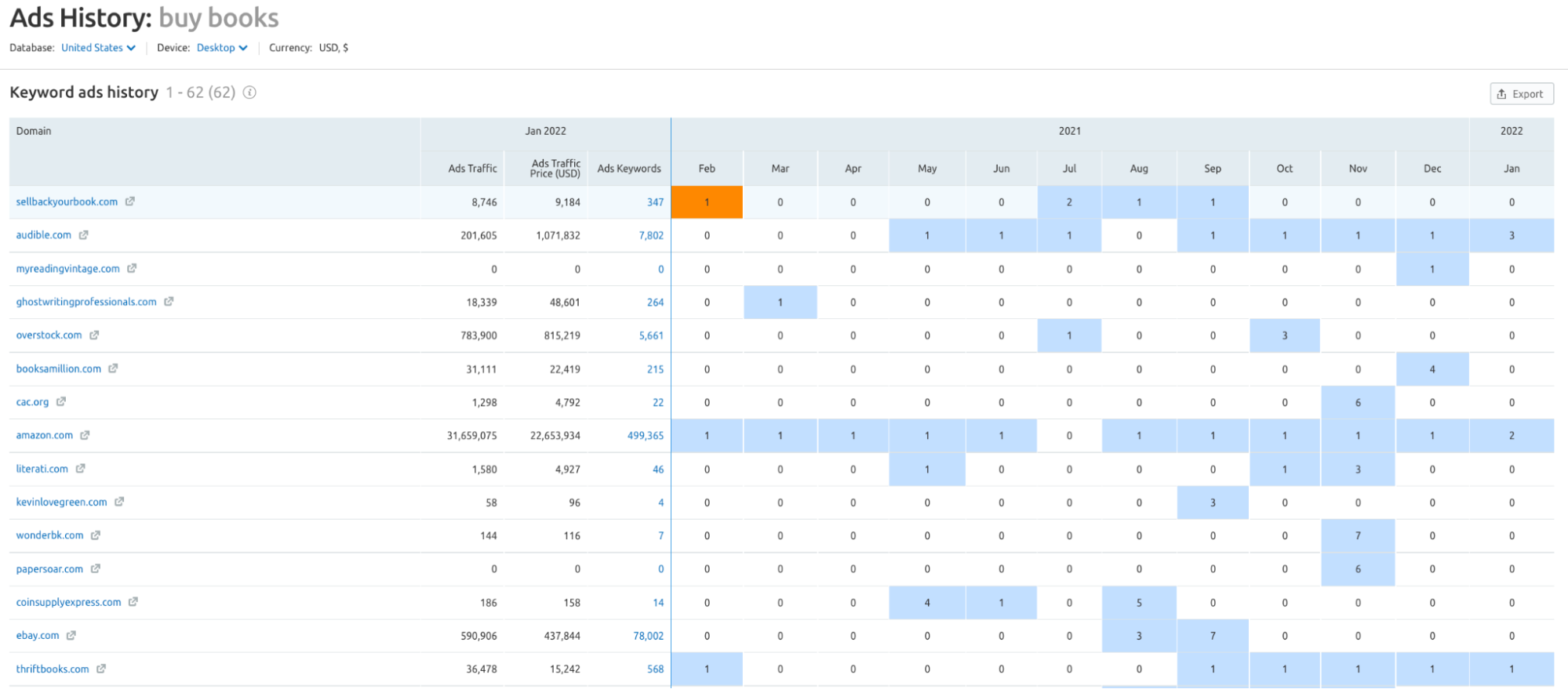 With the Ads History report, you can examine a keyword you're trying to win and identify which businesses on the internet have placed ads on these keywords. Then Semrush breaks it all down in a user-friendly chart, so you will know which company to reach out to while looking for great advertising opportunities.
Reason #10: Find Advertising Opportunities Before Your Competitors Do
What's better than finding the perfect advertising opportunity? Finding it faster than your competitors. Semrush not only helps you find ad opportunities more quickly than the competition, it also gives you the insights you need to win. 
Here are just some of the things Semrush can tell you:
Domains that are paying for ads on your target keywords 
Common keywords they are bidding for, which your website or blog happens to rank for
Keywords targeted by their ads
Traffic generated by their ads
Cost of driving the traffic through these ads
Once you have this information with you, you will be in a better position to convince these businesses why advertising on your website (which ranks for the keyword that they are trying to target) is the perfect complement for their advertising strategy.
Reason #11: Maintain Your Existing Content More Efficiently
Google is constantly updating its algorithm so that it can deliver users more relevant, higher-quality content. That's why it's so important that, in addition to writing new articles, you keep your existing content refreshed and up to date. Semrush can help by auditing your content and helping you decide what to tackle first.
Using Semrush to audit your content, you'll be able to spend more time refreshing your website so that your audience (not to mention Google) can find exactly what they need, when they need it.
Reason #12: Design a More Effective Link Building Strategy
One goal of any content marketing strategy is to get more inbound links to your content. Links are the currency of the internet. As a content marketer, you must have a link building strategy in place. With Semrush, you can find out where your competitors are getting their backlinks and the total number of backlinks they have. You can then use this information to design a more effective backlink strategy for yourself.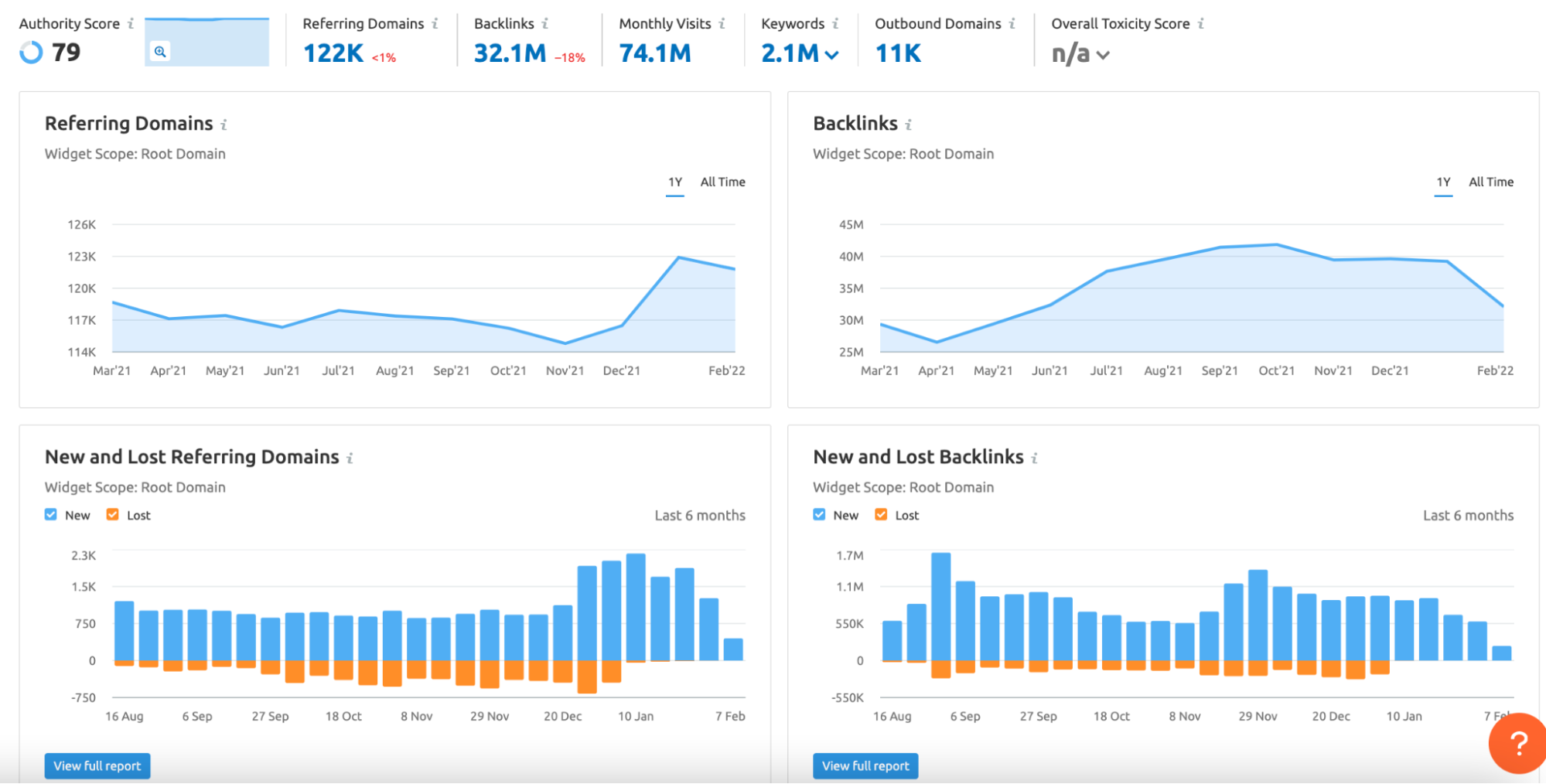 Semrush's Backlink Analytics uses charts to show you how your rival's backlink profile is performing at a glance. You can see whether it's gaining or losing backlinks and referring domains over time as well as its ratio of won and lost links each month. You can even analyze the sources of its backlinks and then reach out to them yourself, all without leaving Semrush.
Final Thoughts
I have just given you 12 great reasons why you should consider using Semrush to create a more effective content marketing strategy. Whether you are an internet marketer, an online business owner, or a blogger, you will find Semrush critical to your plans as it identifies the keywords that get your competitors the most traffic while identifying better advertising opportunities. Further, Semrush performs comprehensive SEO audits to protect you from Google algorithms and helps you create a much better link building strategy.