For a long time now, mobile apps have remained a mysterious place for online marketers. However, using mobile apps requires that marketers re-educate themselves if they are to become successful and gain popularity in the marketplace.
The growth of mobile apps in recent times cannot be under estimated. 34% of traffic to the 10 most visited sites in the U.S is from mobile users. 72% of online activity from mobile devices is done through apps, not browsers. Effective April 21st 2015, a website's compatibility with mobile devices affects its ranking on Google.
For a mobile app, popularity is the all-important measure of success. It is measured by the number of times the app is downloaded from its website or an app store. Therefore, good ranking of the mobile app's website in SERP's can be a key element to direct traffic, hence potential downloads, to the app.
So how can you ensure that your app ranks well in the app stores? What's your strategy?
There are people and companies making millions of dollars from simple apps. Consequently, there is a need to look at the App market, which seems set for a revolution. This is especially so after Google made the decision to start indexing apps.
App Store Optimization (ASO) and Search Engine Optimization (SEO) employ a variety of methods to improve a mobile app's visibility on the App Stores, the App landing pages and on various platforms such as blogs, review sites and social networks.
13 Key Essential Strategies
There are several ways to achieve good ranking in app store searches and landing pages. In 2013, Ankit Jakin, the head of search and discovery at Google Play, confirmed that the majority of app installs (downloads) were a result of user searches within the Play Store. This means that a successful app must adhere to best practices to rank highly in app store search results.
Keyword optimization. This is among the simplest SEO strategies to implement and is popular with Apple Store. In the Apple store, the company does not require that you come up with an entire phrase. Single keywords separated by a comma will do just fine. However, you should be careful not to overuse a keyword.
Quick Tip: When using a keyword, it is important that you carry out sufficient research on what keywords the competition is using. There are a number of free online tools that are designed to carry out this task efficiently. For the landing site, developers should be careful not to overuse the keyword too. Google has a very strict policy and that could cause the site to get de-indexed.
The keywords should be incorporated into the app's name and description. Again, thorough research should be done to find keywords the competition is using that generate heavy search traffic. Those are the keywords you should target.
KEY FACT 1: A survey done on MobileDevHQ studied the top 25 search results for the sampled keywords. The survey found that apps that used a given keyword in their names had 10.3% better ranking than apps that lacked the keyword.
KEY FACT 2: The first 25 characters of an app's name are the first thing about an app that is displayed in search results and should be chosen carefully.
KEY FACT 3: The first 3 lines of an app's description always appear in the app's preview. They should capture the user's attention by being brief while detailing the app's features and benefits.
Presentation or asset optimization attracts users to apps. Creating a memorable icon, the perfect screenshots and an informative preview video are useful in increasing click-through rates and convincing a casual browser to download the app.
Ratings determine an app's ranking. The number of ratings an app has is a good indicator of how many times it has been downloaded. The better an app's rating, the higher its ranking in the app store.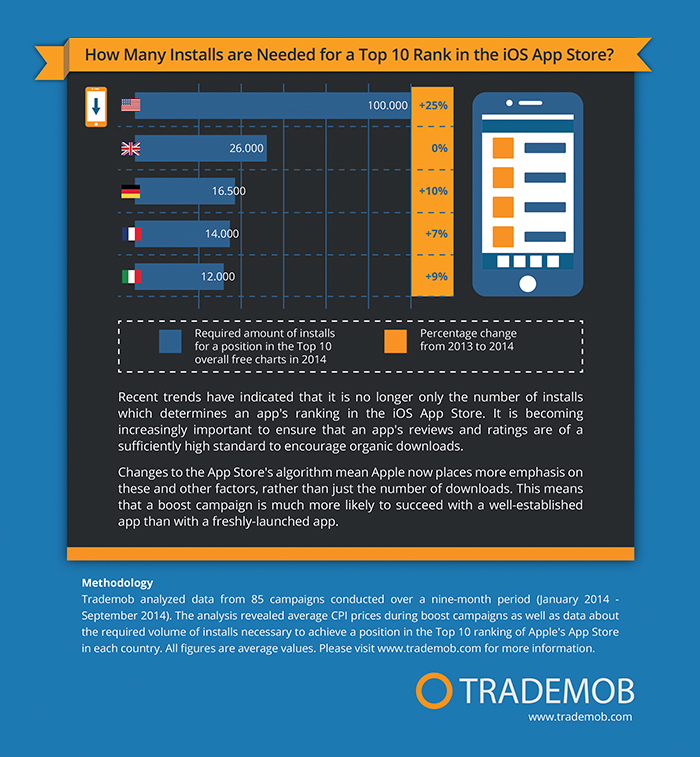 KEY FACT 1: A sampling of data at the MobileDevHQ website shows that competitive keywords (keywords that resulted in a high number of search results) need higher ratings for good ranking compared to "easy" keywords (keywords that result in fewer search results). This sampling also shows that ratings of at least 2.6 stars for apps with competitive keywords put the apps in the top 5 compared to 1.8 stars for "easy" keywords. Source: Trademob.Com
KEY FACT 2: To get better ratings, an app must be of good quality. Happy users spread the word and willingly give good ratings and reviews. Reviews are a useful way to identify bugs and increase the app's overall user experience. Responding to users' feedback increases the app's quality and ratings.
KEY FACT 3: Having a nicely worded rating component within an app makes it convenient for a user to rate an app. This increases the app's ratings and reviews, increasing the app's rating overall.
A common SEO strategy now used by Apple store apps is the use of the app name as a link. This link connects directly to apps profile page in the Apple store, which is now indexed as a page by Google search engine.
Another common SEO strategy that will lead to significant success is mentioning the App name in the download link text. People who fail to do this are making a big mistake. They are likely to lose a lot of organic traffic.
In order to maximize the traffic to the landing site of the app, it is now common to include a QR code. This makes navigating to the app much easier, thus generating more traffic for the app. However, it is important that the link behind the QR code be properly compressed. Otherwise, it might lead to problematic QR codes, which do not work.
Having the right mobile configuration. The websites that have the right mobile configuration tend to rank higher than the ones that don't. You can elect to have a responsive web design, dynamically served pages or separate URL's for desktop and mobile devices.
Having a mobile-friendly label on the app's website. Having a mobile-friendly label on the app's website increases the ranking of both the app and its landing page in search engine results, especially Google.
Optimising keywords for mobile-friendly webpages and desktop webpages separately. 69% of keywords rank differently when searched on a mobile device. So, for websites that use dynamic serving or separate URL's, separate keywords can be used such that mobile-friendly web pages and Desktop web pages can have different keywords.
Use of Backlinks. This will usually involve using popular tools to scan for backlinks used by a competitor. Once you have identified the backlinks the competition is using, then you can approach the same sites for backlinks. These sites can either reject or approve the backlinks request depending on your approach or relationship with the sites' owners.
Indexing and Deep Linking. Indexing and deep linking for android and iOS apps increased an app's ranking in both search result pages and Android platforms. It allows content from deep within an app to appear in search results. These kinds result entries are aptly named deep links.
KEY FACT 1: For mobile users signed in on their Android devices, 15% of searches return deep links in the results, with the number of clicks on deep links multiplying ten fold between June and October 2014.
KEY FACT 2: Deep links in search engine results increase the engagement with users who have an app already installed. They also direct prospective users to the app.
Reducing Bounce Rate in the Landing Site. How much time a user spends on a website greatly affects how Google ranks it. As such, it is not enough just to be able to attract a lot of traffic to the app. The landing site is crucial to any SEO strategy of the app.
How to reduce the bounce rate of a landing page
To ensure that visitors at least linger a few minutes on your app site, there is a need to come up with some creative strategies. One way of doing this is talking about the problem the app solves and the benefits of the app.
You can also provide the visitors with interesting data that will show them that the solution actually exists. You can even make a video demo of the app just to make sure the visitor spend a little while on your site.
Then, finally at the bottom of the page, provide a link that leads directly to the app. These are just a few strategies that have proven successful. There are other numerous tricks, which can be used to ensure traffic does not bounce.
Localizing Apps. While the United States presents a huge opportunity for making profits with apps, there are other equally lucrative markets around the world. For instance, an app that does well in the US may also do quite well in Korea. The process of localizing is clearly spelt out by Apple. This increases the likelihood of users from other regions of the world finding the app.
This popular method known as geo-targeting had also been encouraged by Google for some time now. It would entail having a landing page optimized for a certain region. Consequently, when people search for something in their native language, Google is likely to present this page first. Localization or geo-targeting is a smart SEO strategy that any smart developer should incorporate into their SEO strategy.
Statistics and Case studies
A good case study of how an app can be amazingly profitable is the Kim Kardashian app. She has managed to gross two hundred million dollars. This is indicative of the potential a well-marketed app could have. The app was mostly marketed through product placement before the advent of indexing by Google.
With over a million app in the world today, it is surprising that only a small number is ever seen. In fact, some apps have as little as a hundred reviews on the Apple store. The top apps, which are about a hundred, take almost a huge chunk of all the traffic. The indexing by Google will definitely open up some of these apps to the status they should have.

A world of difference
Using the right strategy drastically improves an app's discoverability. This requires a multifaceted approach that enables an app to be discovered in multiple ways and on multiple platforms by prospective users.
Jeffrey Benson is an online business development strategist, a coach and a conversion specialist with over 10 years in the trenches as a full time internet marketer. I enjoy and delight in helping entrepreneurs build successful, sustainable and profitable business online. I have helped over 150 businesses setup a thriving online business. Want to learn how to profit fast online? Take my free course.