A huge, quality list of email subscribers is probably the best thing a business can have. The key lies in attracting the right kind of people and building a quality list of subscribers who regularly engage with your business and take the required actions.
So, how do you convert your visitors into eager subscribers? I have compiled a list of 14 impressive ways to get more subscribers really quick!
Ready? Let's get started….
1- Create a Viral Loop on LinkedIn
Anna Vital was able to increase her list of email subscribers to more than 76k using a viral loop created on LinkedIn.
Here is what she did:
Give something for free that is of considerable value for your target audience.

Create a LinkedIn article to present your freebie.

Compliment your article with a catchy header image.

Outline the T&C clearly as Anna did in the below image:
Include an opt-in form so that the readers can include their email id to get the deal.

Ask your audiences to comment on the shared LinkedIn post by saying "Yes."

Once your article is ready, share it on your LinkedIn profile along with every other social profile that you are having. The goal is to get in as many audiences as possible.

Once you start receiving comments, then reply to them in order to receive the initial traction.

Email the content to all your existing email subscribers to help spread the word.
This is one of the best LinkedIn growth hacks to increase your email subscribers. The result is simply awesome! Have a look at the below growth chart for further reference.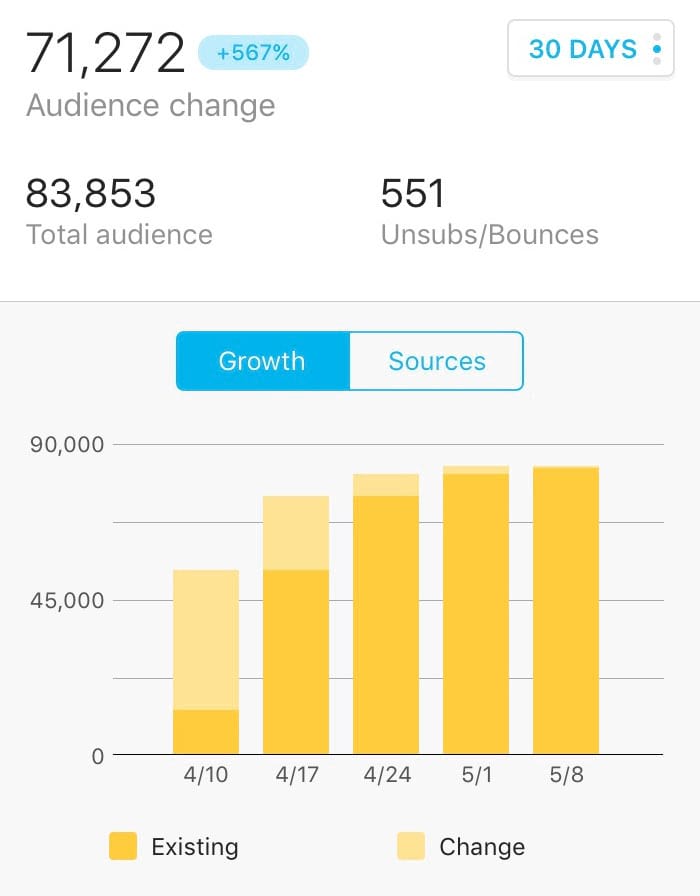 2- Use a Service Like Aweber to Create Lightbox Popups
Lightbox popups do very well in terms of getting email subscribers. They are better as compared to sidebar forms.
Nikki McGonigal who owns an Etsy shop of handmade accessories was able to drive 1375% more subscribers using Lightbox popups as compared to sidebar forms.

It is recommended to create a lightbox popup once every 60 days per site visitor, at a delay of 2 seconds.
A service like Aweber is super easy to create perfect lightboxes. All you have to do is to select an option in the web form generator, and your lightbox is ready to use.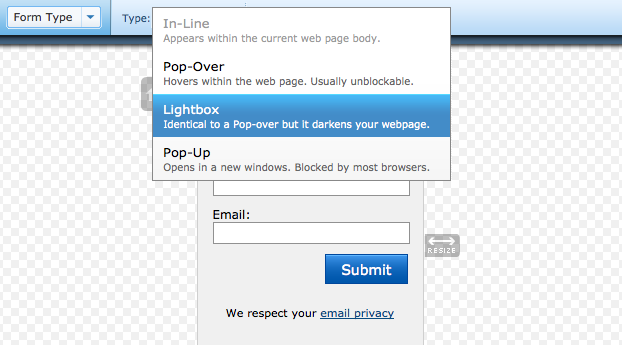 3- Use Inline Field Labels
Make it easy for your readers to fill up the subscription forms by using inline field labels.
Inline field labels help to drive action.
An example of an inline field label is provided below. It becomes easier to the user to understand what they should enter in the field and as soon as they start typing their email address the default text automatically gets 'removed.'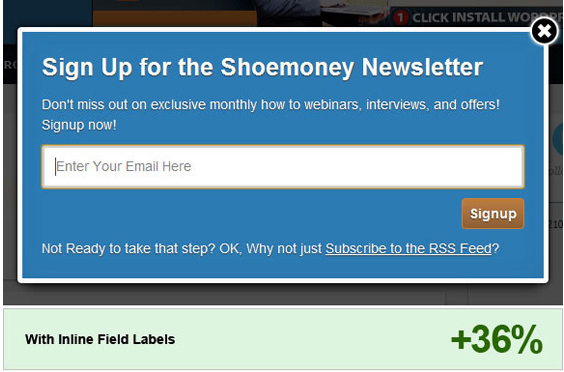 4- Try Web Push Notifications
Wouldn't it be better to reach your customer even when they are not on your website?
Web push notifications allow you to do just that. It works for both desktop and mobile browsers and can significantly boost the user engagement rate by up to 40%. Here, is how you can activate web push notifications:
Place a smart code in the head tag of your web page.

Activate the opt-in, and when the visitor clicks allow they are automatically added to your email subscriber list.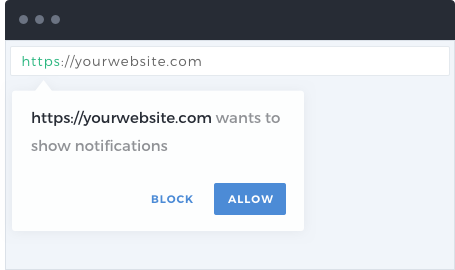 5- Engage Your Visitors with "Spin-to-Win" Email Capture
 This is probably a newew concept, and most of the brands have not tried it yet!The key here is to gamify the experience of the users while giving them rewards and freebies in return for their email id.
 A tool like Social Contest easily allows you to create spin wheels as shown in the image below. The example is an e-commerce site where a spin wheel suddenly pops in while the user is browsing products. The wheel allows the user to try their luck for winning any one out of 4 freebies.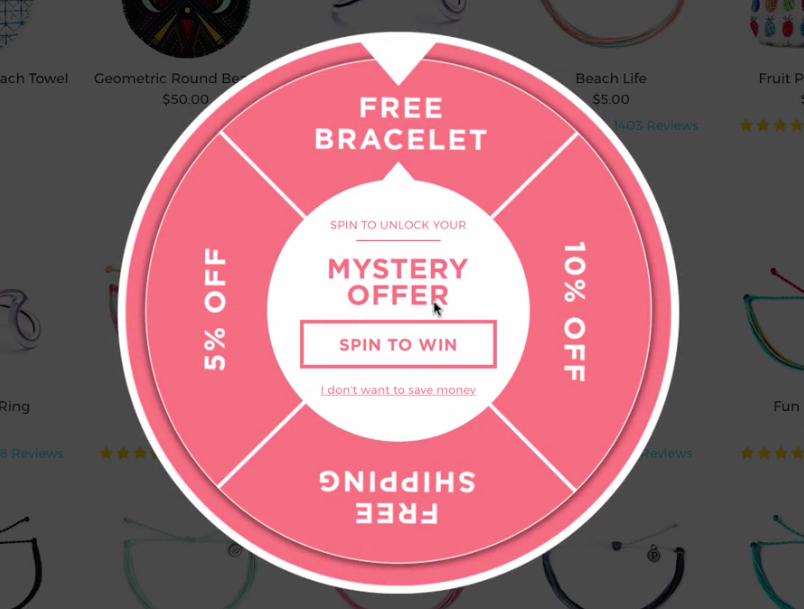 The game is played, and the user unlocks a freebie provided they enter their email address. This is indeed a great and fun way to raise your email list.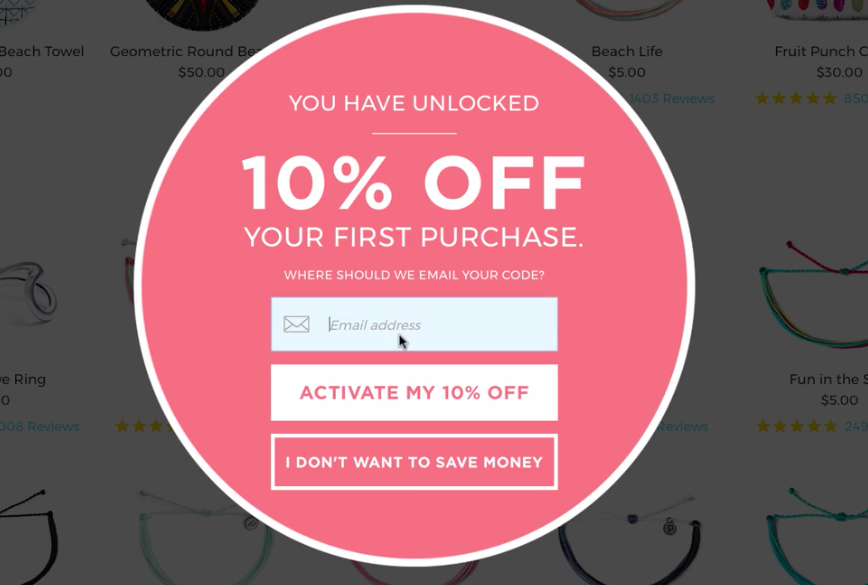 6- Make Use of Trigger Words That Persuades Action
You need to include trigger words to persuade the readers to become subscribers. Here is a list of some of the best trigger words: 
You - Instantly establish a connection with your audience as it's direct and conversational.

Customer Name - Hearing/seeing your name helps to activate your brain, and there are more chances of the customer taking an action.

Yes - Everyone loves the positivity of yes and I am sure your audiences will do the same.

New - People love to read new stuff. It is always a better idea to include the word "new" while preparing CTA's or cover text for your email opt-in.

Stop - It instantly catches the attention of the user.

How - People are always interested in learning "how to do it?" instead of "why to do it?".

Instantly - Promise your readers something and deliver it instantly. The human brain is always looking for opportunities where there are instant rewards.
7- Apply the Psychology of Storytelling
 It is important for the brands to connect with their audiences on a personal level.
Millennials don't like boring content; instead, they prefer content that engages in storytelling and provides a unique value to their online experiences.
The below image depicts how storytelling affects the human brain. Dopamine released by the brain during an emotionally charged event makes it easier for the reader to remember the story with greater accuracy thereby increasing the chances of taking an action.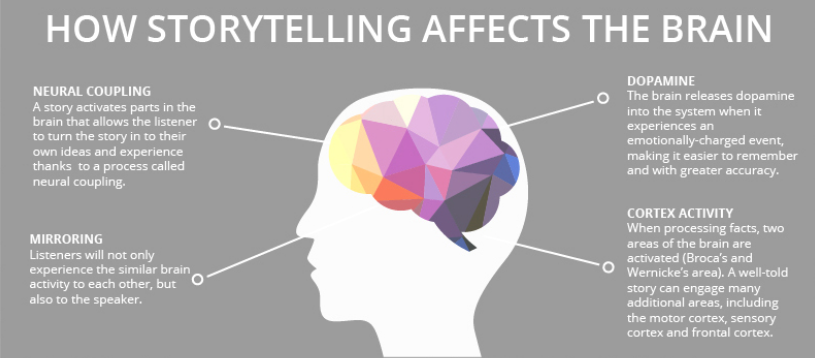 Here are some example stories that you can create:
"Reason Why" stories - It should tell the reason, why a particular offer is made. It can be a huge discount your e-commerce site is providing due to slash in taxes by the government or maybe it's the birthday of the customer so you are providing an exclusive discount.

"Origin" story - Tell your audiences, why are you here in the industry. People are keener to know the reason why. 

"Vision" story - What vision does your brand follow? Inform the customers. Maybe you have the vision to support the education of the children of lower income group.

"Rapport Building" stories - These stories should relate to the "pain points" of the customers and must help to build a connection with your readers.
The essence of marketing lies in sharing advice that your audiences will remember for years to come. Storytelling is the best way to do that.
 8- Use Crowdsourcing
Ask for ideas from your customers or visitors and provide them a gift in return. For example, you can ask your customers to suggest names for your products.
Customers will start sharing their ideas with you and you will build a massive list of email subscribers besides increasing engagement and encouraging social interaction.
9- Host Online Webinars
The minimum average conversion rate of a webinar is 5%. You can easily get more than 10% conversion rates for your regular webinars. This will diversify your channels of raising your email list.
Founder at Femtrepreneur, Mariah Coz was able to generate around 600 new subscribers within 48 hours of promoting her webinar.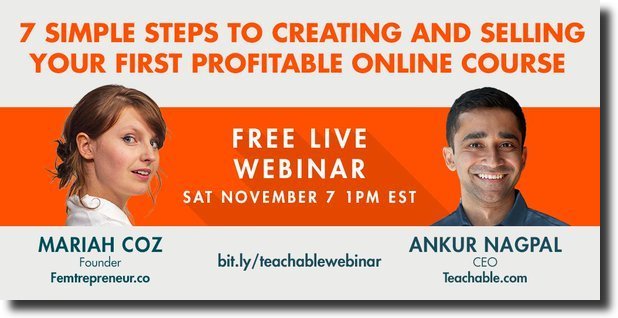 10- Turn Blog Commentators into Subscribers
If you are getting a lot of comments in your blog posts then it's time to cheer up. You can easily turn all those blog commenters into subscribers.
 Brian Dean of Backlinko tried this and added over 200 new subscribers.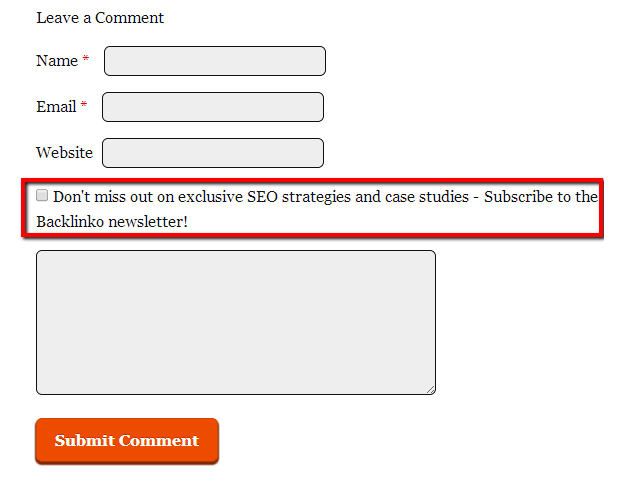 11- Follow the Content Upgrade Method
This is a crazy new method that works like a charm. Brian Dean was able to increase email subscriptions by up to 785% by using the content upgrade method. Yes, you read that right!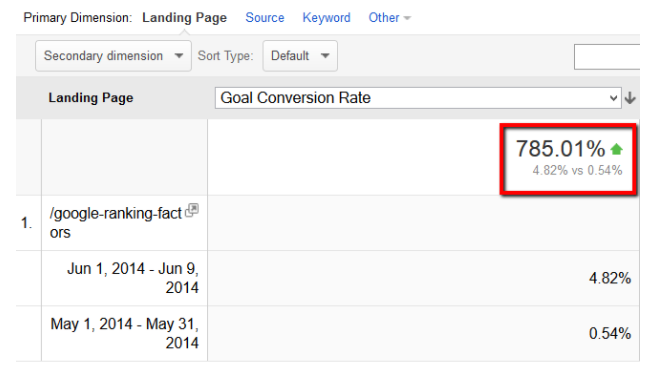 The technique works like this:
Identify the high traffic pages on your site.

Create a resource that your audiences will need after reading the contents of those high traffic pages.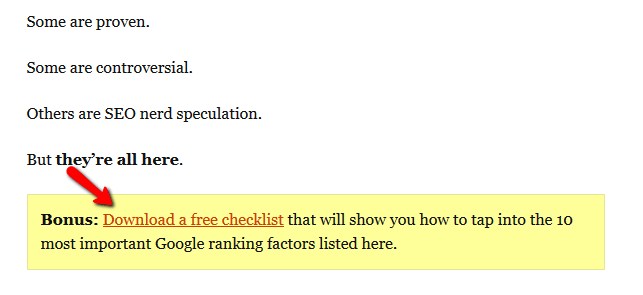 Add that resource to your site and start getting more email subscribers.
12- Use InLine Downloads 
One of the most effective ways to get blog readers to subscribe to your blog is by using InLine downloads. It is a kind of opt-in box that appears before the readers within the content of the blog post.
For example, if the 3rd point in the content talks about the Google Penguin Update then there must be an opt-in box for readers to download a sheet containing tips to keep your site safe from the effects of the Penguin update.
An example of an InLine download is provided below: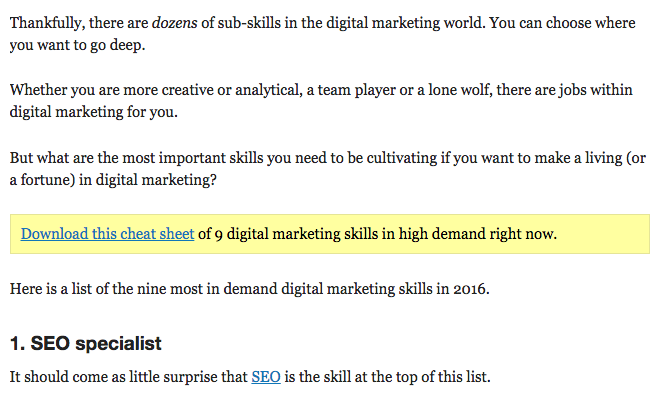 13- Engage Readers Mid Blog Post
 You can engage readers mid-blog post by going with in-content opt-in box as the one provided in the below image. Tools like OptinMonster easily allow you to create mid blog opt-in boxes.

The best feature of this set up is that the readers are not disturbed or scared off as it matches well with the flow of the content.
 14- Add a Feature Box
DIYthemes was able to increase blog subscription rate by 51.7% by adding a feature box at the top of the blog.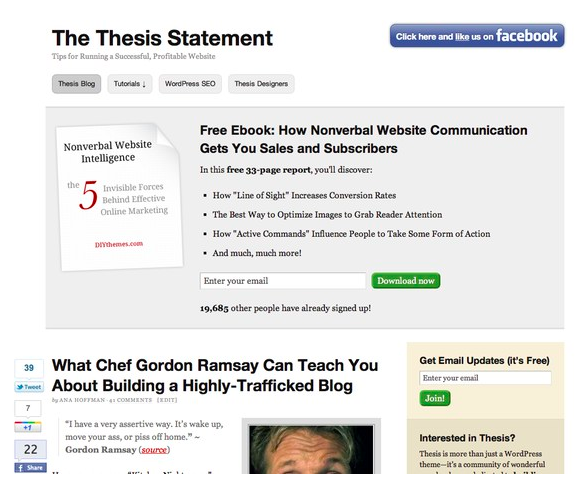 The feature box was added above the content and in the sidebar on the home page. This trick worked as visitors see the feature box as the first thing when they land on the site.
 Bonus Tips:
Ensure your forms are mobile friendly. Most of the time, we check our email opt-in forms in desktop but forgot to check them individually in all of the mobile devices.

Go with double opt-in as it helps to weed out bogus subscribers. Double opt-in simply means the user must confirm the subscription request twice. First, when the email subscription form is filled in and second when the confirmation email is clicked. As per a study published by Mailchimp, double opt-in had 72% more unique opens as compared to single opt-in.
Apply the above-discussed strategies and start growing your email list really fast!
Do you know about any other list building strategy that was worked for you in the past? I would love to know your thoughts.