Busy online marketers: ever sit down in front of your computer screen just wishing there was an easier way to do the common, everyday tasks involved in content marketing?
From coming up with amazing ideas to top quality writing, you know by now there is a great deal that goes into today's necessities that make up great content marketing.
So how can you make the entire process easier?
You need tools that will help you generate ideas. You also need tools that will make the overall writing process easier. You probably even need tools to market the content for you.
Well, here's the good news about the internet and content marketing: there are so many useful tools for content writers out there built to help you, and, luckily for you, I have a handy list.
I've put together a list of the top tools that I personally love to assist you in easier, better content marketing. Life is about to get a whole lot easier!
I. Tools That Help with Content Discovery
Before you even begin the process of writing, you need to come up with ideas that are going to be a hit. There are several amazing tools out there that can help with this.
My favorites include:
1. Buzzsumo
Buzzsumo is definitely one of my favourite content writers tools. All you do is type in a phrase or a word and Buzzsumo shows you the most popular posts from around the web containing that word or phrase.
Let's use an example. Say we're working with a client in the travel industry and they want us to come up with amazing content ideas. Their goal is to get right in front of their primary audience, who are high-end travelers.
So you head over to Buzzsumo to see what's currently working on the web in terms of content that could appeal to the target audience. Buzzsumo will use two ways to find this information: a keyword based search and a domain based search.
If the client is targeting keywords like "luxury holidays" or "luxury honeymoon destinations," you put those into the tool and Buzzsumo will return some results. The tool will typically filter out pages that are focused on selling products and services so you get keyword results that are non-commercial in nature.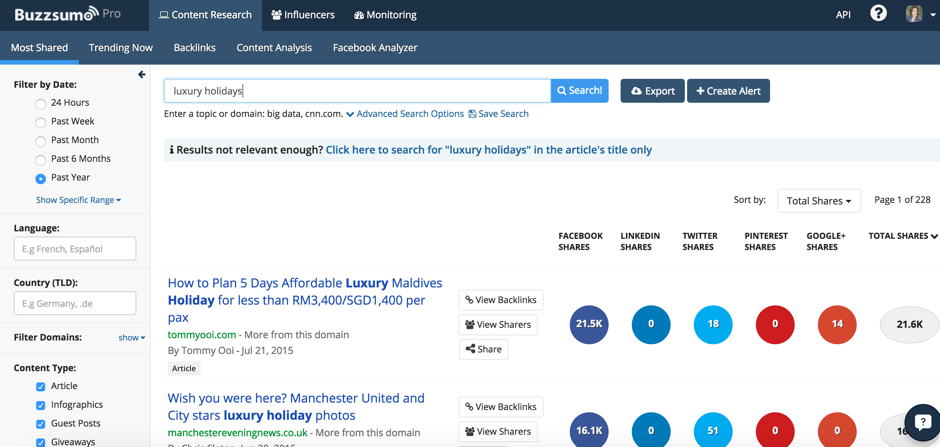 This is a great way to see what's already on the web and get ideas for the target audience.
2. Buffer
For managing your social media, there really is no better tool. And I've tried several! If you need high-traffic, volume-account maintenance, Buffer is your tool. From Buffer, you can manage all your social accounts and then some (in our Business account, we have all our staff's profiles hooked up, too); and schedule posts across all profiles, with the ability to tailor your messages per platform.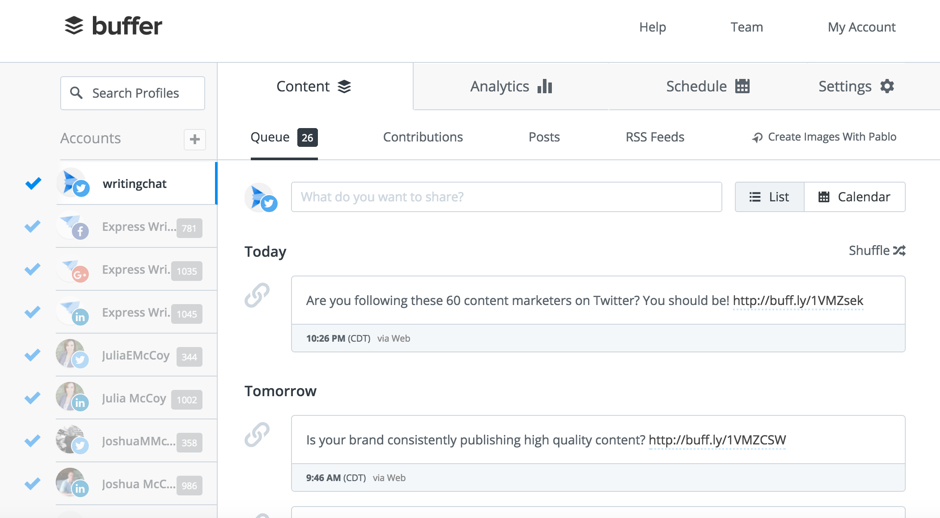 Their blog also hosts a wide variety of very useful posts and assembled research.
3. SEMrush
There's no doubt as a content marketer you've heard of SEMrush. Their Content Marketing Platform makes researching keywords a piece of cake. Once you've done your keyword research, all you do is add keywords and track their position in all major search engines. This is one of the most essential SEM tools for serious content marketers. Not only can you find all the keywords for existing web pages based on ranking, you can also find statistical details regarding related keywords.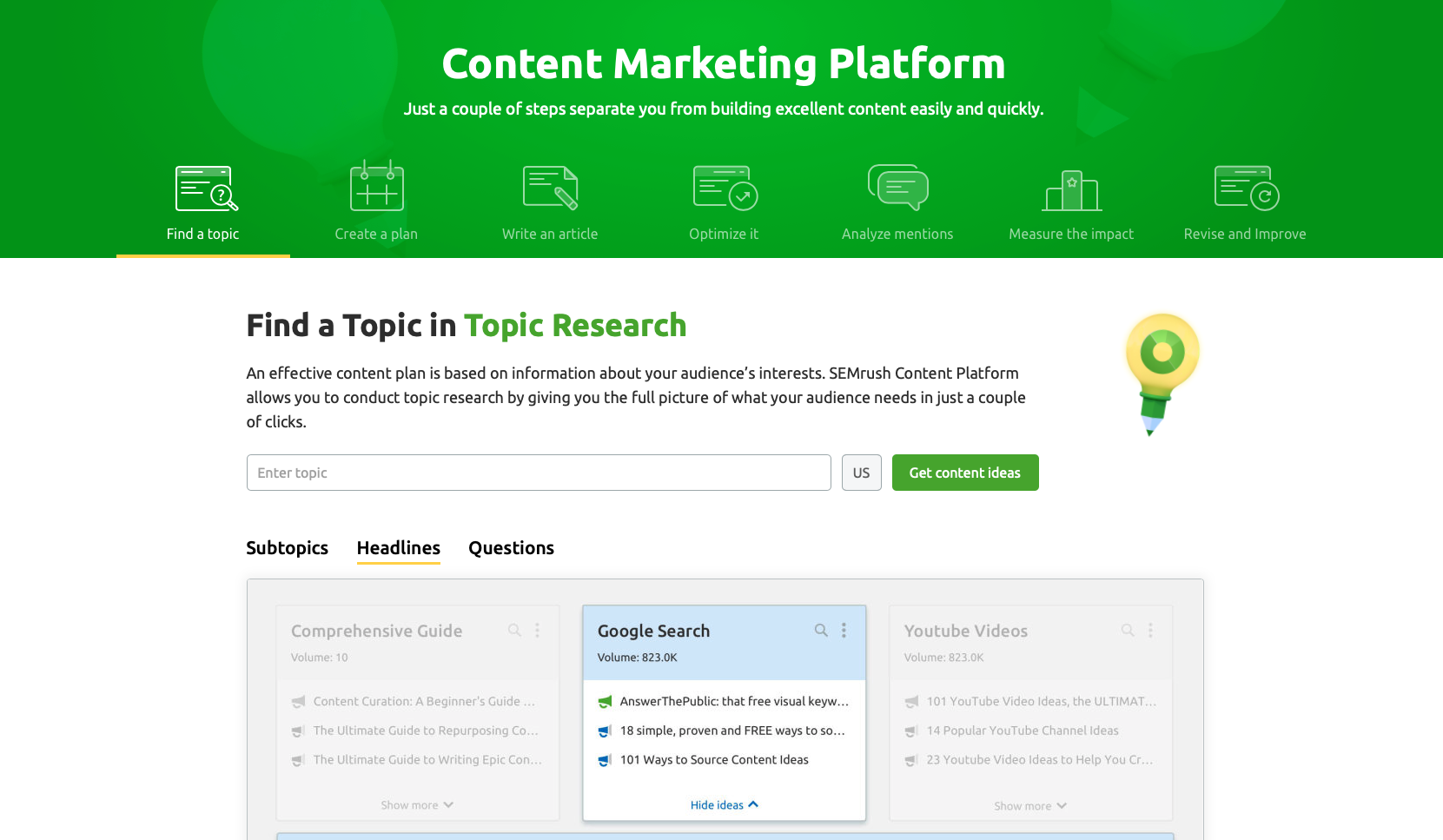 SEMrush works best when you have a pro account, but for beginners new to SEMrush research, you can start with a free trial and once you get used to the features you can upgrade your account for a more detailed and complete analysis of all your competitor's websites. Here's what the dashboard looks like on my pro account:
There's so much in this one tool. A few things you can access in your SEMrush account from the Dashboard: domain analytics, in-depth keyword research, running projects and analytics on all your websites, support for multiple projects, ability to do a site audit, and more! It's worth its weight in gold.
II. Tools for Your Writing
The below tools are ideal for helping you to write better, but there's a bonus: they also help you create content faster.
4. Google Docs
Google Docs is a great alternative to WordPress. You can write your content first in Google Docs which will help you spot spelling and grammar errors. You can also collaborate with other writers when you need a little help.
One of the cool things about this content writers tool is that you can share a link with anyone you choose and they can watch you write, live. This makes it one of the ideal tools for editing content. They'll see the words appear in the document as you type them. The user who's viewing the doc live with you, appears on the top right – in the screenshot below, I'm working on a doc with Heather, who shows up with a little pink bar under her name. 
As a writer, it's a fun way to give your audience a glimpse into your composition process, or a very useful way to collaborate with your staff or other people who can add to your brainpower in creation.
Perhaps one of the best settings for writing in Google Docs is that you can set the zoom to "Fit." Then go and select View > Full Screen. It's as clean as working in Office Word!
You'll still be able to see your browser frame but you can make use of Chrome's presentation mode to get rid of the frame. And there you have it – all background distraction blocked.
5. Copyscape
Crafting high quality content takes time and dedication. Copyscape is your best friend when it comes to being confident that your content is original. This online plagiarism checker is used to check the originality of new content, search for copies of existing content online and prevent duplicate content. The Premium copy search will cost you $0.05, but it's worth it—it checks your content and tries to find any duplicates from Google. Here's what it looks like doing a search on content that hasn't been published anywhere else yet: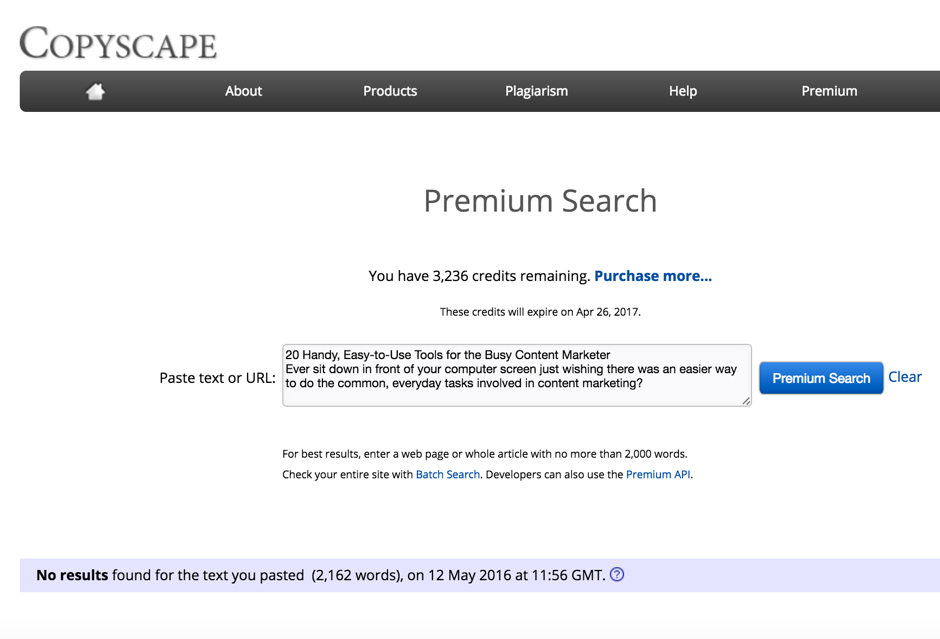 In short, it's ideal for ensuring your content is unique and not published anywhere else on the web.
6. Canva
You've probably heard that your brain can process visual information up to 60,000 times faster than it can process textual information. Go ahead and give your readers something worth looking at. You don't need to be an artist to do this, Canva will help you create great looking images, flyers, headers and more. Plus, it's SO easy! Just login and create an image from one of their multiple templates available.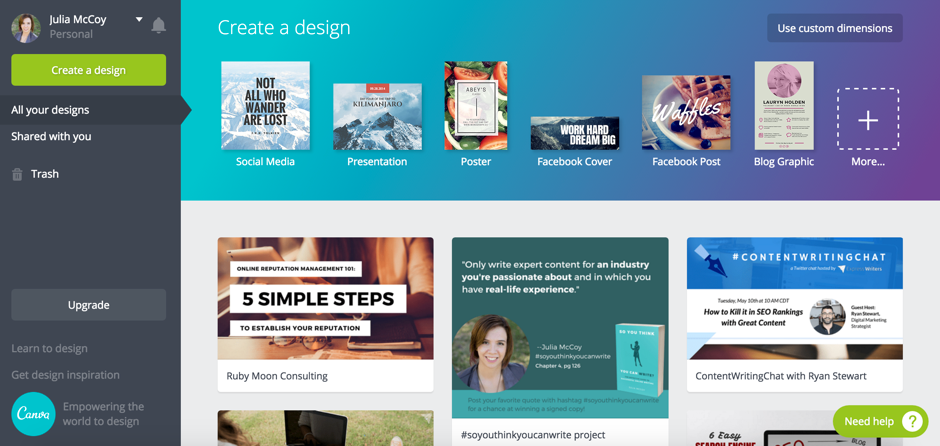 I love it—I have around fifty templates going in my dashboard, for images on everything from Twitter chats to my blog headers.
7. Shareist
From embedding videos and links to capturing content around the web, Shareist will help with your entire content marketing cycle. It's especially ideal for small to medium businesses. With this tools you can add content from sources such as Feedly, RSS and image and product sources.
You can also schedule posts to share to your social media platforms in customized timeslots. Shareist further allows you to repeat content on a schedule or even recycle content when you don't have something fresh to post. Content will be saved in your library for you to use later on social media, newsletters and blog posts.
8. IFTTT
"If This, Then That" is a great little automation tool that will let you effortlessly schedule events, organize email, set reminders and sync files while tracking the hours you spend working on your content. It works based on recipes, created by users for users all for free. You just enable a recipe through the platform you're using it on (Twitter, for example, if you're automating building a list), and IFTTT hooks it up for life. You can also connect apps like Instagram, Twitter and Facebook for a wholly streamlines marketing experience.
Just be wary using IFTTT of automating too much. Today's crowd is smart and will sniff out a "spammy" brand or marketer very quickly.
9. Trello
This is a great project management tool that makes collaboration easy and even fun. Trello is basically an online version of the old-fashioned Sticky Note.
The Trello board is a web page with lists laid horizontally so you can get an overall view of your project. The items in the lists are called cards. You can drag and drop those cards onto other lists when you need to reorder things. Individual cards can contain images, attachments, checklists, colored labels, deadline dates and even discussion notes.
What's more, this tool allows you to get feedback on what to do next. Trello offers a voting feature so users can vote on cards. So let's say you need ideas for content from your followers, Trello lets them add ideas to your lists and vote on the ideas they like best.
III. Tools for Distribution
You've come up with great ideas at this point and even generated some top-notch content. Now it's time to promote it. Promoting content doesn't have to be difficult. There are plenty of tools that will help you out.
10. ContentMarketer.io
The brainchild of Sujan Patel and Colin Mathews, ContentMarketer.io acts as an outreach campaign builder and collection tool all in one. You can use the tool to collect names of people who want to promote your content and then use email templates to let them know about your latest creation.
To use this tool, you will start by scanning your latest blog or uploading a CSV. Content Marketer will then hunt down Twitter handles, contact forms and email addresses of the people mentioned. You then skim through the list and remove anyone you don't want to contact and information you think is inaccurate or duplicated. Finally, you can promote your content by sending tweets, direct messages and emails and start the process of building valuable relationships.
You can integrate this tool with Gmail, Twitter and Google Apps so you can do all your outreach in one place.
11. Yoast
Yoast will help to optimize your blog so you can enjoy maximized rankings. It doesn't matter what format you have written in, be it e-books, blogs or web articles, Yoast is a great way to increase your traffic. This WordPress plugin allows you to plug in the necessary "tidbits" of good SEO copy: meta details, tag and focus keyword. Here's what Yoast looks like on the backend of my blog post for 30 Killer Copywriting Tips:
The green on the top tab, where it says Content: web copywriting means the post is good to go and scores "green" out of Yoast's green, red, and yellow scoring system.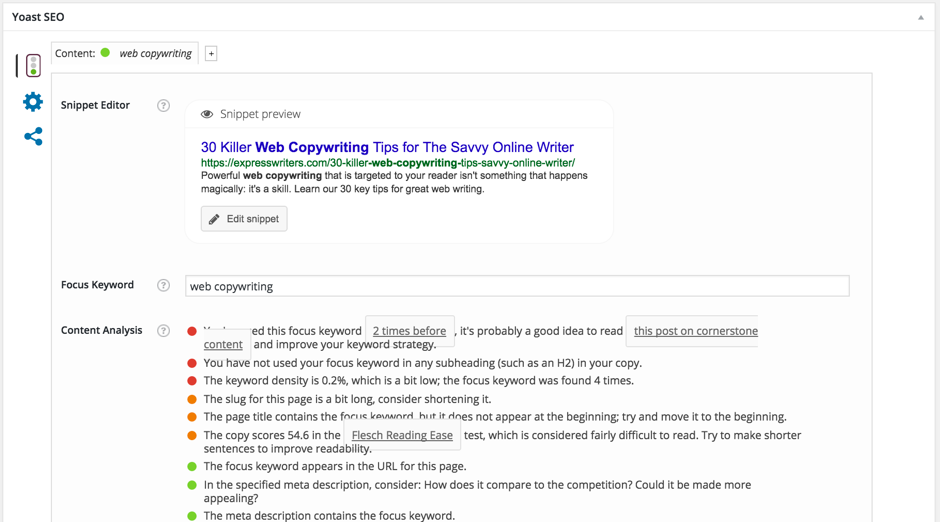 Yoast will also generate a Google search result preview so you'll see exactly how your content will look in Google SERPs when somebody searches for it. The plugin also ranks your SEO value overall page by page and gives recommendations on how to improve.
12. Click to Tweet
Did you know that if you use Click to Tweet to make certain phrases or quotes within your content tweetable, you actually get more social traffic?
How it works is that it allows you to add a link next to a quote you feel people would like to share on Twitter.
To add Click to Tweet to your blog, simply enter the quote you'd like people to share in the box on Click to Tweet's site and click "generate link." You can then use the URL that is generated for your anchor text.
You can add these to any part of your content, you don't have to have a block quote. It may just be a nice little phrase that sums up your blog.
Remember to keep the quote short enough to allow people to retweet it in Twitter. Also remember to ensure you include a tiny URL of the post where the quote comes from.
13. Tweroid
It's very possible that at the times you tweet, your followers aren't online for whatever reason – time zones, work commitments and so forth. This tool helps you determine your optimal tweeting time to your audience to ensure you get maximum exposure.
14. Slideshare
I mentioned earlier how popular visuals have become (here's a cool infographic from Hubspot to explain it better). So why not turn your content into an exciting, more appealing presentation? By submitting your content to Slideshare in a presentation format, you're sure to enjoy extra traffic and a lot more branding.
15. Flare
Your social sharing buttons that you place with your content don't need to be plain or ugly. Flare allows you to take control of how your sharing buttons look and will report on the number of clicks they get.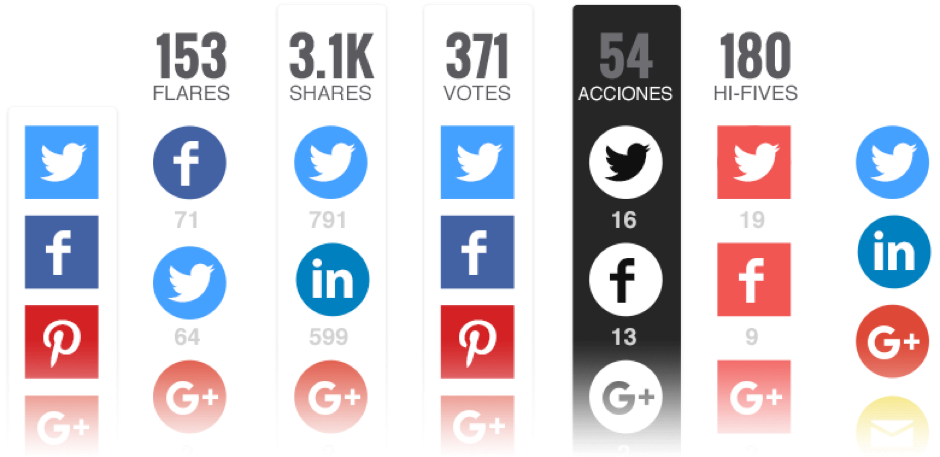 This is a pretty cool tool to attract and engage readers so do more social sharing across your content!
Which Content Marketing Tools Are Your Favorite?
There's too many to list, but these are some of my personal favorites. While content marketing may feel like an impossible feat some days, my handy list of 15 easy-to-use tools for busy content marketers is sure to make your content marketing efforts somewhat easier—and more effective.
Do you have a favorite I haven't listed? Let me know in the comments section below!