For those who work in event marketing or have clients that do, the latest addition to custom audiences that many advertisers have been patiently waiting for is finally here: Facebook Event Interaction Custom Audiences. With this new option, Facebook now allows advertisers to target people who have previously interacted with an existing or past Facebook event listing and indicated that they were 'interested' or 'going'.
We will go through the steps of setting up these new audiences and explore 15 ways to maximize your efforts in reaching, converting and even up-selling event attendees.
How To Create a New Event Interaction Custom Audience
Before diving in to set up and use these new custom audience options, your Ads Manager account must be associated with a Facebook Page that has a current or past event listing. Once you do, head over to the Audiences tab, click the "Create Audience" button and select the "Engagement" option, as highlighted below.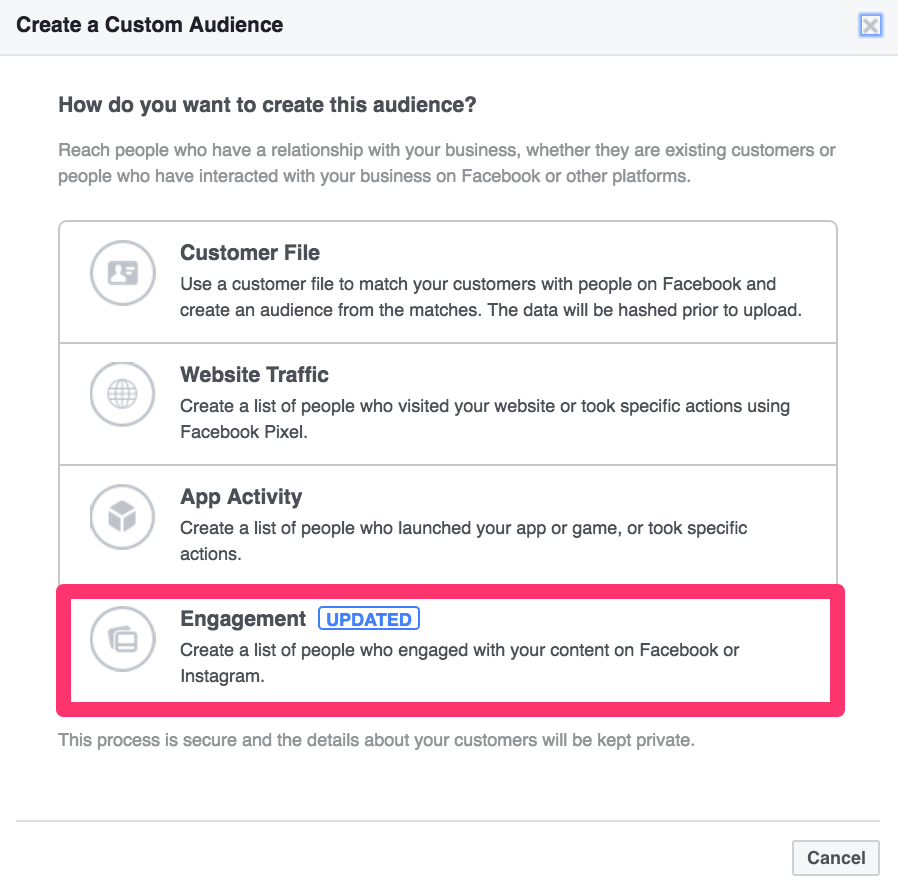 Next, an updated selection of options will display, including the newly available, "Event" custom audience, which you will select.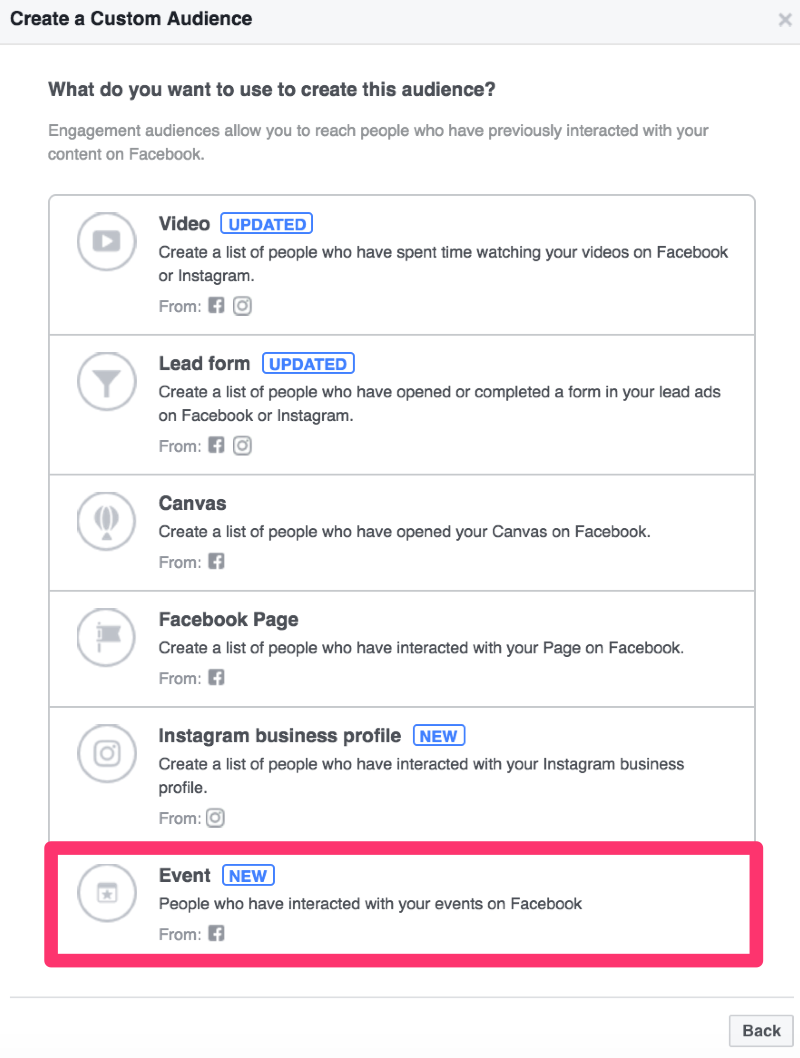 Once selected, a smaller pop up will appear, where you can select if you want to target people who responded going, interested, or either.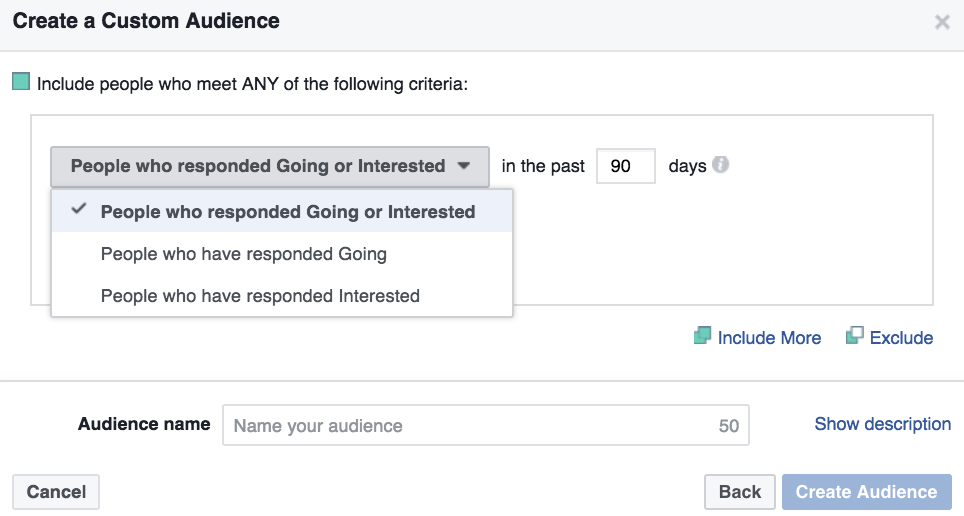 After selecting an audience, input the number of days (between 1-365) that you would like people to remain in your audience for, select the associated Facebook Page, and the current or prior event you want to use for building out this particular custom audience.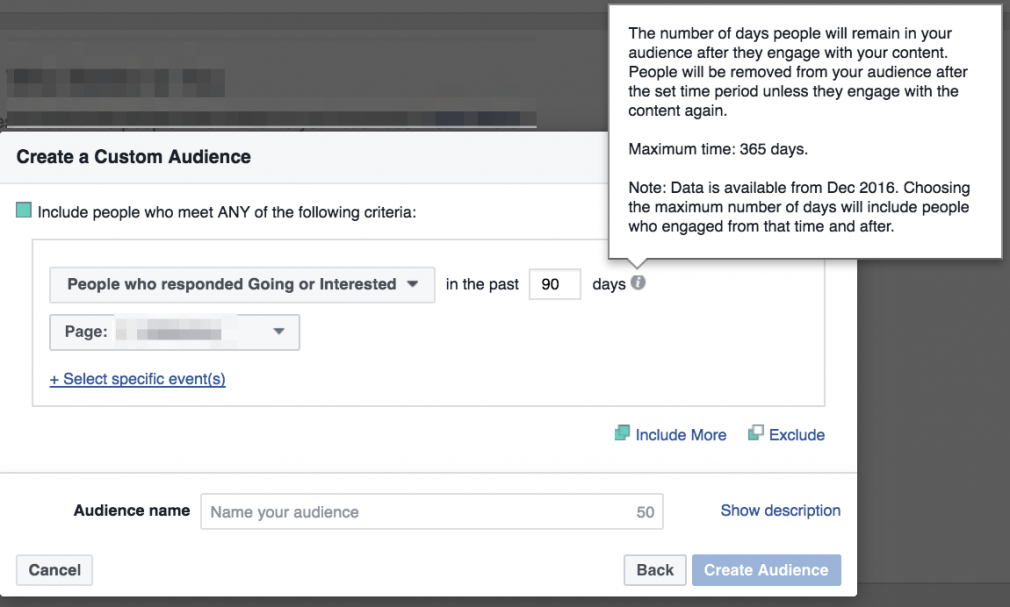 Give your audience a name and description, click the "Create Audience" button, and you are all set. As with all custom audiences, it may take some time for your audience to generate, so check back later to see if it is ready for you to use.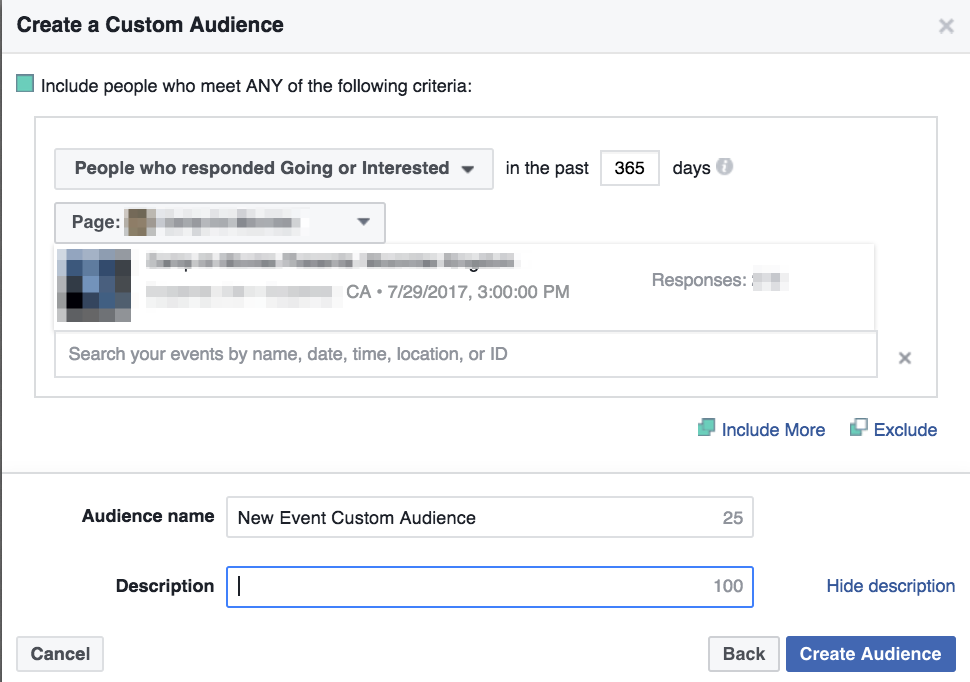 How To Use Your New Event Interaction Custom Audiences
Whether people marked interested or going, from a current or past event, there are a variety of ways to utilize these event audiences in an effort to reach your event attendance and revenue goals.
People Who Responded - Interested:
While these people have already expressed interest, they have not yet committed to converting, so here are some ways to entice them to do so.
Audience From a Current Event Listing:
Working on driving attendees to an upcoming event? Create an audience of people who marked they are interested in your event and test some of the following messaging options if applicable.
1.) If tickets are not yet available to the public, you have only been building awareness to this point, and you have an event listing set up, once tickets are released you can target these users with that messaging so they can be the first to secure their spot.
2.) If you offer early bird rates, showcase how much attendees can save by registering now and mention when they are set to expire, to drive urgency.
3.) The more, the merrier. If you offer group rates, share that option, so interested people share the ad, tag their friends or colleagues in comments, or better yet, purchase everyone's tickets.
4.) Not getting as many sales as you anticipated? Try a limited time discount promo code via a lead generation ad that emails them a promo code and enters them into your funnel.
5.) If you don't want to go the discounting route or aren't converting a higher percentage of those who are interested, test new messaging as soon as you have exciting new speakers, performers, sessions, vendors, and sponsor additions to the lineup.
6.) Try ads that express additional benefits of attending your event that were not previously mentioned in awareness campaigns or your other collateral.
Audience From a Past Event Listing:
Strategizing for an upcoming event? Create a custom audience from a past similar event, such as a conference series, for promoting the one you are about to open registration for. The following messaging that may work well with this audience:
7.) "Unable to attend last time? Join us this October at…etc."
8.) Limited time discount promo code.
9.) As mentioned above, group rates are applicable here as well.
10.) See what converted well last time and how you can test it with this audience.
People Who Responded - Going:
They have converted, so why use this audience? Because there is more potential to drive further attendance and revenue. While most of your budget will be allocated toward acquiring new attendees, there are ways to use custom audiences of people who marked 'Going' for some of your other efforts.
Audience From a Current Event Listing:
11.) Offer new additions and announcements about the event they are already attending, so it will further boost their excitement and increase the chances of them sharing this information with friends or colleagues who may not know about the event or are on the fence about joining them.
12.) Offer referral discount codes to registered attendees who may want to invite someone else to join them at the event. Make it worth their while, since they would be offering a small discount to others and they may not have gotten one themselves. If someone books with their code, they can get a t-shirt, swag bag, or a discount to one of your other upcoming events, which they may or may not utilize.
13.) Upselling options such as add-ons. e.g., backstage passes for a meet-and-greet.
Audience From a Past Event Listing:
Promoting another upcoming similar event? If you have a marketing conference series that travels the globe where speakers and session topics often change, remarketing to previous attendees can help drive recurring attendance.
14.) Showcase the benefits of attending the event in a different location, again in the same year, or even a year later since you can target up to 365 days. Messaging should focus on how it will be different from last time, new additions to the agenda, and why it will be worthwhile to attend your event again.
15.) If in line with your strategy, goals, and budget, offer an alumni discount.
While there are many other creative ways to advertise to these audiences, we hope that these fifteen are helpful in kick-starting your new campaigns.
What are some other ways you would use these new event interaction custom audiences?