The worst nightmare for a webmaster happens when they find a sudden drop in their SEO rankings and all their hard work is gone! Are you one of those? Well, take a deep breath! You are not the only one. 
Every website has faced or will face a drop in rankings in the future. You can't avoid it, but you can certainly minimize the impacts of it.
A drop in rankings can happen for a variety of reasons. Both the obvious ones and not so obvious ones are explained in this article. Here are 16 things that can hurt your site rankings:
1. You Are Busy Creating Lots of Low Quality Links to Your Site
Any link created or purchased with the intention of manipulating the PageRank that directly impacts a site's ranking in the search results is referred to as a low-quality link. 
Low-quality links are links from low-quality web directories, low-quality article directories, low-quality guest posts, or spam comments. A complete list of link schemes that are counted as unnatural by Google can be found here. 
How To Identify Low-Quality Links?
Look for site messages under Search Console. If you have lots of unnatural links pointing to your site, the chances are high that Google will directly send you a message asking you to fix those links. An example of an unnatural linking message is provided below: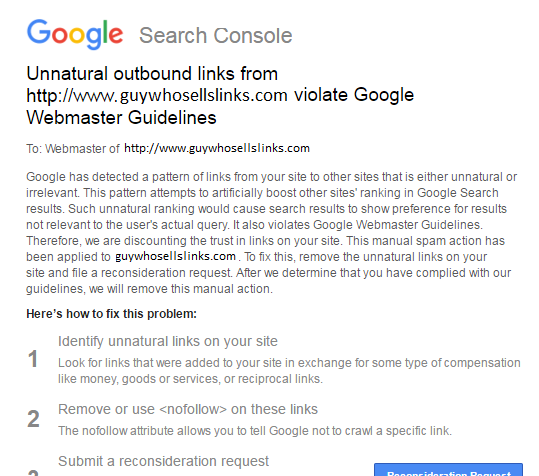 If you haven't received any direct messages from Google, it does not mean that you are out of trouble. 
If you know that you have low-quality links to your site, then you need to check those. 
Log in to Search Console and click on "Links to Your Site" under "Search Traffic."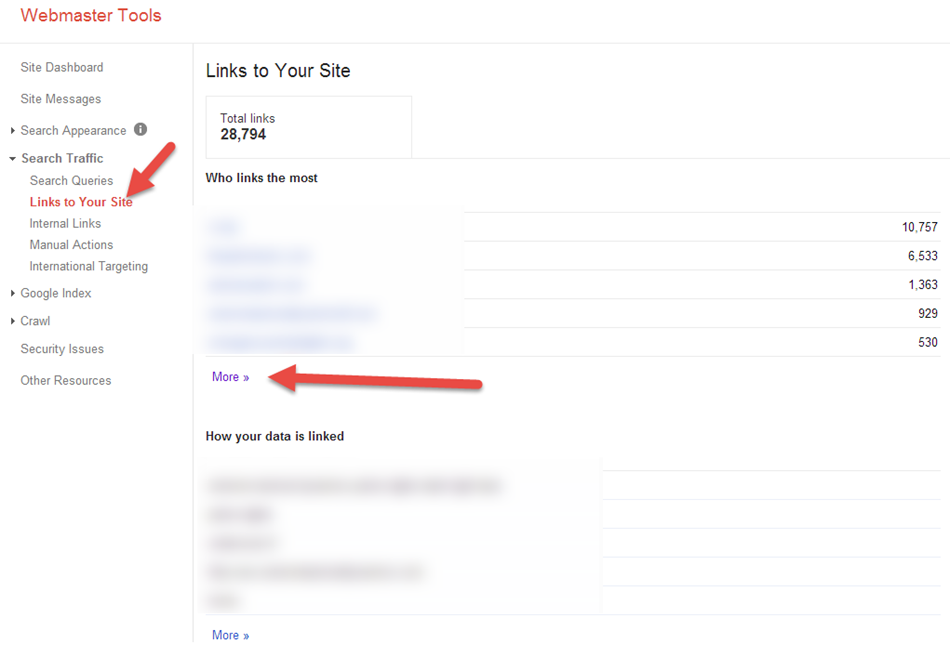 Download the list and filter the low authority domains, low traffic, and high spam score. 
You can also review every link and filter all the unnatural links from the list based on the type of link schemes explained by Google. 
How To Fix The Problem Of Low-Quality Links? 
Once you have identified the list of URLs pointing to your site that is of low quality, try and remove those links by sending an email to the webmaster and ask them to remove your link. It might take time, so please give the process at least 6-8 weeks to send and get responses to emails.
During this period, take screenshots of emails that you send to the webmasters. For all the low-quality links that are still present, you can disavow them. Once the process is over and you have fixed the problem, ask Google to review your website by filing a reconsideration request. (Please note: You need to file a reconsideration request only after you have received a manual penalty. If you have not received any messages from Google, you can simply remove as many low-quality links as possible by emailing the webmasters).
2. Your Site Has Bad Redirects
A redirect happens when the visitor opens a URL and is instead taken to a different URL. 
Consider the scenario that you have a page www.example.com/mens-shoes on your site, which ranks on Google's first page. 
The page receives around 10K unique visitors each month. Due to some changes in website design, the developer redirects that URL to the home page www.example.com. This is a bad redirect because it does not fulfill the user's intention. The user is looking for men's shoes, but the newly redirected page contains little to no info about men's shoes. 
Therefore, the content was essentially changed, and the rankings for that URL are lost. 
How To Identify Bad Redirects?
Visit Google Analytics and export all the landing pages that are ranking in organic search. After that, upload that list of URLs in Screaming Frog after clicking on mode -> list - > paste as shown in the below screenshot:

You will be able to identify all the bad redirects, including those that are redirecting to 404s or the home page. 
How To Fix Bad Redirects?
Once you have a list of URLs, you need to create an alternate URL for every new redirect. Users should be navigated to a new page with the same content (or even better content) than the previous page. If your pages are not ready, then there is no need to implement redirects.
You must not change the old URL unless you have your new page ready. Remember, every new page must always fulfill the user's intent. If you create lots of redirects that are redirecting to the homepage or a different page having content different than the original page, then it will definitely hamper the rankings of the redirected page. 
3. Your Site Has Duplicate Content
In the words of Google, "Duplicate content generally refers to substantive blocks of content within or across domains that either completely matches other content or are appreciably similar."
If you have recently updated content on your site and a substantial amount of content is duplicated, it can negatively affect your site rankings. 
If you have created new pages on your site and the newly created pages have blocks of content that are largely similar to other pages on your site (including the title or H1 tags), then that might also be considered duplicate content.
How To Identify Duplicate Content?
Use SEMrush Site Audit tool to find the pages on your site having duplicate content. If the SEMrush Site Audit bot identifies multiple pages with 80% similarities in content, it will flag them as duplicate content. Besides, pages having too little content might also be counted as duplicate content.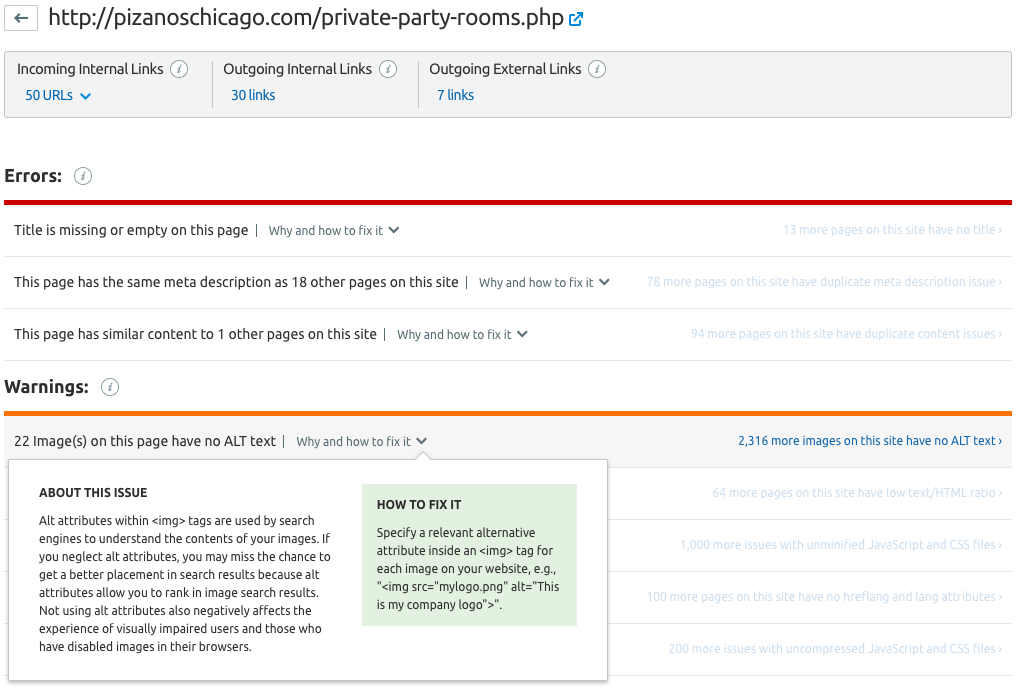 How To Fix Duplicate Content?
Use 301 redirects when you create new pages so that the old pages aren't accessible by search engines or users. Similarly, use rel=canonical tags for pages with similar content so that the search engines know which content to be treated as original. Don't forget to use rel=noindex for pages that aren't ready and try to minimize the level of boilerplate content that you have on your site. 
4. You Have Recently Updated Your Title Or Meta Tags
The title tag is an extremely important part of your on-page SEO because it lets Google understand your web page's contents. Hence, even a slight change in the title tag might cause fluctuations in rankings. 
For example, if the title tag of your homepage is "Web Design Company Boston" and you changed it to "Hire A Web Designer In Boston" then your rankings might get affected for keywords like "web design company Boston" because you just removed the word "Company" from the page's title tag. 
How To Confirm?
Ask your web developer and confirm the changes he might have made to the page's meta tags. 
Login to Google Analytics and export all the landing pages that are ranking in organic search. 
Use a site crawler like Screaming Frog to quickly check the new meta tags of all your pages ranking on organic search. Compare the title and meta tags with your website's previous backup (ask your developer, he will surely have it). List down all the URLs with new meta tags and add a column of old meta tags. 
How To Fix It? 
You can rewrite the new titles and meta tags by replacing them with the old ones; this will fix the issue. You can also include the missing keywords in your new title tag and allow Google to recrawl the page. This might get back your lost rankings. 
Please note: Do not change your title and meta tags often, as this can negatively impact your rankings. It is better to apply the change on a single page and see the results before moving on to another page. 
5. You Have Recently Made Changes In Content
There might be a sudden drop in rankings after making any changes in your site content, including H1s. Content is a critical ranking factor, and all the webpages rank based on content. Any changes in it are likely to cause fluctuations in rankings. 
How To Confirm?
Login to Google Analytics and export all the landing pages that are ranking in organic search. Ask your web developer to provide you a backup of your website. Compare the changes in content for every URL and list the URLs that have changed. This work will take a lot of time. If you want to save time, there are tools like OnWebChange that will notify you of any changes in the website design or content. 
How To Fix It? 
Once you have a list of URLs to update, you can use your website's old backup to rewrite the content or ask your SEO to include the missing keywords in the new content. This strategy will minimize the impact on lost rankings. If you are unable to find a backup of your website, you can use the help of the Way Back Machine to fetch the backup history of your website. 
6. You Have Incorrectly Used Noindex tag, Robots.txt File and Nofollow Attribute
Often webmasters ignore some important technical issues that can have a major impact on the existing rankings. Three of these issues are the incorrect usage of the noindex tag, robots.txt file, and nofollow attribute. 
For example, your web developer mistakenly applies a noindex tag in one of your important pages ranking highly in search. The result? The webpage disappears from the ranking. The same thing can happen with robots.txt, where a single line of code might block the search engines from indexing your site and could cause all the site rankings to drop at once. 
Similarly, if a nofollow attribute is applied to your site's internal pages, it will directly impact the PageRank and cause the site rankings to drop. 
How To Check?
If you have experienced a site-wide drop in rankings, then check the robots.txt and see whether you have mistakenly disallowed the search engine crawlers from crawling your site—for example:
User-agent: *
Disallow: /
Will disallow search engines from indexing your site.
If you notice a drop in some of your web pages, then check the noindex attribute or the nofollow attribute by right-clicking on the page and viewing the source code. 
The presence of a noindex tag on the page will cause the same damage as a robots.txt exclusion, while the presence of a nofollow attribute on any internal links will restrict the flow of link juice and cause a drop in the rankings. 
How To Fix It? 
Immediately change the text of your robots.txt file and remove the links that disallow the search engines from accessing those pages on your site that are important for organic search visibility. Similarly, check the source code for incorrect usage of noindex or nofollow tags and remove them immediately. 
Please Note: There are some cases where the use of robots.txt, noindex, or nofollow is necessary. You must not remove such lines of codes or tags without consulting your SEO. Always take the help of SEO to fix these issues. 
7. Your Site Is Getting Lots Of Low-Quality Traffic
Low-quality traffic does not hurt your site rankings directly, but they can do so indirectly. If you notice that your site has started receiving tons of low-quality traffic, then perhaps your site is getting links from low-quality directories or irrelevant sites via paid links or negative SEO; this can directly impact the number of conversions, time on page, bounce rate, etc.
All these factors combined will tell Google that users are not liking your website meaning the rankings could be pushed down.
How To Identify Low-Quality Traffic?
You can analyze the quality of traffic using a tool like Finteza; it will help you detect individual IP addresses and websites that send bad traffic to your website. Finteza can identify up to 12 types of bad traffic, including bots.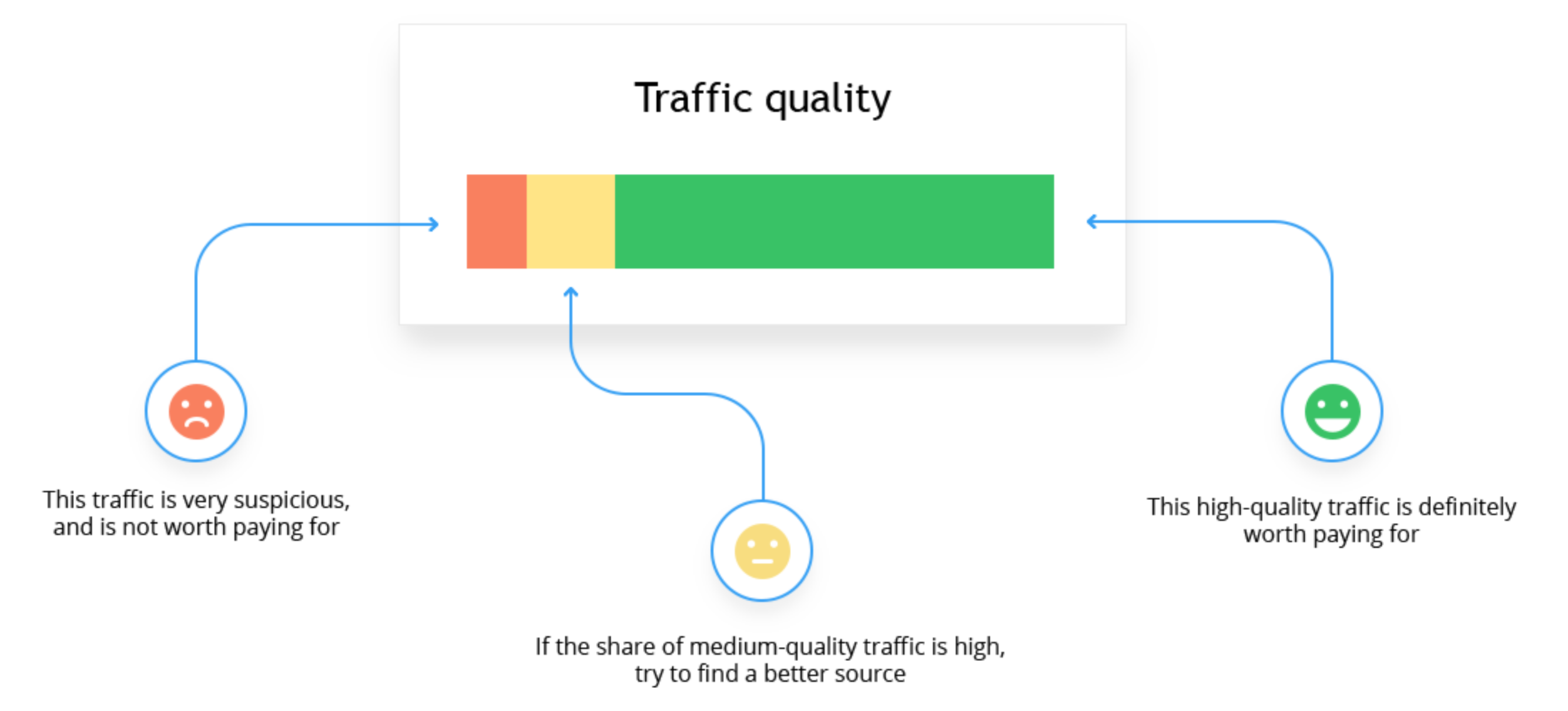 How To Fix It? 
After you have shortlisted the sites that are referring low-quality traffic, you must make sure to remove your links/ads (even nofollow) from those sites. Remember, these links can be nofollow, and traffic quality measurement is the only way to filter such sites. 
8. Google Has Made A Recent Update To Its Ranking Algorithm
Core algorithmic updates are a natural part of the overall search algorithm. Whenever such updates happen (it might happen several times a day, and Google might not explicitly announce such updates), there are chances that your website might expect changes in rankings. 
A negative change in rankings due to a Google update does not always mean something is wrong with your website. To make this understand, Google gave the following explanation in its blog:
"One way to think of how a core update operates is to imagine you made a list of the top 100 movies in 2015. A few years later in 2019, you refresh the list. It's going to naturally change. Some new and wonderful movies that never existed before will now be candidates for inclusion. You might also reassess some films and realize they deserved a higher place on the list than they had before.

The list will change, and films previously higher on the list that move down aren't bad. There are simply more deserving films that are coming before them."
Core updates might not always be bad, but they can indicate that something is wrong with your site.
How To Confirm The Update?
Keep a watch on the official Google Webmasters Blog. If there is a major algorithmic update that negatively impacts some sites, Google will often announce these updates and often provide information to update your site. If there is no announcement from Google, you can safely assume that the change in rankings is due to core updates.
When a core update happens, the only thing you can do is improve the user experience. If users are happy with your website, then most likely Google will be as well. 
What Should Be Your Next Step?
Create a Google alert for Google update and subscribe to reputed blogs in the SEO industry like the Search Engine Land, Search Engine Roundtable, Search Engine Watch, etc. These blogs are great sources of information about everything related to SEO and search engines. 
9. You Have Violated Copyright Knowingly or Unknowingly
If your site receives a lot of valid copyright removal notices, then your rankings will drop. In the words of Google, "Sites with high numbers of removal notices may appear lower in our results. This ranking change should help users find legitimate, quality sources of content more easily—whether it's a song previewed on NPR's music website, a TV show on Hulu or new music streamed from Spotify." 
If your site is related to music or video streaming, you are most likely to hit with this update, also known by Emanuel or the Pirate update. 
How To Identify Copyright Violation?
Visit the Google Transparency Report and enter your website URL to see the number of requests filed by others against your website. 
How To Fix It?
Remove the pages that are inviting copyright violation asap and remain cautious that there are no future copyright violations from your side. Remember, copyright violations can happen in the form of text, image, audio, or video. It is better to keep a check on the transparency report and adopt a strict content policy that restricts the publication of copyright material on your site.
10. There Is A Rise In Local Competition
A rise in the local competition can negatively affect your site rankings. Suppose you have your bakery business located in Dothan, and there is no other bakery business operating in your area. it would be easy for you to continue ranking on top of the local search results. But, if two new bakery shops open in Dothan, then suddenly your competition increases, resulting in a dip in rankings. 
Another scenario could be an old bakery shop in Dothan suddenly created a new account on Google My Business and invested in online marketing to defeat you in the local search results.
How To Identify Competition?
One way is to enter your main business keywords directly in the Google search and identify your competitors. You can also use Semrush's local rank tracker to find new online competitors, discover what keywords they rank for, and also track your rankings, so you know when a competitor takes over your rankings. 
What Should Be Your Next Step?
Once the new competitors have been identified, it is time to monitor their strategies using a competitive analysis tool like SEMrush so you can identify any missing parts in your SEO strategy. You may also need to increase your link building budget if you hope to defeat your rising competitor. 
11. Your Site Is Not Mobile Friendly And Not Ready For Voice Search
A website that is not mobile-friendly might be pushed down in the rankings because Google always wants to improve the UX, and a responsive website is the first step in improving UX. For this reason, Google moved to the mobile-first index, meaning it now ranks websites based on their mobile version of content instead of the desktop. 
Mobile site and voice search go hand in hand. If you still don't have a mobile-friendly responsive website, then chances are your website will continue to lose its current rankings in the search results.
How To Check Mobile Friendliness?
Take the mobile-friendly test to check the mobile-friendliness of your website. 
How To Fix It? 
Google will automatically suggest the changes you need to implement on your website when you take the mobile-friendly test. Ask your developer to implement the changes or make your website completely responsive so that it can be accessed by users irrespective of the device they are using. Also, optimize your website for voice search (especially question keywords); this will help you prepare your future site. 
12. You Have Become a Victim Of Negative SEO
Negative SEO happens when your competitors try to ruin your rankings by using unethical practices. Your competitor might use black hat SEO technique to sabotage your rankings. 
How To Identify?
There are several ways to identify negative SEO:
Keep an eye on the number of links you are acquiring. If you notice lots of links coming from low-quality sites that you haven't created, your competitor is probably creating those for you.

Check the number of links you have lost in the past 60 days. If you are continuously losing links from authority sites, your competitor might be behind it. 

Continuously monitor the website and check the robots.txt file, .htaccess file, and Search Console for any errors, warnings, or malware.

Use the help of software like Copyscape to determine if you have been a victim of content scraping. 

Keep an eye on the traffic quality, especially an increase in the number of bots or an increase in bounce rate. 

Check your site speed and fix all the issues that are making your site slower.
How To Fix It?
Fix all the issues that you have identified in the step above. You need to continuously monitor your website via Search Console. Also, keep an eye on the links acquired/lost because this is the biggest reason you might lose your rankings due to negative SEO. Keep your website free from malware, and always keep your site's most recent backup for a quick fix. A single version of malware can make you lose your site rankings almost instantly. 
13. Your Site Has Suddenly Become Unsafe
If your site gets hacked or is infected with malware and Google notices it, you are in serious trouble because Google will immediately push down your rankings. Internet safety is a serious issue; it is taken extremely seriously by Google because it directly affects kids. In such a case, Google might display a warning in the search results like the one shown below:
Or, it might display the below warning in Chrome: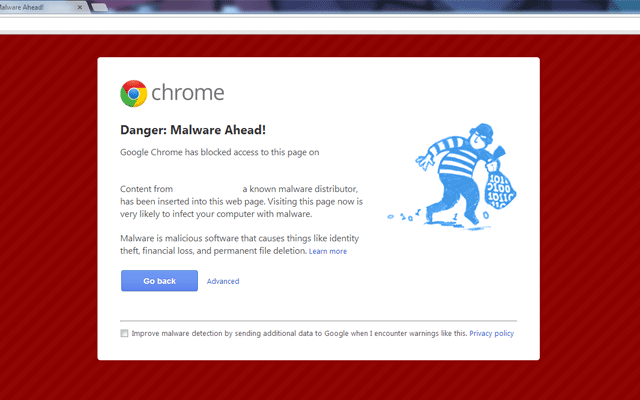 How To Check For Malware?
Immediately visit Search Console and check for any message from Google. In most cases, you will receive a message from Google specifying that your site is compromised. Or, you can simply enter your site in the Safe Browsing tool and check for any issues. 
How To Fix The Issue?
Google will suggest the steps you need to take to make your site malware-free. These steps will be suggested in the messages section of the Search Console. In case you are unable to solve the issue, the best step is to upload a backup of your site and request a review.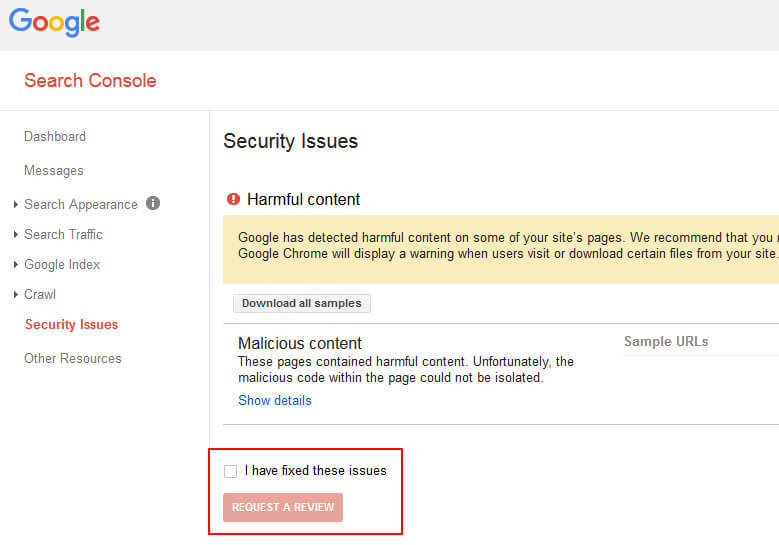 14. You have Lots Of Links Pointing To Other Sites
If you have lots of links pointing to low quality, spammy sites, your site may not perform well in Google results. The reason being, it is a violation of the Webmaster Guidelines. 
How To Identify Low Quality Links Pointing To Other Sites?
Log in to Search Console and check for messages. If there is an issue, you will receive a message similar to the one displayed in the below screenshot: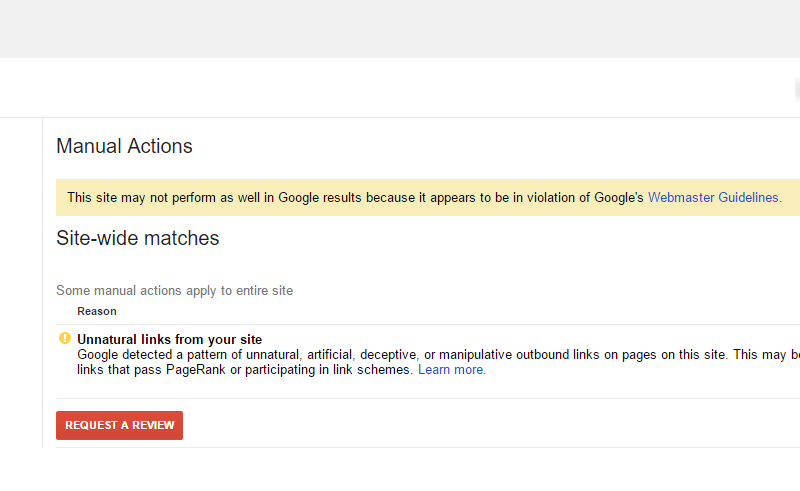 How To Fix It?
You need to remove all the unnatural links from your site that Google might count as artificial and deceptive. You need to closely look at the anchor text of the links, the spam score of the domains you are linking to, and niches of the sites you are linking to. Immediately remove all the spammy and irrelevant links. 
15. You Have Recently Changed the Internal Linking Of Your Website
Any changes in the internal linking structure might cause a big drop in search rankings. For example, you have 1000 internal links from the main navigation pointing to one of your inner pages ranking highly on search. Now, suppose you remove the navigation link resulting in a loss of 1000 internal links; this big change will slowly cause the page to decline in the search rankings. 
How To Check And Fix It? 
The best place to check whether you have lost many internal links pointing to any of your important pages is the Google Search Console. Log in to Search Console and navigate to Links. 
Here, you will be able to see the top linked pages of your site. Download the data and cross-check if there are any recent 404's that are causing a drop in the number of internal links.
16. You Recently Added Lots of Pages On Your Site with Low-Quality Content 
Low-quality content might be a qualified reason for the ranking drop. If you suddenly notice a drop in rankings, and you know that you have added some new pages on your site, then this ranking drop might be caused due to low-quality content.
How To Identify Low-Quality Content Pages?
A page is of low quality if:
Content is not original or unique.

The page does not satisfactorily answer the user's query.

Information is not backed up by relevant and authoritative sources.

Word count is too low with lots of boilerplate content.

There are numerous grammatical errors.

The language used is tough to understand.

The page is just a copy of an idea already present on the internet. 
How To Fix Low-Quality Content?
Ask your developer to provide you a list of URLs recently added to your site and closely examine every single page. Revise your content to make it unique, attractive, helpful, authoritative, and easy to understand. Make the changes one per page and request indexing of that page via Search Console. 
Final Thoughts
All your SEO efforts will be wasted if you don't keep an eye on the number of factors that can hurt your website. A single mistake can make your site lose its existing rankings. Always follow SEO best practices and continually monitor your website for factors that might hurt your site in the future.