2016 Will Be the Crowdsourced Election and Rubio Is Winning It
May 13, 2015
2 min read
Every major election brings technological innovations never seen before in a political campaign. This presidential election will not be the exception. President Obama's 2008 campaign wowed the world with his ability to harness the power of the Internet and social media to propel him into the White House. In 2012, Obama outdid himself by utilizing the tools offered by big data and analytics to trump Romney's best efforts at running a more traditional campaign. I predict that 2016 will be the year that crowdsourced data takes the center role in politics, and the candidate that can best harness this tool will ultimately triumph on Election Day.
Surveys and constant polling have and will always be critical to political campaigns, but they have inherent flaws in how they can be best be used to craft popular messaging. The primary weakness in polling is a campaign will only have questions to the answers they ask. Changes in the political environment can foster new poll questions, but it could take days before there is useful data to be incorporated in a campaign. If a campaign is a slightly ahead of the curve in updating their polling questions they can be adjusting their messaging before their opponents even have a chance to analyze the data.
In politics, timing is everything and crowdsourced data can guide political messaging in near real time. So far, Republican candidate Marco Rubio is the only candidate that has discovered how powerful crowdsourcing can be. Last week he launched a YouTube video that answers the most popular Google Suggest queries for his name like "What nationality is Marco Rubio" and "Is Marco Rubio a Democrat." These are obviously easy questions for him to answer, but these are also the questions that are most important to his newly launched campaign. Why should he be spending resources on answering questions about his platform when right now people just want to know who he is, where he's from and what his religion is?
Rubio is clearly looking in the right direction for questions that voters are asking. As the campaign progresses, he can take this further by knowing exactly what voters are most interested in at the time. As I write this, there are reports about Iran capturing a foreign owned ship, but if you look at the Google suggest terms and relevant searches around Iran, this does not seem to be an overwhelming concern of enough searchers. While this is clearly a critical foreign policy event, a candidate would not want to waste time talking about an issue no one even knows about.


On the other hand, if you look at searches for Baltimore, "riot" and "protests" are both very popular terms. Additionally, if a campaign needed to quickly know whether to refer to the events in Baltimore as riots or protests they would have a quick answer just from seeing which one is suggested first.

You can see similar instant crowdsourced data if you look at Google trends where "riots" shows up on the top list, "protests" do not.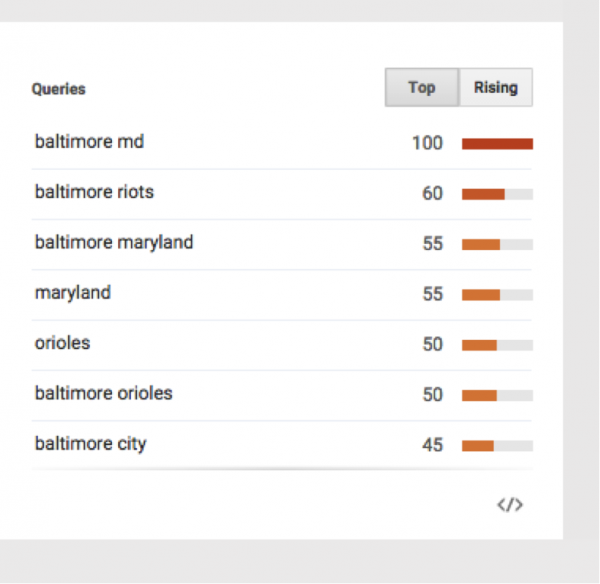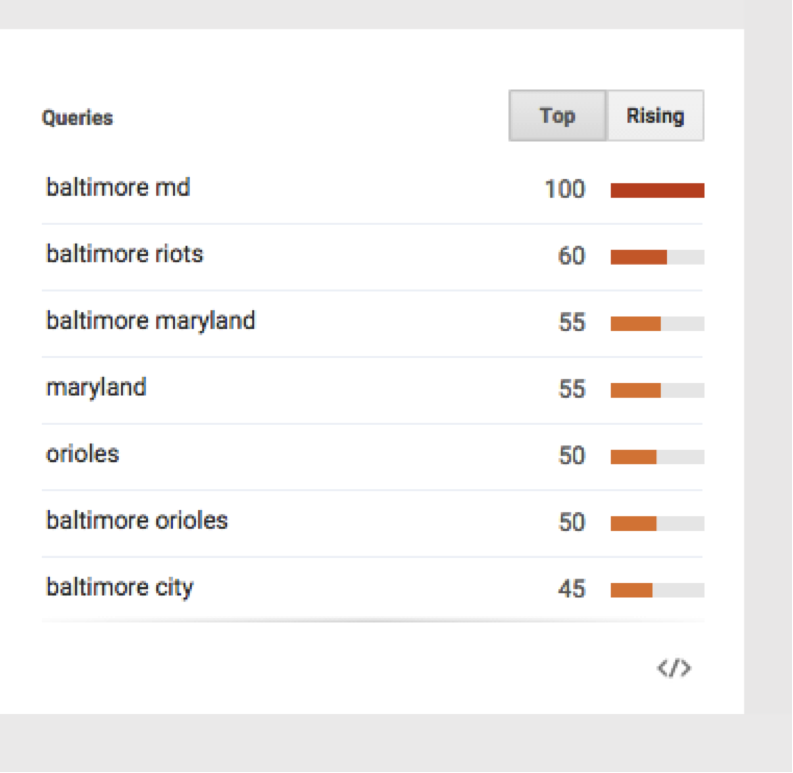 The most valuable piece of data a campaign can get from Google Trends is that they can see where certain topics are popular and shift their messaging by region. The Keystone Pipeline has the most search interest in states like South Dakota and Montana, which means that it might not be a good topic for a national campaign.
Right now, Rubio may be the only one paying attention to the power of crowdsourced data but expect the other candidates to jump on board once the campaigns heat up.
Is this a smart move for Rubio's campaign? Do you think his opponents will follow suit? Please discuss in the comments below.
Editor's note: We kindly request that you keep the discussion focused on the viability of using search engine data in political campaigns and related topics. Thank you.
Eli Schwartz
Eli Schwartz is a growth advisor and consultant with more than a decade of experience driving successful SEO and growth programs for leading B2B and B2C companies. He helps clients like Shutterstock, Mixpanel, Getaround, Handshake, Quora, and Zendesk build and execute global SEO strategies that dramatically increase their organic visibility at scale. In the past, Eli led the SEO team at SurveyMonkey, building organic search from nearly zero to one of the largest growth drivers at the company. He helped launched SurveyMonkey's first APAC office and oversaw international SEO pre- and post-IPO. Prior to SurveyMonkey, he led user acquisition at High Gear Media, pushing the company from 500,000 new users to 6 million every month in just three years. Eli frequently speaks at marketing events across the U.S., Asia, and Europe, and he authors columns published on Search Engine Land, Marketing Land, and Search Engine Journal. His work has been featured on sites ranging from the Huffington Post to the Y Combinator blog. He has guest lectured at Duke's Fuqua School of Business, Singapore's Civil Service College, and Growth School for Growth X. Eli regularly appears as a guest on top industry podcasts such as Y Combinator and Search Nerds. He has acted as a judge for the last five years on the US Search Awards, UK Search Awards, and the US Interactive Marketing Awards.