With the end of 2020 approaching, people are looking back on one of the most challenging years to date. With a big focus on ecommerce insights, we were reporting on ecommerce trends and shifts throughout the entire year. 
What we want now, however, is to take a glimpse into the future and see what trends will be shaping the new face of ecommerce — the industry that was probably most impacted by this year's pandemic. 
We couldn't think of a better person to do this than Jason Goldberg, the Chief Commerce Strategy Officer at Publicis and an ecommerce visionary. Therefore, we invited him to come and talk to us about the key ecommerce trends in 2021, and to pinpoint which marketing channels e-businesses better watch out for as consumer and industry demands shift right in front of our eyes. 
So, if you are looking for unique insights into the biggest growth points for your ecommerce business in 2021, dive into our discussion highlights and see how it could affect your ecommerce marketing strategy for the upcoming year. 
Emerging Ecommerce Trends 
Overall, ecommerce is expanding at an unprecedented rate, growing 23% YoY with 2021 sales projected to reach $4.5 trillion. 
The COVID pandemic has only accelerated this process, too; in 2023, the share of digital sales is forecasted to be at 22% of global purchases. 
Indeed, we can already spot this impressive growth in the US. As the US Census Bureau reports, the first half of 2020 saw a 4.8% spike — bigger than the 4.5% increase over the five previous years.
Today, with the proliferation of purchase points — from social commerce to online marketplaces to ecommerce storefronts — the range of ecommerce marketing channels seems endless (although there are only so many that can truly scale an online business). 
But before we highlight the ways to tackle top- and bottom-of-the-funnel customers, we first need to identify which ecommerce trends will be reshuffling the industry landscape in years to come: 
Rising consumer expectations: with Amazon upping customer expectations from e-tailers, we will likely see more requests for two-day shipping, more abandoned carts, and skyrocketing digital marketing costs.
Competition for Google: although organic and paid search is still one of the most powerful traffic drivers in ecommerce, we can see rising competition for consumer attention from Amazon, Facebook, Instagram, and Bing, as well as from alternative traffic channels, like Pinterest, Snapchat, and TikTok.
Diversification: this is not just about platforms, but also about brand discovery channels. With Google and Facebook ads still playing a dominant role, ecommerce marketers should now also pay attention to specific indexes, with local index, image, and YouTube search offering smaller audiences — often at a more cost-effective rate.
Existing customer bases: With many brands exhausting their net new customer base, targeting existing customers is as important as ever. This paves the way for customer activation strategies and channels. 
Omni-channel ecommerce marketing implying a tighter offline-online blend: in-store retail sales are still towering above online sales, and despite accelerated digital spend adoption, a brick-and-mortar presence implies vast business growth. Thus, crossing the online-to-offline divide is crucial for scaling your brand.
Business Growth Tips on Key Ecommerce Marketing Channels in 2021
In a nutshell, ecommerce marketing represents the ways you promote your online store via various marketing channels, such as organic SEO, social media marketing, and paid campaigns — essentially, all the means you can use to boost brand visibility and sales.
The ecommerce trends we mentioned above are affecting the way we think about channels that bring business growth. Therefore, the biggest challenge for marketers is to align trends and customer acquisition channels with their business goals, bringing everything into a single funnel.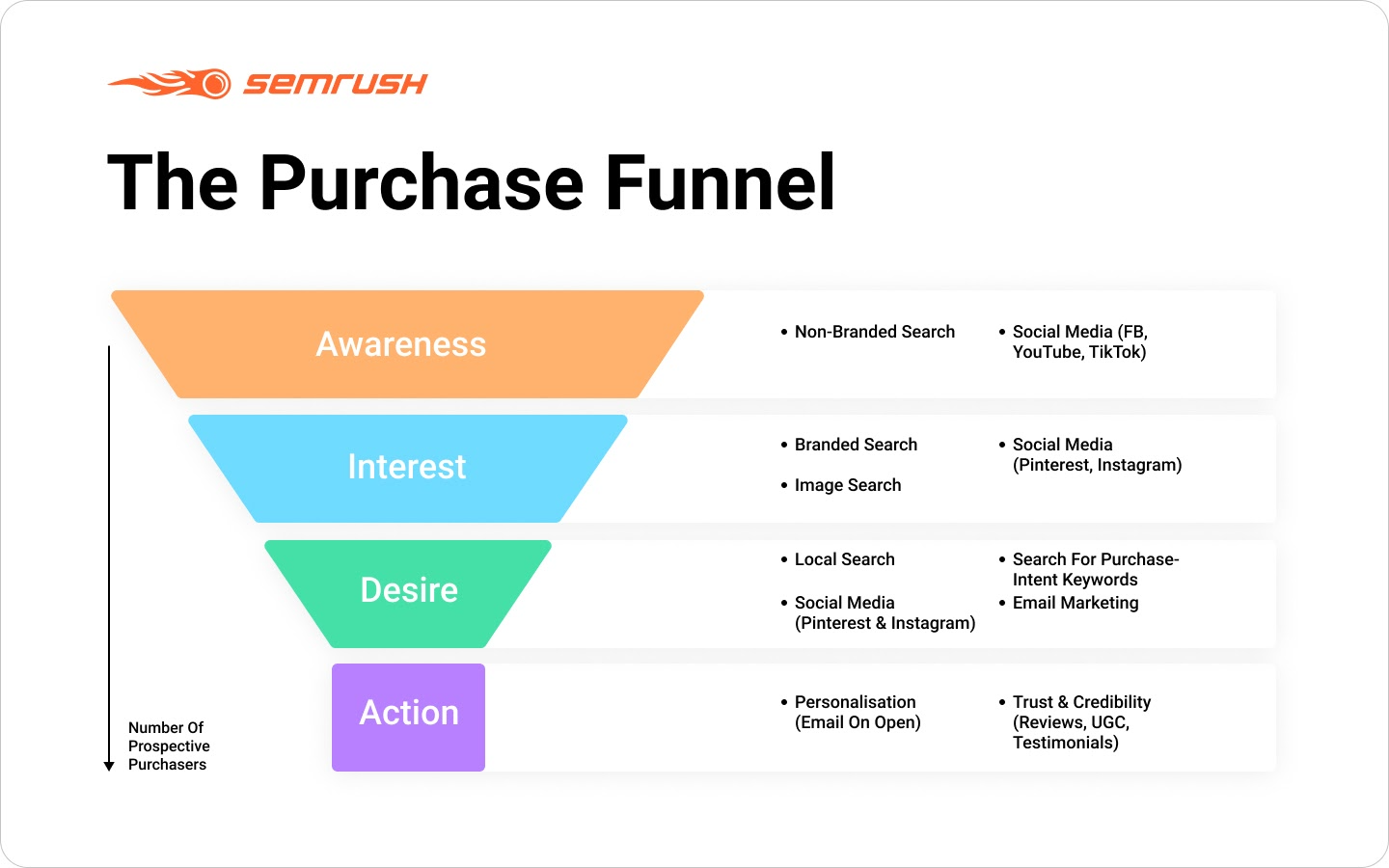 Key Ecommerce Channels for Driving Brand Awareness 
Building brand awareness is all about encouraging brand discovery. 
Traditionally, for top-of-the-funnel users who are early in the consideration stage, we have to think about unbranded promotions.
Search engines are a big brand discovery spot, especially if you tackle product category searches. However, if you have a brick-and-mortar presence, paying attention to the general index might not be as valuable as considering local indexes, because local search implies more buying intent. And, of course, Google's image search can also bring some cost-effective traffic.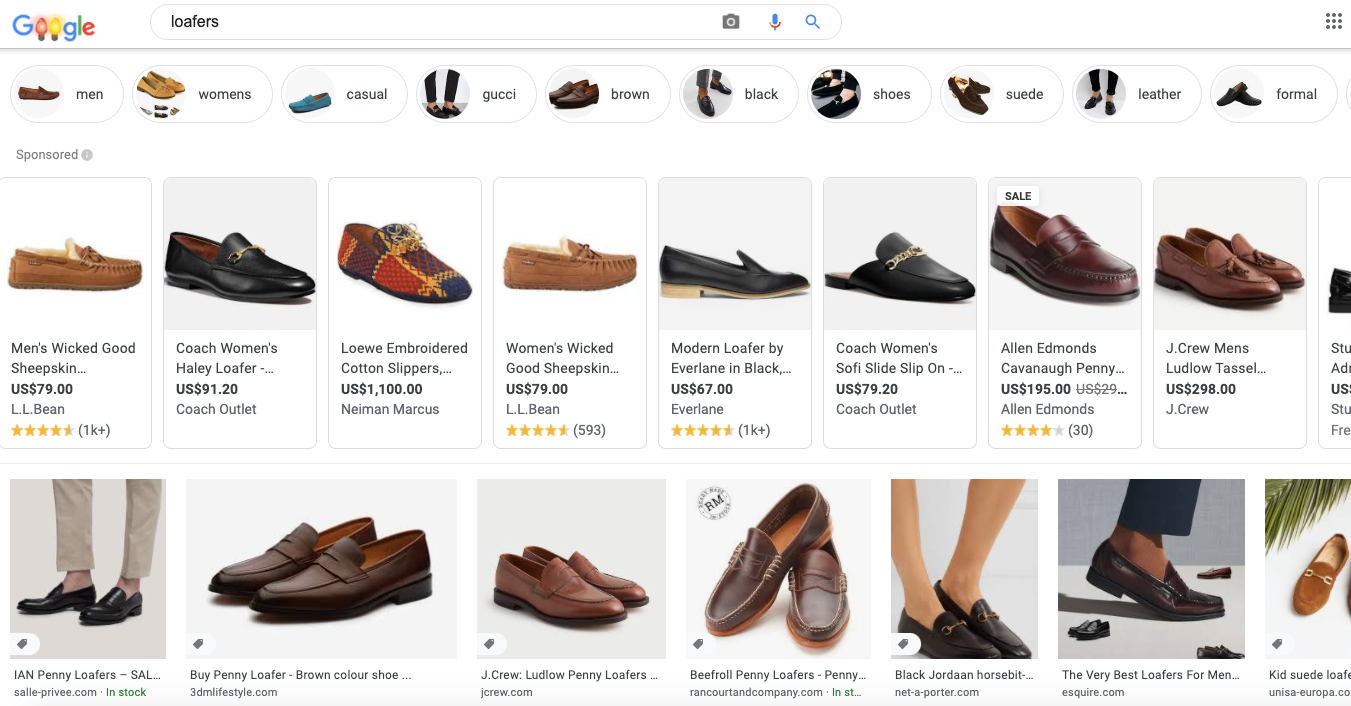 Social media is also a powerful tool. Yet, with platforms like Facebook becoming increasingly overcrowded, try adding some other social channels into your ecommerce marketing mix in 2021. Sites that offer rich visual experiences and direct CTAs — such as Pinterest and Instagram — are the new it-thing for ecommerce marketers, as you can showcase your product on platforms that are full of people with high buying intent.
Another thing you can expect to see big ecommerce success with is livestreams. For example, TikTok is increasingly becoming a great spot for product demos, so it may make sense to engage with TikTokers if your potential audience is active on that platform. 
For market benchmarking, you might also want to understand which platforms your competitors are placing their bets on. Using the lingerie niche as an example, we can leverage the Market Explorer tool to see which channels bring the highest traffic counts to rivals:

Ecommerce Marketing Channels for Lead Generation Growth
If we are thinking about lead generation in commercial/buying terms, then — more than anywhere else in the funnel — it's important to employ vehicles that have the highest buying intent.
Based on experience and results, here are Jason's top three lead-gen "vehicles" within ecommerce marketing:
Once again, Pinterest is a big underdog when it comes to social media marketing for ecommerce. Thanks to their great visual discovery features, Pinterest and Instagram have a high buying intent; after all, a person looking for visualization of their desired furniture on Pinterest is much more likely to press on a CTA than someone stumbling upon that very same furniture ad within their Facebook feed.
A keyword strategy centered around purchase intent is also a great lead-gen driver. The "nearby"/"near me" search terms are a goldmine for spotting commercial intent, so you should focus your keyword targets on keywords that imply some kind of acquisition intent. 
Often, the best ecommerce growth strategy is to improve your wallet share, not customer share. In this regard, the most valuable source of leads is your own ecosystem — site visitors and email subscribers who are not yet your customers. Net new customers tend to be expensive and harder to attract, so when thinking about sales drivers, tackle your existing audience. Here, optimizing your email marketing is the best cashflow-driver.
Pro tip from Jason: Marketing emails normally have low open rates, so it's best to catch your users' attention within the emails they definitely open. Therefore, place your marketing offers within transactional emails (order/shipping confirmation emails), as they attract much higher open rates and are more likely to encourage repeat purchases.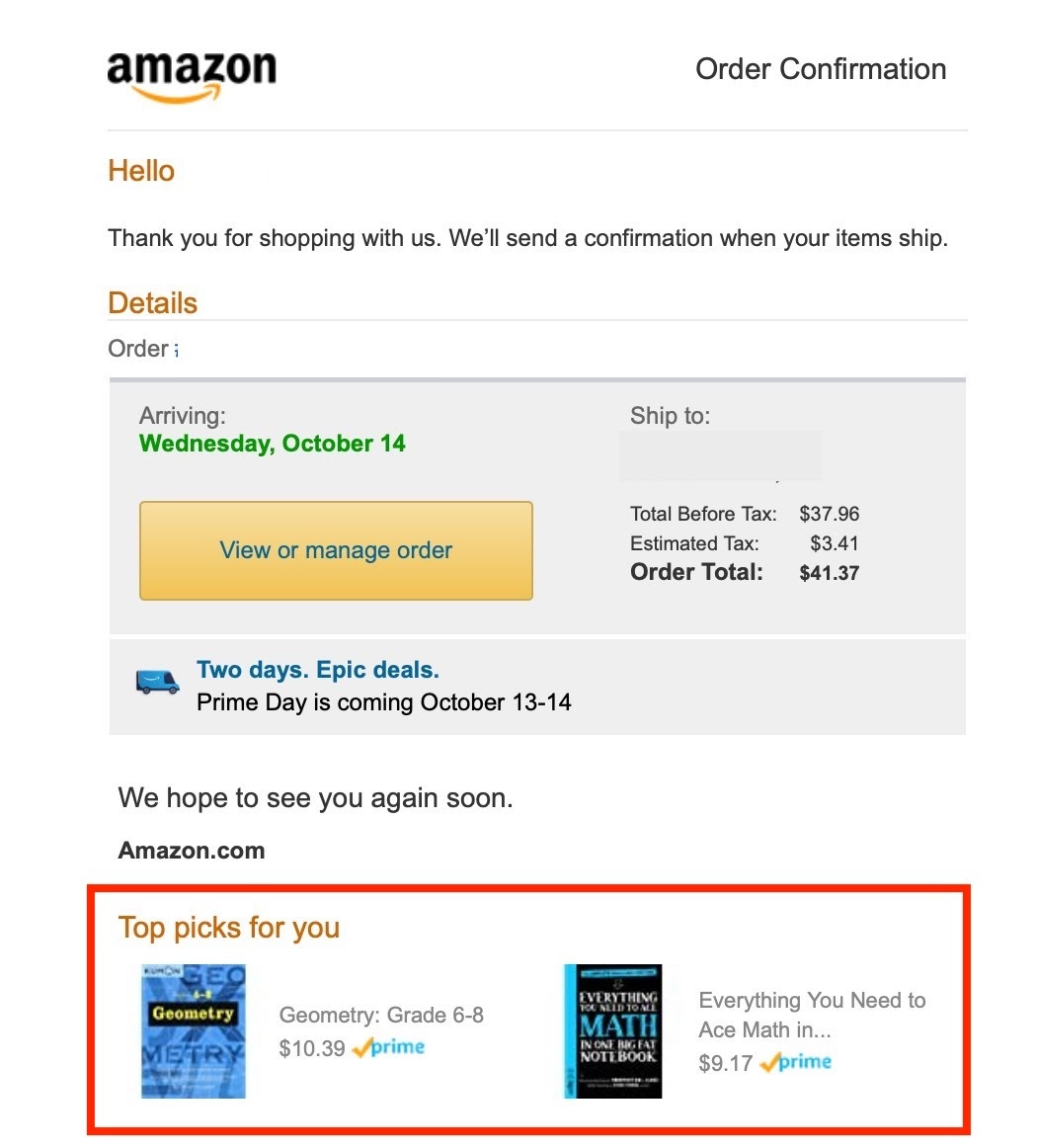 2021 Ecommerce Sales Increase Strategies 
Moving further down the funnel, we finally land at the sales stage. 
Traditional sales hooks like price and offering are still greatly affecting conversion rates. In this case, some insight into competing offerings will help you to understand what it is others are offering that you're not.
For instance, if you are a direct-to-consumer lingerie brand, you'd probably want to take a sneak peek into Victoria's Secret's most visited web pages to see where it sends most of its traffic: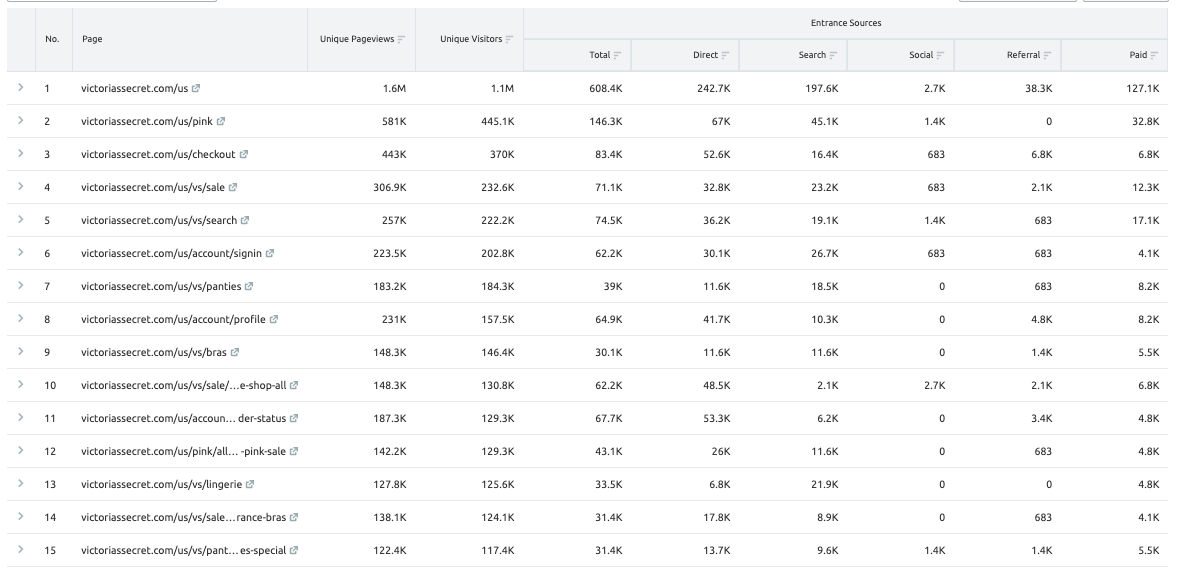 Through the insights offered by Traffic Analytics, we can see that the clearance pages get a considerable share of VS's traffic. Therefore, you might want to launch a counter-offer to beat the competing brand's offerings.
However, the price and offering race is not limitless, so there are a few things ecommerce marketers can do to keep their profit margins intact.
Customer segmentation for more targeted offerings
The rule of ecommerce sales is that the more targeted the offering, the easier the conversion. As 59% of customers name tailored offers as a crucial factor for making purchases, the key to ecommerce growth is in correct segmentation and personalization. This is also where the main challenge lies.
Using segmented data can help your brand to deliver highly personalized messages with greater conversion power. There are many tools available to help marketers divide their audience into various cohorts; for instance, Dynamic Yield, Monetate, and Richrelevance are all great at segmenting visitors and email lists to generate relevant dynamic offers. 
Pro tip: Within email marketing, there is now an emerging "hot" feature — offered by most email service providers, such as Gmail or MailChimp — that allows for personalization and dynamic offers as the email is being opened. Personalizing email on open solves the problem of expired promo codes (if the email gets opened too late) and irrelevant offers.
In-depth behavioral data analysis
If, with segmented data, things are fairly straightforward, then the real problem is with behavioral signals data and understanding the context of the individual buyer's purchasing intent. 
Dynamic signals or behavioral patterns on the site can be spotted by paying attention to things like dwell time, or how users have landed on your site. This kind of data can bring some contextuality into the picture and help you create more relevant and personalized offers. 
Although this kind of internal behavioral data will not help you automate or personalize your offerings, it will help you understand what prevents your site visitors from turning into paying customers, as well as run bug fixes and pass on troubleshooting info to the customer service department. 
Here are some handy tools for onsite behavior tracking:
Decrease customer friction with impeccable UX/UI
There are some technical factors that bring about customer friction, such as low page load speed or bad design. 
However, in 2021, it's also about delivery times, free shipping, easy returns, and other similar factors. Therefore, you need to think of ecommerce best practices in regard to UX & UI, and replicate them in your digital experience. 
This post will walk you through the best examples of smooth ecommerce navigation.
Trust and credibility
Credibility and trust are big decision-making factors when it comes to online sales, as lack of trust is a big barrier to online purchases. In fact, 97% of people make purchasing decisions based on customer reviews, which are a modern form of word-of-mouth and quality proof for your brand.
With plenty of approaches to trust building, high brand awareness is, of course, a major trust factor. However, if you cannot afford to flush money down the ad drain, here are the most basic to-do's:
Design shows competency and amplifies a brand's perceived reliability. Attractive and high-quality product photography can go a long way in this regard, as no one trusts a brand with poor-quality images of their product.

Encourage customer testimonials, ratings, and reviews, because social proof is a big conversion rate enhancer. Include review snippets on your homepage, product pages, and even ads.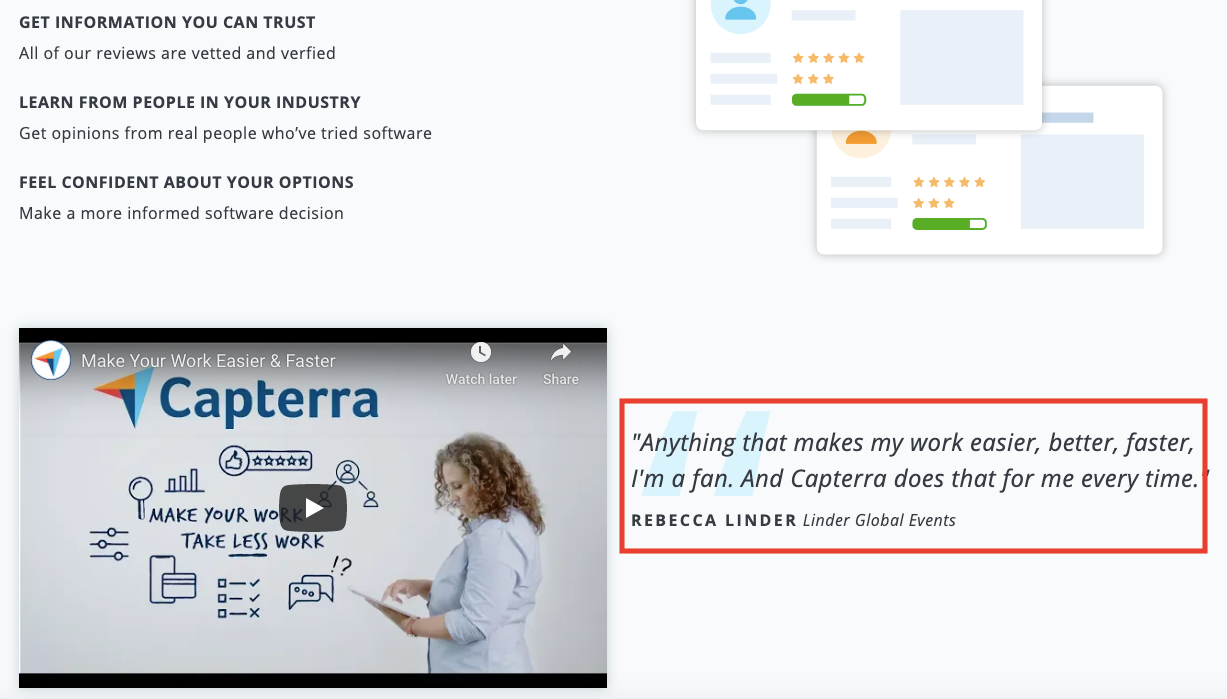 Paid Customer Acquisition Done Right: Ecommerce Must-Do's for Penetrating Paid Traffic Channels 
Within each paid channel, there are cost-effective high-ROI customers, and there are highly inefficient ones. 
From Jason's own experience, he suggests the following channel mix:
With Google being the largest audience holder, it will likely require larger budgets for a blend of ad formats — Shopping ads, PLAs, and YouTube ads for user activations.

The next share of the budget should go to Facebook, although you should keep it smart as marketers tend to overspend and buy overpriced traffic.

Finally, keep some chunk of the budget for testing and trying out platforms that don't evidently appear to have high ROI. As mentioned above, Instagram, Pinterest, and TikTok can become the most valuable paid traffic drivers.
Keep in mind that, in general, for ecommerce, the most effective ads are the ones tied to a particular product. In terms of ad creatives, a great picture of the product — plus the offer and product ratings — often seals the deal when it comes to triggering users to press the CTA.
However, with what ecommerce marketers refer to as "subjective products" (such as a Michael Kors bag), a 5-star review of technical specifications will not cut it. In this case, user-generated content works best. For instance, photos from Instagram or videos from TikTok of a customer holding the bag will increase trust and interest to the edge. As another example, consider GoPro's highly popular YouTube channel, which almost exclusively features high-quality videos from its customers.
As Jason suggests, ecommerce marketers tend to focus on channel mix, but the real key is to pour money into high-efficiency audiences. While it's not always easy to assess the level of "efficiency" of each audience cohort, you can use insights from both internal and competitors' data to pinpoint the most valuable cohorts, and thus build lookalike audiences for smarter targeting.
While internal data is something you should compile on your own, competitive audience insights are something you gather with external tools. Using Semrush's Market Explorer and Traffic Analytics tools, you can deep dive into the basic audience characteristics and even engagement metrics of your competing brand (Victoria's Secret):


Embracing the Key Ecommerce Trend: Going Omni-Channel, or Bringing Offline Shoppers Online 
In 2021, it's obsolete to divide online and offline sales. As brick-and-mortar shopping is not going anywhere any time soon, online/offline audiences expect a great shopping experience regardless of the platform. 
For offline retail, the sales drivers are pretty straightforward: an enticing shopping window, polite and helpful staff, and an attractive shop design all impact the buying intent of store visitors. For online retail, we also have some success recipes.
But how do you blend these audiences and bring offline shoppers to your online store? Clumsy "would you like to leave us your email" offers at the cashier's desk aren't working, because no one wants to receive spam emails from yet another brand.
Here are the last few tips on encouraging your offline shoppers to join your digital community and purchase online: 
Often, asking customers to share their email is a matter of wording. Offering e-receipts instead of paper ones is a really efficient tactic to get people's emails. 
If free options don't work, you can always throw money at the problem, using data brokers that hold people's credit card data. Hash credit card numbers of your in-store purchases and use brokers who can correlate credit card data with private email data.
If you already have a solid offline audience, you need to bring them online. as the pandemic has only accelerated consumer willingness for digital experiences. Hopefully, by following the tips in this article, you can give your customers the opportunity to stay indoors while shopping for their favorite products. 
While this post highlights the key insights from our talk with Jason, make sure to check out the full webinar for more actionable tips on ecommerce marketing hacks and emerging 2021 ecommerce trends.