Because your content marketing goal is long-term gain, measuring the return is not always a straightforward process. Success indicators include obvious markers of rank, increased traffic, and conversion metrics, and should also include an understanding of social signals.
Successful evaluation of your content strategy depends on a comprehensive overview of all contributing factors. Content, social media and SEO are interdependent. Success can't be measured by any single criteria. To get the big picture, look beyond the hard lines and into the softer science of social signals. That's where you'll find your reputation...and what you may need to work on to improve sales.
6 Metrics to Measure
Let's get the obvious metrics out of the way. If your content marketing strategy is successful:
Conversions and/or sales go up. Conversion and sales are the end game, but if that's your only measure of success, you're missing the big picture. Content marketing is more of a slow percolation of building brand awareness, trust, and reputation than a fire sale. Look for cumulative changes, not big differences at once. Your real value comes with customer loyalty.
Your website rises in the search engine rankings for your targeted keywords. This, too, is a little tricky. The competition is so fierce that effective keywords, especially for businesses with no local component, can be hard to find and rank for. It can be done, but it might take patience. Along with search engine ranking, your domain authority will go up over time.
You see an increase in web traffic. Raw data – number of page views – are not the only metric you should be tracking. Volume is one measure, engagement is another. To understand whether your visitors are finding what they want, look at how what your visitors do when they arrive at your site. How fast they leave the page (bounce rate) and where they go next.
Bounce rate alone doesn't tell the story. If they arrive at an uncomplicated landing page, locate their target in seconds, and click through to the next page in the buying cycle, your bounce rate is high, but your goal is achieved.
Where they go next is crucial to measuring success. Did they search your site for more information? Sign your mailing list and download the white paper you offered? Or did they not find what they were looking for and leave your site without interacting?
Your content earns high-quality backlinks. Backlinks are another important SEO ranking factor. If your content is real quality, other sites will use it as a resource and you will earn backlinks, which will help raise your search ranking.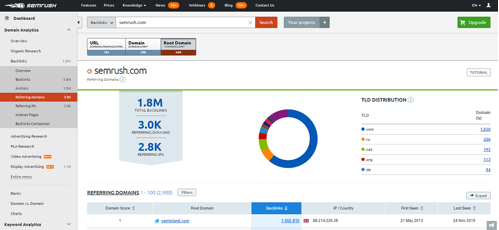 Those are your hard markers; SEO metrics you can monitor, track, and measure. None of which will happen without social media success.
"Vanity Metrics"
I hate that term, and you should, too. It puts a trivial label on something that should be taken very seriously. Social signals are critical to reputation management. In order to market effectively, get to know what your customers care about and what they are saying about you and about your industry.
Content strategy is useless without a deep understanding of what your customer base wants to know. Social media gives you the basis of that information. Using tools to monitor social media, you can determine what kind of content is most popular and what social networks are most effective.
Recently Twitter stopped issuing share counts and the API to retrieve it. Buzzsumo came to the rescue with a free Buzzsumo Chrome extension tool that shows all share data including Twitter shares, for any webpage.
Another measure of social success is organic comments and reviews. Synup is the easiest tool I've found for claiming, monitoring, and fixing listings on more than 200 sites. You can also see what customers are saying about your business. Positive reviews tell you what you need to do more of. Negative reviews show your weak areas. Response tells customers you care what they think.
Putting It All Together: Simple Strategy for Content Marketing Success
Content marketing success requires a interconnected strategy that starts with an excellent, link-worthy stream of content, on-point SEO, strong social media promotion, and online reputation management. Monitoring any one area is ineffective, and trying to measure using conversions alone misses the point of content marketing.
In the ever changing landscape of online marketing only one thing remains true: Quality, relevant content will never hurt you.
Keep your website on the cutting edge of user experience, your SEO up to date, and your content high-quality. Promote across social channels and pay close attention what people say about your company. Sales will follow.
Megan Totka is the Chief Editor for ChamberofCommerce.com. ChamberofCommerce.com helps small businesses grow their business on the web and facilitates connectivity between local businesses and more than 7,000 Chambers of Commerce worldwide. She specializes on the topic of small business tips and resources and business news. Megan has several years of experience on the topics of small business marketing, copywriting, SEO, online conversions and social media. Megan spends much of her time establishing new relationships for ChamberofCommerce.com, publishing weekly newsletters educating small business on the importance of web presence, and contributing to a number of publications on the web. Megan can be reached at megan@chamberofcommerce.com.