If you spend enough time reading online business articles, as most SEMrush blog readers do, you probably have read plenty of articles on how to convince customers that it's worth their while to hand over their money.
Your product is amazing.
They have problems that your product will solve.
If they buy now, they can save huge gobs of money.
Your product is so good that you'll offer a money-back guarantee.
Look at all these people testifying about your product.
If you follow all that advice, there is no doubt that customers will see the value in handing over their money in exchange for your product. But will they feel safe doing so, or will they hesitate? Will they have doubts?
What Are Online Shoppers Nervous About?
While the number of online shoppers in the U.S. continues to grow, surpassing 200 million in 2015, consumers remain nervous about handing over their money for a variety of reasons. Those reasons generally have to do with the risk of buying online. Many of those risks, that the website might be a scam or that products will not arrive as described or that there are security risks, are not an issue for big-name retailers, who (presumably) can be trusted to stand behind their sales.
However, for lesser-known brands and e-commerce retailers, these risks are very real and can be deal-breakers. People need to know that the website represents a real company, that their money will arrive safely, and that their private information will be protected.
Here are some questions I have identified that shoppers will be asking themselves, either out loud or subconsciously:
Is this product any good?
Will it deliver what it promises?
Will it break or is it durable?
Am I getting a good deal?
Is it easy to order?
Can I trust my money with these guys?
Will the product arrive as ordered, unbroken, on time?
Can I get it serviced?
Most of these are really the same question: Can I trust these guys? Therefore, you need to make them feel safe with you.
How to Make Your Customers Feel Safe
There is a two-step process to making customers feel safe on your website. As with any safety situation, whether it is air travel or online shopping, the first step is to make it safe. It's no wonder that Jimmy Rodela devotes the most space to solid database security when describing the anatomy of an successful e-commerce website.
I won't turn this article into a guide on making your e-commerce website secure; many others have written on this and I am not a tech whiz. There is a good list of security challenges to address here and good  security tips here.
It is the second step of the process that I want to focus on: making sure that your customers feel safe. It's not just enough for them to be safe; if they feel unsafe, they will leave your site without leaving their money behind.
There are many tactics you can use to instill a sense of unquestionable security in the hearts of your visitors. Here are four of them:
1. Install an SSL Certificate
The most obvious tactic to install an SSL certificate. Failure to do so is one of the items that e-commerce trainer Steve Chou identifies as a mistake that " makes you look like an amateur." Why? Because if customers get a pop-up warning that there is no SSL certificate or that this is not a secure checkout, it will scare most consumers away, and with good reason. Above all, you want to avoid any type of warning, because that will forever brand you as "risky" in your customers' minds.
2. Make Your Store Look Real and Trustworthy
The second tactic is to make sure that your business appears to be real. Unlike a brick-and-mortar store, customers cannot touch your items and feel that they are real. There is always a leap of faith when buying remotely, whether it is by Internet, by phone, or by any other means.
Having trust logos that show you are real is important. Better Business Bureau is always a good one, as it tells people that you have been validated. A local chamber of commerce membership logo is also good because it shows that you have a local presence somewhere, presumably meaning that even if the customer cannot walk into your store or office, somebody can. Professional accreditation is also great, although it is not useful for most e-commerce websites.
There are other ways to make your business appear real. For instance, if you have a showroom, a warehouse or a call center, place pictures on your website. A welcome video, with you talking and your logo on the wall behind, will give people a sense that you are a real person and that your business has a real location.
Even displaying a physical address and phone number immediately quells concerns that your website might be less than it appears.
3. Demonstrate That You Are Secure
The third tactic is to demonstrate security, to show customers that their money will reach you and not be rerouted somewhere else, and that their credit card and other personal information will be protected. The more security logos, the better.
Most customers will not know what each logo means — in fact, a Baymard Institute study reveals that 50 percent have no idea which logo to trust the most — but they will get the message. Interestingly, not all trust logos are created equal.
Norton Secured and McAfee Secure rank highest. Why? My guess is that these are brands people are already using to secure their own computers, whereas TRUSTe and Thawte mean nothing to them.
A similar study conducted a couple years earlier by Actual Insights gave somewhat different results. Norton was not part of the study, but Verisign and PayPal were, two logos that I would have assumed would rank in the top 3 along with BBB. Interestingly, when asked which logos people trust the most, PayPal, Verisign and McAfee scored tops, in that order but with little difference between them. BBB and TRUSTe also were identified by a large number of participants.
According to the authors of the Baymard study, "You may consider investing in three site seals: a Norton SSL seal to indicate an encrypted connection, a McAfee seal to indicate a clean, non-infected 'hacker safe' site and finally either a BBB Accredited or TRUSTe seal for establishing trust in consumer relations." For most visitors, all they will see is that you've invested in three guard dogs, which is much better than none. They will feel safer shopping at a website that looks like it has covered all the security bases than at a seemingly less-secure website.
If you prefer to invest in only one trust logo, Norton is clearly the way to go, according to the Baymard study, but PayPal would be tops according to the Actual Insights study, which actually asked participants, "Which single logo gives you the best sense of trust?" (Verisign and McAfee followed in second and third place.)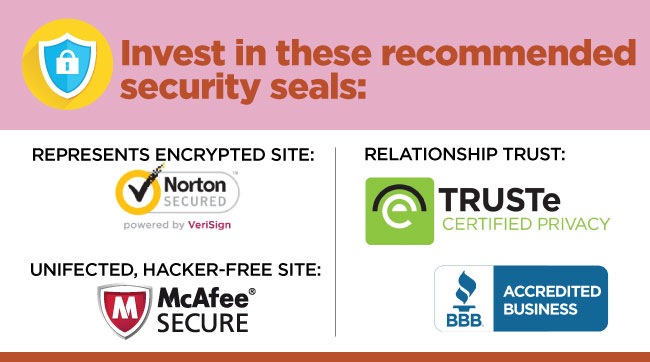 Where Should You Place Your Security Logos?
Place security and trust logos right up front and center. When customers see the guard dogs as they walk into your store, they don't worry about doing business with you. It's not just about making your customers safe. It's not even about proving that your website and you are safe. It's about making sure they never even question their safety on your website.
However, don't forget the checkout area. As Jayson Demers of Inc. points out, "Adding an [SSL] icon or brief text at the checkout area stating that all transactions are secure can be helpful, too."
4. Be Available Through Online Chat
The fourth tactic is to have a means of instant contact — online chat. While this is usually considered a customer service tactic, it is also a trust feature. By offering instant contact, you demonstrate that you are really there, that there are real people who presumably are watching out for them. After all, burglars are less likely to invade a house that looks inhabited, right?
Chat is more tangible than a phone number, because customers can see the lights are on. They don't have to make a call to find out. A Moxie Software study reveals that 75 percent of people prefer to use live chat than to have to place a call for support, so chat builds trust in more than one way.
The bottom line is that if you want to earn the trust of your customers, you need to make them feel safe. Real trust will only come with repeated interactions — building a solid relationship with your customers over time. However, you will only get the chance to build that real trust if you give them a sense of security when they first visit your website.
David Leonhardt is a writer, SEO specialist and social media addict. He is happy to serve you at  seo-writer.com and would love to connect with you on Google+, Twitter and Tsu.