3 Tips to Re-Engage Even the Most Fickle Consumers
May 11, 2016
5 min read
Are you smarter than a fifth-grader? What about a goldfish? Chances are good on both counts. But when it comes to paying attention, I'm sad to say you don't fare as well.
The average human attention span lasts 8.25 seconds, whereas that of goldfish comes in at 9. That means ol' Goldie can focus for three-quarters of a second longer than you.
When it comes to customer engagement, 8.25 seconds isn't a lot of time. And if they don't get the right message quickly, it can be a struggle to re-engage with consumers once they've left your site.
It's rare for someone to organically discover a brand and make a purchase all in one sitting. In fact, research suggests it takes several interactions to convert an average consumer into an actual customer – and even that's a drawn-out process.
After visiting your website, most consumers browse, check out the competition and then weigh all of their options before making a purchase. If attention spans were longer (and purchase processes shorter), this wouldn't be such a problem. But with so many messages and so much information bombarding today's audiences, it's easy to see how they can become distracted.
So the onus is now on you to re-engage consumers beyond that initial interaction. Otherwise, your brand will quickly slip from their minds.
Converting Virtual Window Shoppers Into Customers
Conversion takes a three-pronged approach: We start with optimizing Facebook ads and incentivizing email capture in order to drive new traffic to a site. Then, we send a series of automated emails to cultivate potential customers and nudge them toward a sale, taking care to refine our messaging through segmentation. In the end, if a visitor doesn't purchase, we'll retarget him using relevant, tempting offers designed to entice him back and win his business.
Using this process, we managed to increase traffic that led directly to more sales for our well-established interior design client, Lulu & Georgia, through ad targeting and placement optimization. Moreover, with our email capture and retargeting strategies, the brand engaged (and re-engaged) additional visitors within the first 48 hours – a critical window of opportunity.
Now, Lulu & Georgia is seeing monthly revenues in the six-figure range and is revamping its site by optimizing it for mobile and integrating vendors.
Re-engaging consumers will vary by business, but the three following digital marketing strategies have proven beneficial across the board:
1. Optimize your website for search. By now, no one needs to tell you to make sure your website is optimized for the keywords and phrases relevant to your brand. If you want to be known as the leader in affordable, cutting-edge menswear, then you'll want to ensure those sorts of words are on your site.
There are many tools available online to help – Google offers a whole suite of them. Google AdWords, for example, has a keyword planner that generates related terms, trends and costs associated with keywords or phrases, while Google Analytics provides data around visitors and traffic to your site, as well as how these visitors interact with it. Use this in conjunction with SEMrush for best results.
Another great service is Screaming Frog, which has a spidering tool that crawls your website and analyzes it from an SEO standpoint. This helps determine whether title tags, meta descriptions, and other components of your site are optimized appropriately.
Of course, Moz also has a tool set dedicated to SEO, so you're on the right site to find help with your SEO as far as tech tools go. Its analytics platform provides metrics to better monitor keyword rank, search traffic, and social media engagement and mentions.
2. Reach out via targeted email. Like retargeting, email can help keep your brand top of mind. It's important to engage both before and after a purchase when you're trying to establish a loyal customer base, and email is often the best way to do it.
But don't just send out any old message; make sure you segment your approach.
Customers who have been active on your site within the past few weeks shouldn't see the same message as those who haven't visited in more than a month. Similarly, messages should be tailored to other distinct characteristics, such as demographics, source, or life cycle.
Blue Steel, for example, is a jewelry company and a client of ours that really understands the importance of segmenting. The company sees a lot of traffic around Valentine's Day, so the messages that site visitors see on Valentine's Day differ from those they would see in the weeks leading up to the holiday.
And the same applies post-holiday. You wouldn't use romantic messaging the day after Valentine's Day, but you might start using touchy-feely language again leading up to Mother's Day. The key is showing what's relevant in terms of timing and audience and using each of these to inform the other. If men visiting the site are looking at gifts for women, you make an assumption about that and send them related messaging.
Tools like Klaviyo can facilitate your segmentation efforts by allowing you to build profiles for every customer on your site. That way, you can see exactly how each person has behaved and what he or she has or hasn't purchased. You can then tailor messaging to the individual, which personalizes the interaction and improves the level of engagement.
3. Retarget visitors to your website. Retargeting involves dropping a cookie on the browser of a visitor to your site that will display a targeted message to that individual when he or she surfs other sites online. With website visitors being 70 percent more likely to convert from a retargeted display ad, the practice is incredibly effective and can provide a great return on your spend.
Plenty of tools are available to make retargeting easier. AdRoll, for example, offers a variety of plans based on your visitors and your budget, with plenty of controls, metrics and options that include choice of channel, such as Facebook, Twitter, or mobile as well as both contextual and behavioral targeting of past visitors.
SteelHouse, on the other hand, offers retargeting within its cloud-based advertising platform. What this company claims to do is pair retargeting efforts with real-time on-site offers for ad space so you're not left with remaining ad space on pages. You could end up with high-quality online real estate, thereby improving your retargeting efforts.
There's also Feedonomics, which allows you to optimize your retargeting efforts. This platform provides performance data across different channels and allows you to make bulk changes to the information that goes into your retargeting feeds, such as filtering out poorly performing products or checking for broken links.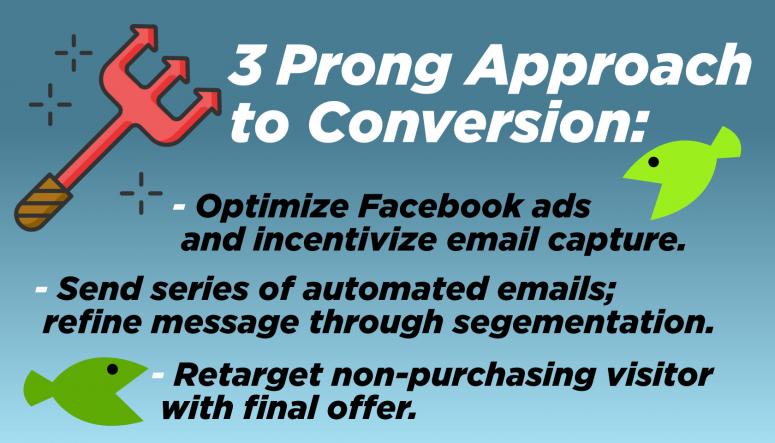 Engagement (and re-engagement, for that matter) is lot like juggling. You'll often find yourself with more than one ball in the air at a time, and you'll need to find a rhythm in order to keep them from hitting the ground. Once you hit the right tempo, though, it gets easier to make every interaction count.
Do you have a success story about how to re-engage fickle consumers? Let us know in the comments!
Tony Delmercado
Tony Delmercado is the COO at Hawke Media, the founder of 1099.me, a passionately curious entrepreneur and an all-around solid dude. He enjoys building businesses, playing golf, improving his Krav Maga and jiujitsu game, writing, studying business tax loopholes and eating Mexican food. He spends his weekends at the T&A Bungalow in Chesterfield Square hanging with his lady, Anthea; his son, Onyx; and his dog, Naz.