E-commerce stores succeed when they do two things right:
First, they attract people to their store.
Second, they make those people convinced they should buy from them.
But how do you attract those people? And, most importantly, how do you convince them to buy from you? Well, there's a whole lot of tactics you can implement to achieve both goals. There's one that stands out from the rest. And that is using user generated content.
All you need to do is take some time and implement one of the user generated content methods below.
(And be sure to check out the bonus resource at the end of this article with a checklist of all the things you need to do to implement each one.)
How User Generated Content Can Help You Boost Sales
User generated content (or UGC for short) is any kind of content that is created by a company's users (or customers).
Have you ever bought a product on Amazon and then wrote a review for it? That's user generated content.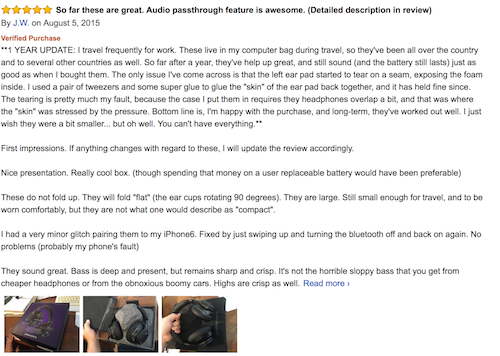 This is an example of a lengthy high-quality review on Amazon. If you were interested in buying this product, then this review may be the only piece of copy you may want to read.
Just like reviews, there are many types of  user generated content available for companies to use:
Blog comments: These are the most basic kind of UGC you can expect from your customers. They don't provide much value, rather they help create a sense of community.
Customer reviews: These are the keystone of user generated content. When customers review your products, you get a very powerful kind of publicity (you will see later why).
Product reviews: Similar to the customer reviews, these reviews are made by a third-party outside your store. In many cases they are paid (although they work best when they are not).
Testimonials: Another kind of UGC that shows a generally unbiased opinion about a company.
Social content: Any kind of content made in social networks about a company can be considered as "social content." This isn't a tweet asking for a refund, rather it's when a customer mentions a company's product (or hashtag) to participate in a social conversation.
Contests: Many times companies use contests to make people produce social content, like when Lays crowdsourced their "Do Us A Flavor" campaign.
Videos: Videos can be produced by your own customers or by a third-party, but in either case, the point is to talk about your products or company.
The key that makes all these types of UGC content so powerful is that they are created by the customers for other customers, and in many cases, for no other reason than sharing the value of the product.
Take the Amazon review I mentioned before, do you write it because you are getting paid to do so? Or do you do it because you want other people to know your experience with a product?
Most importantly, you do it because you want to. Since other customers know that, when they read your review, they know what is really like to own that product and what they can expect from it. You can advertise all you want, but at the end of the day, it will be your truth. User generated content shows the customers' truth. Since they know that, they value that much more than yours (i.e., your ads).
The underlying power of user generated content stands on the persuasion principle known as social proof. Social proof is a psychological bias on which we tend to learn from others to help us avoid making potentially harmful choices. What matters here is that people assume the actions of others are the right way of doing things (even if many times it's not).
Social proof is  why user generated content works. Since people tend to act based on other people's opinions and actions, user generated content helps people see what other people think and do. If a customer of yours leaves a review of one of your products, other people will see how good your product is. As I mentioned before, no amount of advertising can achieve that level of trust from your customers.
"Since other people say so, it must be true," is what they think.
However, social proof doesn't work all the time. It works the best when consumers have high levels of uncertainty. In other words, social proof works when your customers are at their early stages of purchase. In situations in which consumers are unsure, they assume others have more information about the situation and are in a better position to form an opinion.
Now we have defined what user generated content really is, what types of it there are, and why it works – I'm going to show you how you can make it work for your own e-commerce store.
Make It Visual
You can show your visitors what people say about you, but it's much better to actually show them how much they like you and your products. You probably heard a million times the saying "a picture says a thousand words." Well, that's the power of  visual commerce.
Photos and videos can help your customers see what it's like to hold, use and experience the product you are trying to sell to them. Obviously, any photo can help achieve this, like the stock pictures manufacturers send their retailers. At the end of the day, any picture is better than no picture. And a good manufacturer's picture is better than a bad product picture — 54% of shoppers have decided against a purchase because of unhelpful product photos.
But there's a difference between those pictures — which is all end up looking too "perfect" and similar to each other — and a user generated one.
User generated photos, especially those published on social media, can have a powerful impact on your visitors' shopping experience. Take a look at these facts:
74% of shoppers prefer reviews with pictures or video
Instagram-style UGC photos increase conversion rates by 25% over professional photos
40% of shoppers have purchased a product they found on Instagram
72% of customers say seeing Instagram photos of a product increases their chances of buying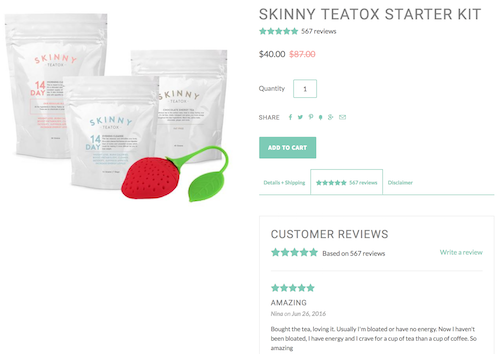 In other words, people like looking at other people's photos of your products, especially on an image-driven social network like Instagram.
The question then becomes — how can you make people share your products? If it was so easy, everybody would be doing it, right?
Here are two tips that will help you achieve this:
Encourage customers to write reviews and include photos or videos. You can incentivize them with a discount.
Create a hashtag with your brand's name and feature all the people that use it on Instagram. You can use an app like  Foursixty to help you do that.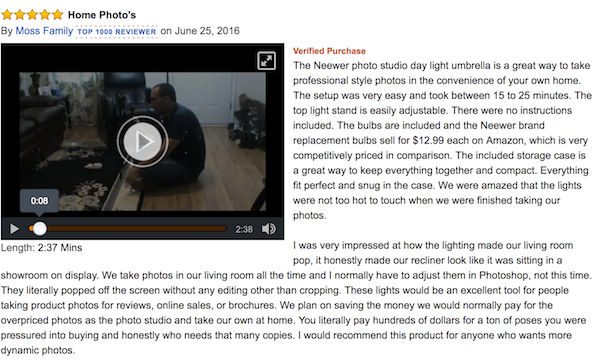 A great example of a video review made by a top reviewer in Amazon.
Make It Social
We have talked about how social proof is what drives user generated content, and how important social networks, like Instagram, are for creating this kind of content. As you can see, to get user generated content you need to make your shopping experience social.
In order to achieve this, you need to make sharing your products easy for your visitors, just like they need to be able to find and, if possible, shop in those same social networks. This has been known as "social commerce," and in the last two years, social networks have made it really easy for companies to take advantage of it.
Some examples that show the power of social commerce:
Facebook introduced the "Buy" button, which makes it easier for customers to purchase products without leaving their accounts.
Instagram has made it easy for developers to use their API to create a "shoppable" feed that creates an  Instagram shop, allowing followers to easily shop products.
Despite being a  big failure, Twitter tested a "Buy" button in their feed.
Pinterest  is already testing in-platform purchases, which may make it a global hub of social commerce.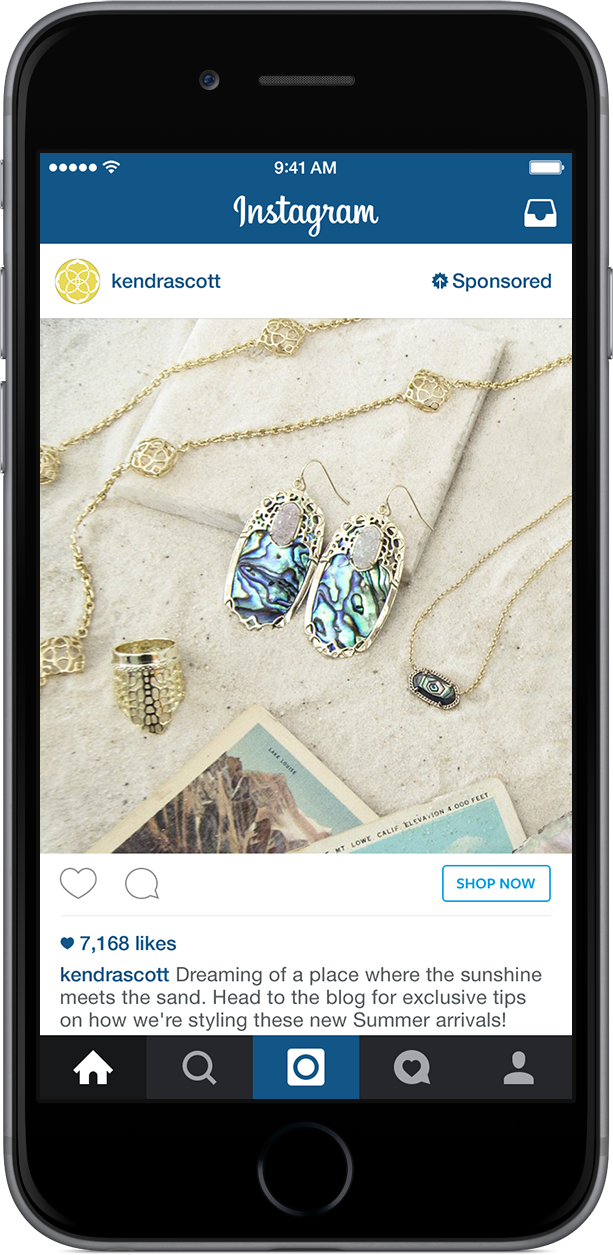 This is how an Instagram shop looks like
The question is — how can social commerce can help you get user generated content? And, on the other hand — how can UGC help you increase your sales?
To start, by making your shopping experience social, you can get lots of input from your customers. This, in turn, can help you not only create a product that aligns the most with your customers, but also, it can make them more likely to become "evangelists" for your brand.
What's more, letting your customers talk about your products helps you create a sense of community, which in turns makes it easier for new customers to understand how your products work and, in some cases, fit. This, as I explained before, gives a lot of social proof to your brand and products.
Three ideas that can help you make your shopping experience more social:
Make it easy for your customers to leave reviews of your products. This works not only for social proof, but to create a community-like experience around your company.
Stimulate both online and offline word-of-mouth. If you give your customers a flawless shopping experience and make your products valuable to their problems, that will increase the chances of your customers becoming evangelists of your brand. This is free and highly valuable marketing.
Participate in social media. This goes without saying, but if you want to make your shopping experience social, be social. Open an account in at least one social network, and actively participate in it. Talk to your customers, answer their questions, create valuable content, etc.
Make It Prominent
Once you start getting some user generated content, you need to show it. Social proof isn't magical after all. Your visitors need to see other people talking about your company. Otherwise, what's the point of it?
In order to make your UGC prominent, you need to start by adding them to your product pages. Since this is where your visitors go to get informed and make a purchase, this is where you want to focus the most. For example, if you decided to use product reviews, make sure to add the reviews stars below the product title, and after the product description and photos. You already know this is probably the best kind of ad you can show to your visitors, so make them see it as soon as they can.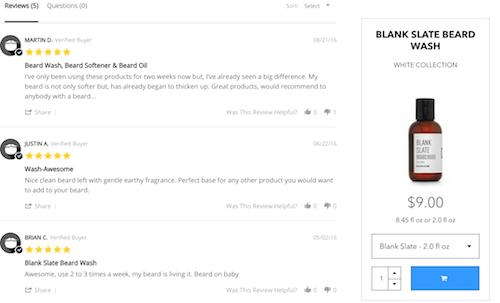 Beardbrand leaves a big section of their product pages for customer reviews, so everyone can see them right away.
Then, follow up by adding a banner or section on your homepage that shows some of your UGC. For example, you can show an Instagram feed or Twitter feed with the people who tagged you on those networks. You can also put pieces of product reviews for other people to see.
Madsen Cycles shows their customers photos from Instagram right in their homepage.
Finally, if your store has a blog, add your customers' tweets, comments, and any other kind of message they leave you. Even if a blog may not directly impact on the overall sales volume, it can still help you create a sense of community around your company.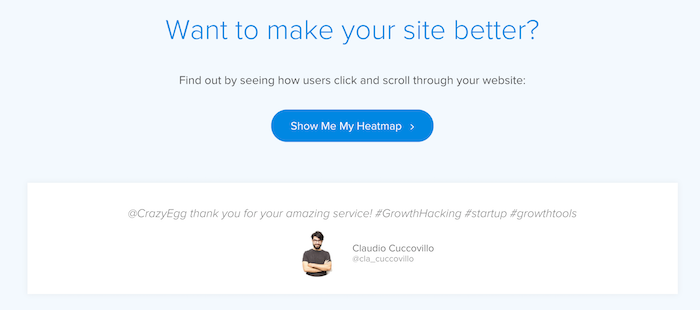 Despite being a SaaS business, CrazyEgg does wonders by showing what other people say of them in Twitter, right in the blog page.
All in all
As you have seen throughout this article, user generated content is a powerful and time-tested tool that e-commerce store owners and marketing managers can use to grow their businesses.
The methods I laid out in this article will help you start with the right foot, so you can start getting more sales.
And if you would like to take the recommendations I laid out in this article, make sure to  download my checklist with each recommendation broken down into easily digestible tips.
Either way, let me know your thoughts in the comments below!