One of the questions my clients often ask me is what do they need to get a top ranking in the search engines.
Well, that's the sixty four thousand dollar question isn't it!
But that got me thinking. Most of our clients are local businesses and many of the are Business to Business (B2B) so I thought we could do some research on their behalf to help them understand what factors really makes a successful local B2B website.
Here's how we did it and here's what we found.
Best In Class vs Average Websites
The first thing we need to do was to determine an overall research strategy. We decided to use the following five typical B2B sectors:
Accountants

Commercial/Office Cleaners

Printers

Training Companies

Telemarketing Companies
I should point out at this stage that our research focused on UK businesses.
We then identified 100 top ranking sites i.e. 20 in each sector. By top ranking we mean that they all appear in the top 3 in a local search on industry and location (i.e. Printer Birmingham).
These businesses were labeled 'Best in Class.'
We then purchased a data list of 440 random websites – approximately 80 - 90 per sector. The first thing we did was to check their position based on the same search criteria (i.e. a local search on industry and location) to determine the average position.
I should point out that the data purchased was for business with an annual turnover in the region of $135K to $600K (GBP £ equivalent is £90K to £400K) so that we knew we were only dealing with established businesses, rather than start ups or non-trading businesses.
Overall we found that these random websites had a top three ranking in 25% of cases. We were therefore satisfied that this group could be considered as lower ranking sites.
These businesses were termed 'Industry Average' for the purpose of our research.
So we had two groups we could now measure against one another:
100 Best in Class Websites (100% top 3 ranking)
440 Industry Average Websites (25% top 3 ranking)
What We Measured
We then measured the following factors:
Industry and Location used in Page Title

Number of Referring Domains

Number of Pages

Number of Google Reviews

Page Title Length

Use of HTTPS

Use of Blog

Use of H1 Heading

Use of Google MyBusiness

LoadSpeed

Mobile Friendliness
We would then check each website against each of these criteria using a number of tools such as SEMrush (of course), Screaming Frog and Pingdom.
We compared the two groups to see where the major differences occurred to see if we could determine which factors were the most likely factors behind the high ranking.
We used a method of Statistical Difference to calculate if there was a significant or minor difference between the two. This allowed us to extrapolate the results with a 95% Level of Confidence. This means that if the research was extended to 1000 websites we could have a 95% degree of confidence in the results.
Our Findings
Our main findings are shown in the table below in order of Statistical Significance in order from major to minor: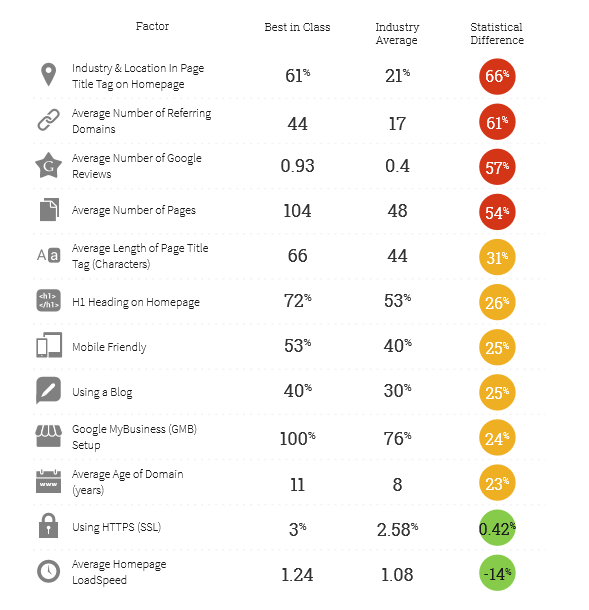 Summary of Findings - Local B2B SEO Factors
You can find a short Executive Summary Report of our findings here.
Major Differences
Based on these results we concluded that there were four major factors that had a significant difference. These were:
Number of Referring Domains

Number of Google Reviews

Number of Pages

Use of Both Location AND Industry in Page Title Tag
So it appeared to us that the stand out differences between the Best In Class and the Industry Average were these four factors.
Minor Differences
We concluded that the minor differences (i.e. where Best in Class did not demonstrate a significant difference from the Industry Average) were as follows:
Average Length of Page Title Tag

Google Business Profile (GBP) Setup

H1 Heading on Homepage

Mobile Friendly

Using a Blog

Using HTTPS (SSL)

Average Homepage LoadSpeed
Interpreting The Results
Quick Wins
What was striking was that several of the factors we looked at could be fixed relatively quickly and therefore represented a fast Return On Investment (ROI).
In particular we believe that the following could all be fixed within a day or so:
Setting up and optimizing Google Business Profile (GBP)

Getting Google Reviews

Fix On Page Elements - Length of Metatags, Location And Industry in Metatags, optimize Headings
The number of Google Reviews for example could be fixed by sending an email to your top 3 clients, whilst on critical page elements can be fixed very quickly. Admittedly the latter may require the use of an experienced SEO practitioner, but it is pretty straightforward stuff.
Some Surprises: HTTPS and Mobile
We also noticed that some widely quoted factors such as mobile friendliness and use of HTTPS did not seem to have such an impact. However, this should be caveated by stating that the overall adoption of both of these was not particularly high for either set.
For example, in terms of Mobile 53% of Best in Class had mobile friendly sites vs 40% for the Industry Average.
When it came to HTTPS there was a very low adoption rate amongst both populations - just 3% for Best in Class vs 2.58% for Industry Average.
Another surprising factor was Loadspeed which is often quoted as a Google ranking factor and it was the only factor where the Industry Average out performed Best in Class with an average Loadspeed of 1.08 seconds vs 1.24 seconds.
Overall though Google has stated that HTTPS, Mobile Friendliness and Loadspeed are all ranking factors and this is clearly the direction of travel. It would be wise to take note and adopt these sooner rather than later.
Longer Term Priorities: Backlinks and Content Marketing
Other significant factors that would probably take longer and more effort to address would be in terms of Referring Domains and number of pages.
Let's look at Referring Domains first. First of all it is worth noting why we chose Referring Domains over total backlinks. We wanted to discount instances of multiple links from the same site such as side wide footer links or blogroll links. We felt that Referring Domains was a more accurate figure.
Our findings showed that the difference was 44 for Best in Class vs Industry Average of 17. This is not a particularly high bar to jump and it is unlikely that the top ranking sites are using some kind of exotic linking strategy.
They are more than likely using a mix of local business directories, NAP Citations and links from local suppliers for e.g. testimonials. There is no reason that with a little bit of effort a lower ranking site could not match and eventually overtake their higher ranked competitors within a couple of months.
In terms of the number of pages it was interesting to note that neither group showed particularly high when it came to blogging with only 40% of Best In Class vs 30% Industry Average even having a blog.
Admittedly we didn't analyze the frequency or length of blog posts. However, it could therefore be reasonably concluded that neither group was particularly engaged in terms of Content Marketing as a central pillar of their online marketing.
One quick win for those businesses that need to increase the number of pages is to add specific service pages. In my experience many local businesses tend to use a generic 'Services' page which lists their services. Just by creating individual service pages will usually add a dozen or so pages.
However, there are a couple of anecdotal points that we think may explain this reluctance to add extra content. Firstly, many local businesses will have to pay their web designer extra for more pages. It is possible that they don't see the business case for adding the extra service pages.
Secondly, many local businesses maybe do not understand the business benefits of blogging. They will often see it as either a time overhead for them or they just can't see the point - "Why is anyone interested in what I have to say?" or "I'm just no good at writing".
These are things that I hear day in day out from small and local business owners. But I think that's a narrow view and certainly this research bears out the fact that the businesses who commit to content tend to get better results.
Wrap Up
Local B2B websites with a high ranking are getting the basics right. They are optimizing their pages correctly, getting reviews from their clients, building backlinks and creating content.
If any business owner whose site is not ranking highly they just need to commit to address their failings and over time they will start to reap the rewards.
So what are your views on our findings? Do they match your own findings and do you have any other factors that you would include? Leave a comment below, it would be great to get your feedback.