The search landscape has changed remarkably over the last two decades. Search results have become much more dynamic and personalized and this makes it more challenging than ever to show up in Google SERP real estate. The original ten blue links were easy to rank for; today it is a search results page that is amplified with multiple elements, greater vibrancy, and more context up front. Just look at how crowded it is today in the modern-day SERPs: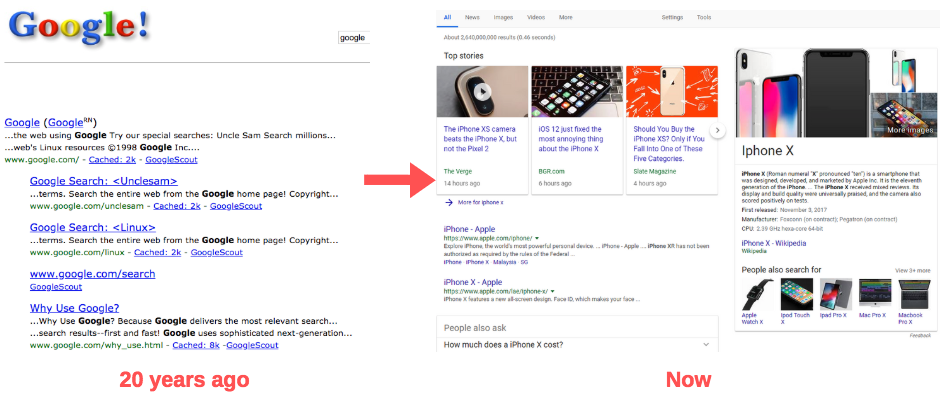 As the search engine evolves, search marketing professionals evolve with it by combining and updating SEO and PPC strategies. They are not just focusing on being number one, but rather trying to snag more slots on the first page of Google. Both SEO and PPC help website owners to increase their visibility in the SERPs. But how does one choose the right strategy that will help your site? How does one find and maintain the right balance between organic and paid tactics?
Your Industry in the SERPs
To embrace Google's changes, and adjust to them, it is more important than ever to understand how SERPs look in your specific industry. This post will guide you through the process of exploring your market and evaluating the competitive search landscape in your niche with Semrush so that you can choose the strategy that will help you outperform your competitors.  
1. Explore Local Competition in SEO and PPC
Both PPC and SEO can be powerful weapons for driving targeted traffic to your website. But which of these strategies should you focus on first? If you adhere to a data-driven approach, you can make good use of Semrush's newly released CPC Map tool. It is an interactive map displaying the average cost per click in a particular region for a specific niche. With its help, you can analyze advertising costs across different states and compare both average CPC and average search volume in 17 different industries.
Let's say you are a marketing agency operating in New Jersey. By using the CPC Map, you can see that promoting your services through online ads will be extremely expensive — the average CPC for Marketing & Advertising in this state is $4.31. In this case, you may want to consider focusing more on SEO to attract organic traffic. If you are from West Virginia, on average, you have to spend $0.55 for a click to advertise your services there. It means that competition for paid search ad slots in the SERPs in this state is much lower and a PPC campaign could provide a good ROI.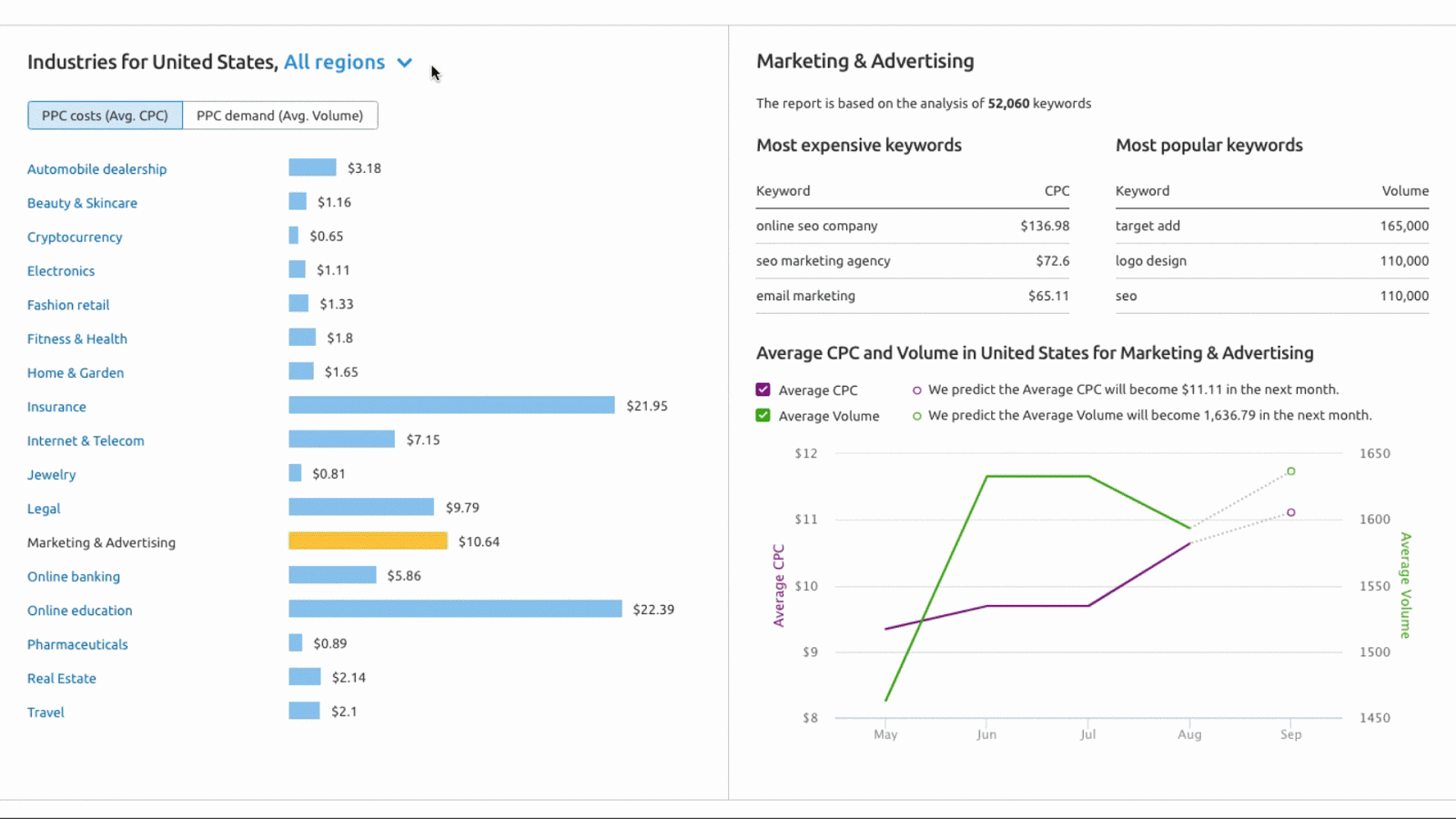 Another good thing about CPC Map is that you can check average search volume in your niche on a local level to better understand the demand for your services in a particular region.  
2. Discover SERP Features in Your Niche
Besides regular organic listings, search results pages can contain other content variations, such as SERP features. These features are special elements that add more information and context beyond standard search results. For example, one of the most popular and desired Google SERP features is a Featured Snippet. It is a particular type of search result aimed at answering users' questions. A snippet is displayed in a box above the organic results, giving your page greater visibility and increasing your authority as an industry expert, which can result in a lot of traffic to your site. Generally, featured snippets represent an opportunity for pages that rank in positions 1-5.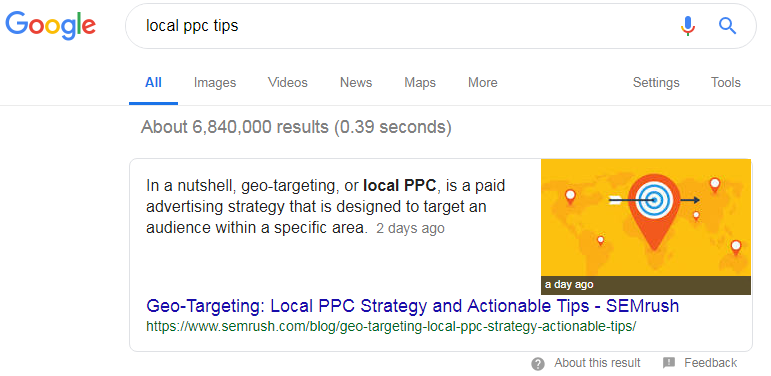 To learn more about other popular special features, read our "SERP Features Guide: Special Search Results 101".
The bottom line here, if you are not capitalizing on SERP features that are relevant to your website, you might be missing out on a good opportunity to occupy more Google SERP space. Even if your website ranks in paid search results, it is still worth trying to win those sought-after features that can help you improve your SERP visibility and credibility.
If you want to find out how SERPs look in your industry, you can use the Keyword Magic Tool to spot niche-related keywords triggering SERP features and research your competition. Enter your seed keyword to uncover a comprehensive list of all the various related terms. For each term, you will get a wealth of information, including types of features that appear in search results for a given keyword. Use filters to narrow your search and sort out keywords that trigger particular SERP features.
If you are hunting for a Featured Snippet, keep in mind that they appear to answer specific questions users are asking. In the tool, you can modify your search with the "Question" button to filter keywords in the form of a question.
Once you have formed your list of keywords that trigger the SERP features you are aiming for, you can send them to Keyword Analyzer, update your metrics, and then click on "Top Competitors" to discover the top search results for a given keyword. Deepen your analysis to get the latest data on keywords' difficulty and competitors before you make your final decision on which keywords to use. 
3. Find Out How Popular Google Shopping Ads Are in Your Industry
As mentioned earlier, PLAs or Google Shopping Results allow you to place your products in the spotlight — at the top or the top right of a SERP above the regular Google Ads snippets. As a result, these featured snippets help drive consumers to purchase your products.
Google Shopping Ads usually lead to higher click-through rates than regular text-based ads. On the other hand, while traffic is increasing, more clicks mean spending more ad budget. So, should you use PLAs or stick to an organic strategy and empower it with standard Google Ads?
It is worth researching the use of PLAs among your competitors to understand better how other ecommerce players from your niche pave their path toward success.  
When analyzing over 8,000 ecommerce websites from 13 different industries for our Annual Ecommerce Study, we found out that electronics, clothes, home & garden products, and sporting goods use Shopping Ads more often than other industries.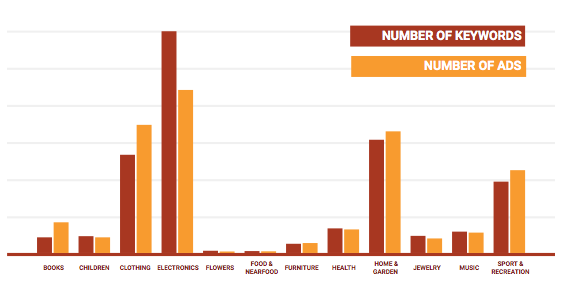 If your industry has little competition in Google Shopping, and there is a small number of companies who use PLAs, maybe it makes sense to seize the opportunity to drive traffic to your website through this channel. In this case, Google Shopping Ads may be less expensive per conversion than paid search and display ads. However, keep in mind that PLA works only for ecommerce businesses that use Google Merchant Center; this is where you set up your Google Shopping Feed. To start, you need to upload your feed to your Google Merchant account and then set up your PLAs.
If you work in a niche with many competitors using PLAs, redistributing your budget to other channels may be a good idea, especially if you have a small ecommerce business. There is practically no point in small companies with limited budgets competing with ecommerce sharks in Google Shopping.  
To define product listing ads competitors in your industry, you can use PLA Research, which serves as a powerful source of information for ecommerce websites on competitive intelligence. To get started, go to the PLA Positions report and enter your competitor's domain name. You will see the number of keywords for which your competitor's PLAs appeared in paid search results and the number of their Google Shopping ads. Underneath these numbers, you will see a graph that shows how many positions a given domain has earned and how many PLAs it ran over a specific period of time.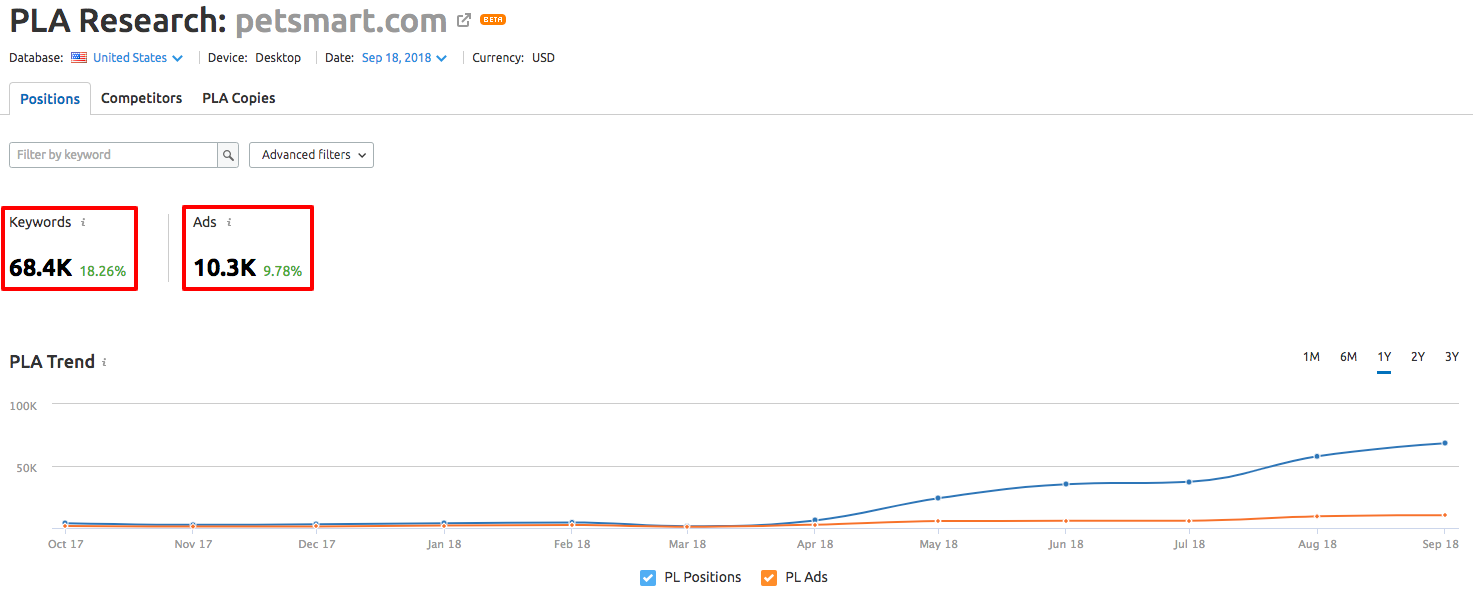 Dig deep into the report to analyze your opponent in detail:
List of keywords that trigger competitor's PLAs to appear in paid search results.

Rival's ad sample displayed for a given keyword.

Position a competitor's PLA gets in paid search results for a particular keyword.

Landing pages that competitor's ads point to.

Titles of products promoted via Google Shopping.

Prices of products promoted via Google Shopping
… and more.

To discover your competitor's best-performing product listing ads, go to the PLA Copies report. The report includes the ad sample, the number of keywords for which it appeared in Google Shopping results,  and the product's title and price. Pay attention to ads that are most relevant to your business, and analyze the elements of those ads to better understand what Google likes the most.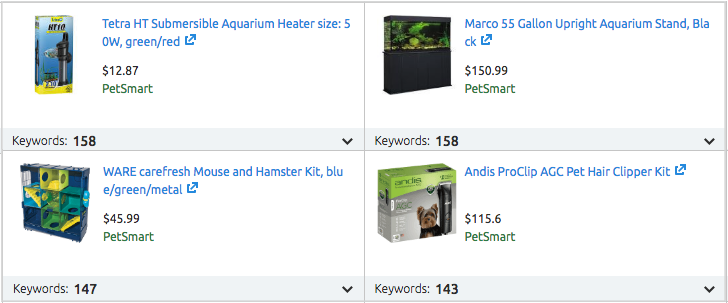 You can also dive deeper into competitive research to see other Google Shopping competitors in your niche by using the PLA Competitors report.
Having all this information at your disposal can help you figure out what the Google paid search space looks like in your niche and how PLAs work. Use this data to be more effective in promoting your own products and conquering Google Shopping.
4. Analyze Your Competitors' Paid vs. Organic Strategies for Branded Keywords
When it comes to branded keywords, many website owners tend to use them in their organic search strategies only, which seems reasonable. Indeed, why would you pay money to show up for your company name, if branded terms are already triggering organic listings?
If you are not bidding on your branded terms, you might be missing out on some sterling opportunities for your website when users search for your brand name. Even for a company with a tight budget, it makes sense to spend at least a small amount of money on branded keywords. Here is why:
1. You can dominate your SERP and build credibility. If you appear in both organic and paid search results, you will naturally increase your SERP visibility. What's more, it will help you show people that you are a significant player in your business. Take Adidas, for example. Just look at how they rule the top half of the SERP, building more credibility.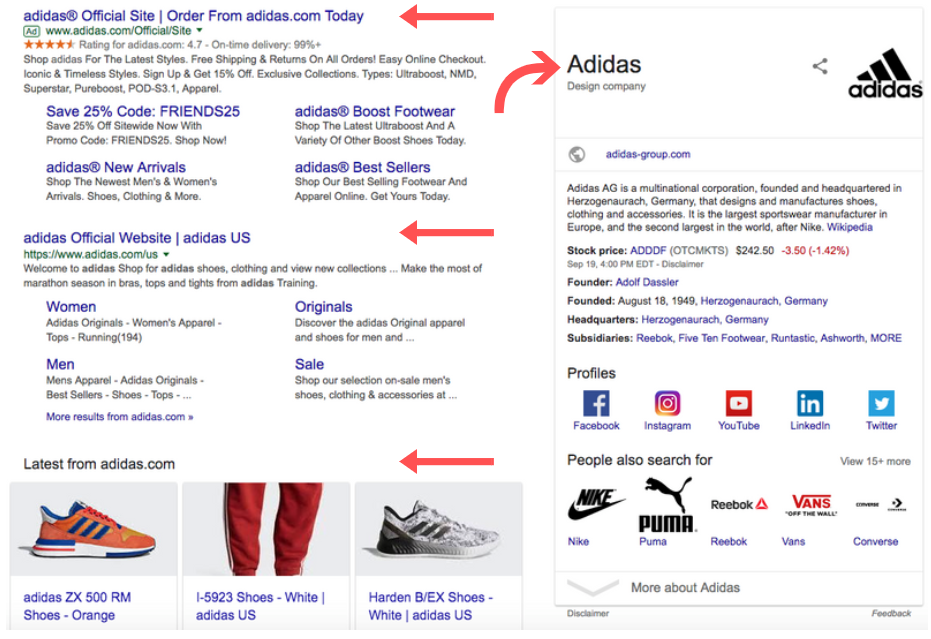 2. Your competitors may be trying to snatch your branded terms from under your nose. There has been a lot of discussion concerning this practice. Some companies effectively use the strategy of bidding on the branded terms of their competitors, so it is probably better to bid on your branded keywords to save your spot and deter clicks to your competitor's website. For example, the following ads were triggered by the keyword "Airbnb":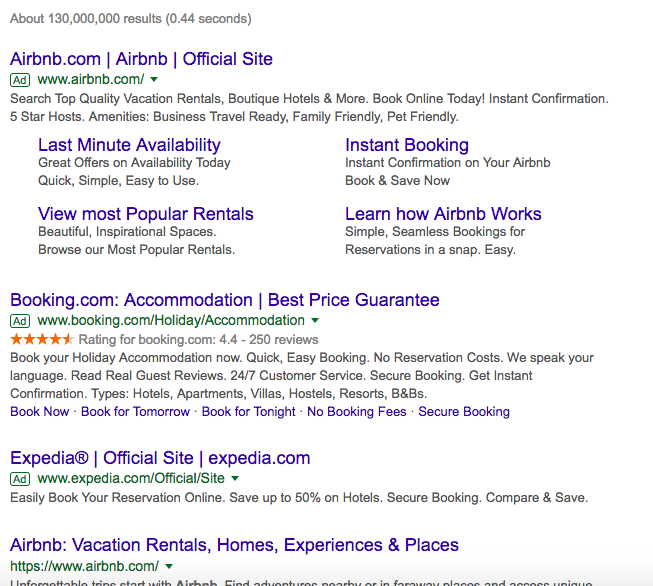 3. You have more opportunities to create your message. Ads provide you with an excellent chance to get creative and win your customer's heart with a compelling message that will convince them to land on your site. You can also send them to your best-converting landing pages via paid search.  
If you are not sure if you should give this strategy a try, start with research to find out which tactic is most popular in your specific niche. The Keyword Gap tool provides a convenient way to check if your competitors combine their paid and organic search strategies for branded keywords. The tool allows you to compare keyword portfolios of your competitors side by side; you can analyze up to five different competing domains simultaneously.
To compare your opponent's SEO and PPC keywords, enter the same domain twice, select organic and paid keywords and "Common Keywords" as an intersection type.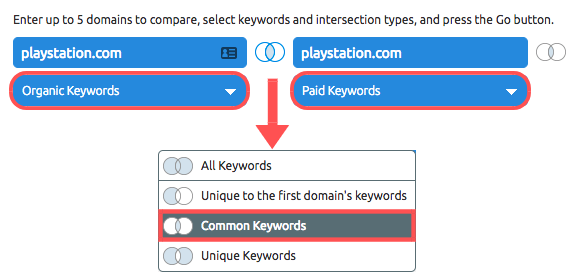 For example, if we look at PlayStation, we will see that they are paying for keywords that they are already ranking well for organically, including some branded terms, like "PS4" and "PlayStation 4".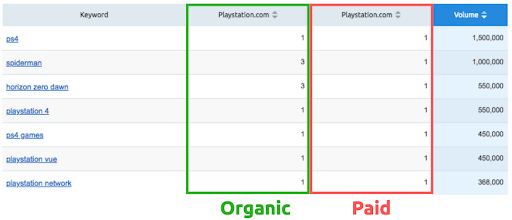 Explore the keyword portfolios of your main rivals and how they utilize branded terms in their SEO and PPC strategies. These insights can help you rethink your own tactics. If your competitors attach such great significance to branded keywords, maybe you should pay attention to those terms too. You will probably want to experiment and invest more in PPC to fight for the above-the-fold space in the SERP. Or maybe, if search results for your industry have little competition, you will want to put off paying for keywords that you already rank well for organically.
Make Your SEO and PPC Hit It Off
As you can see, SERP visibility is a much more complex science than it used to be. SERP diversity has become the natural evolution of Google. The actual look of a search results page depends heavily on the industry you work in, which means that researching your specific niche continues to be of paramount importance to your success.
See what practices your competitors use and if those tactics work for them. Discover which SERP features are the most relevant in your industry and what tricks other site owners use in chasing those desired elements. Use all these golden nuggets of data and look at all the angles to get a good idea of what is best for your website. Be sure that your organic and paid efforts don't interfere with each other, but complement one another. Try to determine an optimal mix of SEO and PPC for your brand.