Blogging and SEO go hand in hand. You will rarely find a successful blog that doesn't rely on search engine traffic. Which is why it is important that you are aware of the ever evolving Google Search algorithms and accommodate those changes in your blog's SEO strategy.
For example, a quick look at the traffic sources of Problogger and Copyblogger reveals that almost 50% of their traffic comes from Google: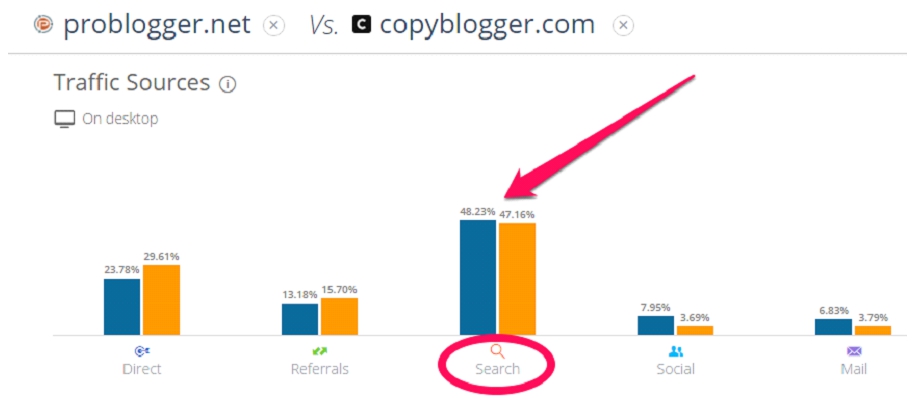 Smartblogger, another hugely popular blog in the blogging niche, gets almost 65% of its traffic from search engines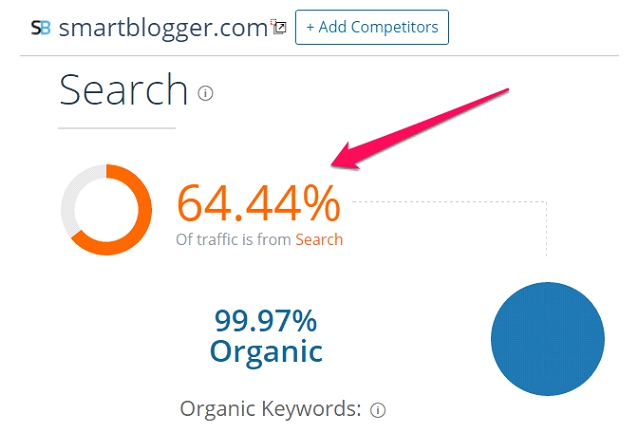 So it is pretty clear that you can't ignore SEO completely if you want to build a successful blog (unless you are Seth Godin, of course). I am sure you haven't been living under a rock all these years and do know some of the basics of SEO like using the right keywords, creating in-depth content, and getting backlinks from high authority blogs.
It is the more recent SEO developments that many bloggers aren't aware of (they are slightly technical as well, but don't worry I'm here to simplify this for you. Below are 4 relatively recent developments in the SEO world that you need to incorporate in your blogging strategy.
1. Google's Mobile-First Index Means You Can No Longer Ignore Mobile Users
You already know that Google takes mobile users very seriously. Google's Mobilegeddon update in 2015, which made mobile friendliness a core part of the search engine's ranking algorithm, sent shockwaves through the SEO world. 
And while it did not immediately cause the drastic changes everyone was fearing, it was a clear sign that Google was going mobile pretty soon. According to Duda, responsive and mobile friendly websites saw an immediate 11% traffic uplift as a result of Mobilegeddon.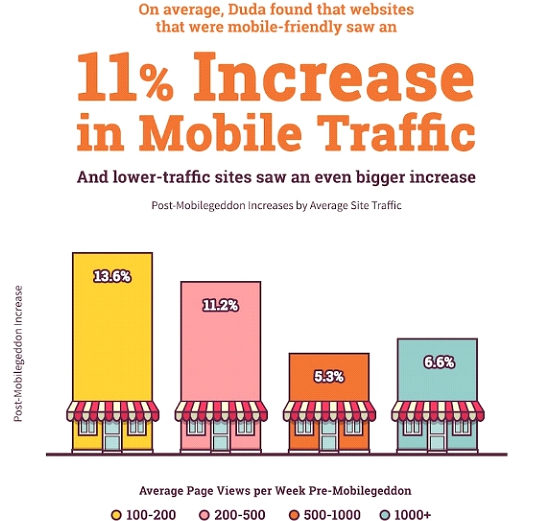 Source: Impact of Mobilegeddon
Last November, however, something huge happened, very quietly. For the first time ever in the history of the internet, the number of online users from mobile devices (51.3%) exceeded desktop and laptop users (48.7%).
The gap is pretty narrow right now, but it is only going to grow from here, and so is Google's focus on mobile users.
Google announced its mobile-first index towards the end of 2016. This essentially means that Google will now primarily look at websites from a mobile user's point of view. Unresponsive blogs and websites will be demoted in search results.
In short, mobile friendliness is not just an option anymore, it is a necessity, and you should be prepared for it.
Here are a couple ways to do it.
Adaptive Over Responsive Design
Responsive websites adjust dimensions according to the visitor's device, while the content remains the same. If your blog is using responsive design, you are in Google's good books as far as mobile friendliness is concerned.
However, since responsive design serves the same content to both mobile and desktop users, you won't be able to customize your content according to specific devices. For example, you might want to show a certain opt-in box or a header image on your blog to your desktop users only.
This is where adaptive design comes in. Adaptive websites not only adjust design dimensions but also serve different versions of your content based on the visitor's device.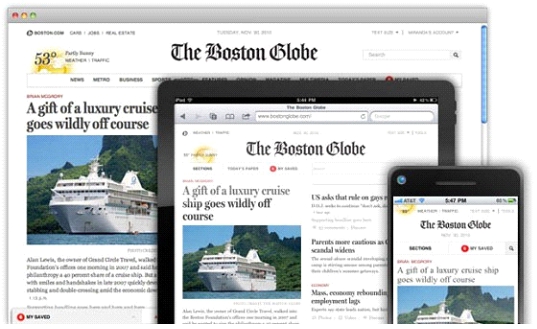 Shopify, one of the leading eCommerce platforms, uses adaptive deisgn in most of its new store themes and is a good example of a leading company using this design variation the right way.
Using adaptive design helps you provide a more personalized user experience which leads to higher user engagement and lower bounce rates, all leading to a more stable SEO profile.
Accelerated Mobile Pages (AMP)
Accelerated Mobile Pages (AMP) is a recent initiative by Google similar to Facebook's Instant Articles. It is about creating pages, stripped off additional graphics and plugins, that load instantly. AMP enabled websites and blogs get preference in mobile search results and are clearly marked with the AMP tag. 
The jury is still out on the SEO pros and cons of using AMP, but it is certainly the path Google wants webmasters to follow. WordPress users, you can enable AMP on your blog using this plugin.
2. Having a Secure HTTPs Blog is No Longer Just an Option
How would you feel if Google attached a "not secure" label with your blog's URL? Something like this...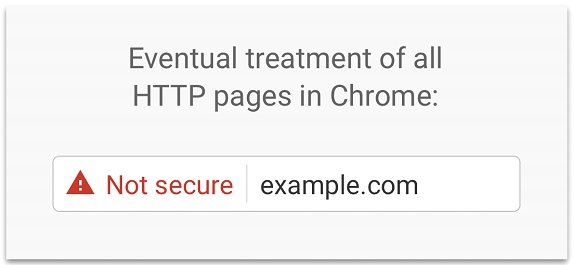 Not pretty, I know. Unfortunately, this is already happening to all non-HTTPS websites and blogs. As of January 2017, any page on your website that is non-HTTPS and has a password form or credit card field will be labeled as "Not secure" in the address bar by Google Chrome.
And this is just the first step. Here is what Google's official blog says about their future plans:
"In following releases, we will continue to extend HTTP warnings, for example, by labeling HTTP pages as "not secure" in Incognito mode, where users may have higher expectations of privacy. Eventually, we plan to label all HTTP pages as non-secure, and change the HTTP security indicator to the red triangle that we use for broken HTTPS."
In simple words, if you want to avoid potential future penalties and demotions in search results, install an SSL Certificate and move your site from HTTP to HTTPs. If you are not sure how that is done, contact your web hosting service provider now.
3. Keyword Research Has Evolved Thanks to Google's RankBrain
Over the years, Google has become much smarter at understanding the searcher's intent. It can no longer be fooled by stuffing a piece of content with a particular keyword. In fact, thanks to the advanced Google algorithms, you might even rank for keywords that you have not used in your content at all.
The reason for this change is Google's AI based ranking algorithm RankBrain which ranks content based on the searcher's intent. In the post RankBrain world, keyword research is about finding and using a closely related group of keywords in your content, instead of using just one target keyword.
In Google's language it's called Latent Semantic Indexing or LSI keywords. When a piece of content has LSI keywords in addition to the main target keyword, its gives Google a better understanding of the overall context. 
For example, the following can be LSI keywords for an article about basketball:
⦁Michael Jordan
⦁NBA finals
⦁Basketball drills
⦁Basketball
⦁How to improve your basketball shot
The easiest way to find LSI keywords is by looking at the related searches for any search term at the bottom of the search page. For example, here are the related searches for the term "freelance blogging"
You can also use a free tool like LSI Graph to get dozens of keyword suggestions to use in your content.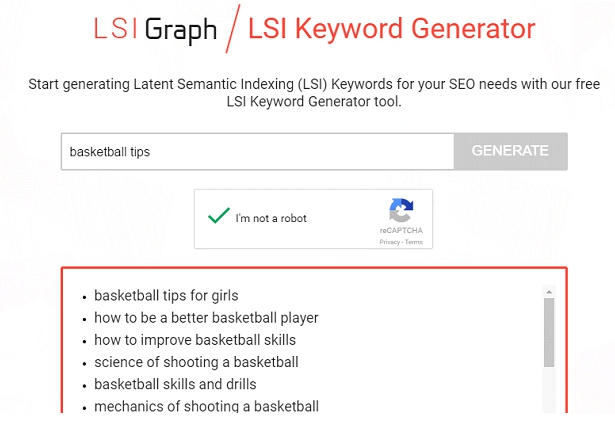 The evolution of keyword research is great news for quality conscious bloggers and writers. It means you no longer need to compromise on the quality of your content and stuff keywords to get higher search rankings.
You can focus on creating your best content and use natural variations of your target keyword wherever you see fit.
4. An Engaged Email List Can Boost Your Blogs Search Ranking
If you have a list of engaged and loyal email subscribers, you can continue driving free traffic to your blog even if a search engine(s) completely wipes you off the face of the internet. The dramatic analogy aside, email marketing needs to be a key component of your blog's content promotion strategy.
According to GetResponse there are 3x more email users than Facebook and Twitter combined, and nearly 90 billion emails sent every day.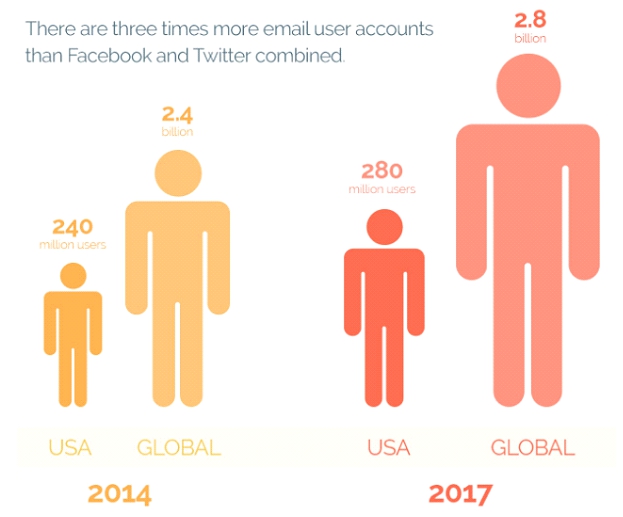 Source: Email Marketing Stats
Tapping into this massive user base and getting them on your list will not only help you beef up your subscriber base but also impact your blog's search ranking. Not sure how? Let me explain.
One of Google's core objectives is to provide the most valuable and relevant search results to its users. Content engagement, time on site, and social signals are 3 important factors Google uses to determine the relevancy and the quality of a search result.
If readers spend more time on a particular page and share it frequently on social networks, Google considers it as a strong quality signal. Your email list can have an impact on each one of these factors. An email subscriber who has willingly joined your list and eagerly waits for your emails is much more likely to spend more time reading your blog content and share it on social media.
It is, therefore, no surprise that some of the top blogs on the web spend hundreds of thousands of dollars on email marketing to engage and grow their subscriber base.
Wrapping Up
As a blogger, you need to have a basic understanding of SEO and how it impacts your blog's audience. Thankfully, SEO is becoming more and more quality oriented. If you're genuinely helping readers with your content and provide a seamless user-experience to your blog visitors, you don't need to use dubious grey-hat or black-hat techniques to rank higher in search results.
How seriously do you take SEO as a blogger? Do you think these tips will help you reach a wider audience?
I'd love to hear your comments.