To provide the most precise answers to a user's query in the shortest amount of time, Google constantly develops and updates its algorithms. And its first page inevitably undergoes changes. "Blue links" SERPs are becoming a thing of the past, as the results pages becoming enriched with new elements and ways to present information.
To stay competitive, a website owner should carefully track all these changes, analyze them, and adapt their online strategies to Google's modifications. Let's see how Google has changed his results page over the time: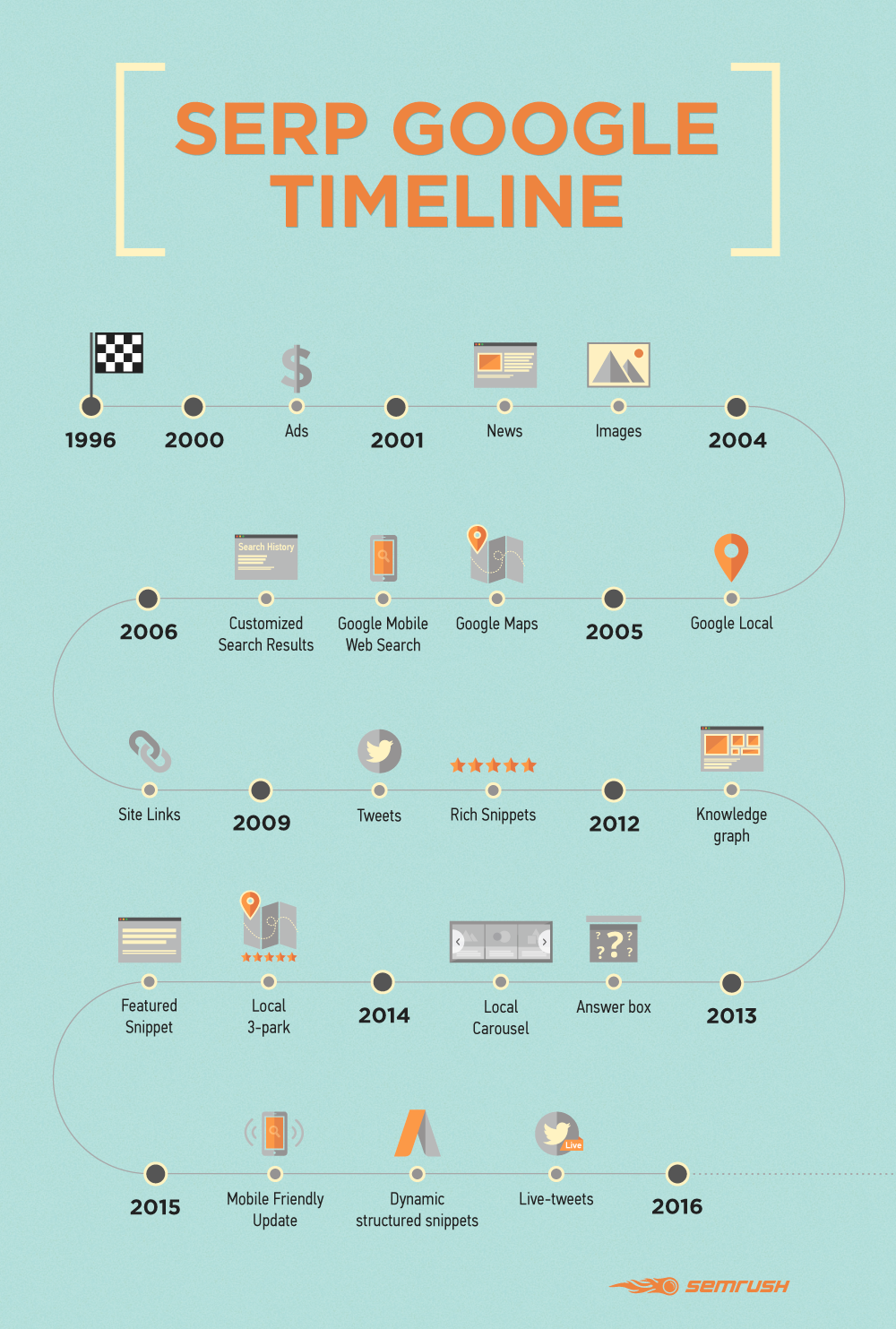 A user can find different elements on the page, whether he or she is searching for nearby shops, specific services, factual information or images. These elements can even depend on the device that people use. Let's take a closer look at some SERP elements, see how they can help a business, and discover some practical tips on how to get featured in them.
Knowledge Graph
What is a Knowledge Graph?
A Knowledge Graph is an element displayed in a separate box on the right side of a SERP. Its main purpose is to provide structured and detailed results for users searching for factual data. For example, if one searches for "Mozart," the Knowledge Graph will show brief information about the composer, including his date of birth, a short bio, images and a list of his compositions. It will also provide links to websites where you can get more detailed information on your query.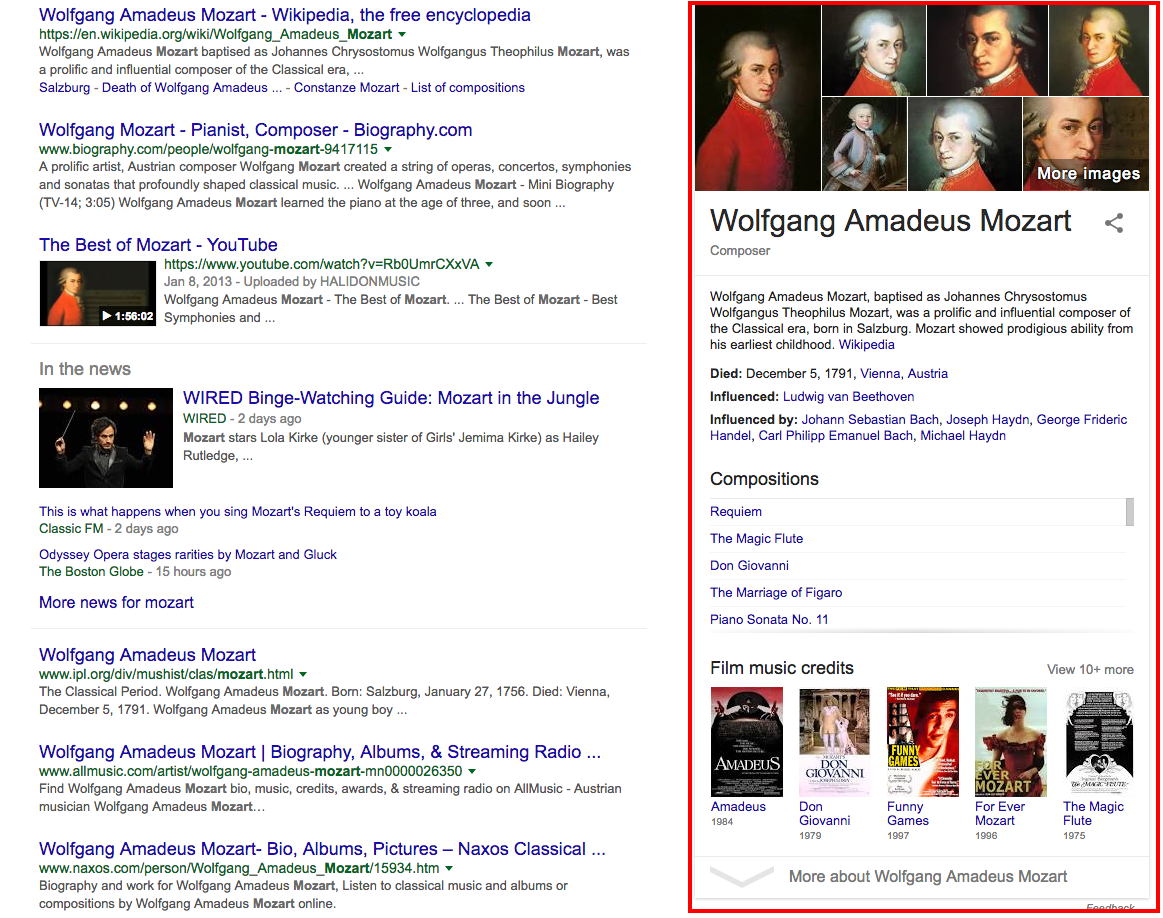 How Knowledge Graphs can influence your business
Google's intention with the Knowledge Graph is to provide the user with the information they are looking for directly on the SERP so that they don't even need to visit any websites. This makes the search process easier and quicker for the user, but, at the same time, it can hurt website owners. If a user can obtain all the answers they need right from the SERP, they won't click and open any websites, and, as a result, website traffic reduces.
So, in most cases, ranking in the top organic positions brings more value to a business than having a Knowledge Graph. Yet, it still can bring benefits for branded keywords, as potential customers can get key information about your company before visiting your website. Having a Knowledge Graph also lends credibility and authority to your website.
How you can get featured in a Knowledge Graph
As I mentioned above, a Knowledge Graph is displayed mostly when a user is searching for facts: a celebrity, a place or a brand. And if you want to show up in a Knowledge Graph, you need to optimize your content for informational queries.
The usual purpose of an informational query is to get knowledge about a topic/person/product a user is searching for. So you need to optimize your content to provide answers for potential search queries related to your website's topic.
SEOPressor has published a great article with actionable advice: " How to Get Your Business On Google Knowledge Graph (for Free!)."
Besides focusing on informational queries, you also need to make sure your website is ranked at the top of SERPs or at least on the first page, if you want to get featured in a Knowledge Graph.
Creating a Wikipedia page can also help your site get featured in a Knowledge Graph.
Since February 2016, Google has allowed official representatives to make changes in their Knowledge Graph cards. According to Google, to prove that you're an official representative, "you need to be signed in as an owner of the topic's official website, YouTube channel, or Google+ page."
Local Pack
What is the Local Pack?
This element represents three local results, and displays their business' name, address, phone number and ratings. The Local Pack appears in response to local-related queries, for example "pizza in Toronto," "travel agency Miami," etc.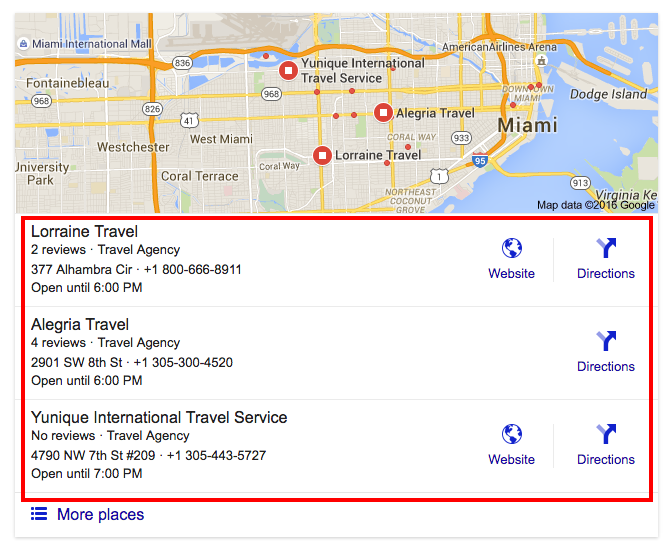 How can the Local Pack influence your business?
Most people who are searching for local companies do not need to see their sites, they just want their contact details, opening hours and reviews. So if your company is listed in the Local Pack, and users can get all the information they need without doing anything else, the flow of your real customers is likely to increase.
Before August 2015, Google used to show a seven-pack instead of a three-pack, but then it changed the amount of displayed results it shows for a better mobile user experience. So what does this mean for local businesses? Because fewer businesses are featured in the Local Pack, the competition is now tougher. But the three winners that manage to show up in these results, will get more attention.
How you can get featured
The Local Pack is directly connected to local search, so you need to use local optimizations tips, for example:
Optimize your website's content for local search

Get your business listed in local directories

Create and optimize a Google My Business page
You can find plenty of advice on local SEO in this post.
Featured Snippet
What is a Featured Snippet?
A Featured Snippet (also known as a "Rich Answer") is a block that appears on the top of a SERP that contains a summary of the user's answer and a link to the webpage from which it was extracted.
How it can influence your business
The advantages of having a Featured Snippet seem doubtful, just as with the Knowledge Graph: if users get the answer they're looking for directly on the SERP, they'll have no interest in clicking on the corresponding website itself. "Most of us seem to agree that it's probably evil because it steals clicks from the original site by serving the user with the immediate answer to their query," says Ann Smarty.
On the other hand, Ann Smarty says that a Featured Snippet provides e-commerce websites with a new opportunity to rank for informational queries.
Moreover, as Timothy Carter states, most users won't be satisfied with the brief answer provided by a Featured Snippet and will dive in to get more information anyway.
And if your website was chosen by Google to be displayed in a Featured Snippet, your posting will be located above all the organic results – that means your website will even appear above the one ranking first. So the game is indeed worth the candle.
How you can get featured
As a matter of fact, most pages that get into the Featured Snippet are already present on the first page for the query, most likely among the top five positions. So, your first step, which you cannot skip, is ranking high by your targeted query. If you're not there, you aren't able to get into Featured Snippet either.
Find out which question-related search queries your website has potential to rank for. To do this, filter your queries in Google Search Console by "how" and "what."This process is explained in more detail in the article " How to Optimize Your Site for Google's Featured Snippets."
You can find out if your website already has any Featured Snippets using SEMrush:
Type in your domain name

Go to the Positions report in Organic Research

On the right-hand side, you'll find the SERP Features widget

Choose "Featured Snippet" and you will get a list of your pages that appear in Featured Snippets
By clicking on the"SERP" column, you'll see an exact snapshot of the results page and discover what your Featured Snippet looks like.

Next, you need to optimize your content for a "questions and answers" format. Here are some tips that can help you:
Create a separate page for each targeted question

State the question directly on the page

Give a brief answer summarized in one paragraph

Include an FAQ section in your website's content
Some Featured Snippets may also include an image. In this article, Jim Stewart shares his advice on getting an image in the featured answer.
Also, you can check out the awesome presentation " Deep Diving Into Featured Snippet" by Rob Bucci.
Sitelinks
What are Sitelinks?
A sitelink is a SERP element that displays hyperlinks to website subpages, which makes it easier for users to navigate a website. Sitelinks appear only for branded or navigational queries.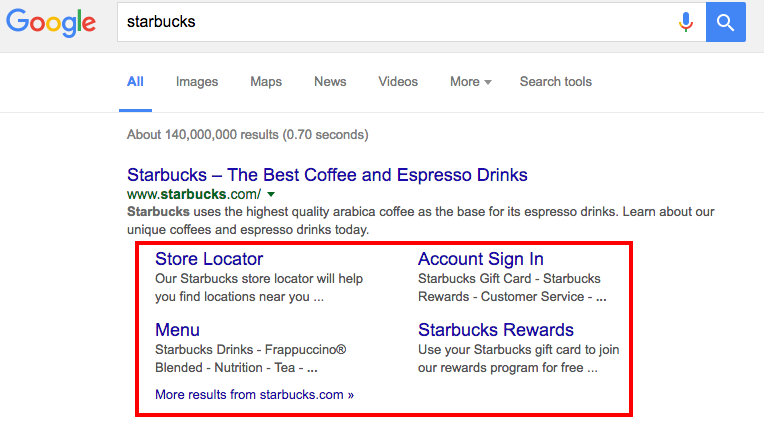 How it can influence your business
Sitelinks provide users with the most relevant results and ensure a better user experience, as users don't need to wander around a website trying to find what they need.

In addition to providing a good user experience, sitelinks help you build trust around your brand as well as your reputation.

By having sitelinks, you can cover more SERP space, and thus become more visible and get more traffic as a result.

More traffic is driven to your internal pages, not just your homepage.
How you can get featured
There is no magic trick that can force Google to display sitelinks for your website. But these practices can influence Google's decision:
Building a website with a simple and well-planned navigation

Creating a clear page hierarchy

Using Schema.org

Offering a sitemap

Ensuring there are no broken links on your site
In this article, Jonathan Hochman describes common features of websites that have and have not earned sitelinks.
We've also asked experts from different countries to share their opinion about SEPR elements that have the most impact on local business rankings and give their advice on how a business owner can optimize his site to be featured in these elements.

I usually work with entrepreneurs who want to turn their expertise into a global business. But sometimes, these entrepreneurs are also local pros with a brick-and-mortar business site. They are mostly located in small cities, not like Miami or New York.
Here is what works very well for these types of businesses and allows them to get their site on many SERPs:
We select their main occupation and city as the geo keyword for their overall site's focus and homepage.

Then we further research long tail keywords, describing their local end consumers' pain points.

Next, we add all cities and zip codes they serve in their site's footer.

From there, we create service pages with long tail keywords describing their end consumers' pain points and share their products and services.
These "geo-related" service pages get recognized by search engines with a local relevance due to the geo content in the footer. This creates a good amount of search queries and offers time, and the service pages end up in SERPs.
My clients normally dominate their local market with their main geo keyword on the first page of Google, but what's much better, they also come up for many other local searches that are relevant to their end consumers' pain points. So don't put all your eggs in one basket. Enjoy testing and tweaking!

If you are a small local business and you are trying to make an impact in SERPs, then you will soon notice that Google has a rapidly changing landscape.
For a long time it was a local SEO staple to get your business in the local pack results. However, now there are only three listings available in the local pack. Also, these are location subjective, meaning if I am in New York City and I search for "office furniture," I will get a very different result than for "office furniture Times Square." It will also display different features and results on a mobile device than on a" a desktop. So, SERP opportunities are quite fluid and changeable.
However, it is definitely important to focus on at least a few of these features. For example, you will really want to work hard to get your business into the local three pack, because these are almost the only results that users are clicking for a local result. The local three pack also shows your five-star rating and some summary information about your business, along with a link to your website. So it is also worth making sure your Google listing is up-to-date with your contact details and business hours, etc. Your five-star rating is very important, and having a good rating could mean the difference between getting your result clicked on or not.
AdWords down the right-hand column have been removed, and now any relevant Product Listing Ads will appear for a local search. This is a good opportunity to visually show your product and perhaps spend a little on AdWords to get some exposure.

The first, and by far the most important, SERP feature for a small business is a Google My Business local listing. Not only does a local listing pass value through to your website, it may also help it rank in a local pack. The ability to directly drive additional leads makes a Google My Business local listing the most powerful SERP feature available at the moment.
Spend some time setting up your listing with the correct business details (use your exact business name, address, and phone number) and categorization, and give Google all the information it asks for.
Politely requesting a review from happy customers now and then can also go a long way toward increasing the amount of leads you receive.
Coming in second would be the Knowledge Graph. A minor site coding change could make your site more visible when people directly search for your business.

1. Ensure that your website follows Google's best practices
Review Google's Webmaster Tools and Quality Rater guidelines and make sure your website is mobile responsive, quick loading, and that it has excellent usability.
Remember to chat with your web developer about also using microdata (via schema.org) to correctly tag open times, address details, phone numbers, etc.
2. Claim your Google My Business listing and fill it out completely
Ensure the details loaded onto your website (from step one) match your Google My Business listing. Also, ask existing clients who've had a good experience with your business to post a review online.
3. Build relevant citations
Submit your website to relevant local directories, e.g., Yellow Pages, Yelp and TrueLocal (if you're based in Australia). Only submit it to high-quality directories that are important to your specific industry or geographic location. Again, remember to match all your details in step one and two – consistency is key here.
4. Create targeted geographic pages on your website
Target specific products and services, pairing them with the geographic location that refers to your business. If there are particular suburbs that you service, you can go ahead and create specific pages for those too.
A word of caution: only create pages that are useful and avoid creating a whole bunch of doorway pages with duplicate content.
There are three main factors Google uses to determine Local SEO rankings:
1) Relevance
2) Distance
3) Prominence
Google takes notice of these three factors in order to bring the best results to users looking for businesses via mobile phones or desktops. Sometimes Google can rank a business located farther away higher than yours, if it thinks that your competitor has a product more relevant to the user's search.
Some tips for optimization:
If you serve multiple locations, add all the locations to your Google Business listing, that way you'll have more chances to rank for different locations.

Ensure that you have a decent amount of other local directories and local media publishers linking back to you to show Google that your local prominence is high.

Invite your customers to review your business on Google Business listings. You can add a link to your automatic email notifications or to emails that your employees sends to customers

Test that your physical address does not have any extra characters that might affect the way Google picks up your location: any extra commas, hyphens, etc.

Set up a Google My Business account and make sure to verify the page. Upload high-resolution photos and come up with a strategy to get your clients to leave reviews on the page, as it is said that this can influence your placement in Google Carousel. By creating a Google My Business page, a company can appear in a Knowledge Graph, Google Maps, and local search results, apart from regular search results. The page has to be updated regularly and receive reviews in order to increase its chances of showing up in the previously mentioned type of results.

List the client's website in online business directories to gain citations. The main objective of this strategy is for search engines to verify the legitimacy of the business and give preferenceto website in ranking for its company name and other branded terms.

Location-based landing pages may be created in order to have a dedicated page to optimize for local search. Consider creating subfolders with localized URLs for clients with offices/properties in various locations where unique geo-specific content can be added. Apart from onsite content, meta tags and H1s can include keywords too, as well as alt tags to appear on Google images.

Make sure to sign the business up for suitable social media channels. This is a possible way to fully take over the first page of Google for branded queries.

More than 50 percent of searches today are performed from a mobile device. And every time a user searches from their mobile device, Google prefers to display results from businesses that are located within their reach. So even if your services are globally available, you shouldn't pass up a chance to rank higher for searches relevant to your region!
Go to Google and use the search box: enter the name of one of your services or products and as you start typing you'll notice that a dropdown shows up with suggested searches. These suggested search queries are very important; they'll tell you exactly what the user is looking for now. Look for any of your services or products with a local extension and make sure you go for these local rankings first.
In order for you to take the first page of Google, you have to:
1. Do keyword research for local search
2. Conduct onsite optimization (content, page and URL structure optimization)
3. Conduct offsite optimization (local citations and directory listings)
4. Make sure to use Schema.org mark-up
5. Create whatever content you create for the user, not for search engines!

Follow these simple steps and start your journey to the top of SERPs.
Never underestimate the power of keyword research. With minimal investment, it becomes more important to know what you want to rank for. I would advise you to be modest and target low-competition keywords that may offer a better ROI.

Local SEO is your game. Get listed in Google Maps, Maps and Yelp, optimize your Google My Business page, and include your location on your social media.

Know your community and show that you do in your content. Using what you know about your community or city can make a difference, and search engines support it with projects like Micro Moments. The "top of the SERPs" has become relative; you can make it to the top with a large variety of featured snippet formats (maps, AMP, instant answers). If you provide valuable information for local community members, the rankings will come to you.
Do you have any additional tips? Please list them in the comments!