The term AI conjures up images of futuristic sci-fi scenes and shiny robots.
And, while that is an extreme, media-led version of it, it has been consistently infiltrating our lives for the past few years.
In a 2014 statement to the BBC, Stephen Hawking urged that, if done wrong, "the development of full AI could spell the end of the human race."
That is not a fun thought. But it does show the powerful potential AI has.
With that in mind, let's take a look at how AI is altering the content marketing landscape - for better or for worse - and what you can do to successfully ride the wave.
1. Things Are Getting REALLY Personal
In a report run by Forrester, 40% of marketers struggle with personalization, which is a big problem when you consider that consumers today are looking for unique, authentic experiences with brands.
They actively want deeper connections with the businesses they buy from. Thankfully, there is a knight in shining armor coming to the rescue.
A glut of marketing automation software companies is hitting this challenge head-on by creating tools that allow marketers to focus on one-on-one engagement. Seems like a laborious process, interacting with each and every customer, right?
Right. Which is why these software companies are building scalable models that let marketers interact with billions of people at the same time but in a personal way.
Confused yet? It is actually pretty simple. AI can easily automate the timing, type of content, and communication channel so that marketers can streamline their strategy, so it aligns with each and every customer's needs.
And how does it do that exactly?
Machine learning. This is a field of artificial intelligence that lets marketers collect, store, and understand large quantities of data and, off the back of it, put together customized experiences for their people.
Facebook is a great example of this.
Their algorithmic newsfeed analyzes every user's actions on the site in order to deliver handpicked content that suits their behavior. We will see more of this in the coming years from general websites and blogs, which, as the technologies advance, will be able to learn from their user experiences.
But be warned: it has the potential to get creepy.
With the combination of robo writers (more on that later) and detailed algorithms designed to create customized content, there is the possibility that stories will be developed exclusively with a particular individual in mind.
To put it bluntly, in the future we might see news articles written by machines that have been created for one specific person.
Is personalization important?
In short, yes. According to a study by Gartner, organizations that have invested in various kinds of personalization will easily outsell those that haven't by 20% in 2018.
How You Make Your Content Marketing Personal
2. SEO Is Getting a New Lease on Life
Google's powerful machine learning AI system is called RankBrain, and it helps sift through search results to provide the most relevant websites for the searcher.
Now, we all know that Google has a habit of changing its algorithm fairly often, but its latest venture is known as deep learning - a system used to improve SEO rankings, so they better serve the user.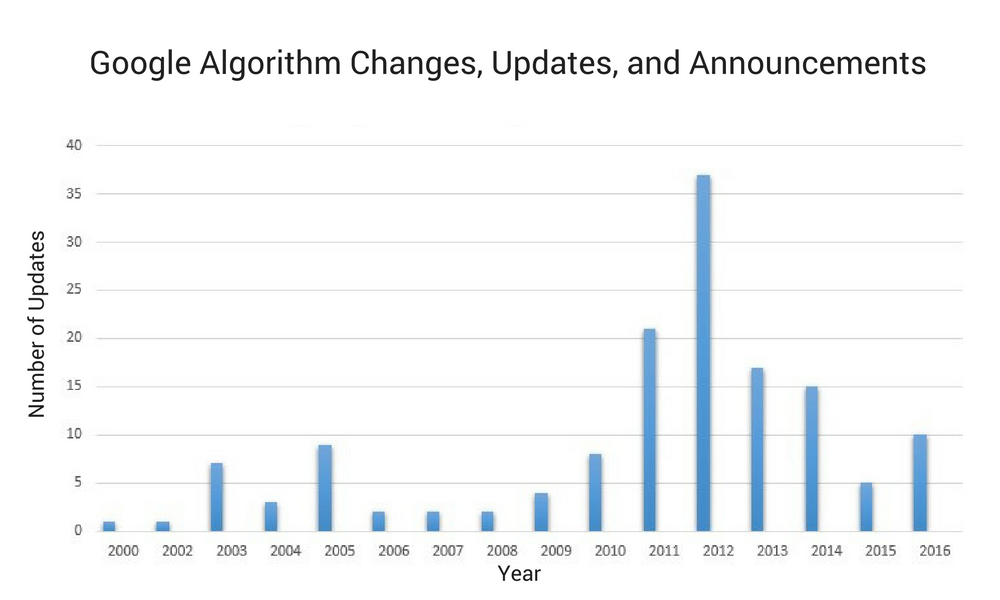 Content marketing is heavily reliant on search engines driving visitors to the site. So much so, that it is one of the most important factors for brands looking to boost their traffic.
What Is so important about RankBrain?
It is a vital part of content marketing because it can sort through and filter a huge amount of data in order to bring back precise and relevant content based on search queries.
This means that keyword stuffing will finally die the death that has been threatening it for the past few years. "Content is King" is a horribly overused phrase, but this will continue to permeate the content marketing world in the foreseeable future.
In 2016, the average time spent on creating a blog post increased by 26%, which shows that it is now a quest for quality - it is either do it properly or don't do it at all.
How You Can Master the New SEO
Focus on creating in-depth articles that are filled with facts, data, and compelling stories - remember, the quest is for quality

Consider creating less content but digging deeper into topics and repurposing that content into different formats to suit different audiences

Forget about keywords and focus instead on providing your audience with relevant, useful, and engaging content
3. Data Analysis Is More Powerful
Back in 1996, a computer designed to beat the best chess player in the world lost to its competitor. In the rematch the next year, it won.
We can pinpoint that moment as the time AI began to be a common tool to analyze large amounts of data to build a strategy.
Big-name brands like Airbnb have latched onto this and use AI to determine factors like how much hosts should charge based on a series of factors, like what time of year it is and how close their property is to all the action.
But what does this mean for content marketing?
It means that we will see marketers using more in-depth tools to analyze their content and build strategies based off of that. Taking that further, AI algorithms will soon be able to create strategies themselves by handling tons of data and analyzing it in minute detail.
Insights will be everything.
In fact, according to a prediction by Forrester, businesses that focus on insights will soon steal $1.2 trillion per year from their competitors that don't.
How You Can Use Data for Insights
Start gathering more consumer data by using surveys, forms, or simple click-to-choose questions on your site.

Dig into your analytics to determine which content is getting the most engagement.

Use the insights gathered from asking your audience questions and your analytics to build a strategy filled with more of the good stuff.
4. Content Automation
Natural Language Generation (NLG) is another branch of AI that is set to hit the content marketing world hard.
Essentially, it uses algorithms specifically created to translate data into human-like language - cue the emergence of the robo writers I spoke briefly about early.
This will be reflected in auto-reportage, headline production, and more.
There are already companies out there that are creating content automatically from data and insights. The articles aren't written by humans but are instead put together via a series of algorithms that have "learned" how to speak like a human and can easily replicate that.
In a study run by Gartner, almost 20% of business-focused content will be generated solely by machines in 2018.
That is a scary thought, right?
How You Can Automate Content
We are still a long way off robots creating all of our content, but there are certain things you can already automate to save time.
Create a compelling automated email campaign that delivers relevant content to your audience over a period of time.

Use software and tools to automatically send out your content to your audience when it's published via social media and syndication.
This Doesn't Mean the End of Content Marketing as We Know It
Far from it, in fact.
It simply means that marketers now have the tools and technologies at their fingertips to dig deeper into the content creation process.
Instead of winging it, every piece, whether it is a video, blog post, or social media commentary, will be well thought-out and driven by the end consumer.
Deeper insights will be able to predict what content will perform better so brands can create more of that, while personalization will be key.
Despite the huge leaps and bounds technology has made in the past decade or so, people still crave connections with other humans. So, while automated content-creating robots may well be on the rise, content thoughtfully produced by real people is still incredibly powerful.
What do you think? Will AI take over the world of content marketing anytime soon?