Building a tight-knit community of passionate SEO and digital marketing professionals has always been on the top of our priority list. Thus, the White Nights SEMrush Meetup is an important milestone for us. Now in its second year, WNSM 2017 has welcomed 40 experts from 16 countries, offering an opportunity to network, discuss the latest SEO buzz, meet new friends, create new partnerships, and have a lot of fun! As Jim Stewart said, this event was " a really smart idea" because we got really important feedback from our customers to help us improve our tools. We now have a pretty clear idea of what a 'dream digital marketing tool' looks like.
We would love for our users to read through the feedback below and share your thoughts with us as well.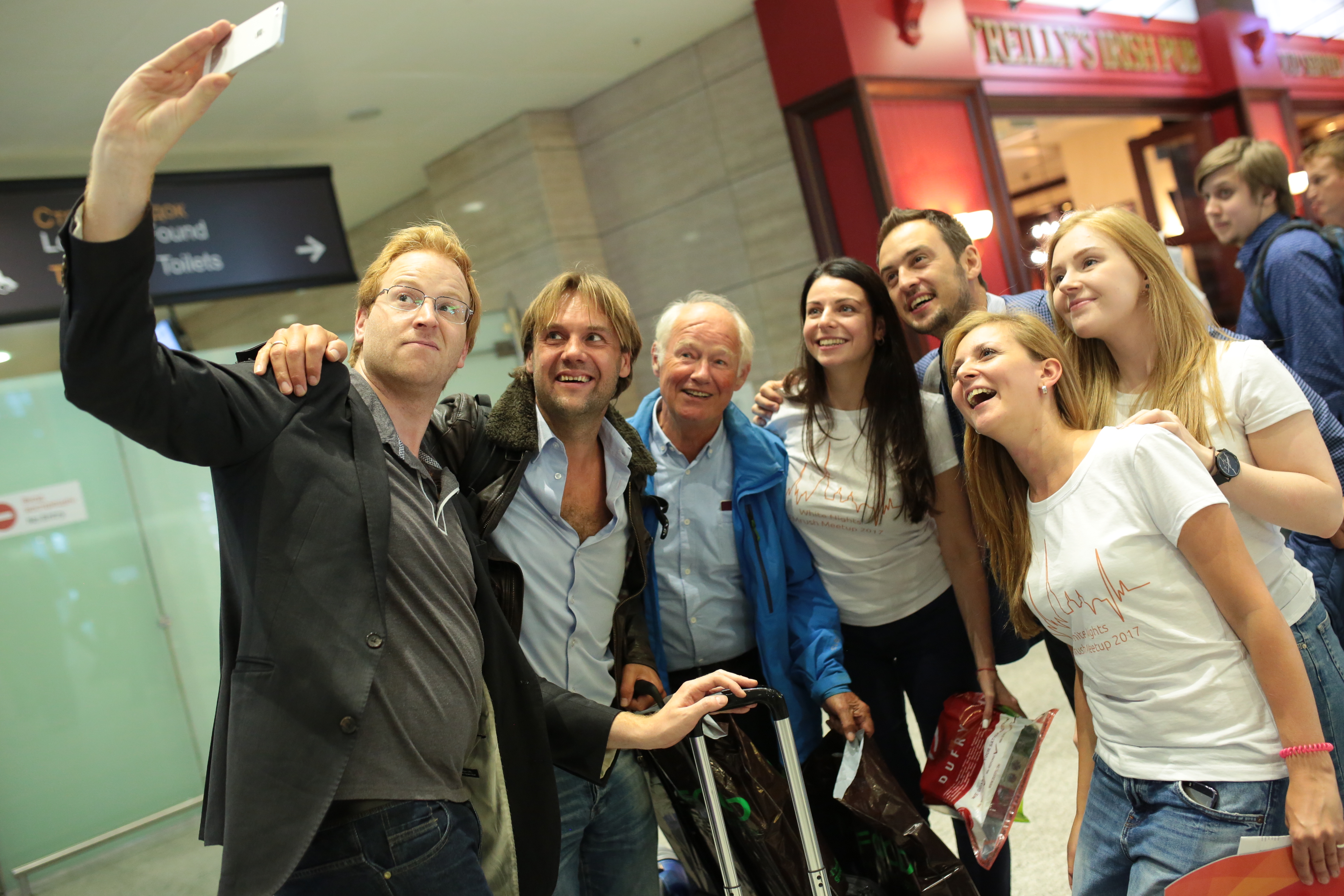 After a warm welcome speech by our founder and CEO, Oleg Shchegolev, and a quick product history overview by CPO, Vitalii Obishchenko, we organized a Meet and Greet session (very similar to speed dating) to get the ball rolling. People learned a lot about one another, for example, Felipe Bazon first heard about digital marketing in a bar in Spain, and Paul Sanches traded a career in psychology for SEO after being asked to create a website as a part of a student project.
SEMrush Product Development Strategy
Having an opportunity to gather world-renowned experts in one room and get their feedback on SEMrush tools is invaluable indeed. We'd like to thank each and everyone who managed to find time in their busy schedules and made it to St. Petersburg! Here is a summary of comments and ideas we have received during the Lean Cafe session. 
Site Audit Tool
Providing an impressive list of 60+ checks, Site Audit is one of the most celebrated SEMrush tools. We asked the experts to share their ideas of some additional checks that would make the tool even more effective. Fortunately, the feedback we received showed that we are on the same page — quite a lot of the ideas were already a part of our roadmap for the nearest 6 months. The most popular ones included checks related to HTTPS implementation, website performance (page speed and other metrics), further improvement of the reporting functionality, and mobile SEO checks (AMP, page speed etc.). Another tool wish was server log analysis— not necessarily in the tool, but integrating the data from Site Audit tool with the data from other tools for more insights and recommendations would be very helpful.
All experts noted that although it is quite easy to receive a list of website issues, getting a client to actually fix them is a real hassle. Luckily, SEMrush integration with Trello is very handy here — several guests shared that the number of self-fixed issues is higher among those clients, who leverage this functionality.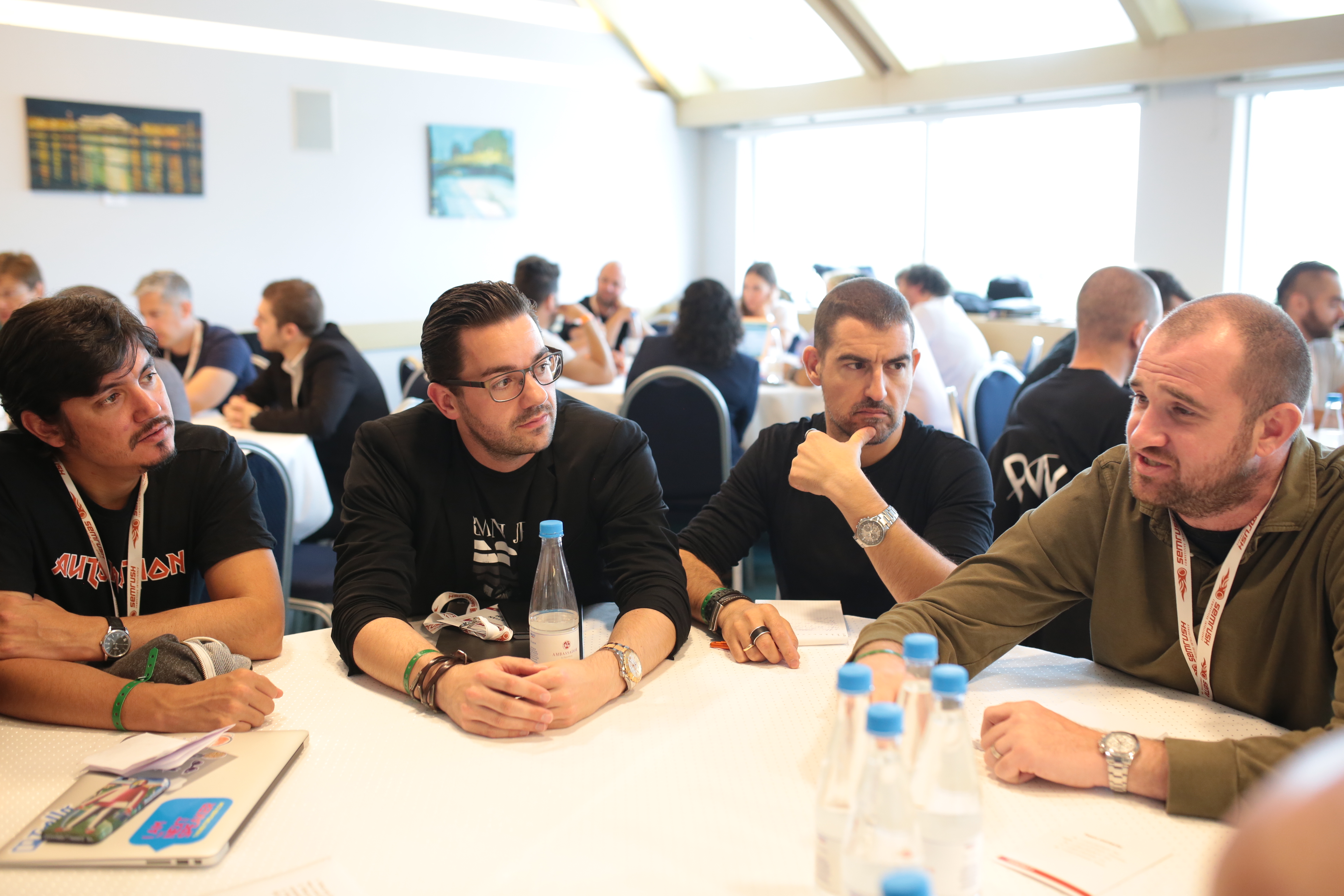 Backlink Analytics
In our Backlink Analytics we use Trust Score to measure the trustworthiness of a domain. Since this is a metric we invented ourselves, we asked the experts about the missing components that would make the Trust Score a more accurate measure of the backlink profile quality. Here is what they named:
There should be subfolder/page level scores.

301 redirects should be taken into account.

One needs to be cautious about using the bounce rate metric.

We should take into consideration extended databases.

We need to make sure the formula and the data behind the score is clear and transparent to the customers.
SEMrush Sensor
SEMrush Sensor was created to track Google SERPs volatility and alert SEOs about any positive or negative ranking fluctuations so they could take immediate actions or adjust their strategies. It also gives you insight into the SERP Features usage percentage.
We asked our guests to share how they usually deal with the Google updates. It turned out, that although SEOs monitor SERP positions, they don't do it daily. Most of the specialists are interested in ranking changes in a long-term perspective, rather than short-term position changes. Special attention goes to long tail keywords. If there is a change in traffic volume, they would normally check all places including Google Analytics and Google Search Console. Agencies usually check a few clients from the same or similar industry at once to understand if changes are a client's internal problem or an update affecting the whole market.
The expert feedback has proven the practicality of our volatility segmentation by industry — some algorithm changes tend to affect certain markets only, so it is very convenient to have a detailed overview as opposed to an average volatility score.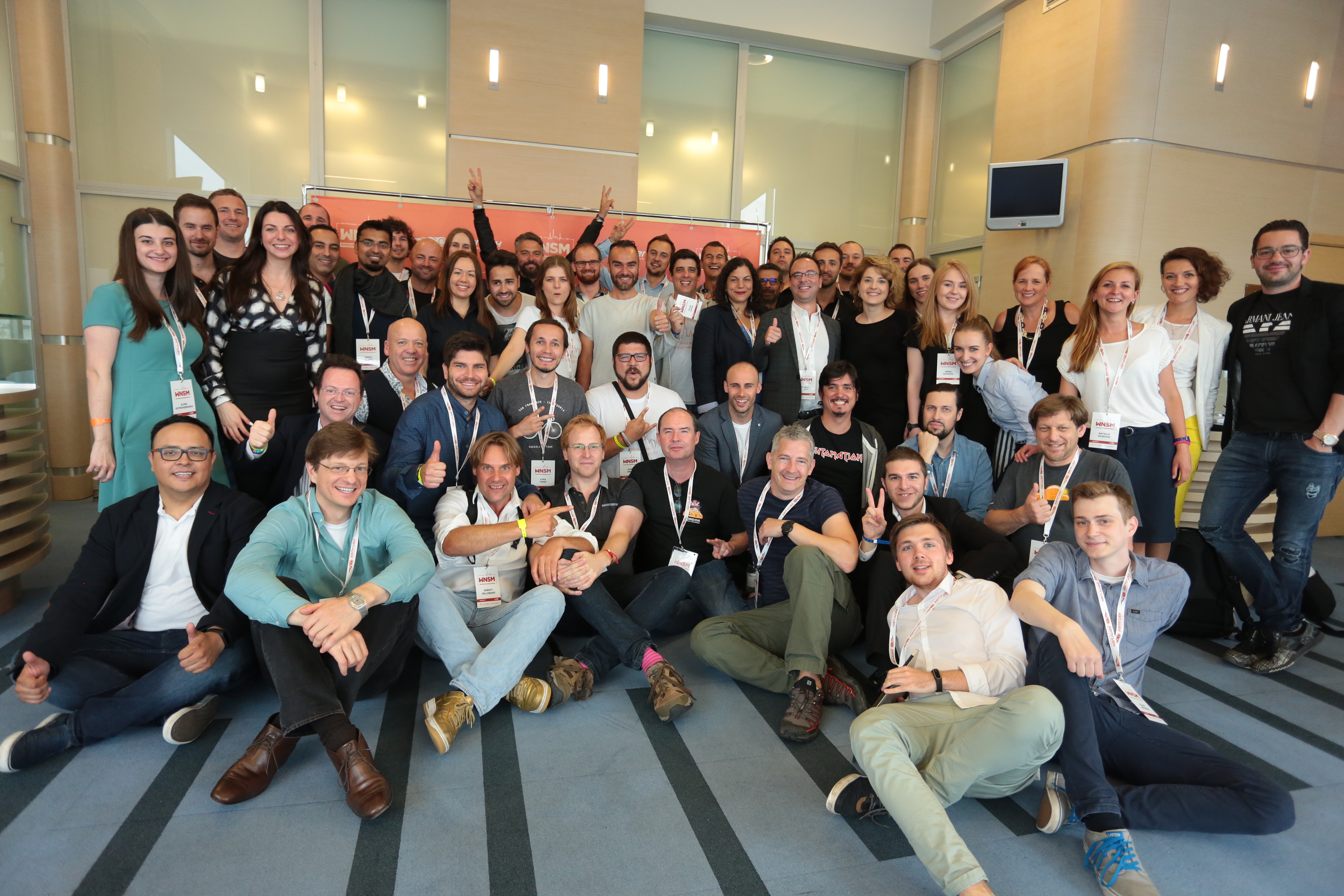 Keyword Magic Tool
Fun fact: 30 percent of the experts didn't know that the Keyword Magic tool existed, another 30 percent were not aware of its full functionality or couldn't find it on the menu. This feedback was immediately taken to our UX/UI team. Some of the experts noted that they didn't know the tool was linked to other tools like Keyword Analyzer (and that you can get the latest SERPs data there), PPC Keyword Tool and Position Tracking. Apparently, our killer features (e.g. SERP features filter, 'Questions' keyword phrases or match type filter) are hidden too deep in the interface. Well, we are definitely 'guilty' here and we need to make them stand out. 
Speaking of the keyword research challenges, our guests agreed that finding the 'money' keywords (when user intent is purchase; keywords that actually convert) is quite a daunting task. Well, we're going to take this info on board and explore new directions of the keyword analysis.
There were quite a lot of tool wishes, but the most popular one was very simple: noticeable alerts for the newly added functionality would be a nice addition to the interface.
Traffic Analytics
Our set of traffic analytics tools and reports is used to examine how well you are performing against your competition. To make this section of the toolkit as useful as possible, we asked the experts to go back to basics of the client promotion process and describe the first steps they take before making any strategic decision.
After building buyer personas, diving into client's Google Analytics account (or on-site analytics) and conducting an audit, the next step would be to research the main players in the niche and figure out what they do. Although you can never know if the traffic your rivals get or channels they use actually bring any value, experts agreed that the data SEMrush Traffic Analytics provides is more than sufficient to have the understanding of competitors' online strategy and budgets. To know for sure what works, you can start testing some assumptions, and then, after a reasonable period of time, you will be able to check the results and build a fact-based strategy.
The tool wishes for Traffic Analytics were benchmarking within the industries, conversion analytics per keyword/channel, and analytics of the completed campaigns whether in the interface or upon request.
Competition At Its Very Best
We talked a lot about beating rivals over these two days, so it seemed quite natural that the informal part of our event was also about competition. Experts split into 6 teams and had to battle in the SEO games, gauging the top Google autocomplete phrases, guessing the keyword volumes, and exploring the darkest corners of the SEMrush interface. Some very tight bonds formed amongst teams and it was amazing to see.
We asked our teams some fun questions like, which of theses keywords had the higher volume —cat or Melania Trump? The answer is below. Would you have made the right guess?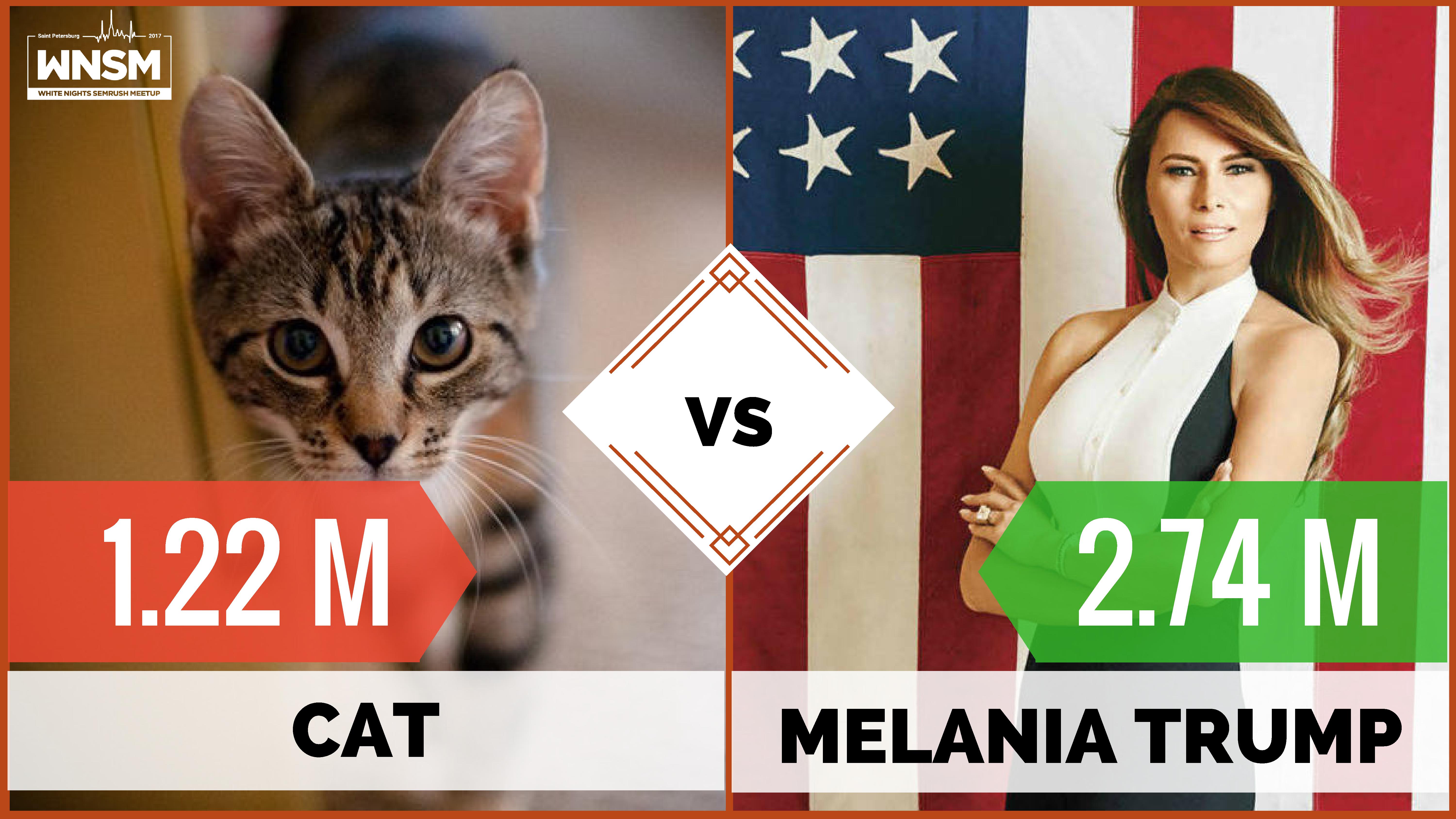 We are proud and honored to have a truly global community. Getting an International perspective on our product is invaluable in our quest to build the only tool marketing teams will need. At SEMrush, over 50 percent of all software updates come from our clients' feedback. WNSM17 helped our Product Managers to test their hypotheses, get new product development ideas, and ensure SEMrush provides solutions for the biggest digital marketing struggles.
We were so happy to host this event for the second time. We want to again send out a huge thank you to everyone who made it to St. Petersburg, and shared their time, knowledge, stories, and spirit with us! We admire your energy and your passion for life and for SEO, obviously!
Stay tuned for WNSM 2018!