When identifying growth strategies for any business I like to start by focusing on two things.
First, what data can I find that supports specific actions? Second, what are the influencers doing in their own businesses?
This holds true for all growth strategies I test, but it's especially important within the world of SEO. There are so many differing opinions among SEO practitioners that it can be difficult to know what actions will have the most impact.
Follow the data.
Below you will find five data-backed SEO strategies (with case studies and examples) that can dramatically increase your site's traffic.
1. Encourage Reader Comments
Patel of QuickSprout recently revealed that 16 percent of his search traffic comes from keywords found within the comments on his site.
In his analysis, Neil looked at over 10,000 keywords that sent visitors to his site. He was able to identify where his site ranked for over 7,000 of those keywords. Next, he charted where those keywords were located within his content. 
24.7 percent of search impressions came from keywords found in the comments. Search impressions from keywords located in comments had a lower click through rate compared to those found in other areas.
The exact CTR was 2.1 percent versus 4.1 percent for keywords found in the main post content. This is interesting data, and Neil wisely took it one step further.
He shared that the CTR was lower for comment-located keyword impressions because the rankings tended to be lower than for post-located keyword impressions.
This could show that Google places lower value on keywords in comments, or just that they place more value on content located higher on the page.
Still, it's awesome that 16 percent of search traffic is coming from content that Neil didn't create!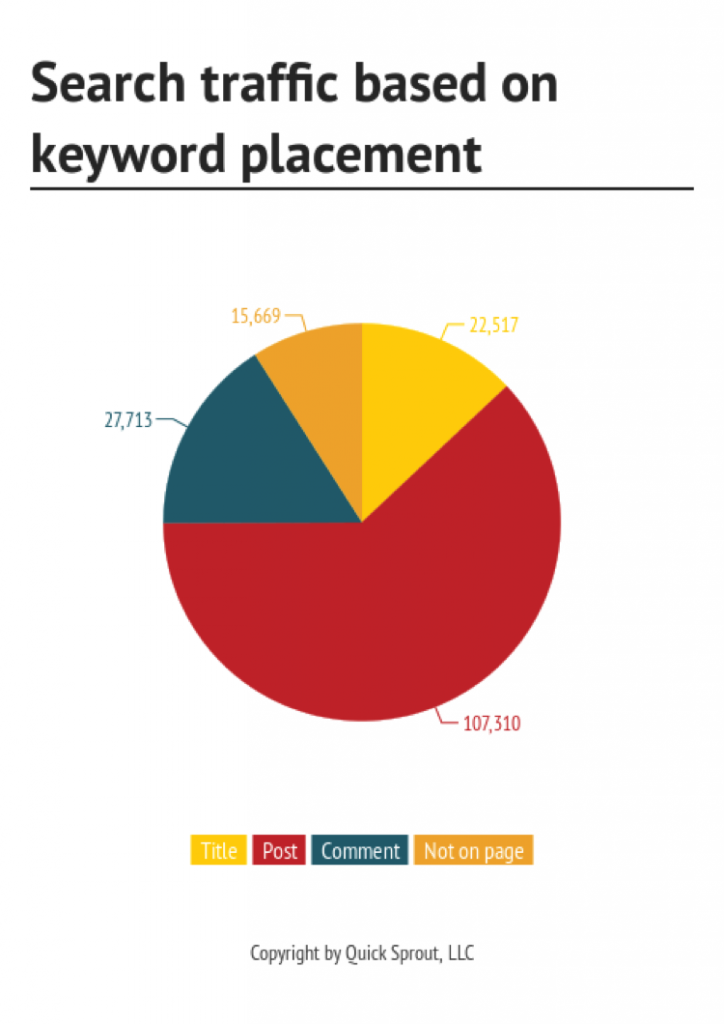 The takeaway here is to encourage comments on your own site to benefit from added traffic.
To take it a step further, you can respond to your users' comments and naturally include additional long-tail keywords that didn't make it into the initial post.
Respond with questions to engage your readers further. This creates a more loyal audience and even more content.
Definitely check out Neil's post for all the juicy details!
2. Create Proven Content
Brian Dean of Backlinko shared a strategy for creating epic content that generated a 348 percent increase in search traffic for one of his readers, Richard Marriot.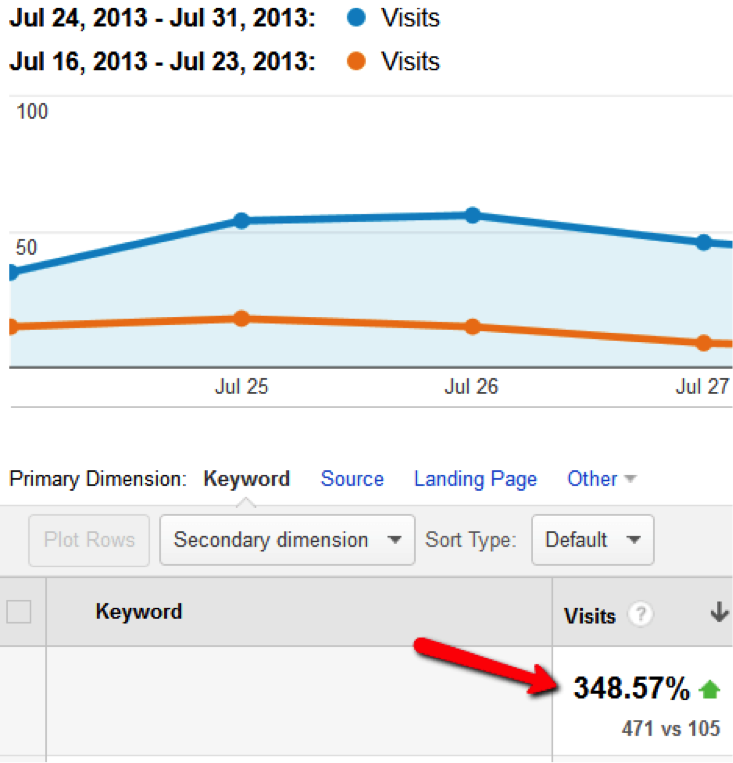 The strategy used to achieve these results is called the Skyscraper technique.
It has three key pieces:
Find content in your niche with a lot of backlinks and shares
To find this content you can use a tool like Buzzsumo to identify content that received massive social shares.
Here you can see how a simple search returns the top articles based on total social shares.

In this case, it returned my recent post on 23 list building strategies that did fairly well. You could use this to create an even better list, then promote it well to achieve similar results.
In addition to shares, you want to find content that received backlinks. For that, you can use the SEMrush backlink checker.
Take each article that did well with social and input it into SEMrush.
Next, click on the Backlinks link in the navigation, and you'll get to see all the URLs that have linked to that content.

If it has more than 30 dofollow links from quality sources, you've found a real winner.
Create your own version of that same content, but make it better than what's already out there
There are several ways to improve your content:
Make it longer and more detailed
Add more images
Add video
Improve the design
Promote your new content like your business depended on it
Share your new content with everyone you've linked to. Many of them will share it. Next, reach out to people to introduce them to your content. If it's good enough, many of them will link to it.
It's awesome because it's not complicated. Yet it works incredibly well.
Check out Brian's post that goes into the step-by-step details to implementing the Skyscraper Technique for your own site.
3. Create a Content Strategy for Where You Want to Be
Joel Runyon of Impossible Ventures helped their client, SpotHero, grow their search traffic by 3x within eight months.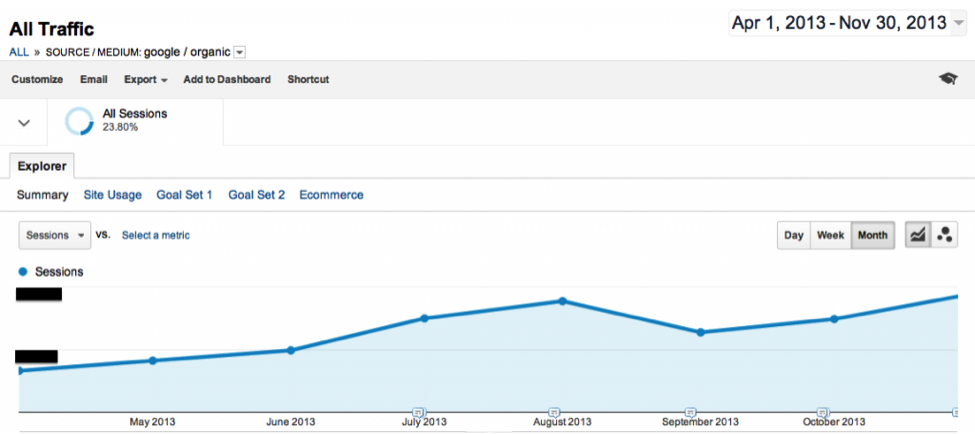 Since the goal was to grow from a regional service to being national, they researched the top companies that had already dominated that goal.
They found that none of their direct competitors were doing anything overly noteworthy, so they expanded their research to include national companies in related verticals.
Companies such as AirBnB and Hipmunk are similar in that their businesses target various cities. They achieved incredible search success. So what were they doing right?
What Joel found is that both companies had a very similar look to their homepage structure.
They had each created useful city guides for all of the main cities they serviced. These guides are linked to from the homepage using a similar design.
Here's Hipmunk's example: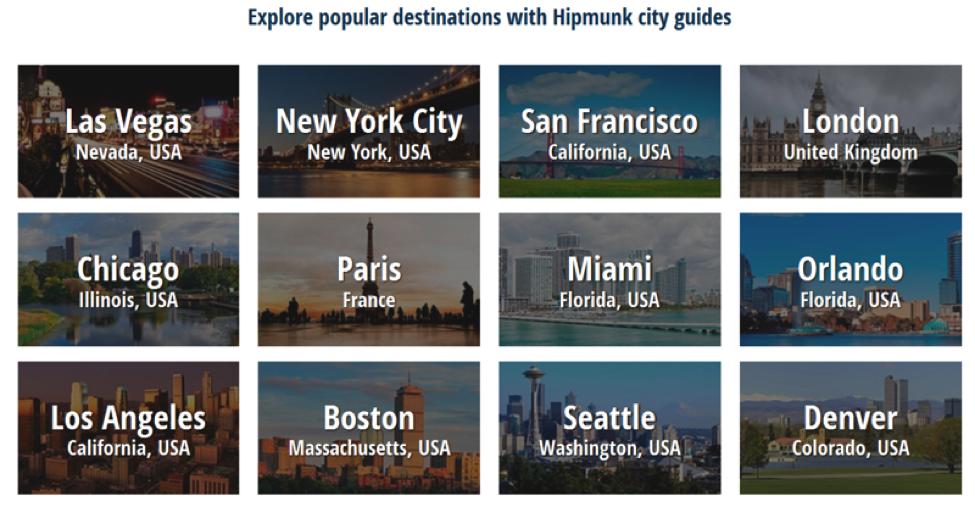 Based off of this research, Joel's team began implementing a similar homepage design. They also had city guides created as the service expanded to new areas.
As mentioned above, implementing these updates skyrocketed SpotHero's search success.
In addition to the 3x search traffic, they also increased the number of keywords SpotHero ranked for from 11,481 to 48,781!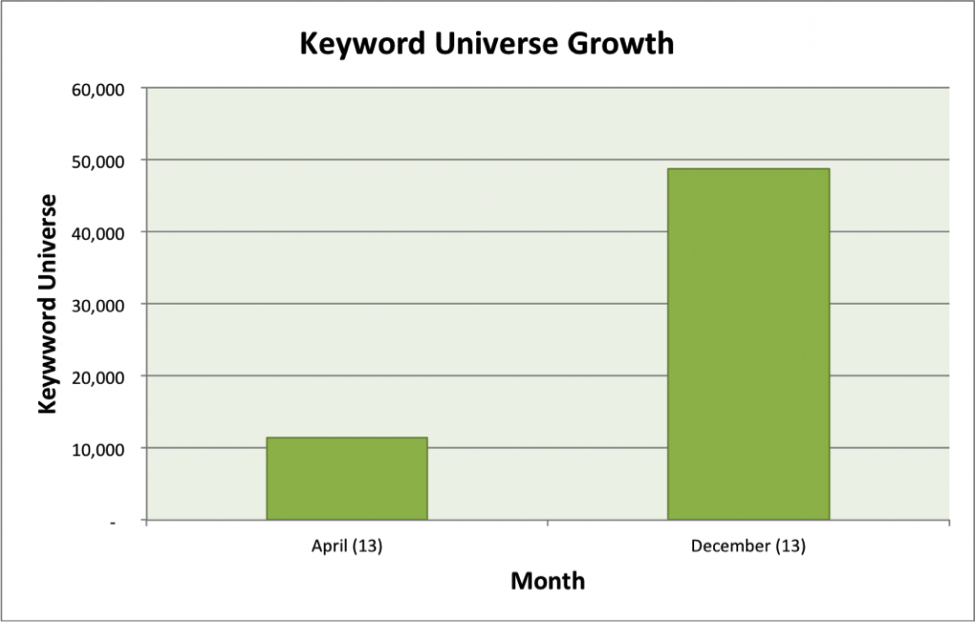 The key takeaway Joel provides is to think big.
Rather than focusing on small incremental changes, take a look at what the leaders are doing in your vertical
By modeling your content off of the companies that are already where you want to be, you can achieve a major improvement in results.
If there aren't any giants in your particular niche, expand your research to find companies in a related one.
4. Optimize Pages Based on Results
Jason Acidre of KaisertheSage increased his search traffic by 43.92 percent in 24 days.
He did this with two simple steps:
First, he identified keyword variations, which he hadn't specifically targeted, that were sending him high quality traffic. Second, he updated his titles and descriptions to include those variations on the pages that were attracting that traffic.
Here are his results:

One extra tip Jason shared was to focus on optimizing pages for the keyword variations that send highly engaged users. If you find multiple variations sending traffic, it won't look natural to try to fit them all into a title or description.
Rather, filter for time on site, goals and % of new visits. This will ensure you are updating with the best possible targets.
Hold up, what about the increased emphasis on topics over keywords?
I recognize that Jason's case study is from the beginning of 2013, and a lot has happened in the world of search since that time. Some people say to solely focus on a page's topic, rather than being concerned with keywords. While others say keywords still have their place.
This post on the Moz blog does a great job of summing up some key findings from the SearchMetrics 2014 Ranking Factors report. It shows that Google is continuing to improve its algorithm to rank the best content on a given topic. The latest updates further strengthen this emphasis.
The reason I included Jason's case study is to get your take on this debate. Do you have an opinion about whether a tactic like Jason's would still work today? It would be great to hear your thoughts in the comments!
5. Add More Content to Category Pages
Geoff Kenyon of Distilled shared a case study about how adding 200 words of content to various category pages increased search traffic by 620 percent.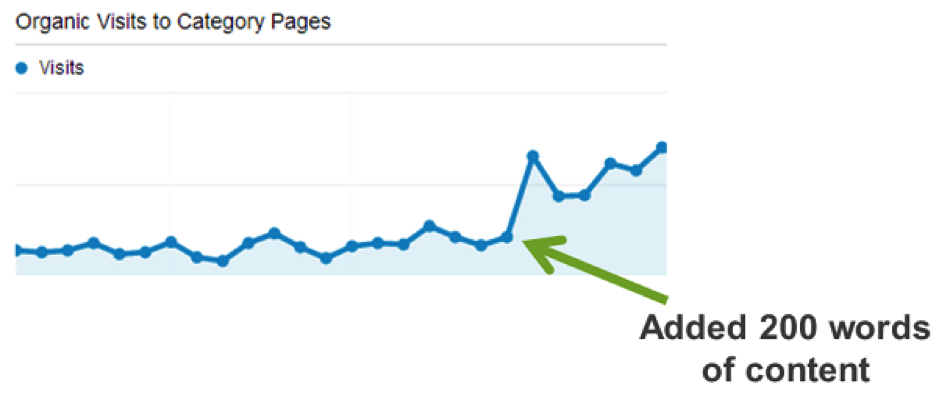 Before adding the extra words, each category page had just a sentence or two of content. This is actually quite typical of e-commerce category pages that often simply link out to various subcategories without much of an introduction.
Upon adding the extra content, search traffic jumped by 300 percent overnight. Longer term, it led to a 620 percent increase. Personally, I find it incredibly interesting how drastic the results were from a simple content improvement, without any additional backlinks.
Think about pages on your site that could use a content boost. You may be surprised by the results.
Conclusion
Thanks for checking out these interesting SEO case studies. I hope that you've gained a few takeaways that can be applied to your current projects.
If you have an opinion on any of the tactics mentioned, or a story to share, let's get a conversation going in the comments!