Influencer marketing and blogger outreach are the biggest trends of online marketing in 2015. A whole industry has come to understand the power of online influencers to boost a brand's PR and visibility.
Many brands, nevertheless, fail to build constructive contacts with bloggers. How can you avoid their mistakes? Read on for five important rules!
The Relationship Between Bloggers and Brands
SeeBloggers is one of the biggest conferences for bloggers in Europe. It took place the last week of July in Poland, and brought together over 600 bloggers to discuss urgent topics in the blogosphere. What do you think was the most discussed issue?
You guessed it — relations with brands.
Bloggers have good reasons to be angry about their relations with brands. Influencer marketing and blogger outreach have been recognized as the most important online marketing trends for 2015, and yet, many companies still fail to build constructive contacts with bloggers. This happens mainly because they fail to understand what blogging is all about.
During the SeeBloggers conference, participants explained the main mistakes brands make while trying to establish a rapport with them. If you are considering working with bloggers as part of your online marketing strategy (you should!), here are 5 things you should know before you start your outreach.
1. Blogging is Not a Hobby, it's a Business
This is where brands and businesses get it wrong from the very beginning. Some marketing heads don't realize the significance of landing an influential blogger:
"Blog? I think my 12-year-old niece has one. Sounds cute, but what do we do with it?"
This scenario might sound absurd, but bloggers at the conference repeatedly told stories of how they encountered comments like, "Well, but you do it just for fun anyway, don't you?"
Newsflash to marketers: long gone are the days in which blogs were online diaries read only by friends and family. Bloggers nowadays are well-known with a busy schedule and a crowd of thousands (if not millions) of followers. If you are not aware of this, you need a reality check.
2. Nobody Works for Free
Bloggers with whom I've spoken reported that most of the offers they receive are unpaid. Of all points in this article, this seems to be the most sensitive one for bloggers.
I can understand why. Given the huge benefit bloggers offer brands and businesses, how come brands think they should work for free?
Just in case you were considering making an offer for a blogger to cooperate with you for free (or in exchange of some free samples, for the sake of the matter), here is why you should change your mind:
Nobody works for free. You expect them to work, they expect you to pay.
It's not "just a blog post." To create an amazing blog post, it takes years of expertise and many hours of hard labor.
It's a matter of supply and demand. Did you know that according to The Shelf (one of the biggest platforms connecting bloggers and brands) a blog with a mark of 10,000 followers on social media (that's considered medium-sized) gets an average of 200 emails a day from brands? If you don't want to pay, no problem, the other 199 will.
It is worth the money, and bloggers have the numbers to prove it. If you doubt the added value bloggers can give your blog, these stats will change your mind: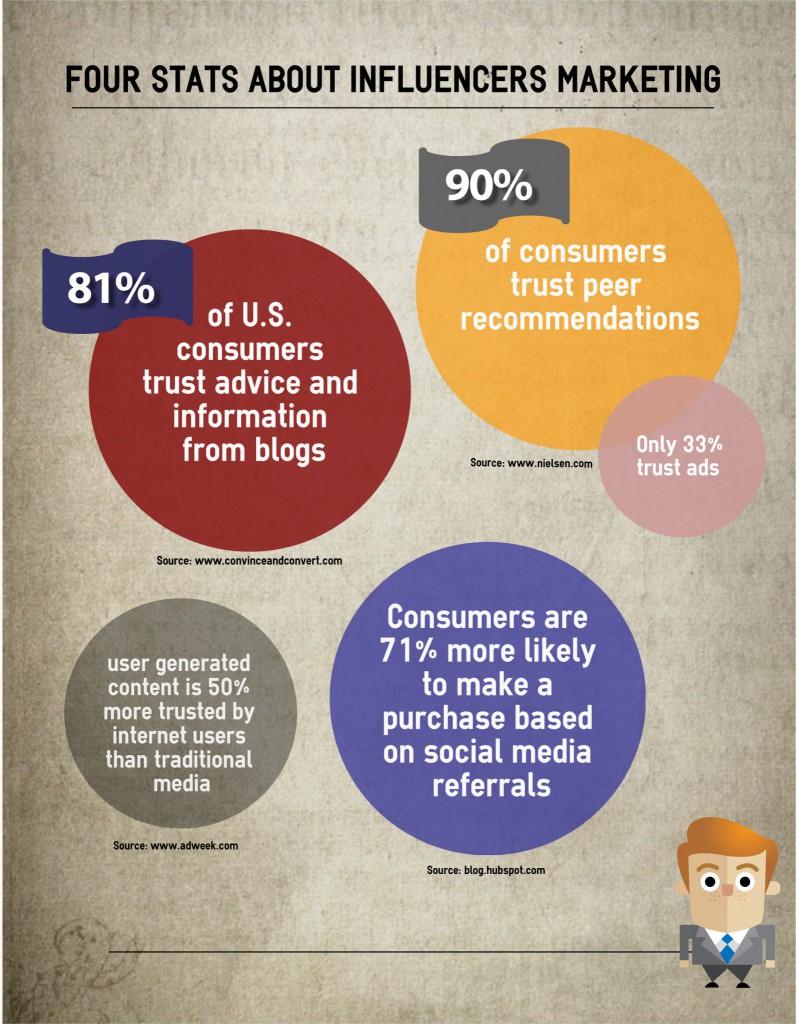 3. Don't Expect Them to Accept Any Offer
Let's say you are a generous marketer, and you are willing to pay bloggers for their cooperation. Still, don't think you have them in your pocket, and don't expect them to take just any offer you propose.
Here's why: the main reason why bloggers are so successful is trust. As the infographic above shows, readers trust the opinions of bloggers and online influencers more than they trust ads and brands.
Trust is the biggest treasure of a blogger, and if she loses it, she loses everything. If readers catch the blogger selling too much instead of really writing to their hearts, or if the blogger promotes products and services that are completely disconnected from the topics of interest of the blog, the audience will run away. It obviously means the end of the road for the blogger. For you, as a commercial partner, it's also not a good deal.
Your money is not worth the blogger's loss of trust and audience. Keep it in mind, and try to make offers that are in line with the blogger's content policy. Don't get angry if bloggers reject your offer — it's for your own good.
Which brings me to the next point:
4. Trust Them; They're Professionals
This is a problem every professional can relate to. How do you like having years of study and experience, and, nevertheless, have people tell you how to do your work?
The content specialist who hears from his boss, "Can't you make it go viral?!" The graphic designer who constantly hears from the client, "Can't you make it look more pretty/shiny/stunning?" We've all been there, and we all hate it.
Don't be those people. Avoid telling bloggers all the time what to do. Trust them; they are professionals, and they know what is best for you. Nobody knows the audience better than the blogger, so don't argue — listen. If you think you can do better, start your own blog.
5. It Takes Time
Last, but not least. You've made it through all the steps of the outreach and now you are waiting for the product to be finalized. You wait. And wait. And wait. And, oh my God, it's already been two days! How long should I keep waiting for a simple blog post?
No, it doesn't go like this. The final product you see is the result of several days of work. Here is what the blogger needs to do to for your post to be ready:
Plan the post
Write it
Edit it
Edit it one more time
Optimize it for SEO
Take pictures
Edit the pictures
Upload the post
Distribute it on social networks
Answer readers' comments
… All of this. And we haven't yet spoken about the blogger's regular content calendar, previous commitments and other time constrains.
So, please: don't sit on their necks. Set in advance the expected deadlines, and wait patiently.
Bottom line
These five concerns of bloggers are legitimate, and come from a group of people whose talent is still unrightfully misunderstood by many marketers. They remind me of the old saying:
"Our work is cheap, fast and good.

If you want it fast, it won't be cheap.

If you want it cheap, it won't be good.

And if you want it good — it will be neither cheap nor fast."
But don't let these rules discourage you; they are easy to follow. Apply them properly, and you will see amazing results!
Bloggers: What's the worst thing you've heard from a potential client? Let me know in the comment section!
Header image credit: Canva & Pixabay