In the past few years, Growth Hacking has become one of the main buzz words in the tech industry.
This happened for a reason: growth hackers have pulled amazing results with scarce resources, and helped boost the growth of their startups.
There are plenty of things a growth hacker can do to help a startup attract more traffic and generate leads.
These include SEO, paid acquisition, content marketing and more. In order to do their job properly, growth hackers have multiple arrays of tools they can use, one for each channel they work on. However, from all the tools they use, one stands out.
You guessed it: SEMrush. SEMrush offers a whole suite of tools that let you look at your rivals' digital marketing strategies from all angles and make informed decisions while developing new ones. It should be the go-to tool for any growth hacker.
In this article, I will show you 5 reasons why every growth hacker should use SEMrush.
Reason #1: Spot Your Competitors' Most Profitable Keywords
Hack: Get the most profitable keywords from your competitors so you don't have to do the hard work of manually finding them.
If you are running Google Adwords campaigns, you need to invest in profitable keywords.
Unfortunately, to find out what are those keywords you need to make a lot of tests and be willing to lose money at first. That's fine for most companies.
If you are a growth hacker, you don't have that much time. You need to move the needle and you need to do it in a cost-effective way.
That's where SEMrush comes to the rescue. If you put your competitors' websites into SEMrush, you can see what keywords are making them the most money.
Let's say you are working for an e-commerce store that sells fashion clothing for men. One of the biggest brands in that niche is ASOS, so let's grab their domain and put it into SEMrush.
Click "Search," and you will get ASOS's domain analytics. On the domain's dashboard, go to the left and click on the "Advertising Research" button.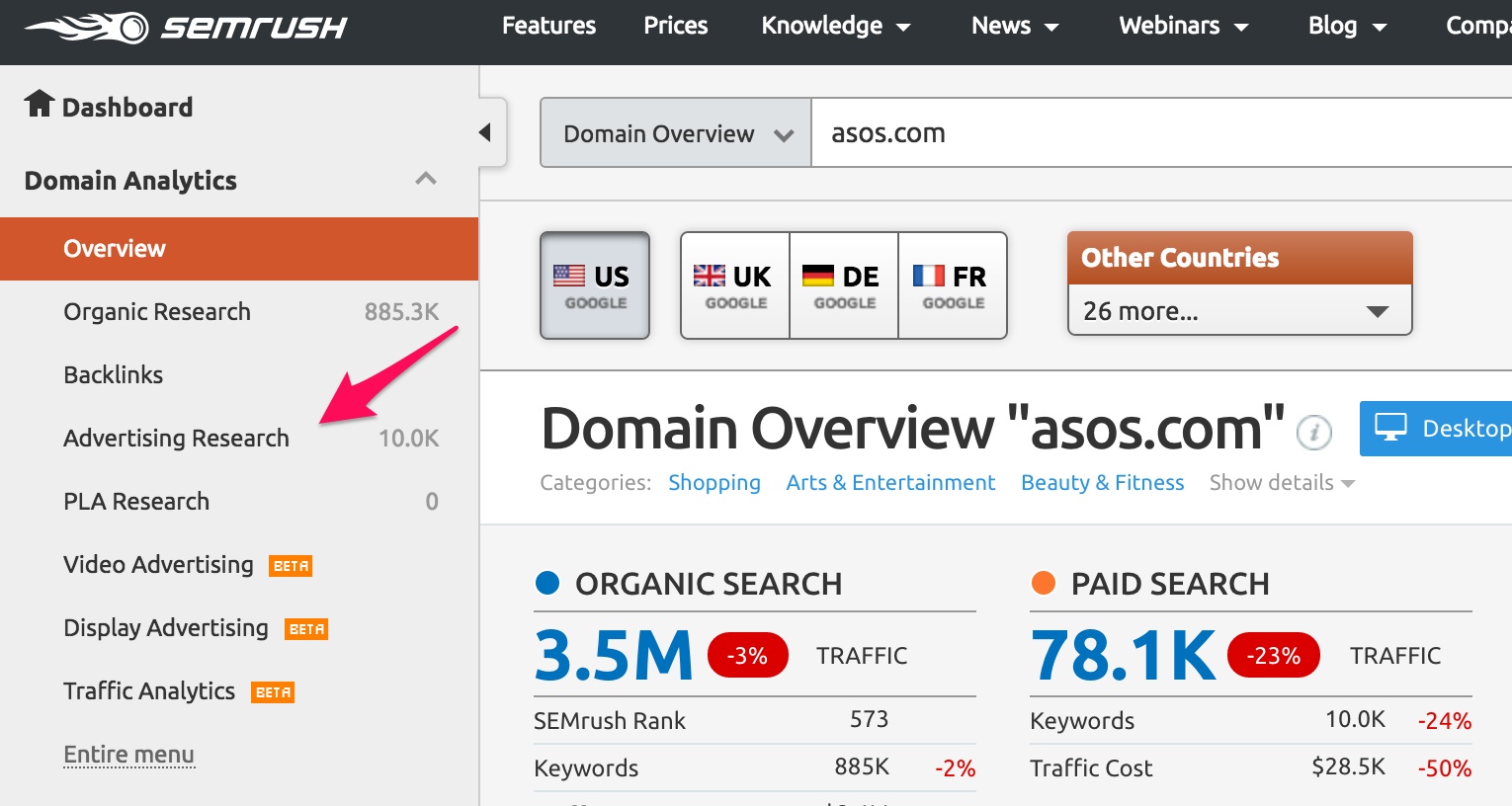 Once you are in there, scroll down and you will see all their paid search keywords.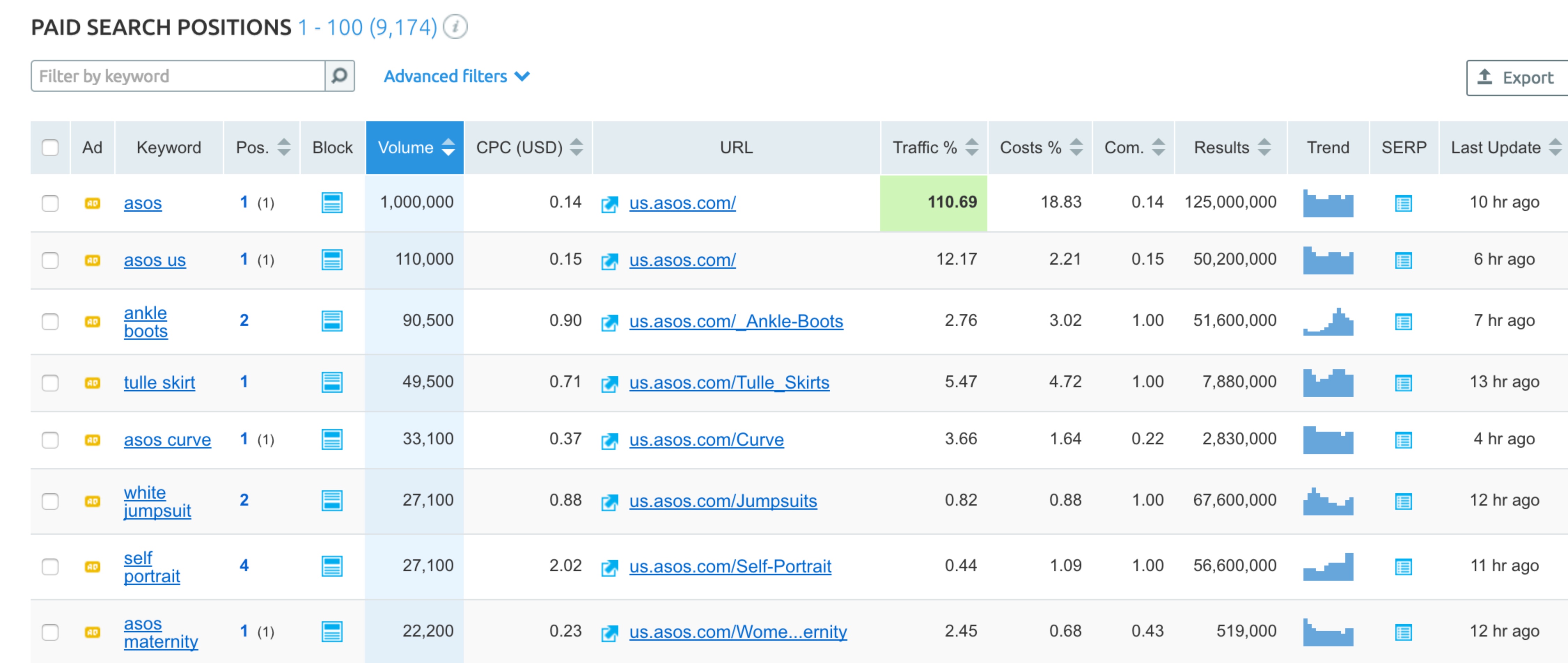 In this report you can see how much they are paying per click for each keyword and how much traffic they are getting from each one. By default, the table is sorted by the keywords that bring the most amount of traffic.
With this list of keywords, you could take the ones with the most volume and lowest CPC and add them to your campaign.
To make things even better, you can scroll up and, on the bar to the left, click on the link that says "Ad Copies."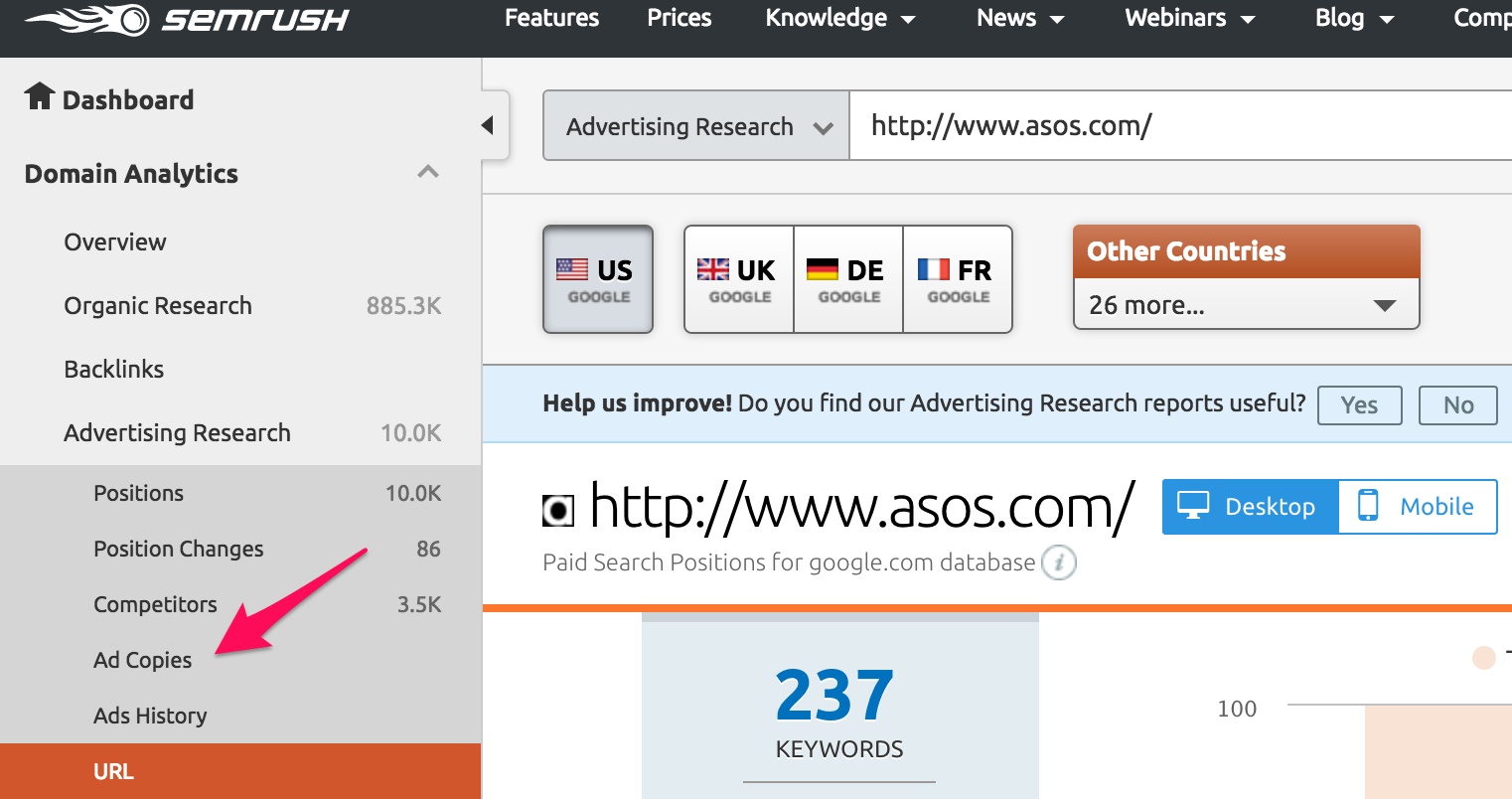 With this report, you can see what ads they are using to attract traffic to their site. This can help you find their unique value proposition, which in this case is their free shipping to all states and free returns.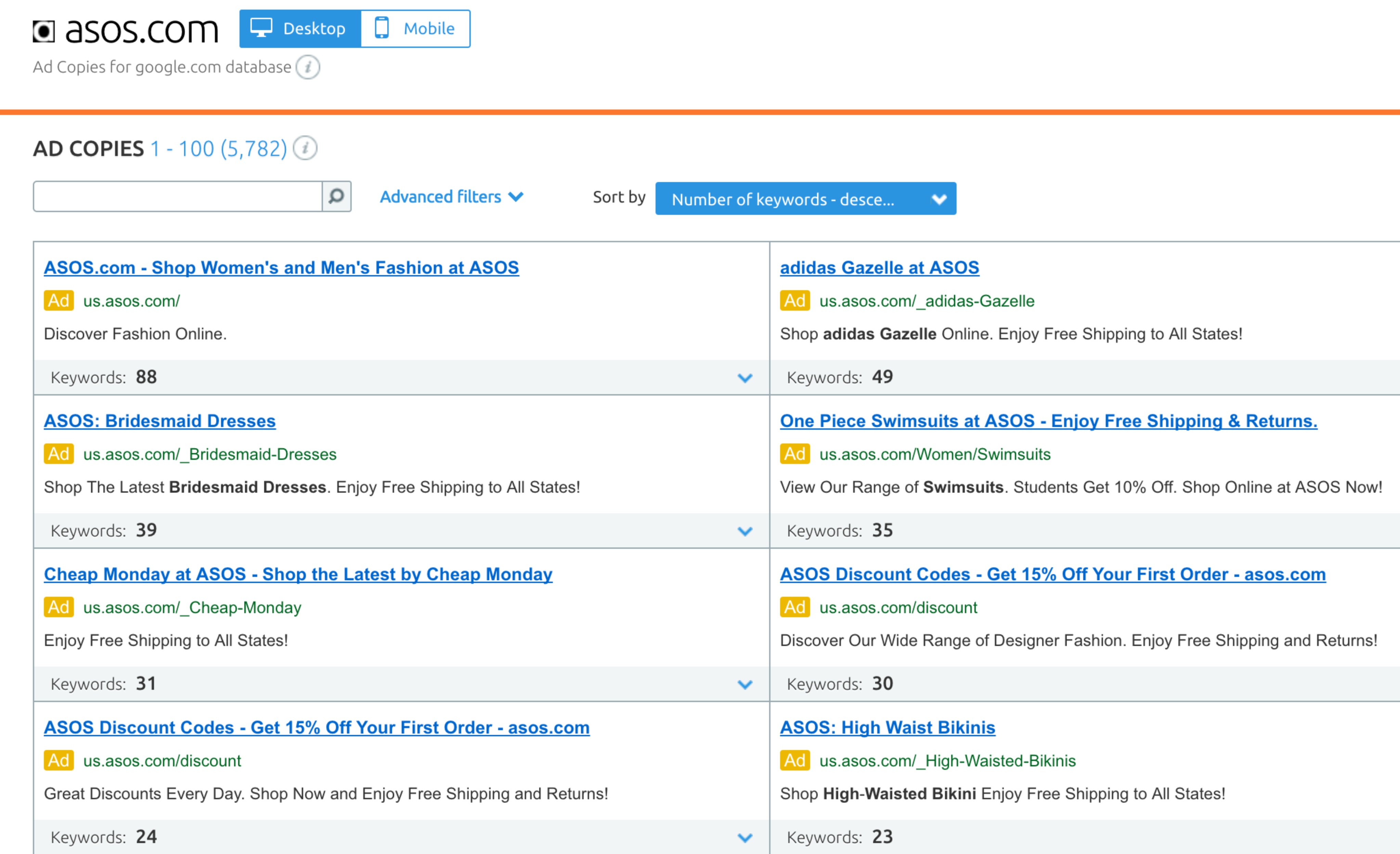 Reason #2: Find Advertising Opportunities
Hack: Find the domains where your competitors are placing their ads on.
Besides discovering your competitor's most profitable keywords and ads, you can also find where they advertise, and therefore, where you can too.
Say you work for an e-mail marketing provider and one of your main competitors is Constant Contact. What you would do is put their website address on SEMrush, click on the "All Reports" button, and click on the "Display Advertising (Beta)" button.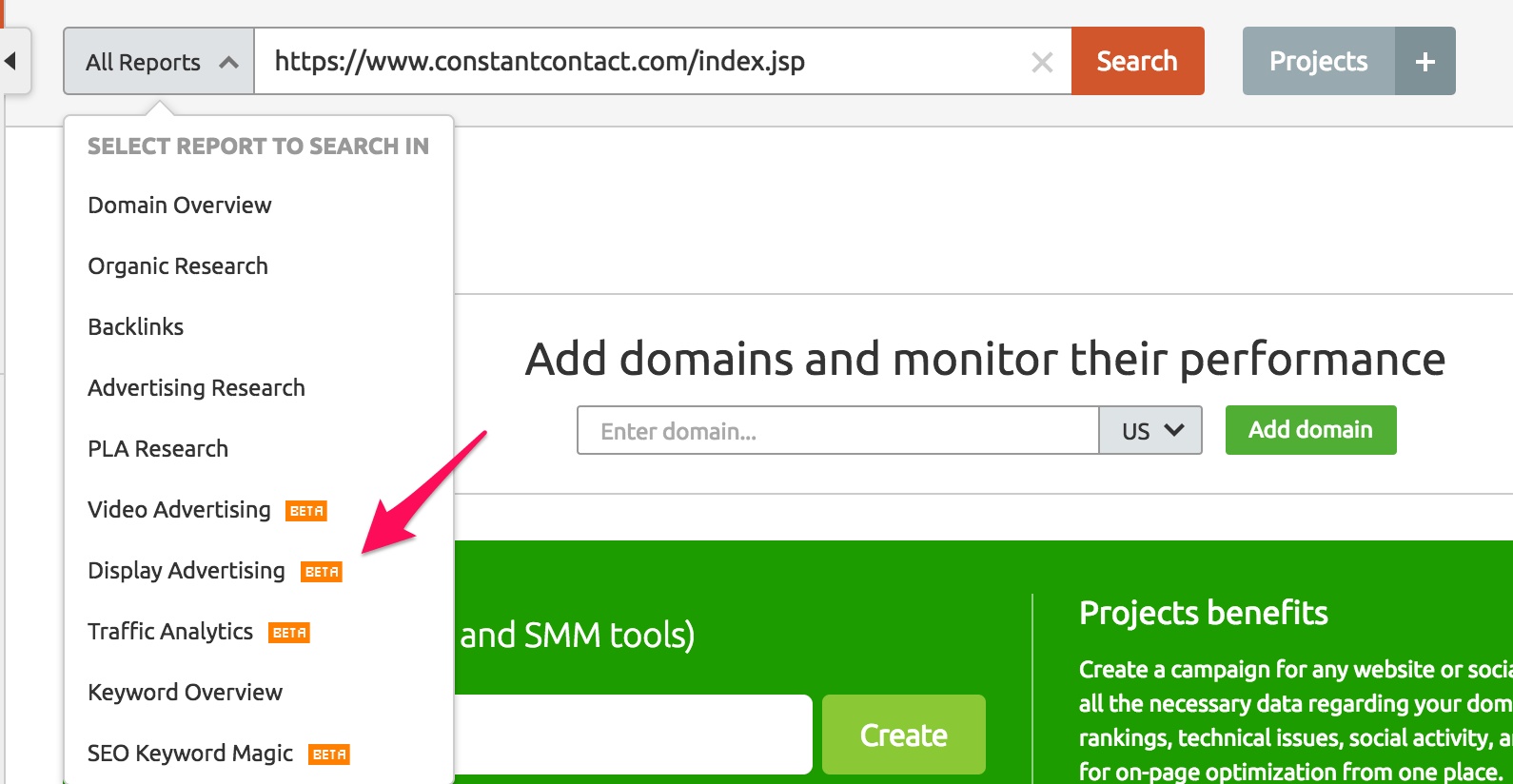 Once you do it, you will be taken to a dashboard, where you can see the overview of their display advertising campaigns. In there, click on the "Publishers" tab on the middle left of the screen.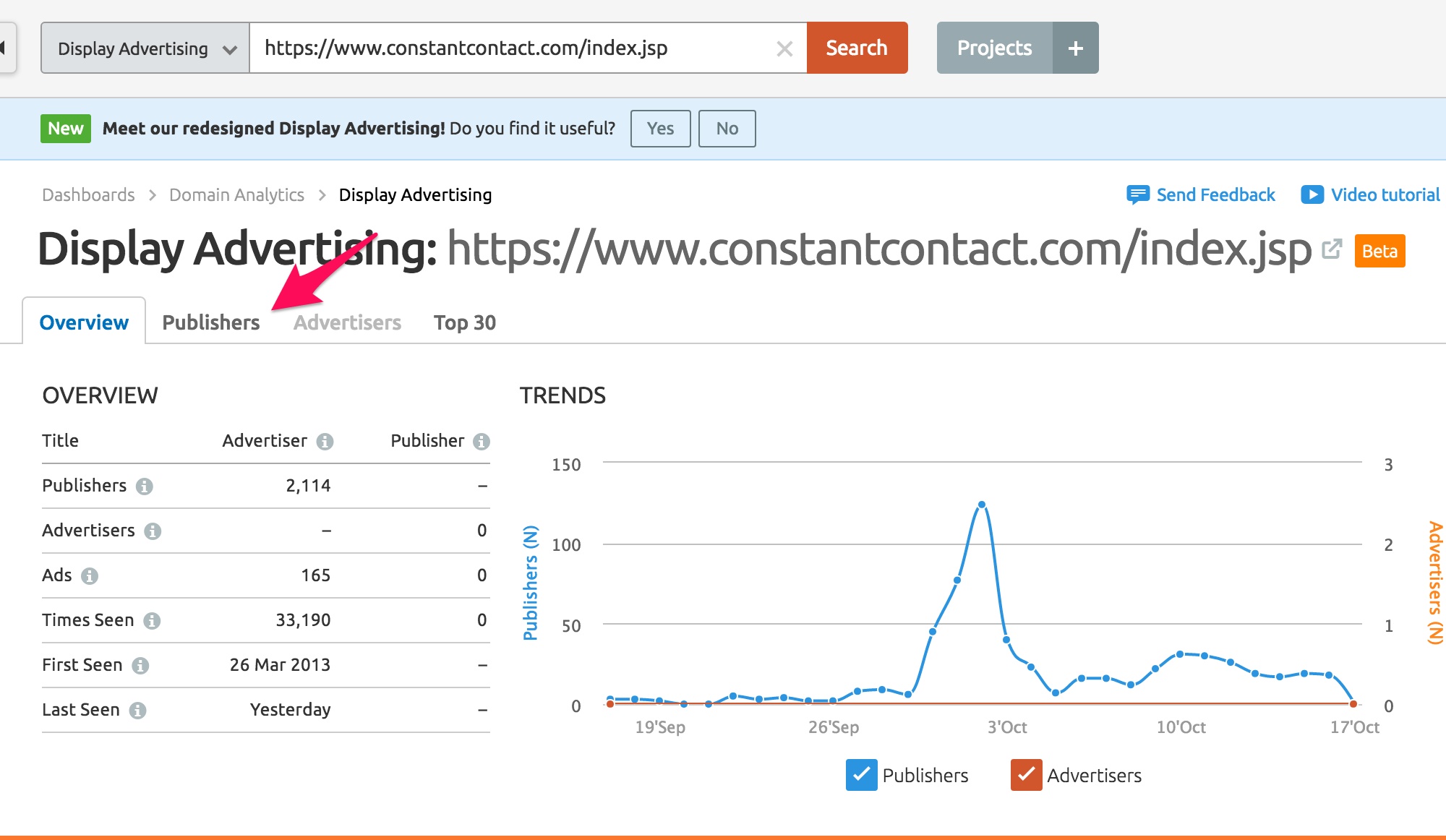 Scroll down a bit, and you will find a detailed list of all the domains where Constant Contact shows their ads. By default, the list is sorted by the domains where they got the most impressions.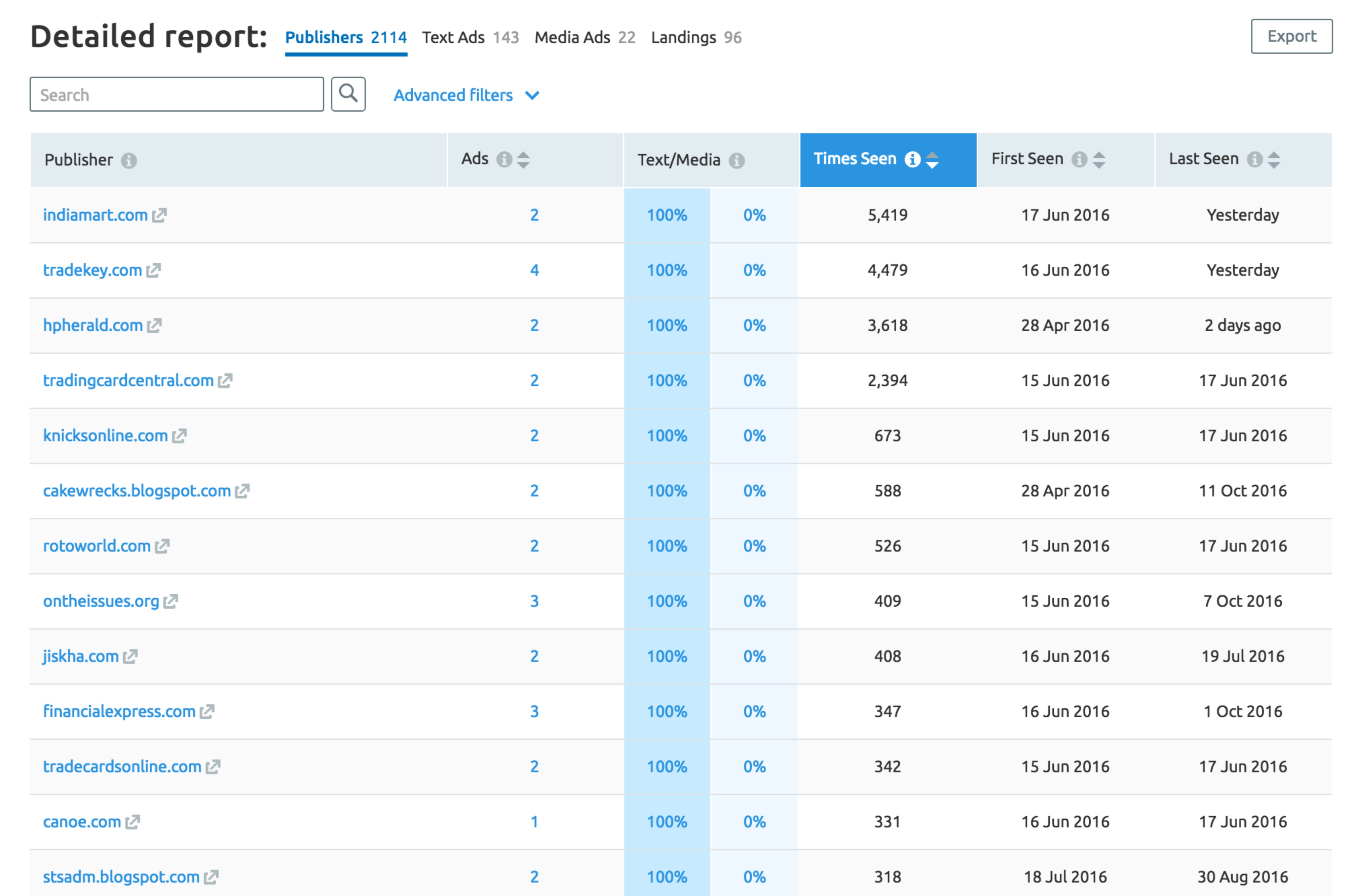 If you want to see the ads and media Constant Contact uses as banners in those domains, scroll up to where you see the "Detailed Report" title, and click either on the "Text Ads," or "Media Ads" link.
If you click on the "Text Ads"" link, you will see their advertisements, sorted by the ones with the most impressions.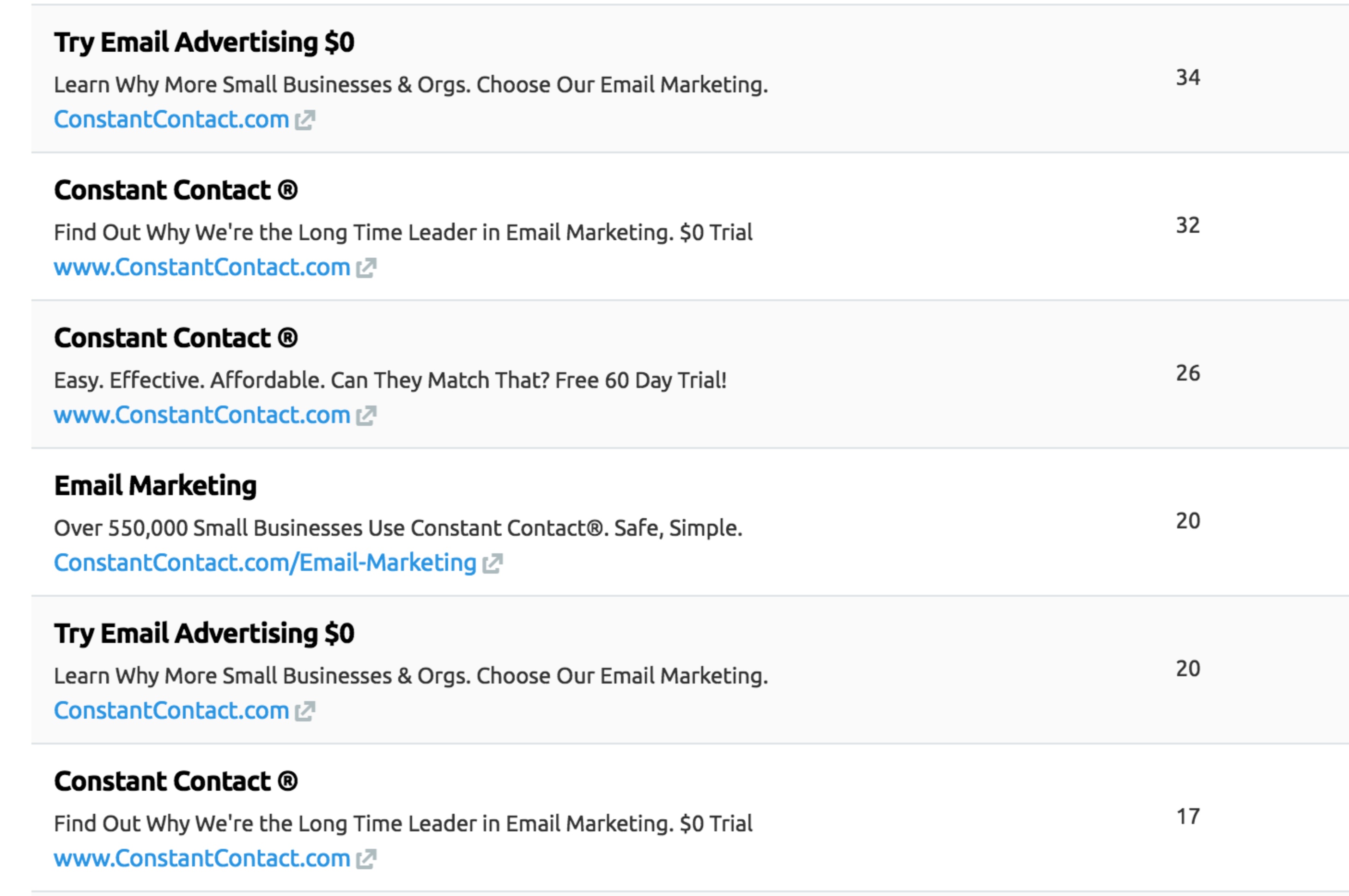 You can do the same with the media ads, which in the case of Constant Contact are too few to show.
Finally, you can click on the "Landing Pages" tab, and see where they send their traffic to.
All in all, SEMrush can help you not only see what your competitors are doing with their paid traffic, it can help you tap amazing advertising opportunities where to show your ads.
Pro tip: You can use these advertising opportunities to create partnerships, outreach for link building and many more things. You can be as creative as you want with this list.
Reason #3: Create Content That Is Guaranteed to Work
Hack: See what type of content gets your competitors the most links, so you can create better content that will get you those same links.
If you know anything about SEO, you know there are two keys to attracting organic traffic: having a page optimized for a keyword and having high authority sites linking to your site.
Since the first key is more suited for other tools in this section I would like to focus on the second one. That is, finding link building opportunities.
SEMrush has an amazing feature that can help you find all sort of highly valuable data from your competitors. With this data, you can see what type of content gets them the most links, so you know what type of content you need to create.
Let's say you work for an e-commerce store that sells outdoor clothing, and your biggest competitor is REI .
What you would do is grab their URL, and add it to SEMrush's search bar. Before clicking the "Search" button, click the "All Reports" dropdown and click the "Backlinks" button.
Here you will find all their backlink data, including the total amount of backlinks they have gotten, their quality and more. To see what type of content gets them the most links, click on the "Backlinks" tab.

In this report, you will see all the backlinks REI has gotten. Unfortunately, SEMrush doesn't allow you to sort them by the number of external links, so you will need to export this data and find it on your own. To do so, click on the "Export" button on the top right of the table.
In the sheet, grab the "Target URL" column and start looking for URLs that look like they belong to a blog or to a content guide. Once you find one, see how many links it has gotten on the "External Links" column.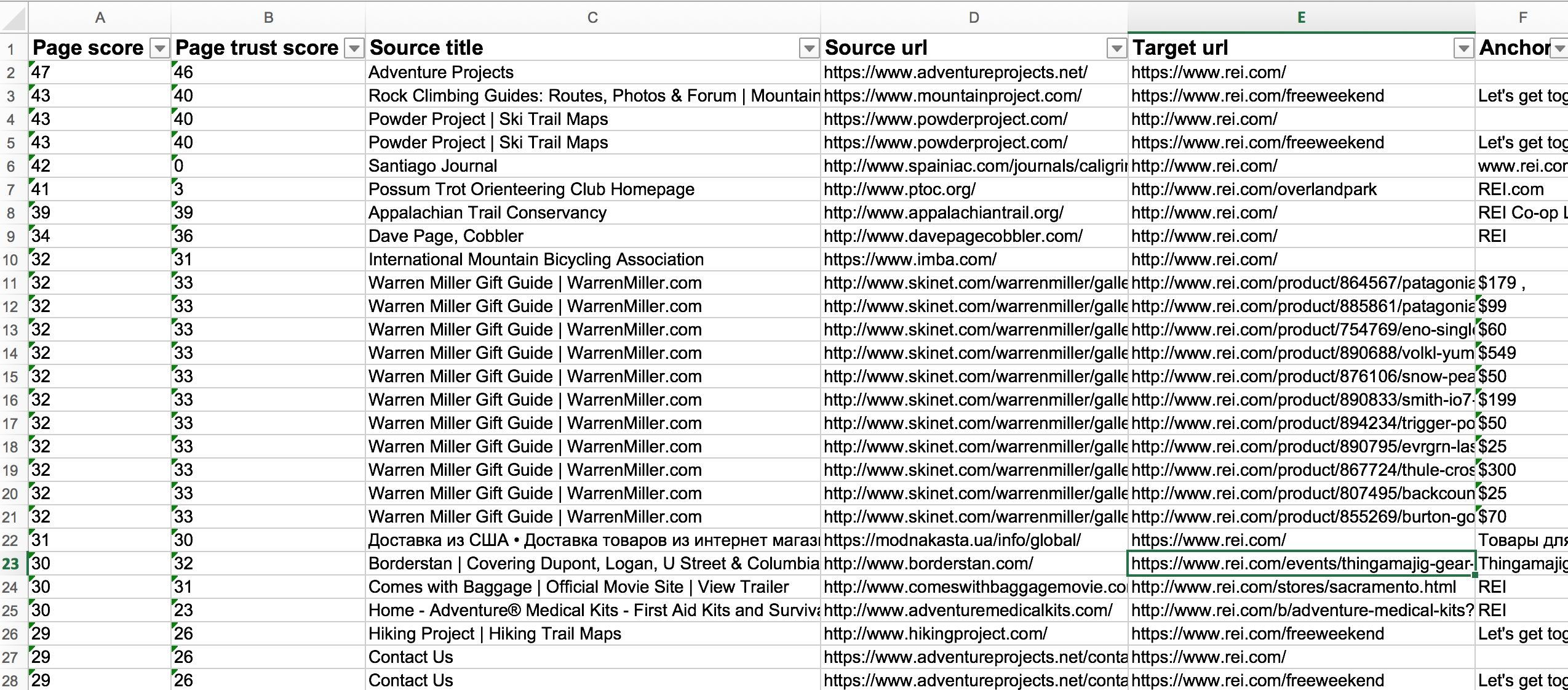 Analyze the content and see how you can make it better. I highly recommend you use Brian Dean's Skyscraper Technique to do this.
Reason #4: Identify Profitable Keywords that Aren't Getting Enough Traffic
Hack: Find profitable keywords that you already are targeting, but aren't getting enough traffic. Once you know the pages that need a boost, you can create an SEO campaign to improve their rankings.
In the first section, I showed you how you can find your competitor's most profitable keywords they are using in their ad campaigns. In this one, I will show you how you can find your profitable keywords that aren't getting enough traffic.
Say you work for a live chat software company, like Olark. The first thing you need to do is put your domain (in this case, Olark.com) in the search bar, click the "All Reports" button, and click the "Organic Research" button.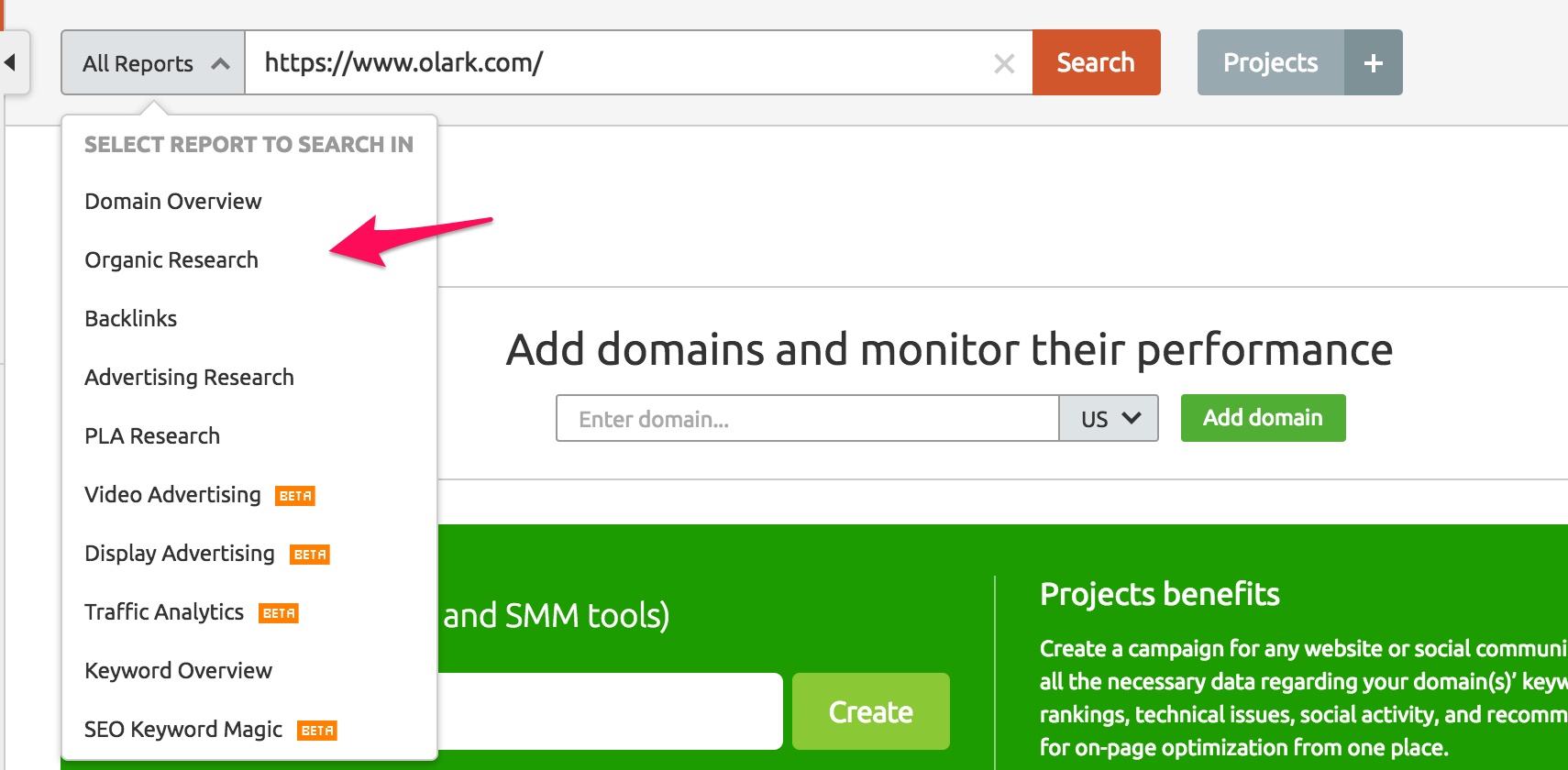 If you scroll down, you will find all the organic search keywords you are already ranking for.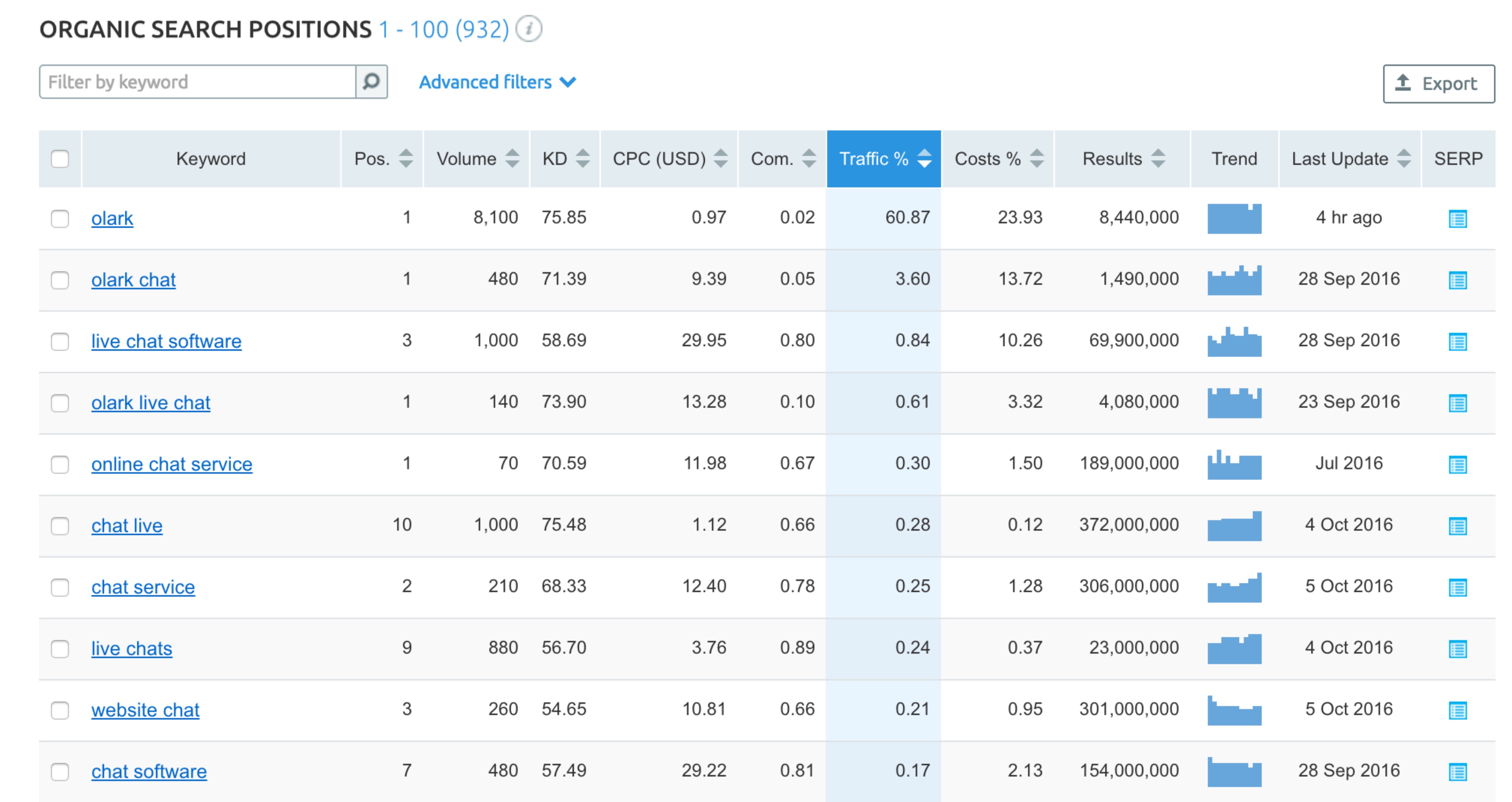 Now you need to create a filter that includes the following parameters:
Position greater than 5; and
CPC more than 1.

This will show you all the pages that position in a lower place than #5 and have a CPC over $1. You can change these filters as you see fit. But for the sake of this article, let's use them as they are.
(The reason why I chose these filters is because I want to pick pages that aren't positioning very high and have a high cost per click. The high cost per click shows that the keyword is competitive among other bidders, meaning it's profitable for them.)
Sort the data by the highest CPC and, with this data, you can start seeing the best keywords you should focus on.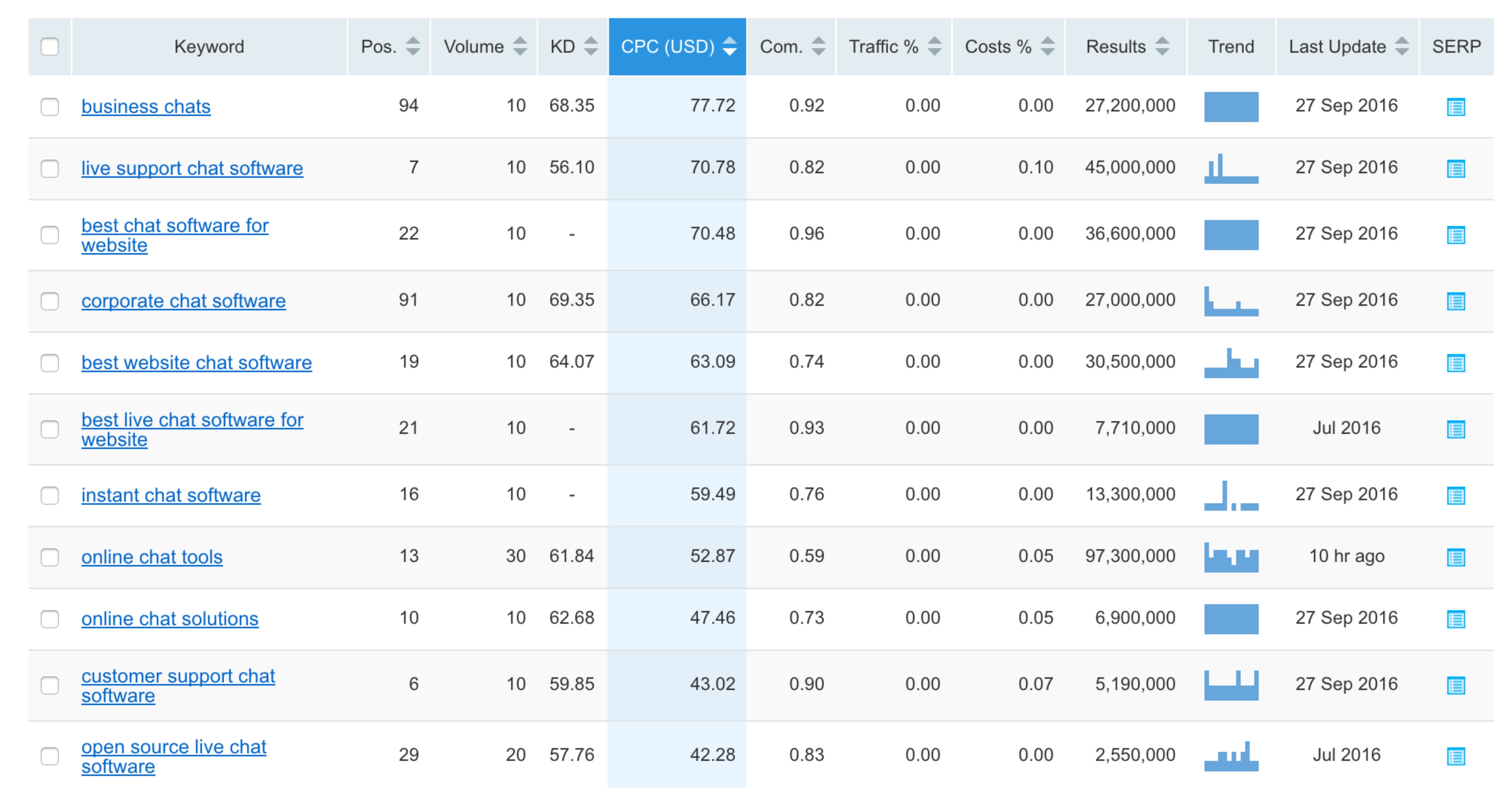 You will see that the majority of your keywords have low traffic and are long-tail. That's fine and normal. Even if you get low traffic per keyword, the fact they are that expensive mean they must convert really well and will likely bring you a lot of profitable traffic.
However, since the rankings for the pages that target these keywords are low (remember, higher than 5th position), you want to improve their SEO.
You can also add these keywords to your Google Adwords campaign and start making money right away. This may not be as cost-effective, but in the meantime this can help you bring more traffic to your site.
Reason #5: Discover How to Increase Your Social Media Traffic
Social media traffic may not be the most profitable kind of traffic, but it still can help you to increase your email subscriptions and leads.
In order to do so, you need to create content that engages your audience.
SEMrush can help you see what type of high engagement content your competitors are using for their sites.
Let's say you work for an e-commerce store that sells glassware, like At Home Bar, and you compete against sites like Crate and Barrel.
What you want to do is create a project for your store. Add your domain to the dashboard, like this:

Once you do that, click on your domain.

Then, go to the left column, click on the "Projects" tab, and then click on the "Social Media" button.

Once you are in there, you will see a menu, where you need to click on the "Social Media Tool" box.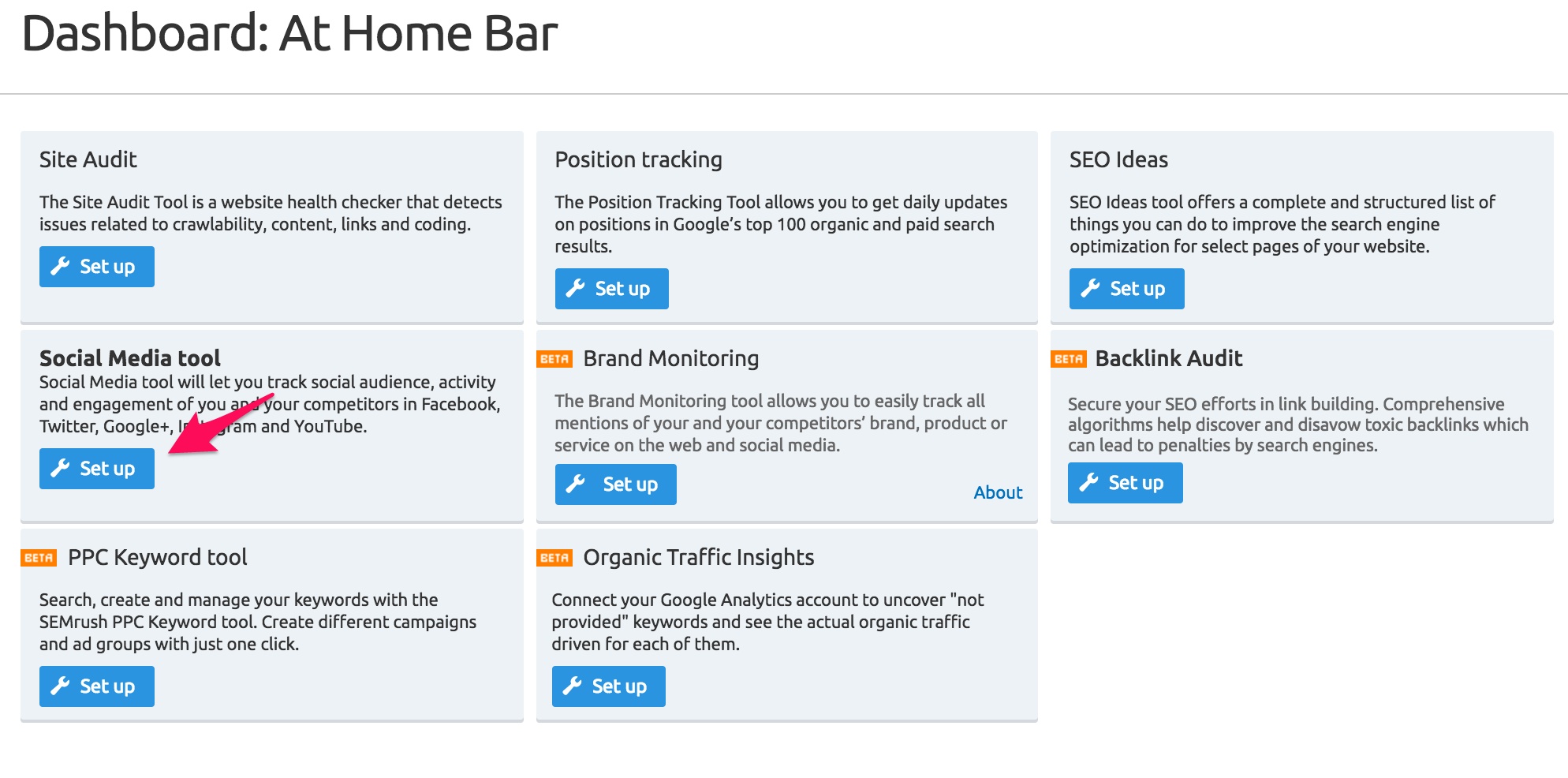 In here, you need to set up your social media accounts and give SEMrush access to them. Once you finish with that setup, you will have the option to add your competitors' accounts, which you want to do. After you add one of your competitor's social media accounts (in this case, I added Crate and Barrel's Facebook account), click the "Add Competitor," and click on the "Start Social Media Tool."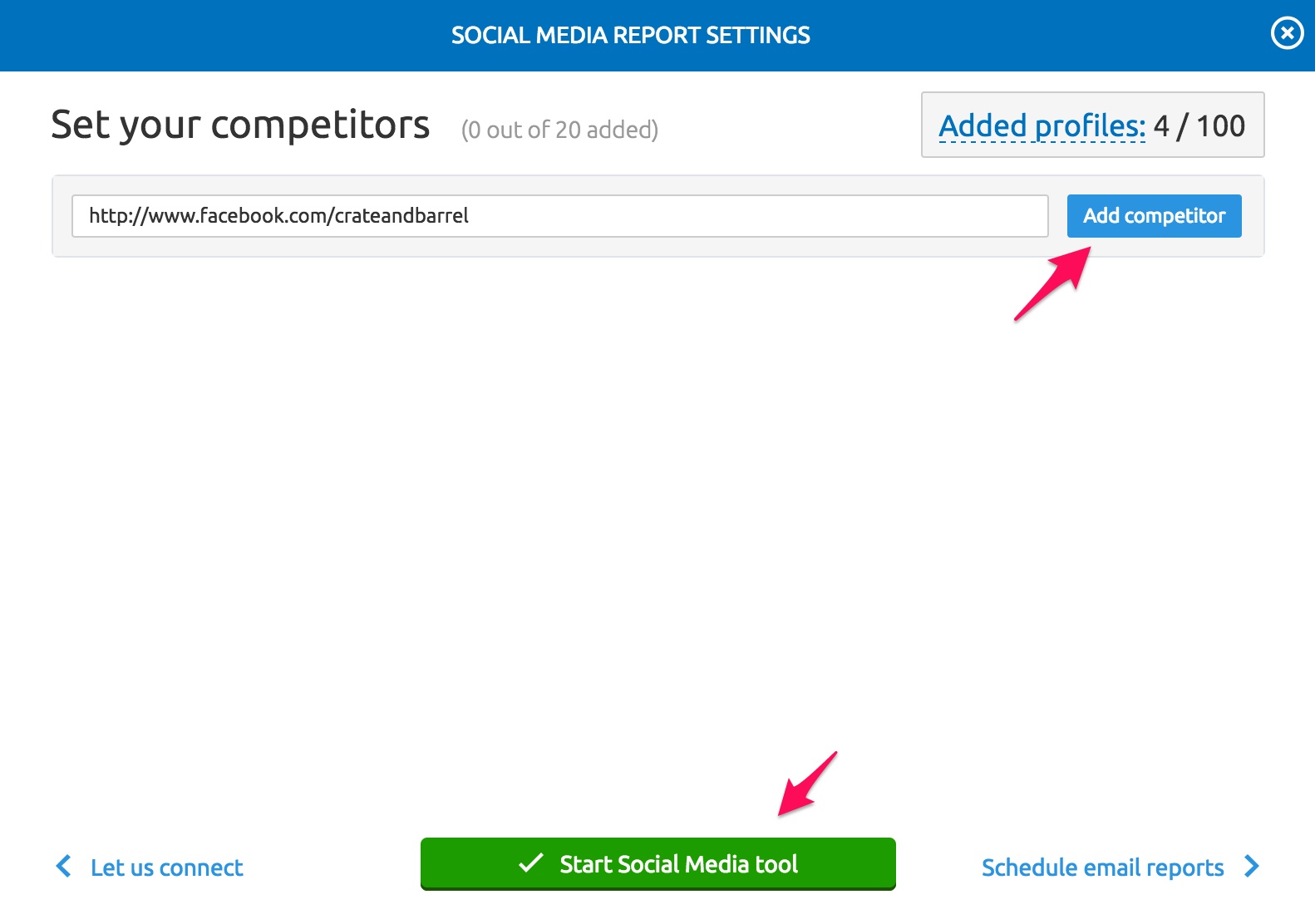 Then, you will see your company's social media accounts compared to your competitors. You will see who has more followers/fans, more engagement and a few more things.
What you want to see in this case is the post engagement. To do so, click on the "Posts" tab.
In there, you will see your and your competitors' social media posts per social media account. In this case, I can see that the post about the Day of Peace was a big hit, so that means the indoor furniture and glassware community likes these types of posts.

Of course, you can make this analysis way more complex, adding more social networks from more competitors, and see with greater detail what your industry's customers like.
Conclusion
With these 5 growth tactics, you can quickly start moving the needle of your startup. All thanks to the amazing features of SEMrush.
Have you ever used SEMrush to improve the growth of your startup? If so, what was your experience? Share your experiences in the comments below!