Don't ignore Bing. Google may be the more prominent search engine, but internet users, particularly those in the United States, still turn to Bing.
For many who use PC computers (unlike the  author of this post who uses a Mac), Bing comes as the default search engine on their Windows computer's default browser, Internet Explorer. They might have never changed it, which can explain why your mom or dad might be searching on Bing.
Bing has after all, a very colorful landing page, but does it provide a viable marketing channel to businesses?
Bing
Microsoft's  Bing It On lets you test both search engines side by side. Having experimented with a number of search queries, I found that there was some overlap between Google and Bing on any given topic, but Bing's search results were generally much different from those of Google.
"Best tea in Miami" got me reviews on local tea shops, articles on good tea in Miami, and showed me a map on both engines. I could probably have benefitted from either one. However, Bing to the left, and Google to the right show very different organic results for the query "tea in Miami."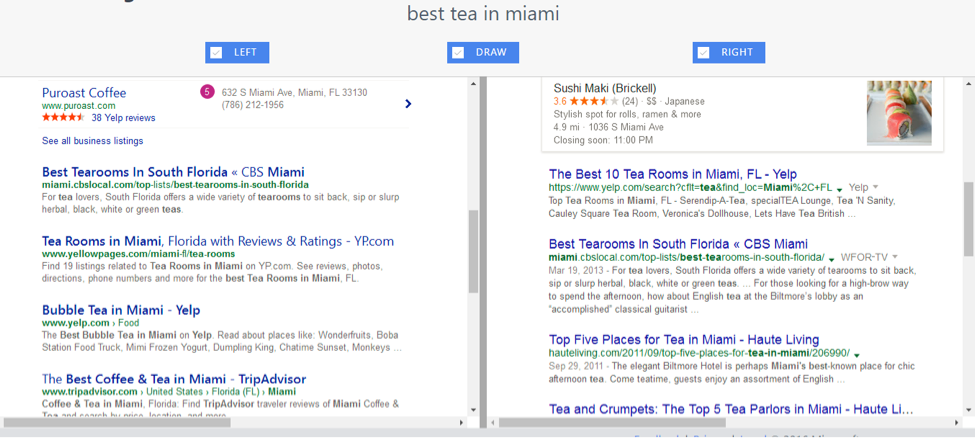 Search Engine Results - Comparison
Competition on "money" search terms in Google can be fierce. For example, you need pay around $25 cost per click to compete in AdWords on "enterprise software." You can look for cheaper search inventory on Bing to scale cost and get incremental conversions.
In terms of organic search, only the first organic listing to Wikipedia match on the top search results on either search engine. Check where you rank on Bing on your key terms compared to Google to spot new opportunities.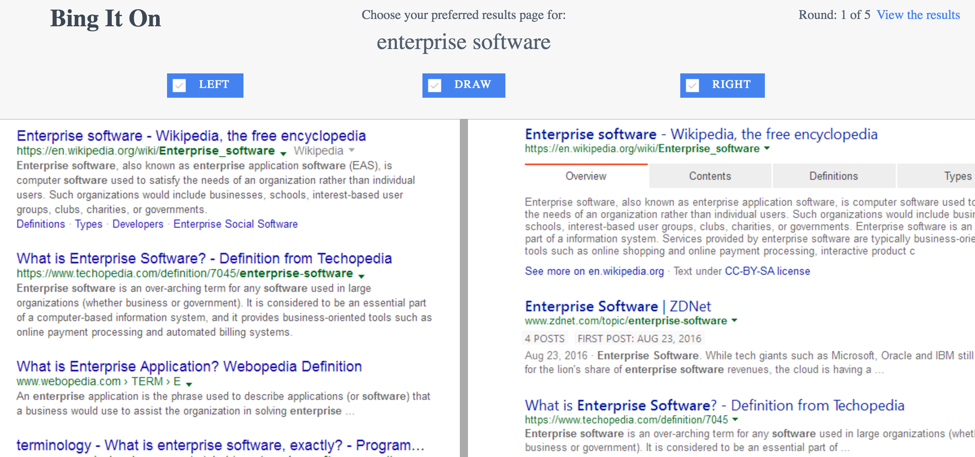 Search Results
If you dig deeper into the performance of your content on Bing, you might find a couple of "quick wins" to boost your traffic in the remainder of the year.
For example, users on both search engines can find my web page searching for 'seo workshop.' It's an important keyword for my business in terms of ROI. However, on Google it ranks #7; whereas on Bing, it ranks #2!
While it would surely cost a lot of effort to move up from #7 to #1 on Google, first link on Bing seems within reach. With the 'above the fold' search real-estate increasing shrinking due to smaller screens, top organic rank on either search engine can produce a click through rate in a range of 50 percent.
Maybe as a digital marketer, you'd like to give Bing a go. Here are a few facts to consider:
One in five people in the US use Bing
So, not everyone is using Google. According to recent comScore report, Bing controls 21.4 percent of the search market share in the US. That makes Bing the second largest search engine (not counting YouTube). Third place goes to Yahoo, with 12 percent market share. Even CNN Money had some news for us! One in five people use Bing and, if you consider Yahoo's search reach, which is powered by Bing, the number of Americans using the Bing search network is actually closer to one in three.
87% of Bing users are using Internet Explorer
Still, to many web users Internet Explorer is the doorway to search.  Internet Explorer and Edge still has 10.2 percent of the Internet browser market share. That's more than Firefox and Opera, and not much less than Safari's 13 percent. According to ABorg,  87 percent of Bing users are using Internet Explorer. That's a lot of potential reach.
People over 35 are using Bing
So, who is using Bing?  People over 35. People more likely to have children, given the age demographic. People that might not be  too tech savvy. Your mom and dad use Bing. Grandparents. Americans mostly, as mentioned. Think about your product, your service, and your ad campaign. Bing might just be worth a shot and offer higher ROI.
Bing reaches over 116 million people
According to Quancasta, Bing reaches over 116 million of people and growing at a steady rate in terms of reach month of over month.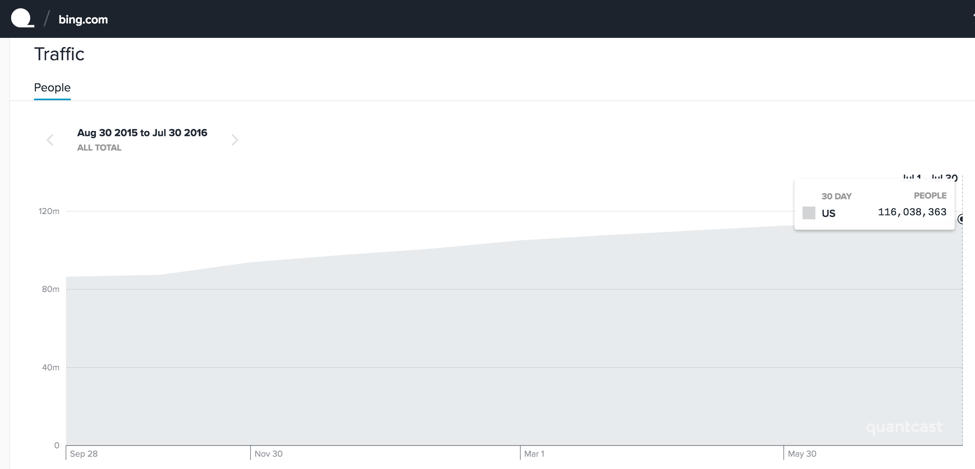 85% of people who use Bing are in the US
Google's market share is larger, in the US and in the world. But, if you were planning on running an advertising campaign directed solely to those in the US, you might consider using Bing.  85% of everyone who uses Bing lives in USA.
Willing to give Bing a go?
Start by setting up your website on Bing Webmaster Tools.
Second, you can place ads on Bing search engine using Microsoft's Bing Ads platform.
If you want to learn more from renowned digital marketing speaker Matthew Capala, join us for a live webinar on Thursday, September 15.