As marketers, it has always been critical for us to communicate using the most appropriate channels. When we fail to do this, our carefully crafted messages are wasted due to lack of attention. Not so long ago, advertisements in industry periodicals were one of the best ways for brands to communicate. However, times have changed.
In 2016, worldwide mobile web browsing overtook desktop web browsing for the first time. Given this recent surge in mobile internet access, push notifications are now crucial if you want to be acknowledged by your customers.
Despite their great potential for engagement, 52% of mobile app users find push notifications annoying rather than helpful. Spammy push notifications will alienate your customers quickly, but when you seek to deliver (rather than take) value as your primary objective, push notifications will become a powerful weapon in your marketing arsenal.
Here are 5 rules for writing push notifications that people simply can't ignore.
1 - Leverage Scarcity
Robert Cialdini, a master of persuasion marketing and author of the best-selling book, Influence, emphasizes that avoidance of pain is a stronger motivator than the acquisition of pleasure. He states:"It's not just about talking about what your client stands to gain … It's often more important to explain what stands to be lost if they fail to move in the direction you recommend."
It's not just about talking about what your client stands to gain … It's often more important to explain what stands to be lost if they fail to move in the direction you recommend.
People have a natural tendency to procrastinate and then ultimately, forget about your awesome new offer. If you provide an urgent reason for someone to take action immediately, they are more likely to do so.
For the same reason that a countdown timer can improve the conversions on an e-commerce product page, it is powerful to mention a limited number of stock or time duration for your offer in your push notifications.
Check out this great example by Loungebuddy: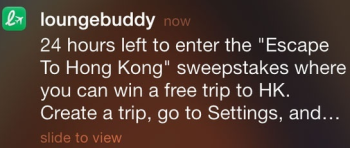 2 - Be Succinct
According to research by Appboy, push notifications containing 25 characters or less achieve a better conversion rate than longer messages. This applies for both iOS and Android devices.
In the Age of Information, people are bombarded with marketing messages from all angles, and as a consequence, we have shorter attention spans than ever before. In fact, research by Microsoft shows that the average human now has a shorter attention span than a goldfish (8 seconds compared to 9 seconds, respectively).
With blog posts and email marketing, people expect to take some time out of their day to read the content in full. With push notifications, you have a few seconds for someone to read your message and take action - and that is it.
Don't beat around the bush - get your message across in as few words as possible. Be clear, concise and unambiguous - your audience will appreciate it.
3 - Get Personal
In a study by Adobe, 66% of marketers said they struggle with personalizing content in real-time, yet 77% believe that real-time personalization is crucial.
Additionally, personalized marketing emails deliver 6X higher transaction rates.
It is 2017 - the generic one-size-fits-all approach to marketing is no longer feasible. People aren't interested in content unless it specifically pertains to their interests.
By leveraging user data to determine people's likes and interests, you can deliver push notifications that resonate with each individual.
Netflix is one brand that meticulously analyzes user data with the intention of delivering a personalized experience to its customers. In fact, the popular series House of Cards was designed to be a hit based on previous customer data (Kevin Spacey was chosen as the lead actor because of positive engagement metrics for his prior films).

If your user data shows that you have an affinity for romantic comedy films, you are unlikely to enjoy push notifications about the latest horror release - and vice versa.
In addition to leveraging big data for personalized messaging, you can also incorporate customer names and other personal details to maximize engagement.
4 - Sound Like a Human
While you always want your users to take action based on your push notifications, you never want them to overtly feel as if they're being marketed to. One of the best ways to achieve this is to word your push notifications like a human, instead of a spambot.
The push notifications from 8tracks sound endearing, even when begging you to return to the service.

If it is appropriate for your audience, consider leveraging humor in your push notifications.
This push notification from logistics company, Postmates, is great because it is an inside joke that helps to build camaraderie around the brand (only super geeks know the meaning of Pi):

However, be sure that you are actually being funny and still delivering value - otherwise, you will come across as obnoxious.
For instance, this message purports to be funny, but delivers no actual value to the user (sorry Poshmark):

When used sparingly, sarcasm can be a secret tool to drive engagement. Just be careful not to accidentally offend anyone.
Check out this example by Weight Loss Expert:

5 - Timing is Everything
As with social media posting and email marketing, timing can dramatically affect engagement.
By examining historical engagement data, you can determine what is the best time of the day to send your most important messages. Research shows that when apps leverage send-time optimization, push notification conversions can be increased by as much as 38%.
While it is best to adjust your timing based on user data for your business, research from Localytics shows that click rates for push messages are, on average, 5.3% during the morning, 6.7% during the afternoon and 4.6% during the evening.
Perhaps as the end of the work day draws closer, people are more eager to check their phones?
Do you have any other tips for getting your push notifications noticed?
Please let me know in the comments below.