As an SEO tools junkie, I must confess that I'm addicted to SEMrush. No, I'm not being paid to write this, nor am I under duress. I'm nothing more than a super satisfied user and brand ambassador. I spend a lot of time searching for great tools to add to our arsenal, and SEMrush is one of my personal favorites.
At Gryffin Media, SEMrush is our go-to tool for many of our internal processes. From SEO reports to social media audits and more, SEMrush is a fundamental part of our work flow. In this article, I will detail several ways that we use SEMrush as part of our internal systems. 
1. Identifying Competitors
Because SEMrush offers both AdWords and organic search results, it serves us very well in forming a strong list of competitors. This, of course, is the foundation of successful competitive research for both SEO and social media audits.
We utilize SEMrush for competitive research by first identifying a few sites that are ranking well for the primary keywords. Then we input those into SEMrush to begin the initial research.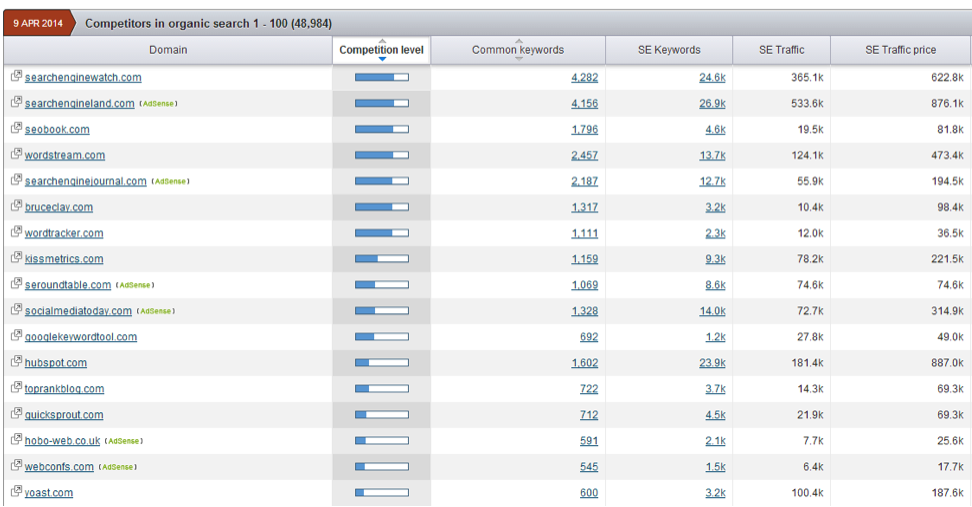 SEMrush goes much farther than simply identifying sites with a high number of keyword rankings. With SEMrush you can also identify common keywords and competition level, which facilitates the analysis. We then review the sites to make sure they are directly relevant to the site we're researching.
This process literally saves us hours searching in Google for sites that correlate for a broad number of terms — a true measure of authority.
2. Keyword Research
Having identified a list of competitors, we can then use SEMrush to perform keyword research.
Rather than seeding the tool with keywords, SEMrush allows you to perform lateral keyword research and discover terms you may have never even thought about by using competitor analysis. You can capitalize on the work your competitors have already done, mining keywords from their successes.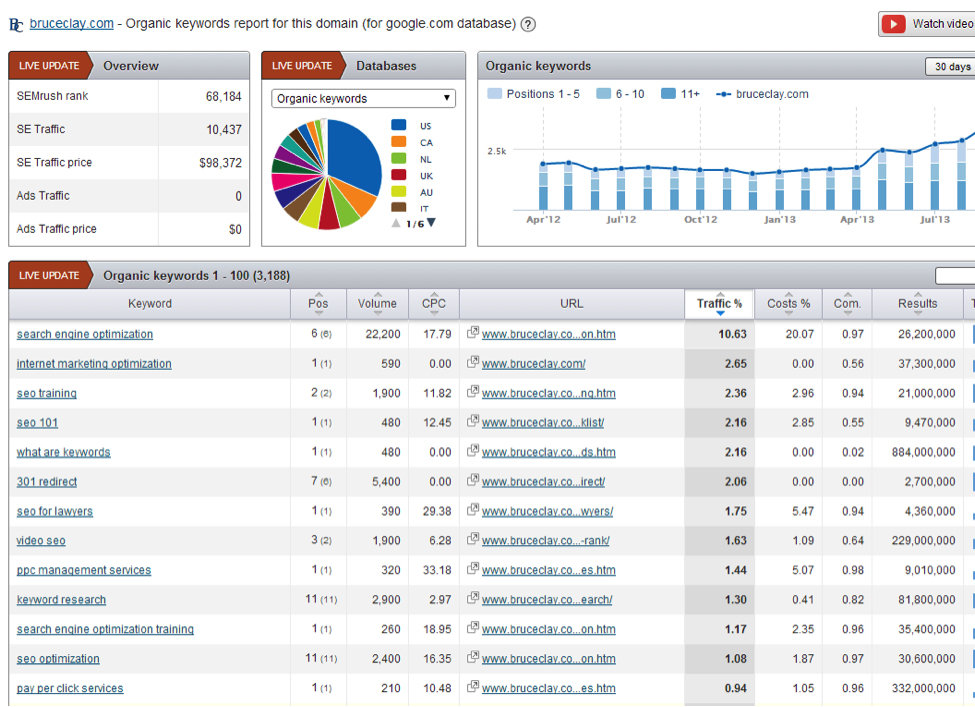 Here's an example of what a Keyword report looks like for competitors. You can then sort by volume and even by CPC value to help prioritize keywords. We then export the keywords from top competitors to perform further keyword and competitive analysis, identifying terms that have low competition and high volume.
3. Rank Tracking
Once considered a "legacy" metric, rank tracking has made a comeback after Google dropped keywords from Analytics. How can you monitor keywords performing without this metric? It's now important to monitor rankings and correlate those rankings with traffic to landing pages.
Even though there are dedicated rank tracking programs, SEMrush has one of the most comprehensive systems available. From a summary of ranking changes and top rankings to its visibility index and domain comparison, it's a powerful tool to track how sites are performing; especially compared to others ranking for the same keywords.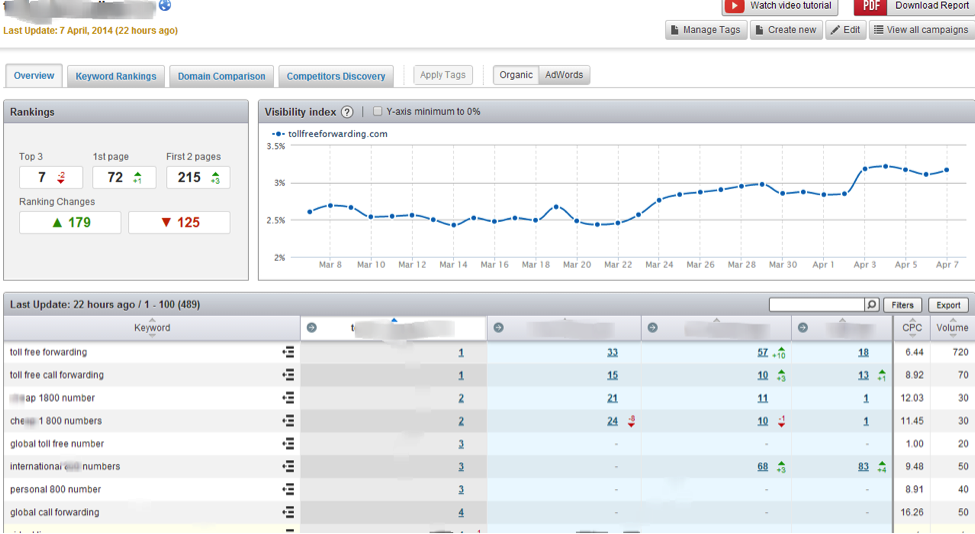 4. Link Audits & Evaluation
PagerRank and Domain Authority can easily be manipulated and reflect sites that are not truly authoritative. When analyzing the power of backlinks for link audits and link building, a valuable measure of a sites true authority is by using the "keywords ranking" metric provided by SEMrush.
At Gryffin Media, we use this measurement when we're building links as part of our evaluation process. A site may have a high PR but very few keywords ranking in SEMrush, which could be indicative of a penalty. We also find sites that rank very high for a keyword, but have less than a dozen rankings in SEMrush. This means the site has limited authority.
The keywords ranking measurement is also powerful when evaluating whether links should be removed or disavowed as part of a backlink audit. When evaluating link profiles we will often sort by keywords ranking. Combining this metric with others, such as anchor text and PagerRank, we can get a better measure of the value of a link.
5. SEMrush rank
When doing link or social media outreach, using SEMrush's rankings is a great source for identifying potential connections. Of course, you may not have much traction by analyzing the top 10,000 domains, but as you delve deeper, you can find fantastic sites that were previously undiscovered.
We use these sites to add to our social listening dashboards, to seek out new content partnerships, and for social audits and analysis. And there's so much more.
SEMrush is constantly offering new features and upgrades. I love logging in and checking out all the "beta" tags - I get excited to see what they're up to, and finding ways of incorporating these new tools into our toolbox.
What about you, how do you use SEMrush? Are there any powerful features I'm missing out on?
Author bio:
Marcela De Vivo has been an SEO since 1999, and is the President of Gryffin Media. You can find her last article for SEMrush here: "Keyword: Provided. Three Ways to Gain Access to Keyword Data."