You invest long hours, days, and months to optimize your website for Google's algorithms. Suddenly, the search engine makes an upgrade and your efforts are no longer relevant. You lose your ratings and you have to adapt your marketing strategy to the new situation. Isn't that the worst possible thing that could (and will) happen if you base the entire promotion upon SEO practices?
According to the statistics published by imFORZA, 93% of online experiences start with the use of a search engine. 65-70% of the search engine market share is owned by Google. That's a fact we cannot ignore, so no one is telling you to abandon your SEO campaign. Nevertheless, a website that's too reliant on Google risks losing its ranking after an upgrade, so it has to attract audience through alternative traffic sources as well.
If you check the history of Google algorithm changes, you'll notice that the search engine doesn't only promote simple updates. Some of them, like RankBrain, authorship markup removal, Pigeon, and Hummingbird, made SEO practitioners seriously frustrated. When your website gets traffic through diverse sources, these updates won't affect it seriously.
Now, let's get to the main thing. Which alternative traffic sources are the most effective ones?
Paid Ads
Facebook and Twitter Ads, Google AdWords, Bing Ads, and other platforms enable you to gain attention through pay-per-click ads. Paying for every click may sound scary, but this strategy is extremely effective in a well-planned marketing campaign. When someone sees this type of ad, they will only click it if they are really interested in finding out more about the services you offer.

When you establish your pay-per-click ad campaign on AdWords, you can use this Performance Grader to see what progress you're making. If you notice that the results are unnoticeable, you can always make changes in the ads or give up on the method.
The good news is that if these ads don't get much traffic on your website, they won't cost much money. You'll set a budget for your campaign, so you'll never spend more than expected.
Promotion with Tweets
Diligent maintenance of your Twitter profile is still necessary, but you know your tweets are not always getting the feedback you hope for. Did you know that 47% of Twitter users who follow a business were more likely to visit a company's website? That's a great opportunity for you to engage a great deal of audience.
Promoted tweets look just like usual tweets. That's part of their appeal; the users of this platform don't feel like the advertising is too heavy. You only need to think of a witty tweet and pay for its promotion in front of a greater audience. You'll be getting more followers, engagement and visits to your website before you know it. Airbnb used this strategy to enlarge its base of users all over the world. The company achieved an engagement rate of 4+%.
Paid tweets are a smart promotional technique since they get your message in front of the right audience even when they are not searching for such information.
Email Marketing
The good-old email marketing is still a extremely valuable technique, so you shouldn't abandon it for the sake of 'more contemporary' methods of promotion. This type of campaign is really inexpensive, fast, and reliable. When your website gets enough subscribers, you should make them happy with exclusive offers via email. You can consider special discounts, early access to your content, products and services, or free eBooks.
When BuzzFeed decided to launch an email newsletter, they kept us updated about the progress and results of their campaign. They received great feedback from the audience. The newsletter recipients were happy to get all essential news in such a clear, short format.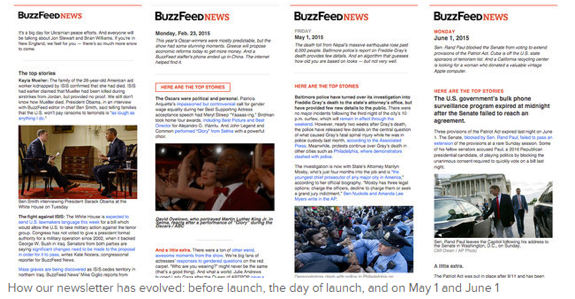 There are few things to keep in mind when developing an email newsletter:
You need to feature a link in a prominent place.
Make the newsletter colorful and maintain your brand's identity through the design.
Deliver content your audience wants to see.
Analyze the campaign in different stages to see how it delivers. Campaign Monitor is one of the tools you can use for that purpose.
If you cannot write extraordinary content to feature in the newsletters, hire professional writers and editors.
Post on Forums
This strategy may not bring you a huge number of visits, but it's certainly effective in terms of building authority. People ask questions on forums. They get into harsh discussions, they support each other, and they share valuable information that provides real answers. That's where you want your links to be featured.
You can assign this task to some of the members of your team: they should get involved in those discussions and drop some links now and then. This campaign mustn't be aggressive; those forum users who spam with too many links that scream promotion usually get banned. You need to establish yourself as a valuable member of the community. When the forum users start trusting you, they won't avoid clicking your links and they will gain confidence in your website.
Reddit and Quora offer great opportunities for free promotion. The value of this technique is in the connections and authority you'll build. The clicks and visits will follow.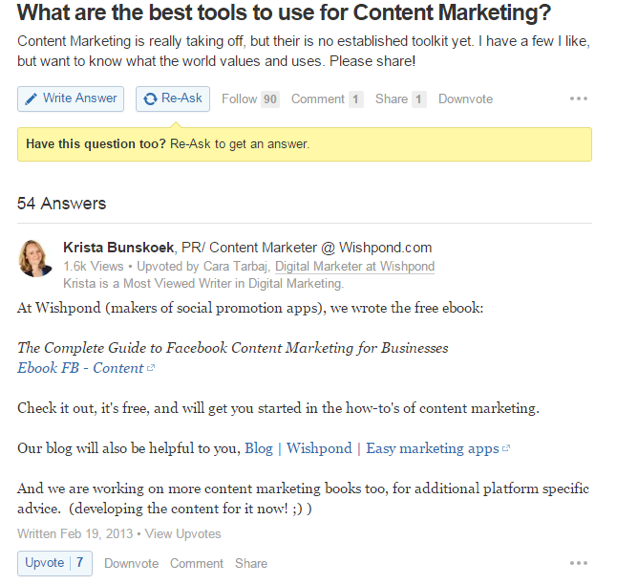 Guest Posts
When you feature an evergreen guest post on an influential website, you'll keep attracting new audience on long-term basis. Guest posting is not something new, but most marketers avoid this strategy based on the assumption that they don't think this type of content will reach many readers.
If you take a look at this case study published by Writers In Charge, you'll change your mind about guest posts. The most successful guest posts brought over 1,000 unique visitors to Bamidele's blog. He followed a universal recipe: intriguing headline and high-quality content that answers the question many people have.
When you build a reputation as a valuable contributor of top-notch content, many influential websites will be happy to accept your offer for guest posts. In addition to blogs, you should also target article directories as part of your marketing campaign.
This strategy will result with a constant flow of visitors that will not rely upon the search engines to locate you. The links you build through guest posting will remain active for a long period of time.
Publish YouTube Videos
YouTube has more than a billion users. People are watching videos worth hundreds of millions of hours in a single day. Regardless of the type of target audience you have, you'll definitely locate it on YouTube. The platform allows you to add links in your description or over the video. That's a nice way to gain viewers to visit your site.
The greatest thing about video content is how it is engaging. People process and comprehend this type of presentation really easily, so you'll push your message in front of the audience really effectively. Video content will also increase your chances to show up among the results on the first page of Google search.
Remember: the content you present through videos must be of great value for the YouTube community. Explore the competition and deliver something better. It would be wise to rent a studio to film the videos to have the best and most professional looking results.
Google Is the King, but It Can't Survive without an Army
Search engine optimization is necessary for every website and blog. Google will still bring a great deal of users to your website if you develop an effective SEO strategy. However, that's not where you should stop. All above-listed alternative sources of traffic are essential to you marketing campaign. Develop a versatile strategy that will keep you at the top even after the next shocking algorithm update.
Stephanie Norman from Sydney has been a contributing blogger and professional writer for 4 years already. She writes creative content covering online marketing, content marketing, and writing issues. Also, sometimes she provides editing services as a freelancer for Australian Writings, a company that offers assignment help for students. You can follow her at Facebook and Google+.