It's a well-known fact that influencers can effectively build awareness about brands and products. With their massive reach and influence, these individuals can help you drive more conversions for your brand.
However, your results will depend on how well you execute your influencer marketing campaigns. Take a look at six of the best tips to increase conversion rates with influencers below to ensure that your next campaign is as effective as possible.
#1: Reach a Relevant Audience with a Relevant Influencer
No matter how revolutionary your product is, or how well you position it, there are people who won't buy your product because they are just not interested. Your goal should be to reach the people who are most likely to be interested in buying your product. This means working with influencers who are recognized in a relevant niche. 
Most influencers are influential in a particular niche. For example, there are health and fitness influencers, food influencers, fashion and lifestyle influencers, tech influencers, and so on. Each influencer produces content related to the niche in which they specialize. And, each has an audience of people who are interested in the subject the influencer specializes in. 
For example, a food and cooking influencer will have followers who are also passionate about food. Those followers won't necessarily be interested in fashion or technology. An influencer like this could successfully promote a restaurant, or a brand that produces cooking ingredients. They may not be as effective at promoting a new phone, clothing line, or tech gadget. 
Tamira Jarrel is an influencer who specializes in beauty and fashion, among several other subjects. As you can see in the screenshot below, her posts are mostly related to fashion and beauty. Glossier, a skincare and makeup brand, has rightfully chosen her as one of their reps. 
As you can see in the screenshot below, Tamira provides fans with a link in her bio to her Glossier rep page, where they can purchase some of her favorite products from the brand.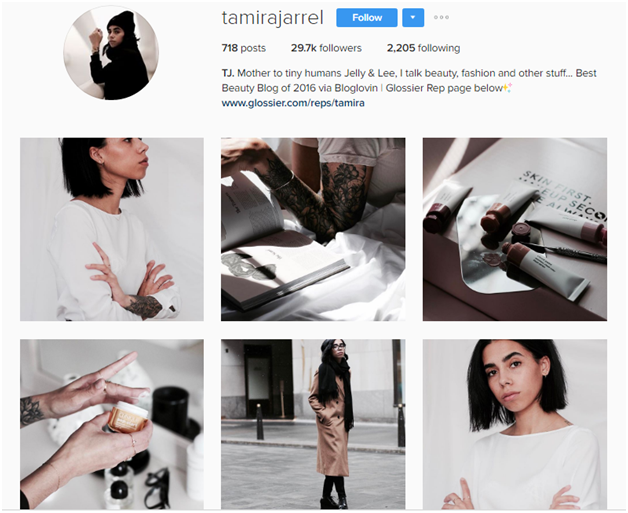 This influencer will mostly have followers who are interested in fashion and beauty. If she were to promote a new phone model, she might have a few followers engaged, but the promotion would likely not be as effective as it would be for products related to fashion or beauty. Similarly, she may not be a suitable influencer for promoting products related to food or fitness.
#2: Use Influencer Content to Educate Your Target Audience
Before someone decides to buy something, they first need a real understanding of the product. It is your job to provide them with as much information as possible about the product and its features. The goal is to present the product in such a way that the audience understands its value and how it can benefit them. 
When you provide the necessary information about a product, it may come off too much like a sales-pitch. This might deter your audience from going through with the purchase. Influencers have a way of explaining products where they can make sure an audience will genuinely listen. Influencers are excellent content creators, and typically are effective at establishing the benefits of a product using engaging content. 
To make the most of your collaboration, have influencer-generated content that educates your target audience. Influencers can talk about the product, how it works, and their experience using it. Entrust them to share your message in a natural and compelling manner. 
A Linqia case study talked about how Dorot used influencer marketing to educate their target audience and improve sales. Dorot is a company that produces and sells frozen seasoning products. They wanted to raise awareness about their product and its unique benefits. So they decided to partner with more than 60 influencers in the fields of food, parenting, lifestyle, and home and garden.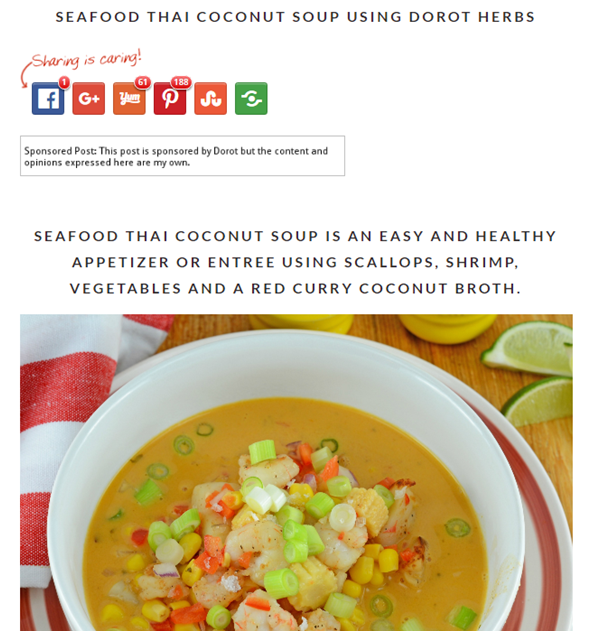 Blogs like Savory Experiments wrote sponsored posts in which they created recipes that implemented Dorot seasonings. These blog posts talked about the products, how convenient they were, where to get them, and how to use them to create certain dishes. The campaign resulted in more than 2,100 pieces of sponsored content, reaching almost 17.4 million people. The best part; the brand experienced a 15% increase in sales as a result of their influencer partnerships.
#3: Provide Influencers with Creative Freedom
Influencers achieve an influential status by their use of unique and engaging content. As mentioned earlier, they specialize in certain subjects and they know how to create content that's relevant to their niche, and at the same time engaging their audience. Their audience will be familiar with the influencer's tone and the type of content they create. 
Anything that differs from this will seem unnatural. For example, let's say the influencer posts a photo of a product and the caption describes the product benefits in a formal or technical tone, but this influencer is usually known to be laid-back and fun, with posts of their photos having witty captions. This caption will clearly be seen as scripted and the promotion will not seem natural. 
When executing an influencer marketing campaign, you want the influencer content to seem as natural as possible. When you are too controlling of what the influencer says, it negatively impacts the content quality. This in turn affects people's trust in your brand, and your restrictive content guidelines end up harming your relationship with an influencer. 
In fact, influencers say that being too restrictive with content guidelines is the second biggest mistake brands make in influencer marketing. You chose to work with influencers for a reason -n ot only are they influential, they are excellent content creators. You need to trust them to create content that engages your target audience while promoting your product. 
This is exactly what Pepsi did with their influencer marketing campaign promoting Quaker Oats. They not only invited influencers to their "Oat-ober" media event, they also sponsored several content pieces featuring their product. The Pepsi team encouraged influencers to create unique recipes using Quaker Oats and promote them on social media. 
Health food influencers like Lily Kunin ( @cleanfooddirtycity) came up with their own recipes implementing the brand's oatmeal which their fans could follow to further encourage action.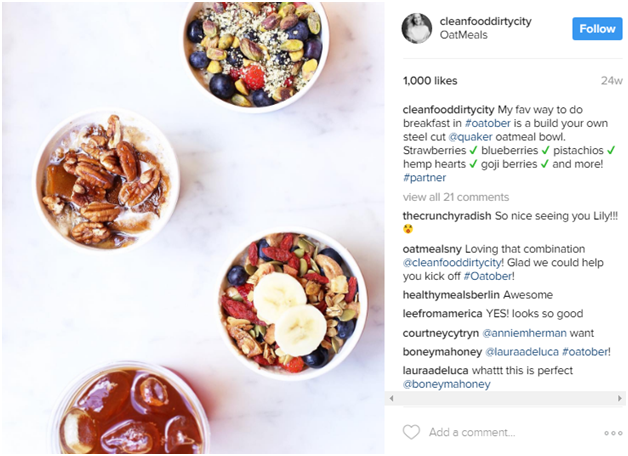 As you can see, this sponsored photo is aesthetically pleasing. If you look through the influencer's Instagram posts, you will see that this image fits perfectly with the rest of her content. According to a HYPR case study, the campaign activated six influencers in total. As of October 2016, they collectively generated more than 31,000 likes on Instagram.
#4: Be Honest and Transparent about Your Sponsorships
Brands choose to work with influencers because influencer content seems less promotional than traditional advertising. At the same time, some brands go too far trying to make sponsored content look organic. This is where they can lose the trust of their target audience. A 2015 study by Contently found that almost half (48%) of consumers felt deceived when they learned that a piece of content had been covertly sponsored by a brand. 
When you have influencers promote your brand, it's important to be upfront about the sponsorship. Make sure the influencer includes a disclaimer that the content has been sponsored by you but the opinions expressed are their own. Through this kind of transparency, you can win the trust of many consumers and possibly increase your ecommerce conversion rate. 
For example, take a look at the disclaimer seen in the following sponsored post found in Posh Journal. In the post, the blogger talked about the personal care products from Kimberly-Clark. She expressed her positive opinions about using those products, yet she made sure her readers knew, that although Kimberly-Clark had sponsored her to write the content, all the opinions she expressed were her own.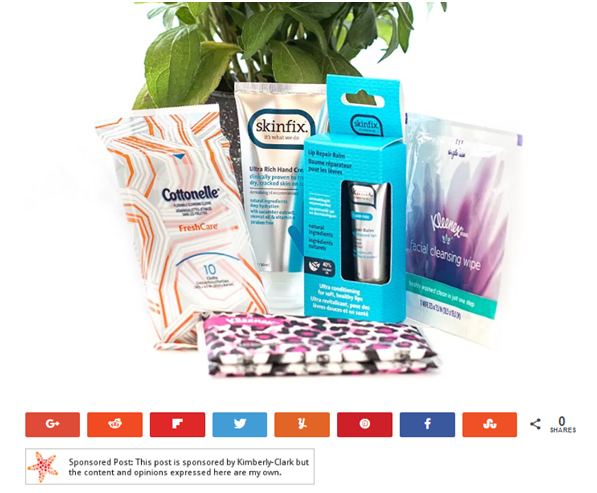 In another post, the influencer talked about the Cottonelle Clean Care Box and the benefits of different items in the box. The brand also worked with other influencers to promote this subscription box. According to a case study conducted by Linqia, the boxes were sold out within 48 hours of launching the campaign.
#5: Promote Offers to Encourage Action
You have attracted a relevant audience and stirred their interest through engaging, informational influencer content. In many cases, this might be enough to drive sales and you will likely see a significant improvement in conversion rates even with just these steps. However, for an even more effective campaign, you might try adding something extra to compel people to take action. 
That would be offers, discounts, and deals which encourage people to make a purchase. Create a promotion in which an influencer's followers receive a discount on their purchase, or offer a free item when they make a purchase. Influencers help you successfully promote your deals to their fans, who are then encouraged to take the desired action. 
You can assign each influencer a unique discount code or a custom URL. They will encourage their fans to use these codes or links when purchasing from your website. You can then use the conversions from these custom URLs and codes to track the performance of each influencer. Some may be driving a greater number of conversions than others, which allows you to make adjustments and further utilize their influence. 
For example, Lord Timepieces created a community of influencers to promote their watches. In addition to having these influencers promote the products, they also assigned a custom discount code for each influencer. As you can see in the screenshot below, they partnered with an influential Instagram account @thisisamans.style. The unique discount code for this influencer was MAN10.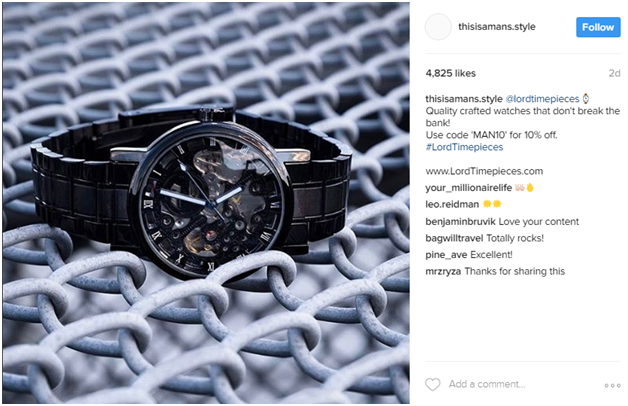 #6: Build Strong Relationships with Influencers
When an influencer genuinely loves your brand, it shows in their promotional content. This kind of authentic affinity towards your brand can significantly impact how the audience feels about your brand. Positive brand perception will boost sales for your business. To achieve this, you need to be engaging with influencers and build a strong relationship with them. 
You want them to feel a strong connection with your brand and there are many ways you can do this. First of all, show your appreciation by providing them with competitive compensation. Keep your interactions with them open, friendly, and respectable. As mentioned previously, it is also important that you grant influencers creative freedom. 
Additionally, you can involve them in the campaign creation process, making them feel even more responsible for the brand. Black Milk Clothing did a great job of this by collaborating with influential artist Lora Zombie. The brand released a collection of clothes with prints created by the artist. They then promoted the newly-released items through their Facebook page.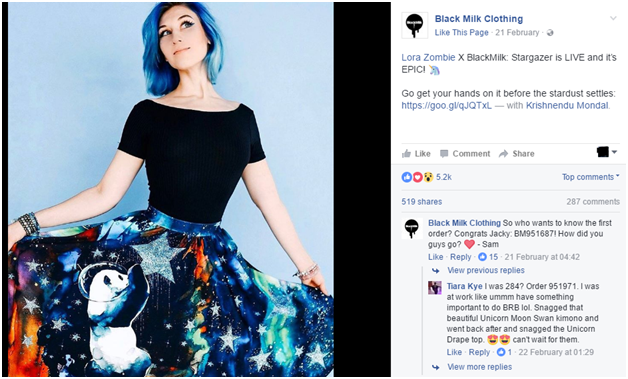 The artist also shared the photos with her own Facebook followers. This is an excellent way to draw in an audience that is likely to be interested in the collection and make a purchase. It is also an example of how brands get influencers involved in product creation and the development process.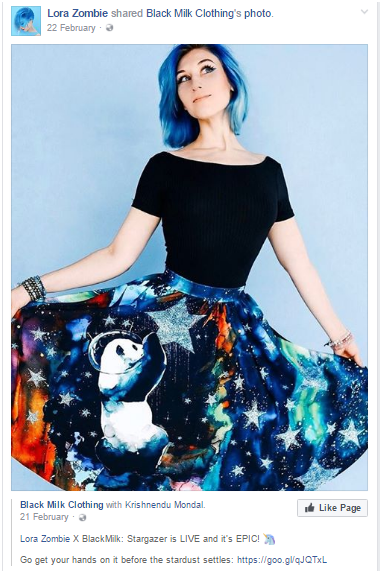 Some other examples are, a subscription box company inviting an influencer to put together a box for a particular month, or a company asking an expert influencer to create a unique piece of content to post on their official blog. Customize your methods based on what you are selling and the kind of audience you are trying to reach.
Conclusion
You now have an extensive resource of strategies that can help boost your sales through influencer marketing. As you can see, some of the tips may directly impact sales, while the others have an indirect but significant impact on your conversion rates. Either way, all of these tactics will help improve your conversion rates and boost your return on investments. 
The tips given here should be able to help you connect with a relevant audience, engage them, and win their trust, along with ways to help you compel them to take the desired action. Which of these tips will you implement first? Tell us in the comments below.