Clean up your backlinks! Write quality content! Embrace mobile!
This advice isn't new, but as Panda has already reared its head this January (and Penguin isn't likely far behind), it's time to set aside hours and budget to adjust your SEO strategy.
By incorporating the tips below into your ongoing strategy, you should, not only, avoid any imminent penalties, but keep any threats away for the long term too.
Monitor for Google updates
First and foremost, if you're not already monitoring for upcoming updates, you should be.
Rumors of an impending Google Algorithm update are enough to give any SEO nightmares but tools designed to pre-empt this are plentiful.
Some even do the hard work for you. With AccuRanker's Google Grump, you can subscribe to free alerts – filtered by country and device – that monitor ranking fluctuations that might signify an update, and send you a notification if anything unusual is happening.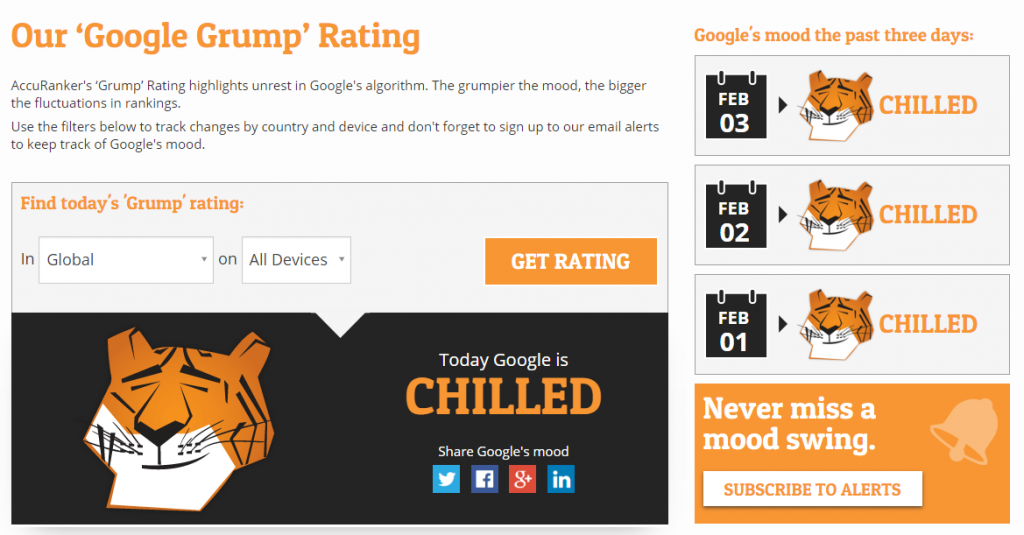 Tidy up your backlink profile
Penguin 4.0 will hit any day now, which means a tidy backlink profile has never been more important.
We've known for a while that quality prevails over quantity when it comes to links, but that doesn't mean you've removed all of the past regrets from your profile.
The latest Penguin update is predicted to be real-time. Good news for SEOs, as this means rather than enduring the slow process of 'penalty', 'make amends', 'sit and wait for another update with fingers crossed for improvement', you should see results as and when you make positive changes.
That said, it's important to stay vigilant and continually work on managing your link profile, to avoid any nasty surprises.
Google Search Console can show you a current list of external links pointing to your site, so dedicate some time to assessing these.
Pay particularly attention to:
Anchor text. Avoid exact match text and targeted keywords. Your anchor text should be as natural as possible.
Site wide links. If the link pointing towards your website is site wide - for example, in a side bar or footer - this could be an advertisement and should therefore be 'no follow'.
Site relevance. Links within blog post comments or forums – put there purely for the link – aren't going to help you, so get rid of them. If the site is of no relevance to your brand or industry, and the link isn't within a piece of content of worth or relevance, remove it.
Collate a list of dodgy links, based on the above points, and try removing them manually, usually via outreaching to the site's editors and webmasters.
For any detrimental links still pointing to your site, consider submitting the sites to a disavow file (we recommend you read Google's guide before doing so though, as this can have adverse effects).
Improve your onsite content
As we were all waiting (not so) patiently for January's predicted Penguin update, Google went and threw in a Panda-shaped curve ball.
This wasn't just any update either; the search engine giant has decided to make it a part of the core algorithm. As a result, updates will likely run more regularly, amplifying the importance of producing quality content that is user-friendly, well-designed and encourages natural shares.
Key things to consider when improving your onsite content:
Duplicate content. If your site still contains pages with identical – or very similar – content, rewrite these pages. Although Google still claims there is no penalty for duplicate content, if your site consists heavily of copied text - including republished content from external sites - you'll struggle to rank. You need to ensure the content on your site is unique.
Spam and ads. If your site is laden with spam content or excessive ads - particularly if they impact the user experience - you're likely to face a penalty.
Quality content. Pages need to contain content of a high value to the user, not thin content, providing minimal useful information. Work on building out and improving the content on any offending pages you might have and it's likely you'll soon see a positive difference.
Long-form content. Adding tons of text to a page doesn't necessarily mean better quality. Although long-form pages generally tend to perform better, this is often down to the quality of the information provided. Whether delivered in 300 words or 1,000, the most important question to ask is, can the user find the information they're looking for on your page?
Check your technical SEO
As mentioned, duplicate content can make the battle for rankings even tougher, and your technical SEO setup could be leading to more issues here.
If you currently use boilerplate content, try to minimalize it. Google favour pages that stand out, so if you have, for example, multiple pages for the same product in various colours, with almost identical primary content, Google can filter to ignore or even penalise these.
Having multiple pages with similar content can cause confusion for Google when deciding which page you want to rank for, in turn diluting your chances of ranking.
Print-only versions of pages can also cause issues if they end up displaying in Google instead of your web page, so look out for this. Badly implemented mobile sites can cause duplication too.
It's important to note that Google no longer recommends you block duplicate content. Instead, implement rel="canonical" or 301 redirects.
Build authority around your domain
You've heard it before, but the importance of building relationships – real, lasting ones – can't be understated.
A content piece can go from minimal engagement to an influx of visits, shares and even links if the right person shares it. Long term, this is a great strategy for encouraging regular, steady online visibility.
Identifying potential and beneficial influencers - and reaching out to them - can take time, but you'll soon reap the benefits.
Remember, many of your target influencers are bombarded by marketers all the time, so it's important you develop a genuine and lasting bond with them. Don't hound them with your content in the hope they'll share it. Instead, find ways you can collaborate on a project or ask for their insight on a topic.
Once you've reached out to them, ensure you're creating content they'll want to share; don't just expect them to because you're buddies now.
Finally, don't forget the importance of striving to become an influencer yourself. If you can encourage people to reach out to you and feature you in their articles, you'll be building links, mentions and recognition for yourself – and your brand – in no time.
Go mobile
The importance of mobile for SEO was a prevailing trend in 2015 and isn't likely to diminish this year, which is why it's important to make mobile a priority.
The rise in voice search means queries are becoming more conversational and long tail; something to consider when doing keyword research and creating content.
Similarly, as people search on the move, local SEO is paramount. Keeping Google Maps information up-to-date and using targeted local keywords could be crucial to ensuring you're picked over the competition.
Multi-media content is key for engaging your audience, providing them with the information they need in a quick and easily digestible format. This is even more important on mobile, when users want to gain knowledge rapidly. Video doesn't only aid time spent on site, but is shareable too, increasing your reach.
We're all aware of the fast-paced, ever-changing landscape of SEO, but that can only reiterate the importance of adapting your strategy to suit.
This year has already seen a Panda update, Penguin is looming and more are sure to follow. By keeping on top of your overall strategy and future proofing it, you're not only working at avoiding penalties, but you're on your way to boasting a robust and affective strategy for the year ahead.
Krystian Szastok is a digital marketing manager at RocketMill. You can catch him blogging on his personal SEO blog or on Twitter.