What is the first thing you do when you publish a new blog post or another kind of content? Share it on social media, right? Maybe invest in some ads to help drive traffic?
As discussed in a recent #semrush chat, having an effective and scalable content promotion plan in place is pivotal.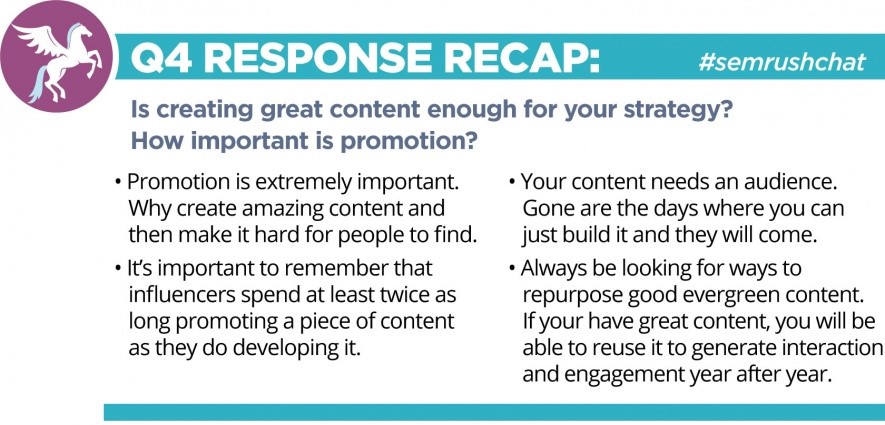 Source: SEMrush
In a world where there is so much noise out there, what are some of the top performing methods that help you cut through it and still get the traffic you need to help your business grow?
Check out these tactics and try adding a few of them to your distribution strategy.
Sponsor Curated Newsletters
Many businesses send their audience members regular email newsletters – most often on a weekly or monthly basis. Just like they use curated content on their social media profiles, they turn to curated content to provide their readers more value, without having to invest more into creating their own original resources.
By finding curated newsletters that go out to an audience that is similar to or matches yours, you can offer to sponsor it, giving the publisher a boost of income, in exchange for some exposure to your target market.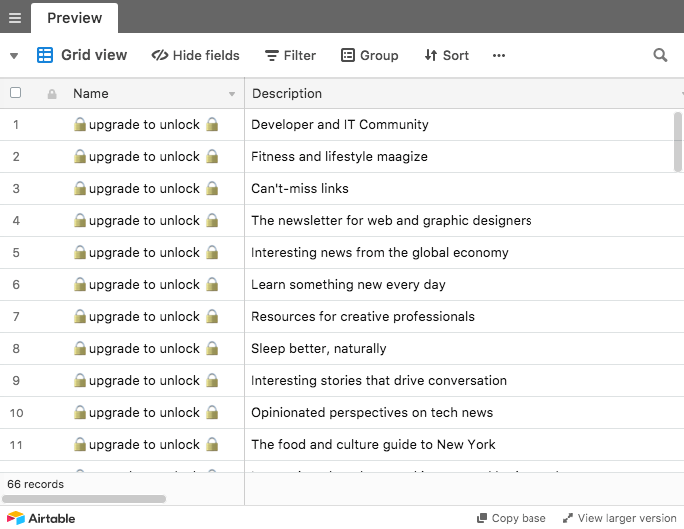 Source: Pear
You could spend hours looking for the right email newsletters, but ThePear.co is a service that will save you a ton of time. Though it will cost you $5/month, you will get access to a large database of contact information for email newsletters that are actively seeking advertisers. The database is constantly growing and includes content in a variety of active niches.
Get Your Entire Company Sharing Your Content
Without amplification, you will struggle to gain ground on social media. Given the recently announced changes to the Facebook Page algorithm, it is not as simple as posting useful information to your page and hoping people like it. Now, comments and peer shares are essential to getting your content to show up in newsfeeds.
Who knows your company as well as you do? The people who work there with you! Getting your employees involved in sharing your content not only helps the promotion side of things, but can also help your team members establish their own following, credibility, and trust with their audience. Employee advocacy programs can't be started overnight. If you want them to be successful, you need to research, plan, educate your team, and provide the right platform and tools to get the job done.
Using a tool such as Smarp can make the process of creating and implementing an employee advocacy program within your company much easier. With a central newsfeed, you can add content you want your team members to share to their social media networks. Employees can click and add their own commentary, even scheduling posts in advance. Built-in gamification features also allow employees to compete with one another to motivate them to participate.
Build a Messenger Audience for Your Brand
Facebook Messenger is one of the most popular messaging platforms available today – and people can use it even if they don't use Facebook itself. 1.3 billion people use Facebook Messenger, along with nearly 20 million pages.
A chatbot is a simple AI system your audience can interact with through text. You can keep things as simple as basic autoresponders with order status information, or you can make them as complex as a full-length conversation with interactive media, advice, directions, and transaction processing.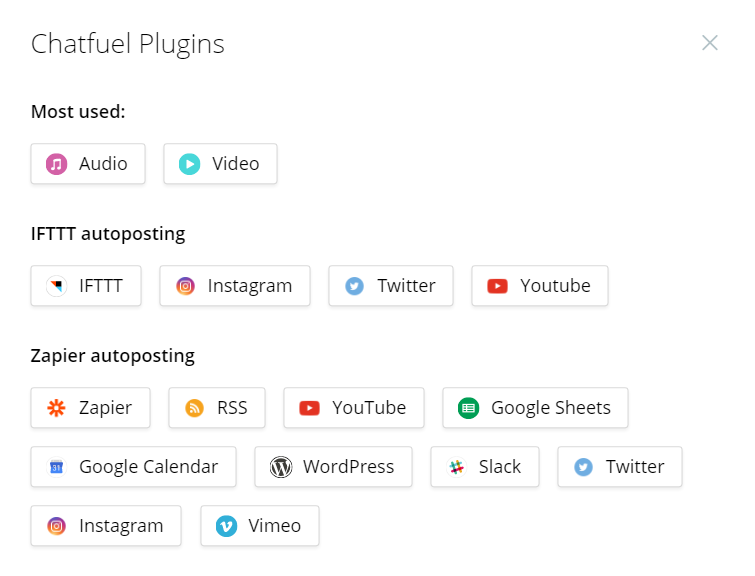 Use chatbots to share content your audience wants to stay on top of such as industry trends and news. Use them to direct your audience to content on your website. Use them as part of your content distribution strategy, and to deliver personalized content. You can simplify the process with Chatfuel's platform, which supports easy integrations with thousands of data sources, allowing you to automatically send relevant audience members messages with the same content assets that your email subscribers or social followers may see.
Get Involved in Relevant Slack Communities
Many marketing strategies involve the use of groups and communities – whether it be through Facebook Groups, Skype Groups, LinkedIn, or Google+.
A more recent favorite, Slack Communities are available in all shapes and sizes for a number of niches and industries.
Source: Online Geniuses
Becoming actively involved in many of these groups gives you access to new audiences with whom to share your information. However, there's a difference between actively involved and straight out spamming. Join, introduce yourself, and offer value to the conversation before you pitch your own content or services. Have no idea where to start? Check Google and you will find lists of Slack groups by subject to choose from.
Offer Your Audience Desktop Push Notifications
A desktop push notification is similar to a notification you would receive on your smartphone, but instead, it comes across in a user's browser or on their desktop.
Because they work on websites instead of apps, they can be accessed by all devices. And because you are offering, those who are interested can elect to receive them, while those that aren't don't have to opt-in. Since desktop usage still accounts for nearly half of all internet usage across the globe, these push notifications can be a great way to drive traffic.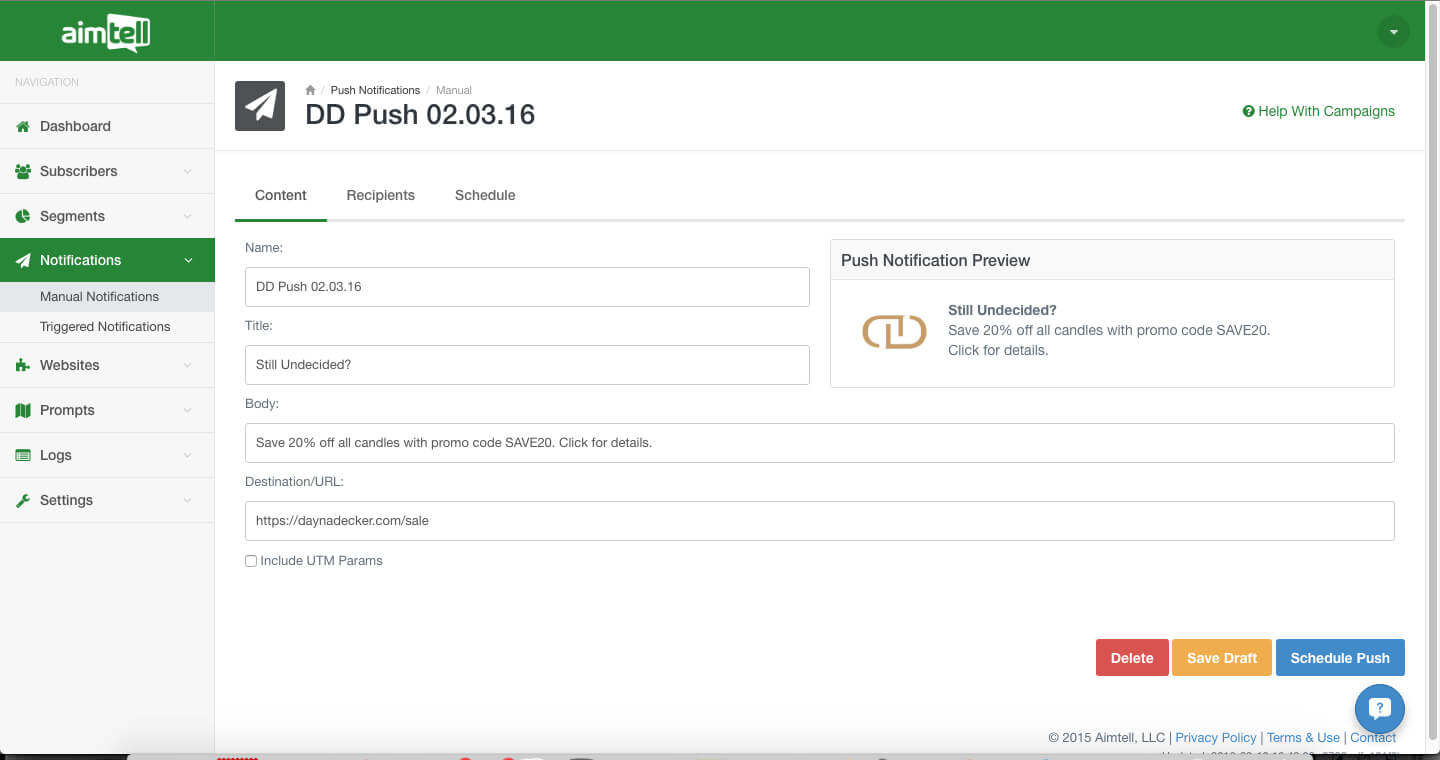 Source: AimTell
AimTell is a push notification service that works on a number of browsers, including Chrome, Firefox, Safari, and Opera. It works whether the person is on their desktop or mobile version of the browser. It only takes a few lines of JavaScript code to install, and there are Shopify and WordPress plugins for people using those platforms. Send push notifications to subscribers and stay in touch.
Sponsor or Appear as a Guest on a Podcast
Over the past nine years, the number of Americans listening to podcasts has nearly doubled. Not only that, the number is projected to continue to grow for the foreseeable future. A Podcasting Audit study shows advertisers are expected to spend half a billion dollars on podcast ads in 2020 as a result of that growth.
Finding a podcast (or several) your audience likely listens to and either paying for advertisements on it or offering to make a guest appearance, can get you exposure to drive more traffic to your content.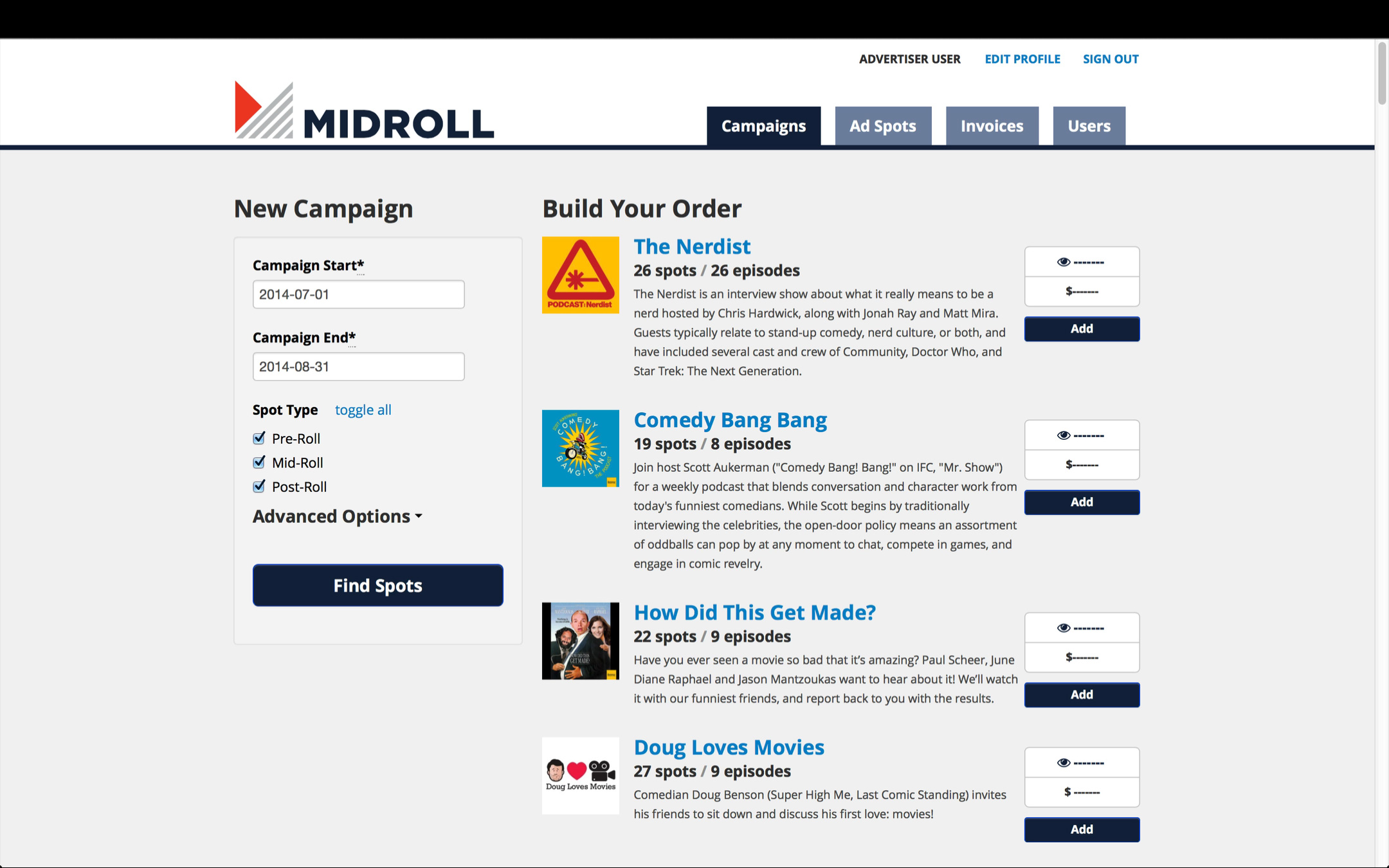 Source: Midroll
To find podcasts you may be interested in sponsoring, you might want to check out Midroll, a marketplace that allows media buyers to find relevant podcasts and book ads. The platform works with a variety of podcasters in numerous niches, with new talent being added on a regular basis.
Think Outside the Box
Using any of these tactics, or a combination thereof should bring you a steady stream of traffic from new sources. While you may not become an overnight sensation, working these content promotion tactics and channels into your marketing strategy can help you drive growth in the coming months and years.