An established brand is one that has a lot of returning customers who have developed brand loyalty. So if your brand is going to grow, you will need to win your customers' loyalty by engaging them. The more engaged your customers are with your brand, the more likely they are to keep returning to you. In the end, they will develop some form of loyalty and contribute to your brand's growth.
This post is going to provide you with a few effective customer engagement strategies to engage your customers and help your brand grow. Let's take a look:
#1: Add Individuality to Micro-Content
When you present your brand with its own personality, you have a better chance of engaging with your customers. That is because it will make them feel like they are talking to an actual human rather than just another brand. So they will be more keen to interact with you on an emotional level and listen to what you have to say.
That's why it's important that you add individuality even to your micro-content. Infuse your brand's voice into all of your content because even the tiniest details can make a huge difference to your overall branding efforts.
For example, Nasty Gal adds a lot of personality to their micro-content in the following screenshot.
Their choice of vocabulary reflects the audience they are targeting. And you can see that they are not afraid to use swear words because that is a part of their brand's voice. The same tactic would not necessarily work for other clothing brands.
#2: Make Communication More Personalized
Personalization is vital for any successful business strategy. And if you want your brand to grow, you need to enhance your customer engagement through personalized communications; this could prove to be highly profitable. In fact, Monetate found that 83% of retailers who have a budget dedicated for personalization were able to exceed their revenue goals.
When you personalize your communication for your customers, your conversations are more relevant to them. The personalization makes them more likely to listen to what you are saying and engage with you. There are plenty of ways to personalize how you communicate with your customers.
You can provide them with purchase recommendations and deals that are relevant to their interests and purchase histories. You can send them marketing messages tailored to their needs. Or you could even automate emails based on certain milestones and actions such as birthdays, anniversaries, sign-ups, etc.
Stitchfix, a clothing subscription box company, nails their customer engagement strategy efforts by providing members with a short quiz. Based on their answers in the quiz, the company sends out personalized style recommendations suitable for each member.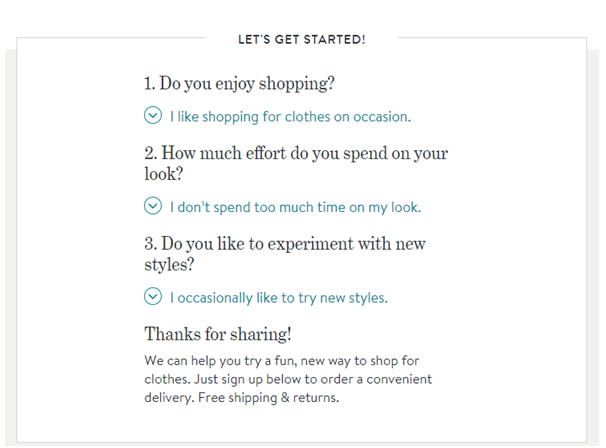 On that note, always make sure you remember what your customers have told you before and what you have told them; this is necessary to ensure that your latest communications will correspond to the previous ones. You can use tools like Salesmate to keep track of all of the email interactions you have had with each customer. Then you can provide them with relevant deals and solutions every time.
#3: Exchange Rewards with Actions
People will be more than happy to reciprocate when you provide them with something they like. So rewarding your customers when they take a certain action can help you create a positive feedback loop. You can reward them with special offers, discounts, or coupons when you request that they leave reviews or create user-generated content.
Rewards will significantly boost your customer engagement strategy efforts, as people will be more keen to interact with you when they are getting something in return. Plus, when you provide offers and rewards, you are creating an opportunity to engage in repeat purchases with your brand. People will keep coming back to redeem their offers and rewards, helping them develop a positive connection with your brand.
Overstock has an entire Rewards-for-Reviews system set up to generate more reviews for the brand and create more opportunities to engage with their customers. Under this program, customers get reward points in exchange for writing reviews on the items they have purchased.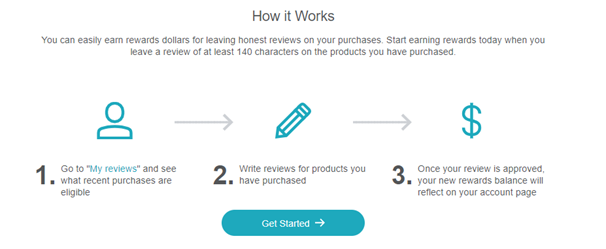 #4: Share Customer Stories on Social Media
People will be more likely to engage with content involving consumers just like them, rather than with your brand's messaging. That is because they can relate better to real people. Olapic found that user-generated content is the most trusted type of content among consumers. It is also the type of content that people engage with regularly.
Use social media to share your customers' stories. These stories can be in the form of reviews, testimonials, user-submitted photos, and more. You will be able to win the trust of potential customers and even drive them to convert when you share customer stories on social media.
Plus, you will be able to show your appreciation to your existing customers when you showcase their stories. Give them the opportunity to interact with your brand by asking them to share their experiences with you.
ASOS, for instance, occasionally shares pictures of their customers wearing clothes from the store. These shares inspire many of their customers to create content about the company in the hopes of getting featured.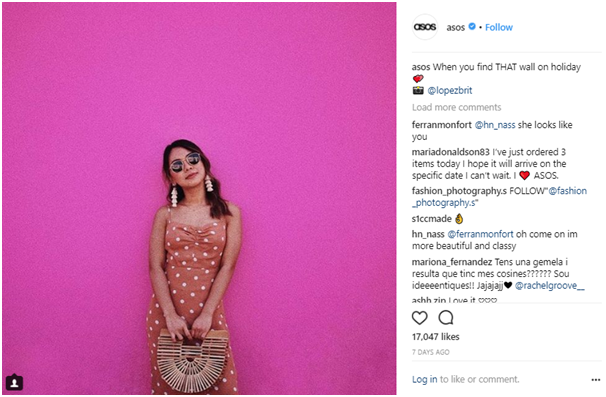 #5: Create Opportunities for Direct Communication
When your customers have the opportunity to directly communicate with your brand, it will make it easier for them to engage with you. This ease in communication between you and your customers will undoubtedly increase your engagement rate. So you have to create those opportunities and make it easier for your customers to connect with your brand whenever they need to.
You can enable live chat functionality on your website to quickly respond to customer queries. Live chat enables you to guide site visitors and help them find what they need. You can also use it to quickly resolve any customer service issues and improve customer experience.
It would be wise to extend these opportunities to your social media accounts as well. Quickly respond to their comments and direct messages on social media. Additionally, you can also make use of live videos to host Q and A sessions. Your customers can engage with your brand by asking questions at these sessions.
With Facebook, Twitter, and Instagram all enabling live video features, it has become much easier for brands to engage their audiences in real time. You can even leverage the feature to provide your audience with valuable insights and tips relevant to your business and products.
Or you could follow the lead of Sephora, and invite experts to your live video session.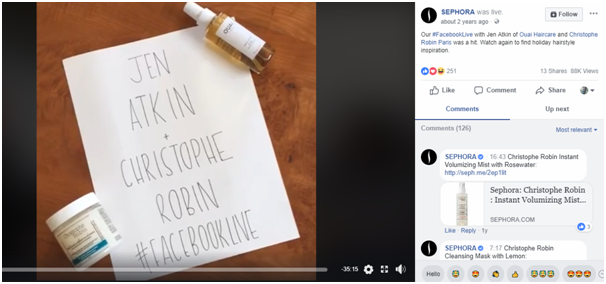 The company invited beauty influencers like Ouai Haircare's Jet Atkin and Christophe Robin Paris for a Facebook live session. The two experts talked about beauty tips and trends, which encouraged many customers to ask questions and interact with the brand.
#6: Show the Real People Behind Your Brand
As mentioned earlier, people are more eager to interact with human beings rather than with brands. So as part of your customer engagement strategies, you will need to show your customers that there are real people behind your brand.
You can infuse your brand personality when you are talking about your employees on the website. Or you can tell a short but detailed story that will help your customers know your employees a bit better.
Caterpillar, for instance, has a dedicated "Meet Our Team" section where customers can read a detailed story about each employee and their role in the company.

Allowing customers to get to know your team significantly humanizes your brand, because people will be able to relate these employees' stories with your brand. And the result will be, a deeper connection and better engagement between you and your customers.
You can even share employee stories on social media to engage your audience on an emotional level. PNI Media does a great job of this.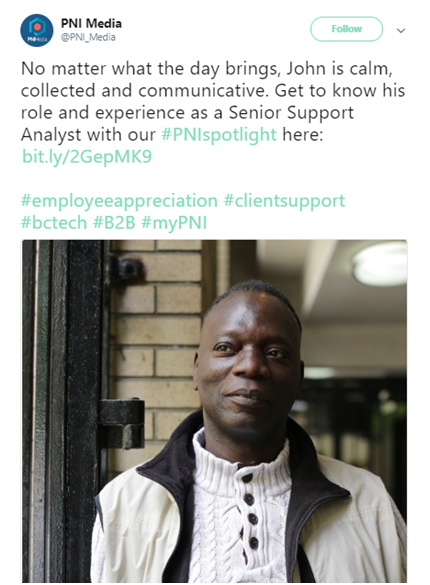 Their Twitter feed is filled with an inside look at the company and the people behind it. They occasionally share individual employee stories and regularly showcase pictures of the employees and their activities.
#7: Come Up with Fun Activities
If you want to engage your customers on a regular basis, you have to create the opportunity for them to do so. You can come up with fun activities that require people to engage with your brand and your content over social media. Options could be anything from giveaway contests to question and answer sessions.
There doesn't necessarily have to be a reward involved. But it does help drive more engagement when people are getting something in return. Warby Parker occasionally quizzes their Twitter audience with riddles and asks their followers to tweet to them.
Although they are not offering any reward for the correct answer, it is a fun activity that the brand can engage in with their customers.
Conclusion
These are some effective ways your brand can engage with your customers to drive growth. You need to humanize your brand and add your brand's personality into your communications with your audience. And you will need to create opportunities for engagement to make it easier for people to communicate with you.
Did you find these tips helpful? Do you have any other strategies that have worked for you to engage your customers? Share your thoughts with us in the comments below.