The process of search engine optimization (SEO) has evolved over the past decade and particularly after 2015 as many traditional SEO strategies are no longer valid. Last year, Google totally shifted its focus to the websites that provided good user experience and could act as valid source of information. Old strategies like keyword targeting and link building were still in use, but even they were tuned in with the need of the users to yield valuable results.
RankBrain was the last update to Google's search algorithm for 2015, and the company revealed that machine learning techniques have been in play from past few months. With artificial intelligence acting as the backbone of new search algorithm, is it really necessary to rethink how we are going to do SEO in 2016?
The answer is yes. There are lots of things that modern SEO expect you to keep in mind but I have covered the essential practices that most of the experts emphasize the most.
Lets' head to the points:
1. Understand Keyword Targeting vs. Relevant Information
The problem with keyword targeting is that Google can figure out when you are misusing this technique. In return, Google will place a penalty on your website, throwing your website back few pages on search results. However, keyword targeting can still fetch traffic, if done the right way. Writing relevant content on the pages of the website, which can genuinely help visitors find answers to their queries, is definitely a better way of keyword targeting than simply stuffing the page with a lot of keywords.
2. Target Customers Locally
Targeting customers locally can be most rewarding and least tiresome. Business owners can attract nearby potential customers by picking hyper local terms as the keywords that indicate geographical intent tend to boost traffic most certainly.
When searching for any service or company on Google search, local listings appear on the top of the search results page. General trends show that users are most likely to be attracted to these results than the results appearing in the organic section of the search page. But it's a challenge indeed to appear in these listings as Google allows three local listings on the search page. Optimize Google My Business page to take advantage of this Google SERP feature.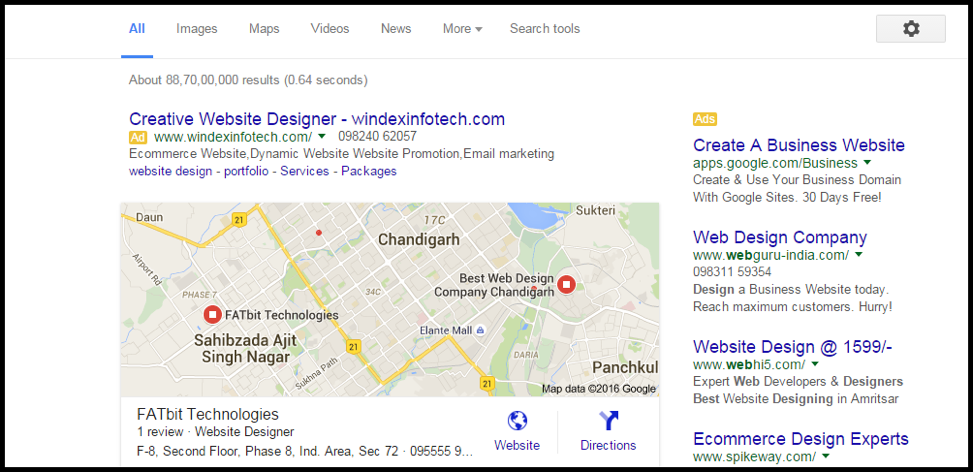 3. Know That Backlinks Matter, But Only if They Come From Authority Sites
Backlinks pose a threat to the websites as they are capable of both improving and damaging your search engine ranking. To ensure that your website gets significant boost in ranking from backlinks, try guest blogging on websites that are trusted source of information.
Google emphasizes on relevant information, so linking a certain page of a website with another website with relevant information will have more impact on search results.
You can also allow other bloggers to submit guest post and get significant links from the sources where they will share this post. Offering unique and high quality content on your own site will give users a reason to share your links on good sites and will eventually boos your rankings.
4. Understand the Role of Social Media in Modern SEO Strategy
If any website has good content, then it is likely to get circulated over social media. More sharing means the content is relevant, informative and of high quality.
This is the reason why Google includes results from Facebook, Twitter, Google Plus, Quora and many more in its search results page. Your business website can gain a great deal of traffic from social sources if you maintain the habit of relevant content-sharing.
5. Increase website traffic with Rich Snippets
Rich snippets are not important from SEO perspective, but they can increase the Click Through Ratio (CTR), by showing information like ratings, reviews, prices, duration, etc. in the search results page.
Users will prefer that content, which has already been reviewed and liked by many. Schema.org defines a set of standards, which allows search engines to read and know more about the content. However, abusing the use of rich snippets can cause a manual penalty of Google as the search giant is against providing false information.
6. Prepare for Mobile Users: Go Responsive
Having a different website for desktop and a different website for smartphones will make it harder to focus on SEO and website maintenance, resulting into loss of time and productivity.

Due to this reason, Google recommends using responsive web design technique. Not only it will help web developers save time, but also help offer pleasing user experience. Responsive website design should be considered as an important aspect of modern SEO strategy in 2016.
7. Know Why User Experience Matters Most
How users feel while using a certain service, product, or facility will determine the size of your potential customer base. Improving/designing a good user experience should be on top of your list. Invest enough time in planning, and research to define user's requirement. Always remember, negative user experience sticks to the mind of the visitors, whereas good user experience can often ignored, but is beneficial in the long run.
Websites providing a good user experience see a decrease in the bounce rate and significant increase in the time people spend on their web pages. Google search algorithm considers all such points while weighing the value of webpages ranked in search results. User experience therefore is essential for business success in 2016 as users and search engines both have found their love for 'value'. If you are not offering 'value', they won't' give attention to your business.
2016 is the year, when modern SEO practices will be seen throughout the Internet. The points we discussed above are important and will stay important in the coming years. If you have any question about search engine rankings, share it in comment section, and I will tell you the best approach to handle it.
Manish Bhalla is the founder and CEO of India's e-commerce web development and marketing agency FATbit Technologies. He acts as an e-commerce strategist and leads the way for businesses looking for secure space in a specific industry. Manish is acknowledged as an e-commerce expert who has helped many startups find strong footholds online with customer driven-solutions and high-powered growth. For latest marketing strategies and insights, you can follow Manish through his company's Twitter profile.