SEO is such a diverse and dynamic discipline that it can be hard to know where to focus your efforts. The industry's top thought leaders are always publishing new advice, and the search engines are iterating their algorithms and ranking factors faster than we practitioners can keep up. 
Long tail keyword research. Broken link outreach. Expert roundup link baiting. Deep linking to relevant blog posts. Competitor tracking. Influencer outreach. Targeted landing page publishing. Surgical outbound linking to relevant authority resources. Responsive design. Updating older pages that already rank well. Guest posting. The list is virtually endless. And as soon as something is proven to be effective, everyone else jumps on it, rendering it less effective.
So how is the savvy SEO pro to prioritize? What activities drive the most impact for the least effort? Here are seven to consider.
1. Move Your Website to SSL/HTTPS
An SSL certificate is the key to protecting your visitors' sensitive data from fraud or identity theft, because it provides encryption and validation.An SSL certificate used to be vital for e-commerce websites, because of the purchases made on the websites. Now, they're necessary for all websites who want to build trust with and rank on Google, according to its August 2014 blog: HTTPS as a Ranking Signal, security is a top priority for the #1 search engine.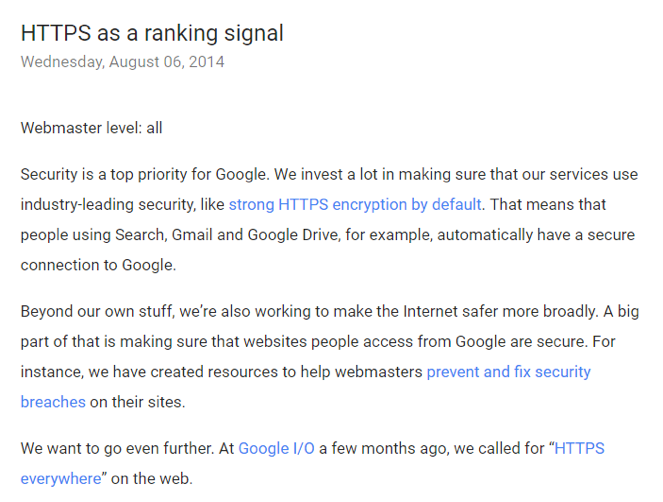 Move your site to HTTPS or SSL
First, you'll need to purchase an SSL certificate. This can be done in a variety of places – your website hosting company, your website domain provider, through an SSL-focused company, etc. In most cases, you'll only need to purchase a single domain SSL certificate. Then, you'll need to install the SSL certificate on your server (you can usually get directions from your host) and move your site to HTTPS.
2. Improve Your Website's Speed
The speed of your website is one of the many factors that adds or subtracts to Google's trust of your website. If your website is fast and error free, it's less likely to cause any of Google's searchers problems, therefore, making it more trustworthy and likely to appear in search results.
Unless you're a web developer or have the resources in-house, you may not know the in's and out's of how to improve the speed and overall performance of your website. Luckily, there are tools like Pingdom's Free Website Speed Test.
Simply put in the URL of the website you want it to report on, and voila! You get an extensive website speed report that even directs you to resources to help you fix it. If you scroll to the bottom, you'll see a key and an overview of how it all works. It's a great solution even if you do have in-house resources.
Be sure to browse through the tabs for the waterfall, performance grade, page analysis, and history. Below is an example of the performance grade tab. On each recommendation, you can click the down arrow to get more information about what you need to do to make improvements.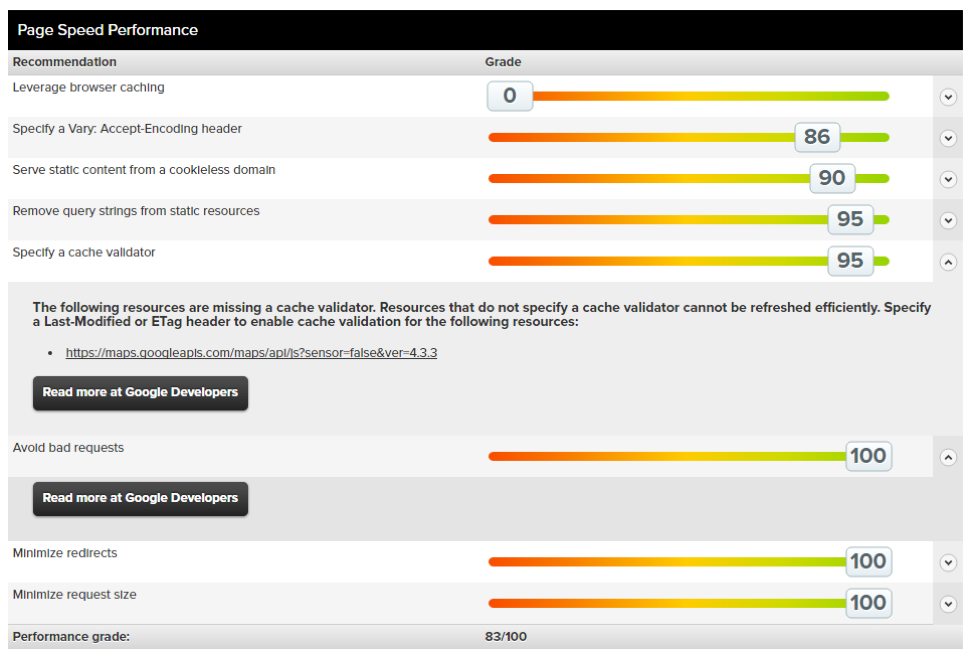 Page Speed Performance
If you have a Wordpress website, you can't miss the WordPress SEO Checklist 20 Tips to improve your ranking for a quick list of easy ways to get your rank higher.
3. Add an XML Sitemap
If you're not familiar with sitemaps, a sitemap is an XML file which lists all of the URLs a site contains, and it can also contain additional information (called metadata) about each URL. It helps search engines like Google crawl your site better, as well as learn about your website's structure. 
Even if you're not a web developer, you can create an XML sitemap to submit to Google by using a plugin like the highly ranked XML Sitemaps plugin for Wordpress or by using one of the numerous free and paid third-party resources listed by Google. You can also check out the Google's Build and submit sitemap support page to learn more about customization and advanced guidelines.
XML Sitemap
When you're ready to submit your sitemap to Google, check out this Google Support link for easy, quick directions on verifying your site and submitting it to the Google Search Console.
4. Remove Duplicate Content From Your Website
Since content is king, you can imagine why duplicate content can be an indicator of bad SEO. Whether you are checking out a new website or an existing one, it's vital to check the entire website for duplicate content. There are a number of ways you can do this.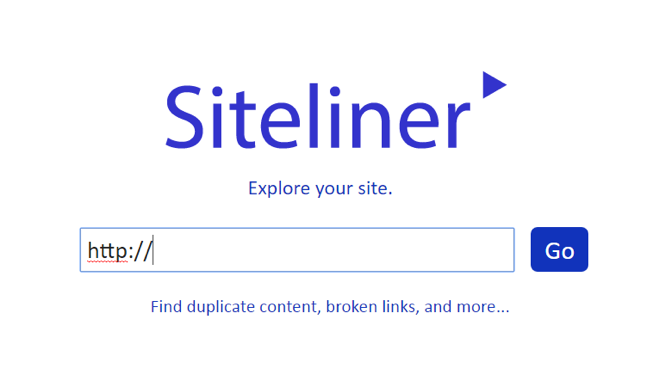 Siteliner
Tools like Siteliner, Duplicate content checker, or Copyscape (paid) analyze and determine where your website's duplicate content lies and provide other features you might find useful. You can also check out the 'HTML Improvements' section in Google Webmaster Tools to look for duplicate title tags, meta descriptions, etc. Or, you can do it the old fashioned way with a good ol' Google search. Remember, any duplicate content can be detrimental, no matter how easy it is to copy and paste a product description on multiple different areas on your website.
When you're ready to start creating new content, check out this recent SEMrush blog post by Nick Chasinov for tips on creating original, high-quality SEO content to replace your duplicate content with.
5. Optimize Your Website's Meta Tags
Meta tags are an important part of SEO and search results, so it's important to have all original content and be properly optimized for the best results. Each page on your website should have a unique title, description and h1 Meta tags. Meta tags can be coded in or implemented via plugins, depending on the type of website you're working with. To get a good understanding of what Google is looking for as far as Meta tags go, check out this Google support resource: Meta tags that Google understands or watch the video below.
The SEMrush Blog has some great resources for optimizing your Meta tags. Check out the 5 Dumb Mistakes That'll Wreck Your Meta Descriptions blog post by Amanda Clark and 5 Keys to Optimizing Your Title Tags by Mike Isaac to learn more about meta tag best practices from industry experts before getting started.
6. Fix 404 Errors and Indirect Links
Broken links, also known as 404 errors, contribute to Google not trusting your website. Google doesn't want to send its searchers to a website that sends them to a broken page, whether it is straight from search or on the website.
To find out whether your website has 404 errors, you can use any site crawling tool, such as Screaming Frog or Xenu.
Once you've found your 404 errors, you'll want to perform 301 redirects to the closest page to the broken one or the homepage.
In addition to 404 errors on your website, any links on your website that aren't direct links need to also be fixed. In other words, if you have a link in a blog post, page, etc. that when you click it, actually redirects to another link, you'll need to go in and update the link to a direct one. 
For more information, check out Server Responses in the Eyes of Google: How Errors and Page Redirects Affect Search Engine Position by Oleg Shchegolev on SEMrush's Blog.
7. Optimize Your Images
Images are often overlooked as being influential in SEO, but any SEO expert knows that your images' alt-tags need to be optimized, and you should also optimize the size of your images, by compressing if necessary. 
By optimizing the images' alt-tags, you are helping Google learn about the image, because images provide no information otherwise when read by search engines. To optimize your images' alt-tags, check out THE Google's Image publishing guidelines support page to check out some great tips on how to do the best job possible, or watch the video below.
Compressing your images helps improve your website's speed and performance, and Google offers some in-detail guidelines for optimizing your website's images, including consistent width/height across all images and how to optimize all types of image files.
Get Started: Improve Your SEO
Now, it's time for you to start implementing these time-tested tactics and start seeing your SEO results skyrocket.
If you're looking for a tool to help you identify SEO issues, check out the SEMrush Site Audit Tool.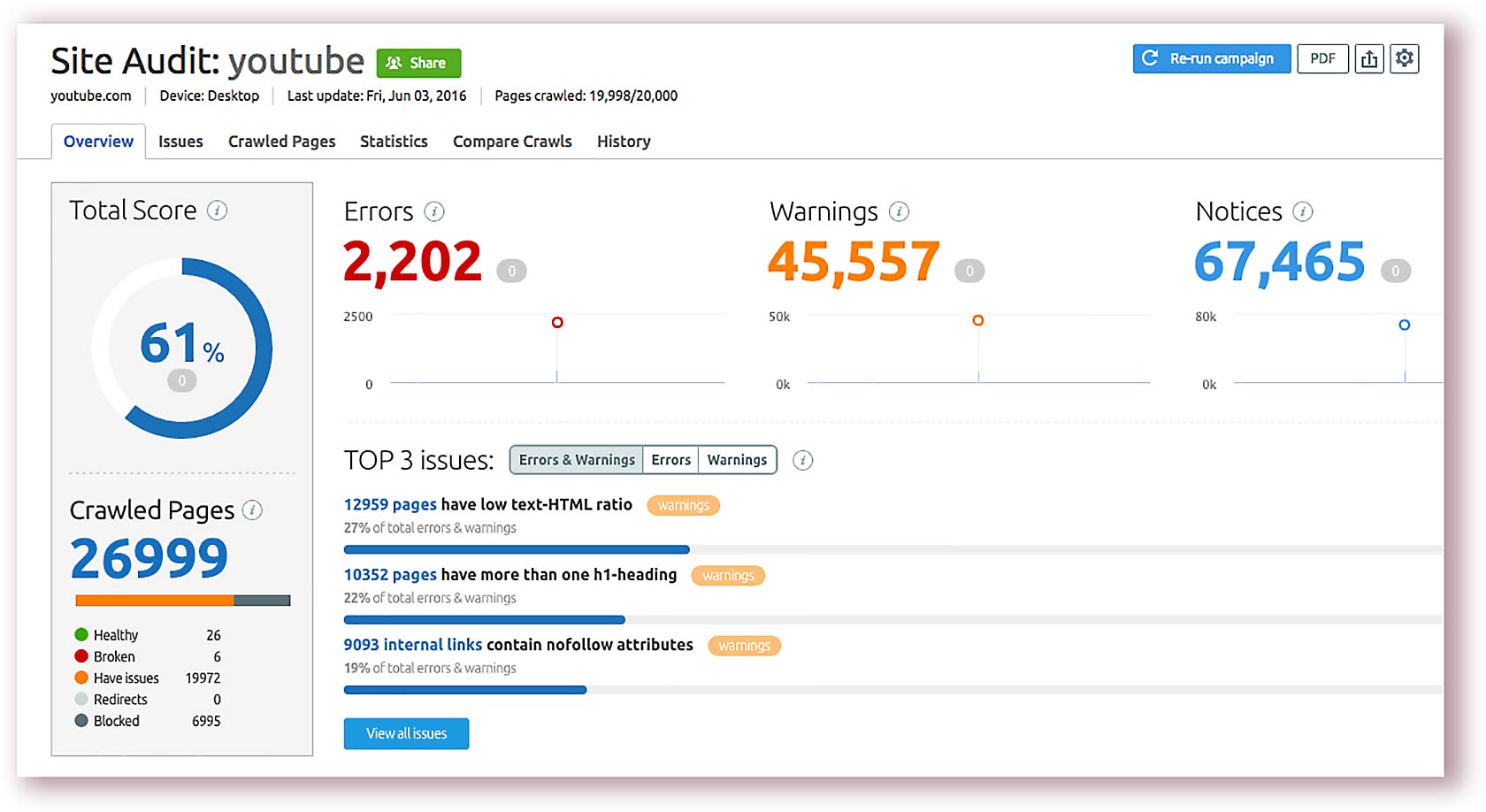 Do you have any additional tips you want to add? If you do or have any questions/comments about these 7 proven things that you can do to skyrocket your SEO, feel free to leave them in the comments below. Happy SEO-ing!