You may already know SEMrush rocks.
Most marketers have either heard of it or use it every day.
But I have more to thank SEMrush for than just search results data. SEMrush was the first tool I bought when I was a broke freelancer. It's helped me build a successful marketing business in less than a year.
I landed my first clients as a direct result of SEMrush's keyword data. SEMrush gives me in-depth insights about a prospect's website. I rely on this information throughout the lead qualification process.
Before I secured my first client, I was prospecting until midnight in my college library. I spent hours everyday parsing through SEMrush data to find qualified businesses to approach.
Here are seven other ways SEMrush helped me launch a successful PPC agency.
1. SEMrush Offers Unparalleled Keyword Insights To Prospective Clients
Without an established brand or word of mouth to grow my business, there were two ways I could compete:
Price
Insights
I discovered that competing on price was a losing strategy. The best clients are often impressed by the research depth and analysis I can provide them on the fly. SEMrush supports my entire research process from estimating advertiser spend to generating keyword ideas.
2. I Can One Up The Competition
Before I call a new prospect, the first thing I do is research their ad and keyword history with SEMrush.
Then I look at their competitors' ads and keywords to sum up their relative impression share. This process also helps determine what is working and identify missed keyword opportunities.
Next, I look up an industry-relevant short tail keyword in SEMrush's Keyword Overview. I review related keywords, looking at search volume, cost per click and competition trends.
3. I Find Profitable Keywords To Improve ROAS (Return on Ad Spend)
(Click to enlarge.)
The real power of SEMrush is its long tail keyword suggestions. SEMrush empowers my research process to identify profitable keyword phrases throughout the buyer funnel.
For example, advertisers that sell structured settlements must ensure they only reach qualified leads. If not, their search campaigns can immediately become unprofitable.
These advertisers may realize a higher ROAS by only targeting BOFU (bottom of the tunnel) long tail keywords.
"sell my structured settlement" averages $241 per click
"selling structured settlements" averages $353 per click
A structured settlement advertiser could lose money bidding for cheaper TOFU (top of the funnel) keywords.
"structured settlement" averages $114 per click
Despite CPCs $127 to $239 greater than the TOFU keyword, advertisers may realize a higher ROAS by targeting BOFU keywords.
4. SEMrush Helps Me Determine The Best Keywords To Rank For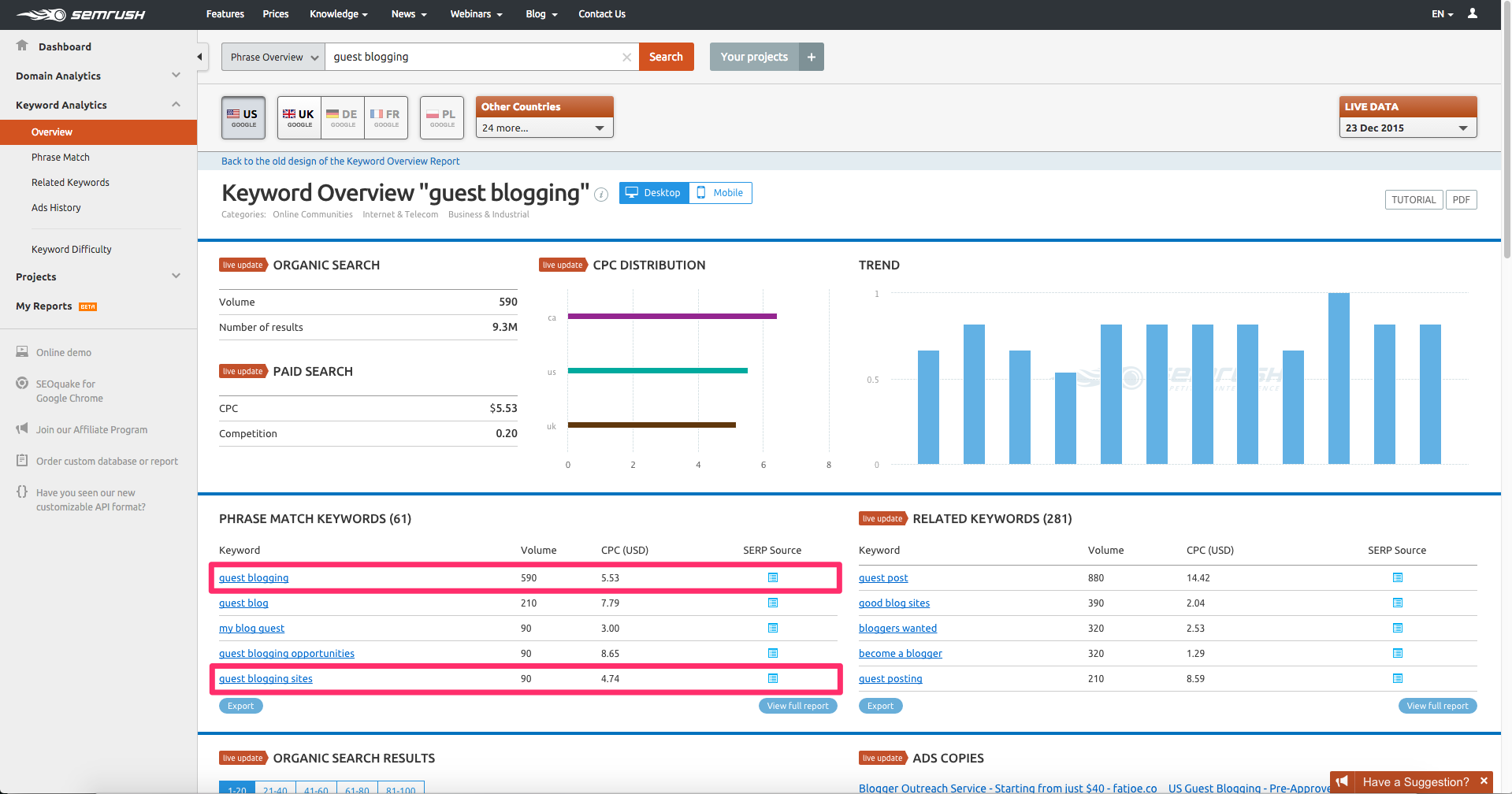 As I had no money starting out, I knew I had to identify keywords to rank for to generate leads from organic search.
SEMrush is the ultimate resource for developing your website's content marketing strategy.
I use it find high-value keywords for building content anchors.
The anchors I've written so far generate qualified leads and email subscribers every day.
These same keywords can also serve as anchor text when building external links to your website.
5. SEMrush Uncovers Competitors Who Stopped Advertising Years Ago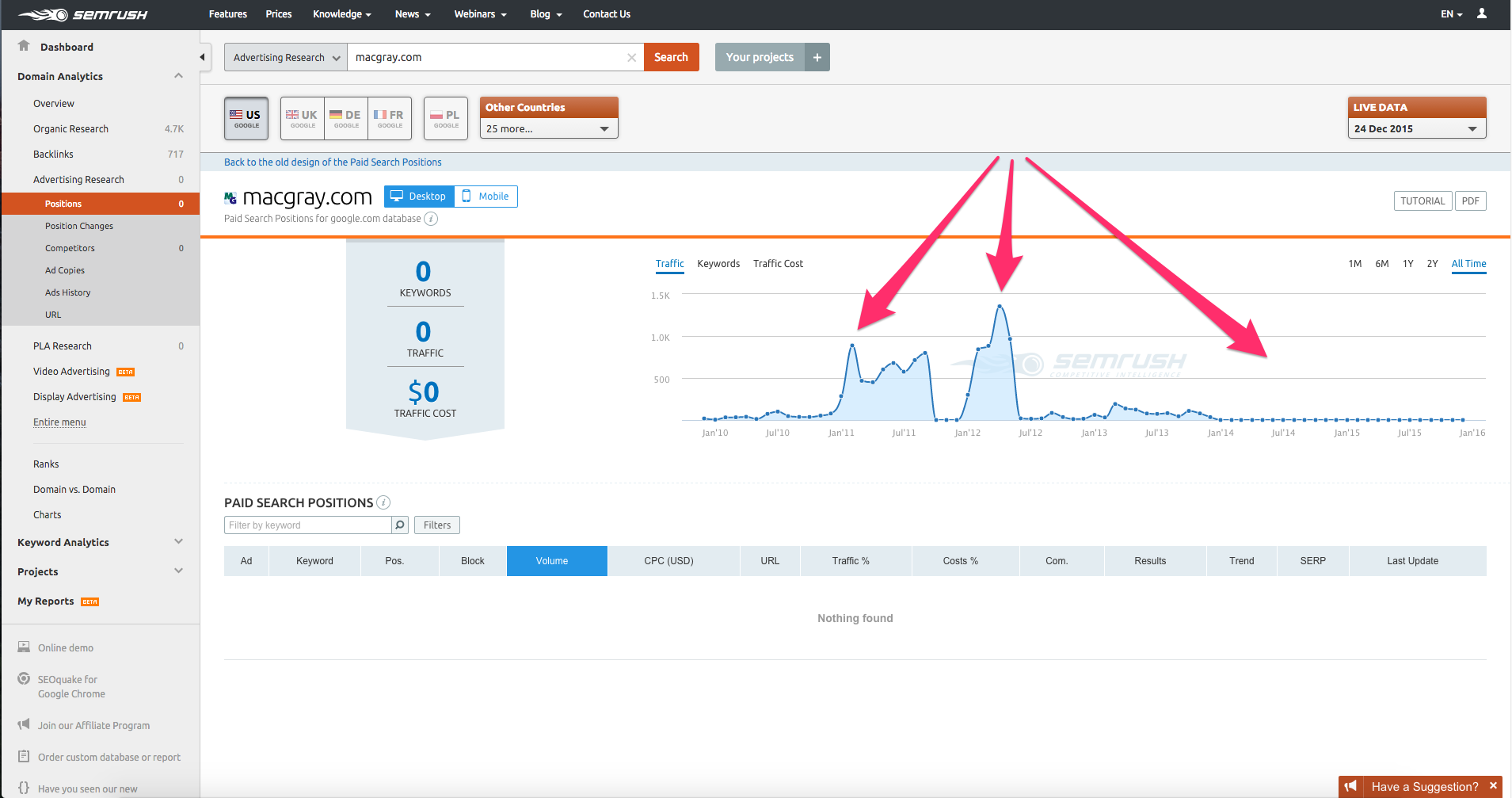 Recently, a prospective client came to me wanting to increase their leads from Google. Their team had never tried internet marketing, and the client was skeptical after a costly site redesign.
I determined that their competitors too had rarely advertised on Google. One of their larger competitors had tried running ads a few times from 2009 through the end of 2013.
It became clear that their competitor didn't know AdWords best practices based on ad copies they wrote and keywords they selected.
[Tweet "'SEMrush was a critical tool for growing my PPC company.' -@codyblister #keywords #seo"]
SEMrush helped me find related keyword ideas. I used that along with Google's Keyword Planner to find keyword opportunities.
From there, I "reverse engineered" a profitable ad strategy based on their competitor's mistakes.
In turn, this information helped me seal the deal with a new client. It also saved me from wasting the client's time and money chasing unprofitable keywords. Like clockwork, the campaign generated qualified leads in an industry with few online advertisers.
6. I Am Able to Find Profitable PLA Keywords for E-Commerce Clients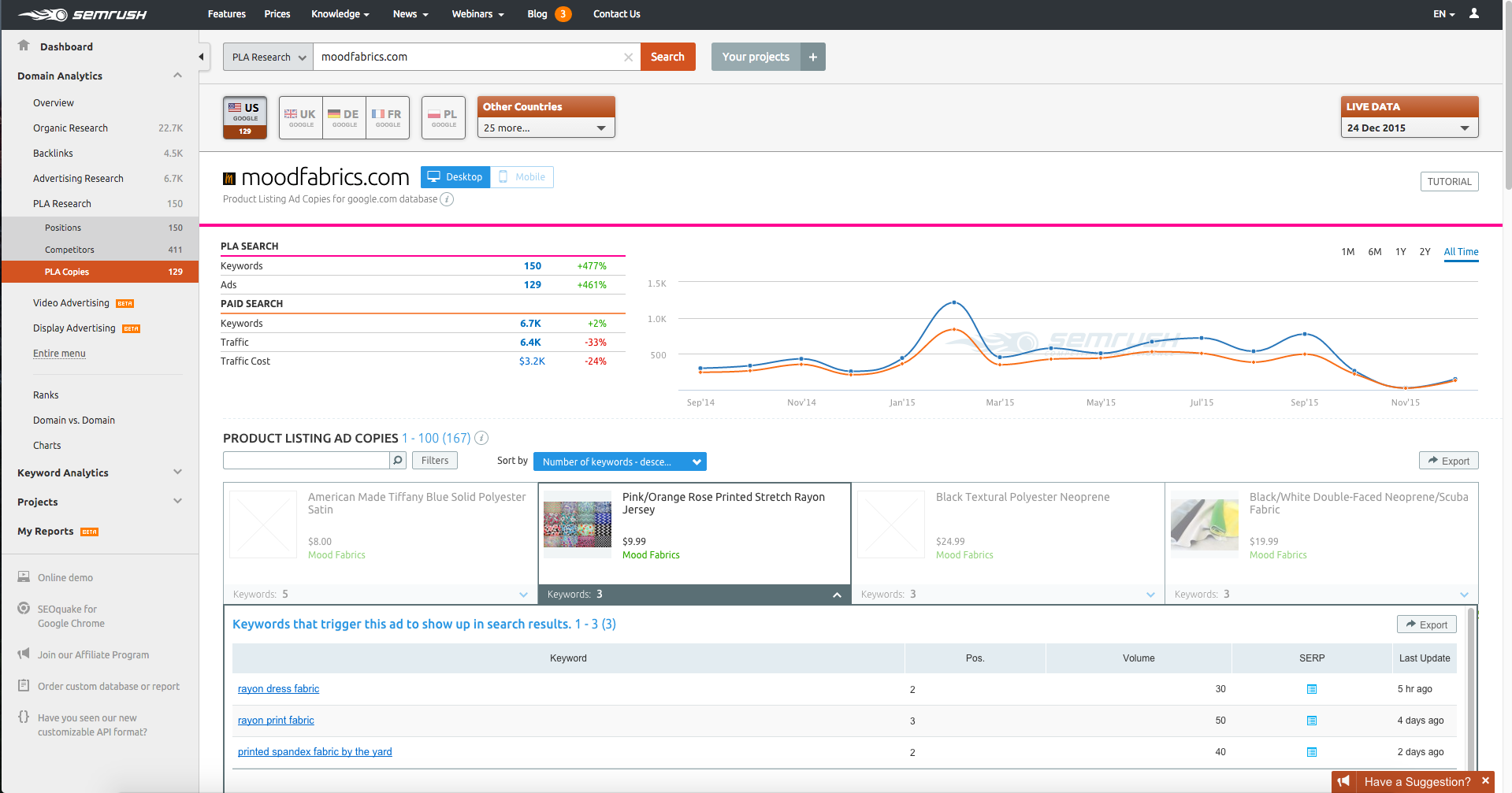 My first e-commerce client was a wholesale fabric store based in New York. They had failed with search ads in the past before Product Listing Ads came into their own.
SEMrush's Product Listing Ads tool helped me research the market leader's product ads history. I used these data during initial talks with the client as well as for building their first PLA campaign.
The Product Listing Ads tool showed me what products their competitors had tried to advertise in the past and stopped. It also gave me a sense of what merchandise categories remain profitable in the face of seasonality and evolving color and trim trends.
7. SEMrush Creates Branded Reports To Email Clients
SEMrush's branded PDF reports have allowed me to close more deals.
I often forward keyword data to prospects who are deciding whether to spend money on pay per click ads.
Sometimes clients even ask to review reports of their competitors' ads and keywords.
Historical CPC data from competitors' domains help me project ROAS for clients who don't have any search ads history. With this information, I'll review my client's average conversion rate from non-paid traffic sources and then cast it against the average click-through rate of the target ad position as well as each target keyword's estimated monthly search volume and average cost per click.
Conclusion
SEMrush provides access to data that has helped me secure new PPC clients and help existing ones. It's the default tool I use whenever I want to understand a prospect and assess whether to approach them. I'll look at their ad copies and what keywords their ads show for on Google and Bing. The estimated monthly ad spend data helps me qualify new prospects.
[Tweet "For a #PPC agency, SEMrush is integral to prospect analysis. #digitalmarketing"]
Even when I was down and out, I found a way to afford SEMrush because I knew it was a critical tool for growing my company.
If you are thinking about starting an Internet marketing company or already manage or work for one, sign up for SEMrush. I attribute my company's rapid growth to perseverance, great clients and informed analysis. The basis of my analysis typically starts with SEMrush. I know I would have missed opportunities to work with some of my best clients had I not bought SEMrush.
Has SEMrush had a positive impact on the growth of your company, blog or agency? If so, leave a comment and tell me about your SEMrush success story.
Cody Lister is the founder of MarketDoc, a marketing blog and performance-based pay per click management agency. He's been working on digital marketing campaigns for over seven years. He has extensive experience across different verticals: managing marketing for a SaaS company in Europe, a hotel and senior living facility in Canada and worked for a few financial services companies in the US. Cody helps companies grow via his conversion-focused PPC agency MarketDoc. Get his 130 page Paid Traffic That Converts mini-course.