You've heard it before from your parents and your employers and — as annoying as it may be — the mantra, "You only get one chance to make a first impression" isn't going anywhere.
The worst part is that the mantra is actually incredibly true. Whether you like it or not first impression really do matter. However, businesses seem to be forgetting that first impressions are not only for people — it applies to a website as well.
While creating a cool-looking design is an excellent start, this shouldn't be the stopping point if you really want to make the best impression on your readers in seconds or less. Unfortunately, this is usually where businesses do stop so they can move on to something else.
Before you move on to bigger and "better" things, spend some time creating that perfect first impression on all your pages.
How to Improve the First Impression of Your Website in the First 7 Seconds
According to a Marketecture article, you only have about 7 seconds before someone decides whether or not they want to click off your page or keep reading and exploring. As discussed above an intuitive design is going to be your first step, but below lists a few other ways to help improve that second-second window for your website:
1. Website speed first and foremost
How fast your website loads is the absolute first impression you make. It sounds obvious, but as companies continue to add more graphics and get more creative with their designs, site speed can oftentimes slow down without a Webmaster even knowing it. Keep in mind that the second-second window you have starts the moment that someone clicks, so if you have a site that takes three seconds to load you only have four seconds to make an impression, if you even last that long.
Fortunately, Google has made it very easy to check your site speed, and different plugins and tools have been introduced to help keep you moving fast. You can check your website speed, for example, by using the Mobile Usability Report or the Google PageSpeed Insights tool.
2. Expect that people are going to scroll
This is an idea that I took from an Impact Brand and Design article that is very different than the advice from the past. With the increase in mobile use and social media websites that employ infinite scrolling, searchers are used to the scroll. In other words, when they visit a website they very often immediately scroll down, whereas in the past it was all about what you did above the fold to get people interested. This is no longer the case, which means you need to use all of these tips on your entire webpage. Keep images, testimonials, case studies, special offers, and great content flowing even below the fold so that people will want to dig deeper into your site.
3. Introductory videos catch your attention
Some websites will have an introductory video play as soon as someone visits the site. Video is one of the fastest ways to understand information, and when you only have seven seconds to make a first impression faster is always better.
Check out this website to see an example of a great introductory video, which is also shown in the screenshot below. As far as the subject matter goes, if you're working with your homepage it makes sense to have a video about what your company does and what it can do for a consumer. Again, though, make sure that the first second seconds of that video are entertaining and engaging!
4. Don't forget to use that white space
The worst thing that you can do for your first impression is overload the visitor with too many graphics and too much content. The more careful you are with your design, the better chance you have that the right information will jump off the page and/or directing a visitor's eyes to where you want them to go. Any designer will tell you that white space is crucial to making this happen. It's easy to use and a quick change to make!
5. Use a heat map tool for research first
Going along with the last point, a heat map tool will help you research different designs to see where your visitors eyes are going. This will help you understand what content is working and whether or not position is making a difference. Using a tool like this will give you results quickly and are constantly updated so you can keep tabs on your testing. Below is a screenshot from Heatmap.me, one of the most popular heat mapping tools available: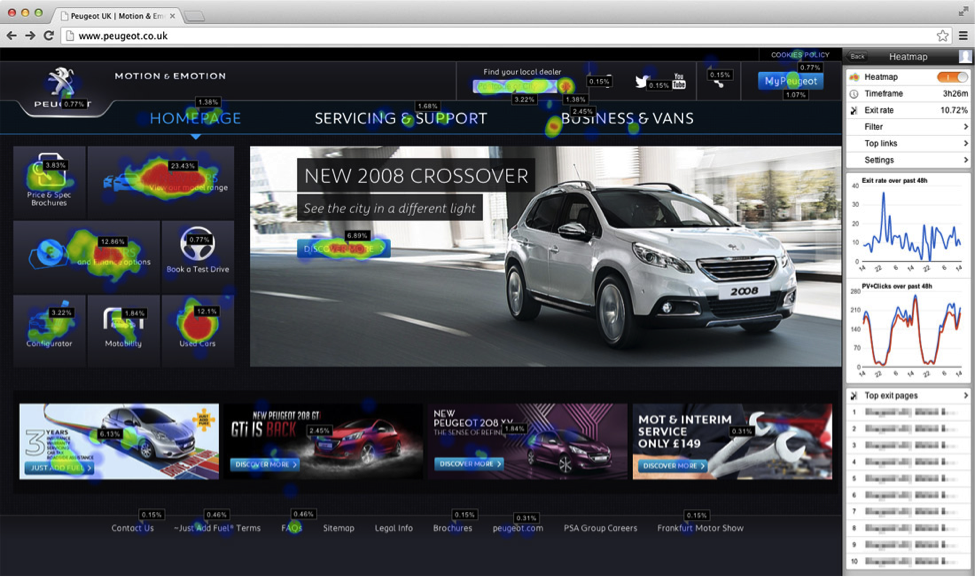 6. Highlight engaging content
In other words, make sure that the content on your landing pages has some sort of hook to keep people on the page. Promotions and special deals can work well for some companies, but try not to sound too sales-y.
The best type of content is content that urges visitors to click deeper into your website, and oftentimes it's the buzzy content that intrigues people that gets you to that point, not a sales pitch. It sounds simple enough, but lots of companies struggle with what content to feature if they only have second seconds.
7. Optimize for mobile specifically
Remember that first impressions online work the same way as they do when surfing the web on a mobile device.
Just last month, Google rolled out Mobilegeddon, which was an algorithm change designed to penalize those who did not have a solid mobile website. In terms of making a good first impression on mobile, you should follow all of the tips above only make sure you have a responsive web design. Clicking the links mentioned will help you make sure your mobile website is up to speed and ready to go.
If you have any tips for making a good first impression with your website, or if you've tested different approaches in the past, let us know your experience in the comment section below.