As the marketing and digital landscape continually keep evolving, it is necessary for every business to keep up with the changes. If you don't, you are sure to be left behind in the rat race. It doesn't matter whether you are a B2C business or a B2B one, you need to step up your game.
Unfortunately, though, B2B marketing is not as simple as B2C marketing. Not only are their sales cycles longer and more complicated but winning over the trust of decision makers is quite difficult. And in most cases, there are multiple players involved in the entire process.
That being said, you can certainly win over your target audiences with one basic trick - be personal and be human. And there are a variety of strategies that can help you do just that. Here are seven ways of upgrading your B2B marketing strategy that helps you win over your potential customers with ease.
1. Live Videos
A study by Livestream found that 80% of people prefer watching live videos more than reading blog posts from brands. The same study also found that 82% of people prefer live videos more than social media posts. Indeed, if you look around you, you will see how integral videos are to marketing. And how they have become a part of our everyday lives.
Videos are great at communicating emotions, and that is why audiences find them more relatable. Not just that, when you convey information through visuals, they can be better received and retained too.
So videos definitely need to be a part of your B2B marketing strategy. If you are already using videos, a great way of upgrading your strategy is to use live videos. According to Facebook, live videos are watched 3X more and receive 10X more comments than regular videos.
SAP, a market leader in enterprise software, collaborates with industry experts and top executives for their marketing. They organize various events throughout the year to which such people are invited to speak and share useful insights.
For one of their events, SAPPHIRE, they host about 20,000 people on site. However, with the help of live streaming using Facebook Live, they were able to reach around 100,000 more people. The influencers they invited to the event went live and answered people's questions - people who had been unable to attend the event in person.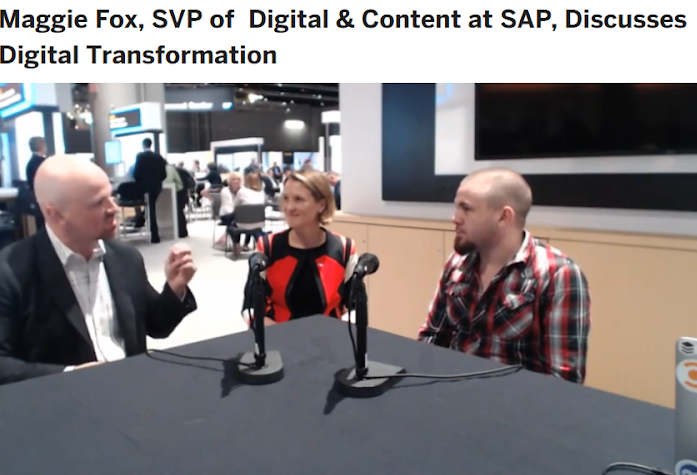 Image via SAP
This was a truly brilliant marketing strategy. The content from these videos was later repurposed on SAP's blog and social channels too.
2. Brand Storytelling
The objective of marketing is to get your voice heard by your target audiences. For B2B brands, although your goal is to sell to businesses, you are essentially selling to people. Because people run those businesses, not robots. And so, you need to find a way to connect with them in a personal way.
Storytelling is a tactic that is being successfully employed by many brands to build stronger, personal connections with their audiences. The idea is to tell your story so that your audiences can relate to you as a human being. To showcase that there are real people behind your brand. People who work to make the lives of others - your customers, better.
This is even more important if you are trying to cater to a millennial audience. Let's face it; millennials are a difficult bunch to win over. But certainly one of the most coveted customer bases.
A survey by Accenture found that millennials need to form an emotional connection before they can really like a brand. And storytelling is what can help you create that connection.
Logistics conglomerate, Maersk, leverages storytelling beautifully in order to humanize their brand. In a video that they titled, " The Heart Of Trade," they brilliantly depicted the lives of people they are able to touch - every single day. Simple, yet powerful.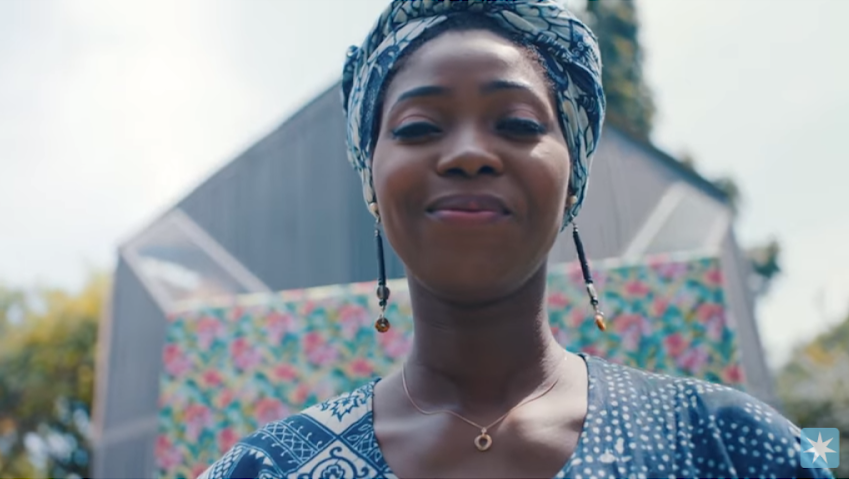 Image via YouTube
3. Employee Advocacy
Who knows you and your products the best? Your employees of course. So, if you can leverage your employees to help spread positive word-of-mouth about your brand, it can be truly beneficial. Create an employee advocacy program within your organization and get your employees to create a buzz on social media.
You can have them reshare your content on their social networks. Do it in a way that makes it easy for them to share. You can even think of rewarding your best advocates which will encourage more employees to join the program.
Employee advocacy tools like Smarp can make this process easier. Your employees can easily discover valuable content related to your company or industry that they can share directly with their followers. You can even set up a point system in which employees collect reward points and use them for donations or exchange them for rewards.
A company that has been successfully leveraging employee advocacy for the B2B marketing is IBM. They provide their employees with the content to be posted and encourage them to promote the brand far and wide. In this video, you can see Amber Armstrong, IBM's Director of Digital, Social, and Influencers speaking about the program.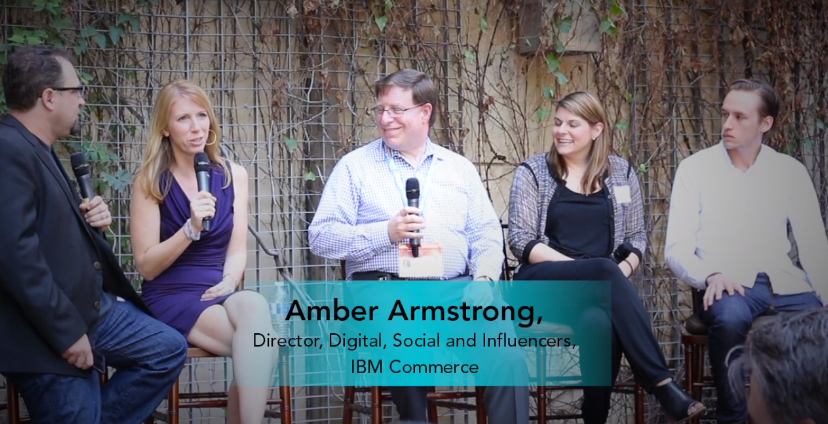 Image via Dynamic Signal
4. Influencer Marketing
Believe it or not, influencers can be a great addition to your B2B marketing mix. Why? Because they are the best people that can instill trust in the minds of your target customers. And trust in your brand.
Your customers need the assurance that your product truly works. They need to know that their money won't be put to waste when they invest in your products. So, when an influencer who is well-known in their niche talks about you or  recommends you, you are deemed credible and trustworthy by their followers.
Here is an example of how LinkedIn has been leveraging influencer marketing to promote their marketing solutions to businesses. " The Sophisticated Marketer's Guide to LinkedIn" is a resource created by them in collaboration with ten industry experts. These experts belong to the fields of digital and social media marketing.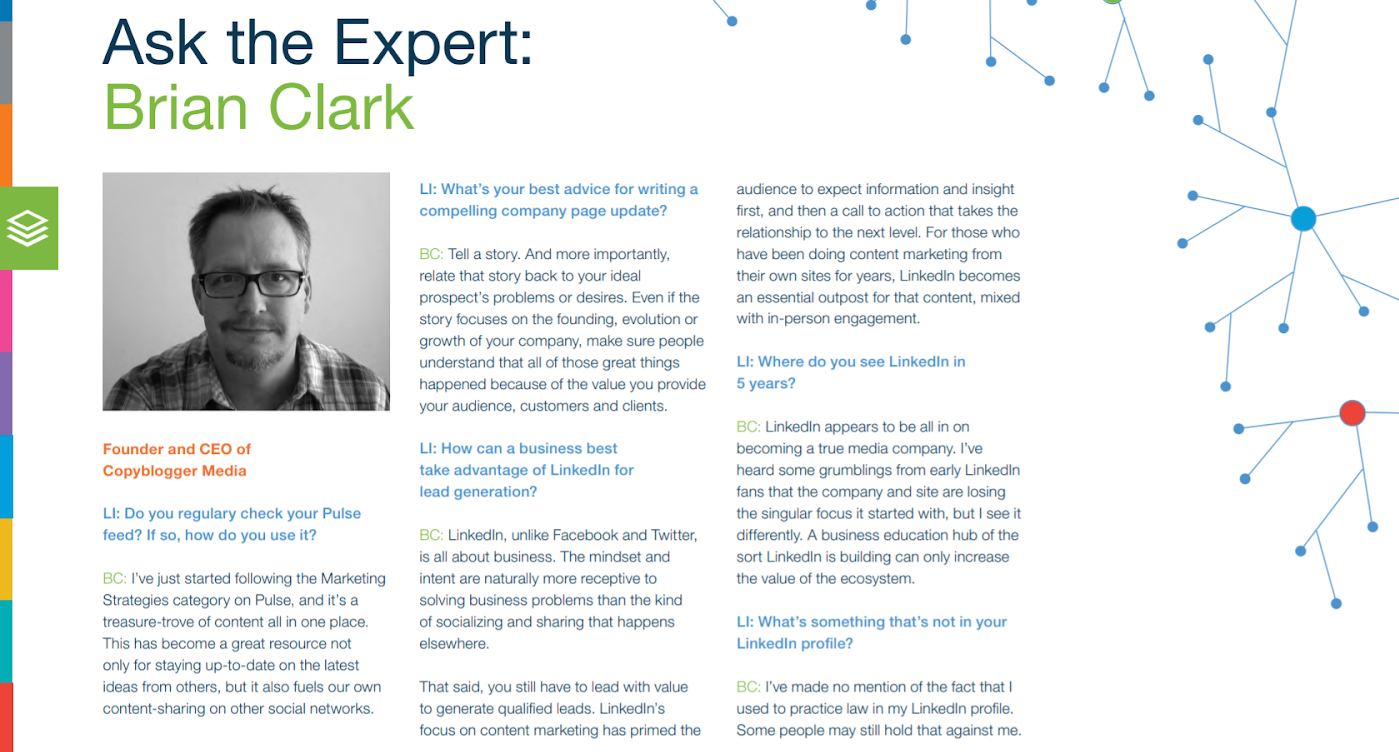 Image via LinkedIn
In each chapter of this guide, an expert has shared their own experience using LinkedIn's solutions. They have also answered some relevant questions for readers. Not only are these insights valuable, but they also add credibility to LinkedIn's solutions.
5. Mobile-Friendly Content
In 2017, 50.3% of global web traffic was generated from mobile devices. This goes to show that if you are not focusing on creating mobile-friendly content, you are leaving serious money on the table. Most of your target audiences - decision makers of businesses - are always on the go. So mobile is the medium through which they consume content.
For a successful B2B marketing strategy, you need to ensure that all of your content and your websites are mobile-friendly. Specifically, the content needs to be easily readable, and buttons and links need to be prominent.
You can use tools like Google's Mobile-Friendly Test to check whether your page is mobile-friendly or not. If not, work with your developers to make sure that you're able to deliver a great experience to your mobile visitors.

Image via Google
6. Customer Testimonials or Case Studies
According to a study of B2B brands, word-of-mouth is known to influence purchase decisions of 91% of buyers. The same study found that 62% of B2B marketers use customer testimonials as their main marketing strategy.
So when it comes to upgrading your B2B marketing game plan, make sure to include case studies or customer testimonials. Customer reviews are extremely credible, as your current customers have experienced your products first-hand.
Okta leverages this marketing tactic very successfully. They have created a series of videos on their YouTube channel in which their customers talk about their experiences with Okta.
In this video, for example, the CIO and EVP of 20th Century Fox, discusses their success story with Okta. He goes on to say how the platform has drastically reduced their workload and solved their business problems.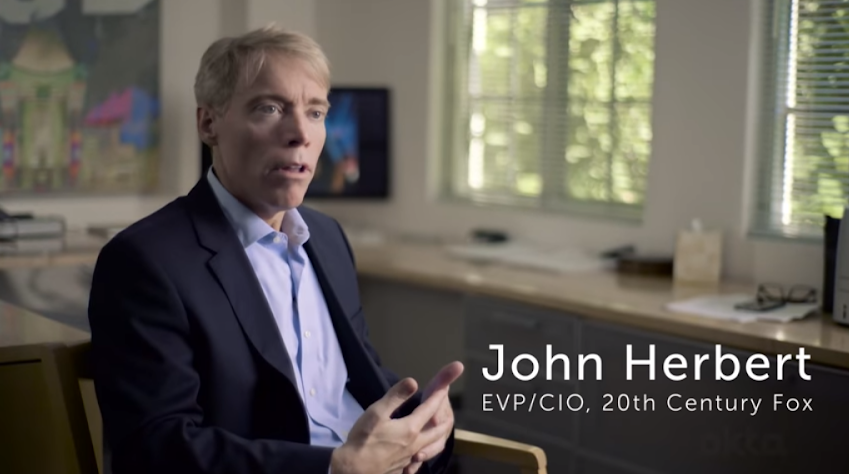 Image via YouTube
Leveraging case studies or customer testimonials is not only effective but also cost-efficient. You can even use such content and share it across all other social channels for the maximum returns.
7. Analytics and Automation
Analytics and marketing automation are other great ways in which you can upgrade your B2B marketing strategy. For example, what if you could find a way of tapping into the pool of your website visitors who leave without contacting you? And I don't mean simply getting an idea of their demographics or location. I mean names and contact details too.
As you can imagine, such information would be like a gold mine for your sales teams. Since these are people who have visited your site, there is a chance that they may be actually interested in your offerings. That means warmer leads instead of cold ones. Platforms like Visitor Queue can help you with just that. 
Some more ways in which you can use analytics and automation to your advantage are:
Final Thoughts
If you think about it, none of the strategies discussed above are too technical or too difficult to implement. However, all of them are pretty powerful weapons that can help you achieve your marketing goals. So follow them to create a winning marketing strategy.
Can you think of any other ways of upgrading your B2B marketing strategy? Let us know in the comments below.