It's not uncommon for marketers or business owners to spend hours perfecting a single blog post, ebook, or video. They spend time researching, analyzing data, creating, editing, and promoting. While that single piece of content can drive results on its own, it's often beneficial to most businesses to repurpose content, extending its lifespan and maximizing its value.
Repurposing content is the process of taking the base of your content and recreating it in different formats. You can turn a blog post into a video, for example, or a webinar into an ebook. Our Guide to Repurposing Content will help you choose the right repurposing tactic for your business. 
Many brands may neglect repurposing, however, because it can take some time. Fortunately, there are plenty of incredible tools available that can make the process of repurposing content faster and easier than ever before. 
In this post, we're going to look at eight different tools that can help you repurpose your existing content in a number of different ways.
1. Piktochart 
Piktochart is a graphic design tool, but unlike competitors like Canva, it's focused most heavily on infographics. 
This tool comes with advanced infographic features and ready-made-but-customizable templates, making it easier for you to create visual content that your audience will respond to quickly. It uses simple drag-and-drop technology, so it's incredibly easy to use.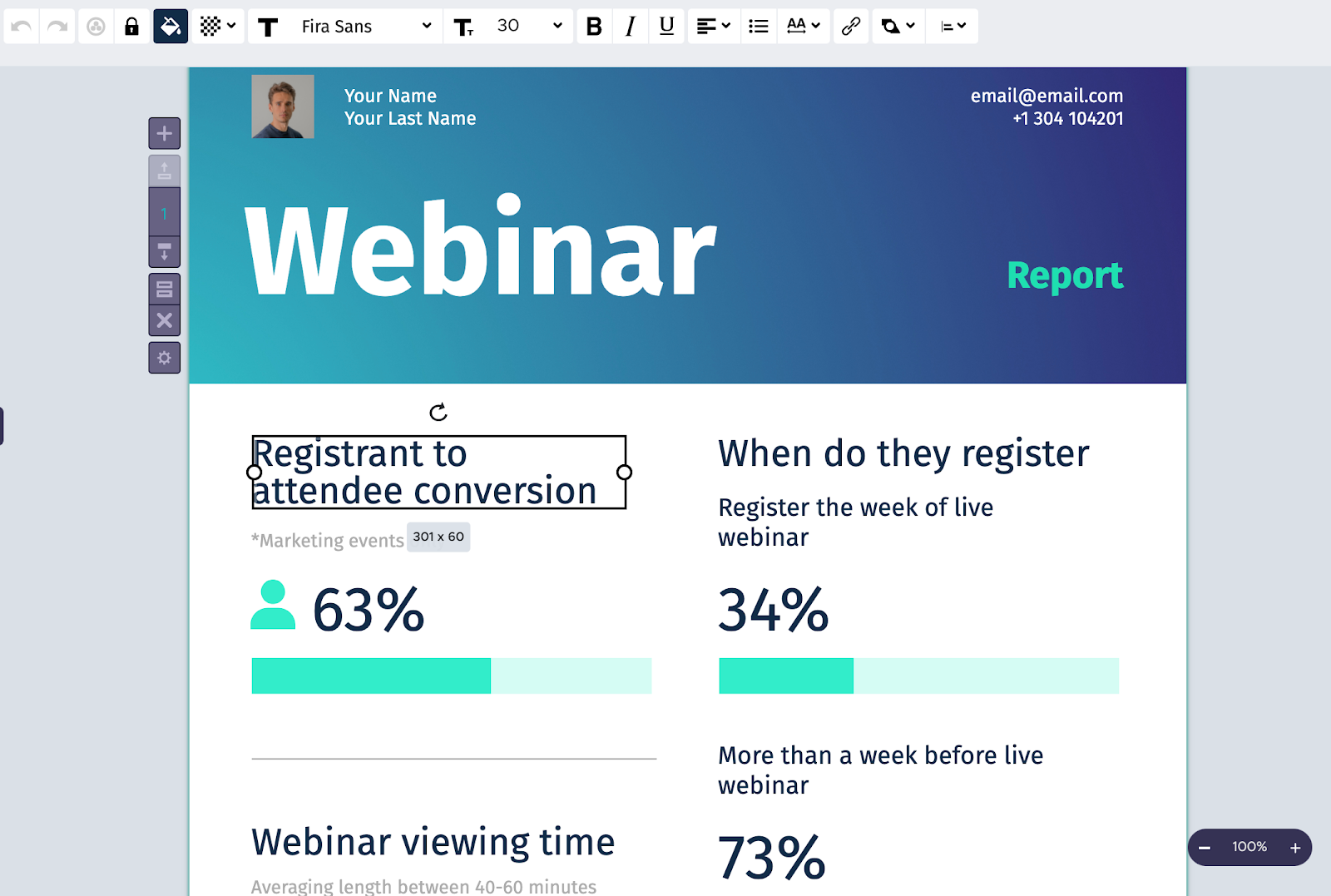 You can use infographics on your blog to support a blog post, on social media for quick shares, or even utilize them on their own as lead magnets that users can download.
Here are a few examples of how you can use Piktochart to repurpose your content:
Convert Twitter polls into infographics

Show a timeline of milestones, either from your brand's Facebook or even your industry's

Turn your listicle blog post into an infographic that pops with graphic icons
Free plans are available. Pricing for Pro accounts is at US$290 per year (US$24/month).
2. SEMrush Content Marketplace 
If you already have some great content ideas from social media or a strong base from something like a video but want to create in-depth blog posts, check out the SEMrush Content Marketplace.
It typically takes a lot of time to repurpose brief content into longer, actionable blog posts, but outsourcing to high-quality writers can help you be more efficient with your own time.
The SEMrush Content Marketplace will pair you up with a writer who can create solid, SEO-optimized content. 
Here's how it works: You submit a brief, and the writer will respond with a title and meta description. Once that's approved, they'll write the full draft. Any edits needed are made promptly through three rounds of revisions that are included in the price, and you'll have your content within two weeks.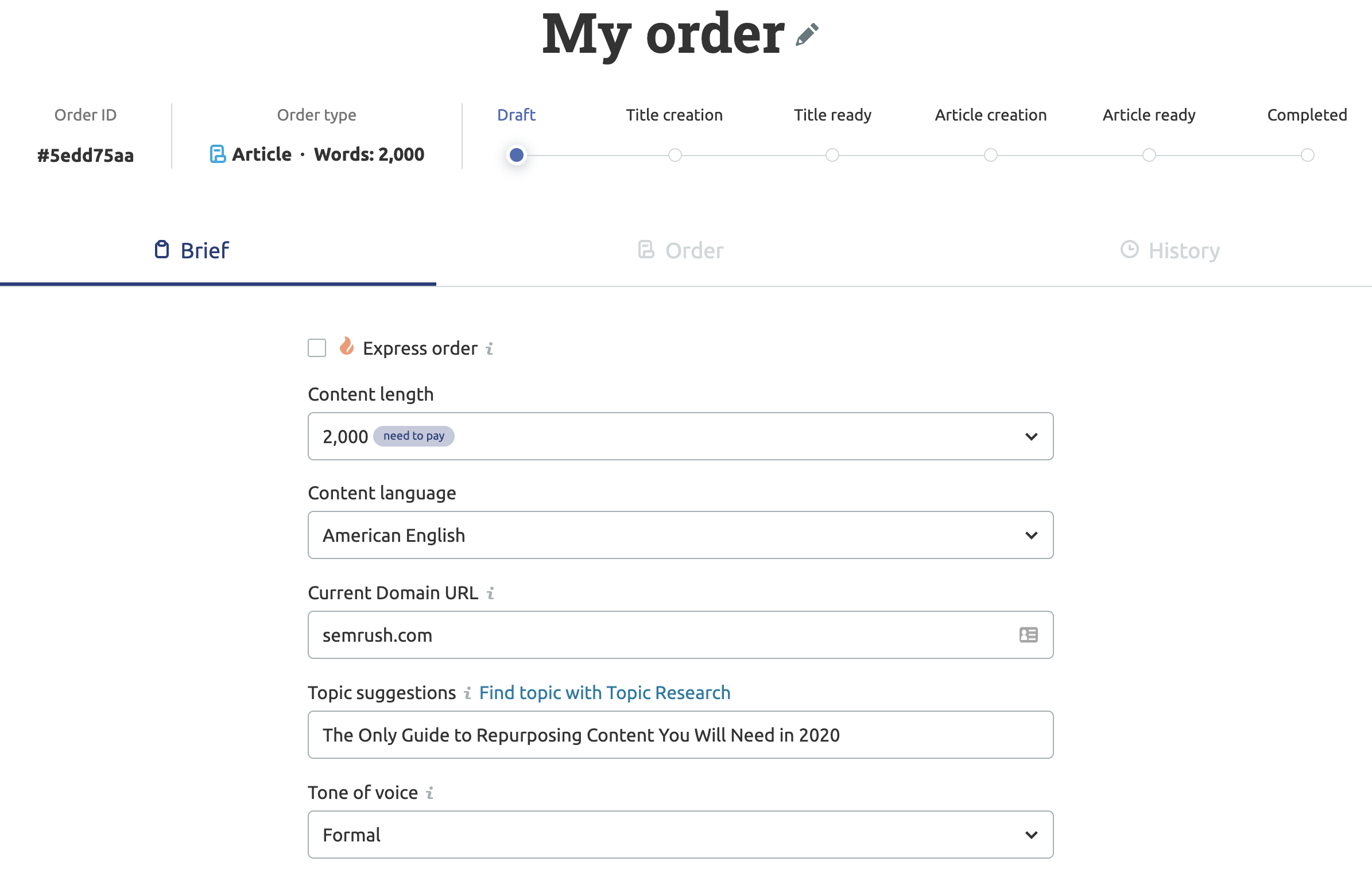 The Content Marketplace currently offers article writing and email newsletter writing, which opens up a number of opportunities, including the following:
Creating articles from short YouTube videos

Converting a webinar into an in-depth, educational article

Turning a recent blog post into a summarized version for the email newsletter.
Pricing starts at $40 for 500 words for an article. 
3. Designrr
Designrr is one of the top content repurposing tools out there, and it was designed to be a repurposing tool. 
It allows you to repurpose content by pulling written content from a number of sources, including PDFs, audio or video files (they can do the transcripts automatically in minutes), and social content. 
Once you've got the content up within the tool, you customize the content and choose the format you'd like it to appear in. Add a cover page for an ebook, add in page numbers, and upload images. You can also take advantage of their enormous library of copyright-free images.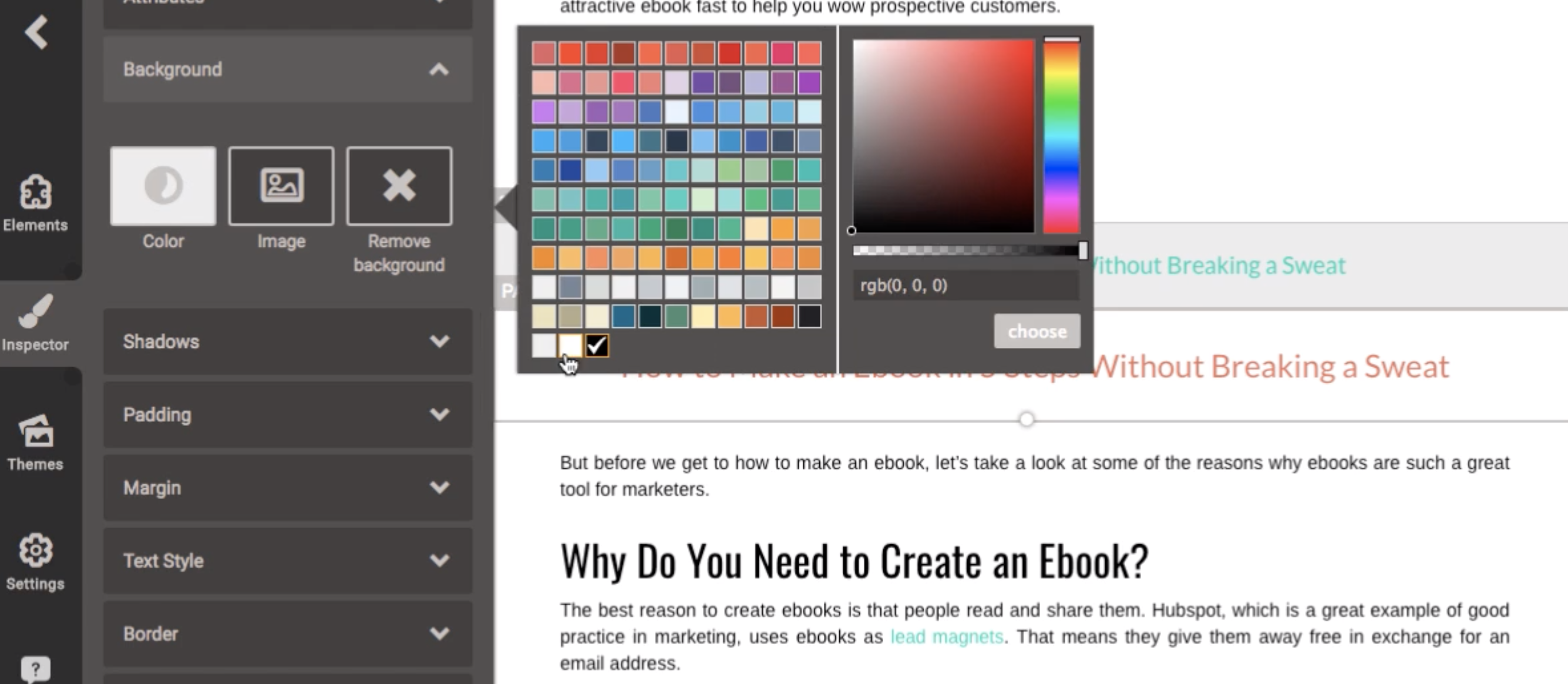 This tool can help you turn most types of content you already have into something new. Here are a few great ideas of what you could do with this:
Turn a webinar into a lead magnet like an ebook

Convert a podcast into a blog post 

Turn a coaching call into an educational course or a presentation for future students or clients 
Pricing starts at $29.99 per month. 
4. Audacity 
Audacity is free, downloadable software that makes it easy for you to transcribe your written content quickly. It's an audio recorder and editor, so you can read your content or even a presentation out loud. The software will record it for you, and you can edit it right away.
Since podcasts and educational courses are taking off right now, this is a great way to repurpose ebooks, blog posts, whitepapers, webinars, and more.
Here are a few examples of what you could do:
Take a blog post and turn it into a podcast episode 

Convert a webinar into an educational course audio file

Turn an ebook into a pre-recorded webinar
Audacity is free, and available here. 
5. MeetEdgar 
MeetEdgar is a social media scheduling tool that can be easily used to repurpose existing content by breaking it down into smaller, digestible social media posts.
One of its best features is that you don't have to schedule specific individual posts on exact dates or times. Instead, you can add them to "categories," and place those in recurring weekly time slots. You can then fill up these categories with relevant posts to promote existing content that users might have missed.
One of the best use cases here is to share an existing blog post, video, or lead magnet, but to create multiple variations of the accompanying post.
For example, you're writing a blog post about 10 tips for money management. You could feature a different tip in 10 different social media posts while linking to the blog post in each one. This keeps users engaged while your social calendar stays full. 
Pricing starts at $19 per month. 
6. Animoto 
Animoto is an easy-to-use video creation tool. They have an enormous library of ready-to-use video templates, which can be customized with your backgrounds and text. You can choose from there or upload your own, and you can add background music from the thousands of licensed music tracks they have available.
There are great features here, like the ability to add your logo as a watermark and in-app cropping and trimming.
You can use this tool to convert blog posts or ebooks into short, digestible videos. Some of your audience members may not be interested in reading a 1,000-word blog post if they stumble across it when they're busy. But they will be happy to watch a minute-long-or-less video on their feed. 
Pricing starts at $33 per month if you want to remove the Animoto watermark on your videos. 
7. Visme 
Visme is a versatile tool that can be used to create visual content like slide decks, infographics, and visual graphics to attach to blog posts and social media. 
Each form of content comes with plenty of options for customizable templates to get you started, making it easy even for those of us without design experience. 
These are a few great use cases for Visme when it comes to repurposing content:
Turn a blog post into a SlideShare presentation, which can be used as a webinar 

Convert a white paper into a valuable infographic

Turn key website content (like info about your services offered, your business tagline, or your USP) into a printable flyer, which you can hand out at networking events
There are free plans for personal use, and plans start at $25 per month for businesses. 
8. Blurb 
Have you got a blog going or have invested time in creating great webinars or YouTube videos? Then you almost certainly have enough content on hand to create an ebook, which can go a long way in building your email list quickly.
Blurb is an exceptionally easy-to-use ebook creator, thanks to their free desktop software BookWright, though you can use other tools like Adobe if you're more comfortable doing so. There are flexible layouts, and you can create downloadable PDFs on your final project. 
These are a few good options to convert written content into an ebook quickly:
Turn a whitepaper into an ebook with actionable tips and examples

Create a short book filled with case studies, which you can use to attract industry attention

Turn a series of articles into an ebook, or break down an extensive guide into shorter ebooks for a whole series 
Pricing starts at only $4.99 per ebook. 
Final Thoughts 
There are plenty of ways to repurpose content, which can sometimes feel even more overwhelming than creating the original content itself. These eight tools aim to make repurposing more efficient, streamlining the process, and opening new doors for types of content that you may not have considered otherwise. 
To help you choose the right tactic for content repurposing, we created a simple infographic outlining 15 smart ways to recycle your content. It's free and available for download! [ebooks-promo slug="content-repurposing-15-ways"]
Ready to scale your content creation quickly, repurposing great content into quality blog posts?