The advancement of SEO has been influenced by a number of different things, from social media to content marketing. In fact, it's as if all marketing practices mixed together yield great SEO.
Moz founder Rand Fishkin shared a similar sentiment:
When you have a collection of best practices, you can learn a lot from the older practices that led to this point. The same is true with SEO.
SEO isn't just a modern practice. You can learn a lot about it from the histories of advertising, copywriting, word-of-mouth, print marketing — even old school press relations. Here are a few lessons today's SEOs can learn from the PR execs of old.
1. It's Not All About the Writing (Though That's Important)
Writing in public relations depends on clear, concise communication. It's not an artform or elaborate story that fulfills the dreams of the writer.
What's critical is your ability to craft something that accomplishes goals. And for that, you need to understand your audience's values, beliefs, aspirations and interests.
Everything else comes secondary.
SEO is similar in this respect. Without goals, you simply don't have a strong foundation for a successful search marketing campaign.
2. You're Different from Marketing, and That's Okay
Some might think there's a huge overlap between marketing and PR. And that's quite true; you'll find many similarities between the two.
But they're not the same thing.
In the book For Immediate Release: The Public Relations Bible, author Cicely Vance offers a handy chart that shows the differences between marketing and PR.
Similarly, you'll find several similarities between things like content marketing and SEO. You'll find plenty of overlaps. But at the end of the day, they're different.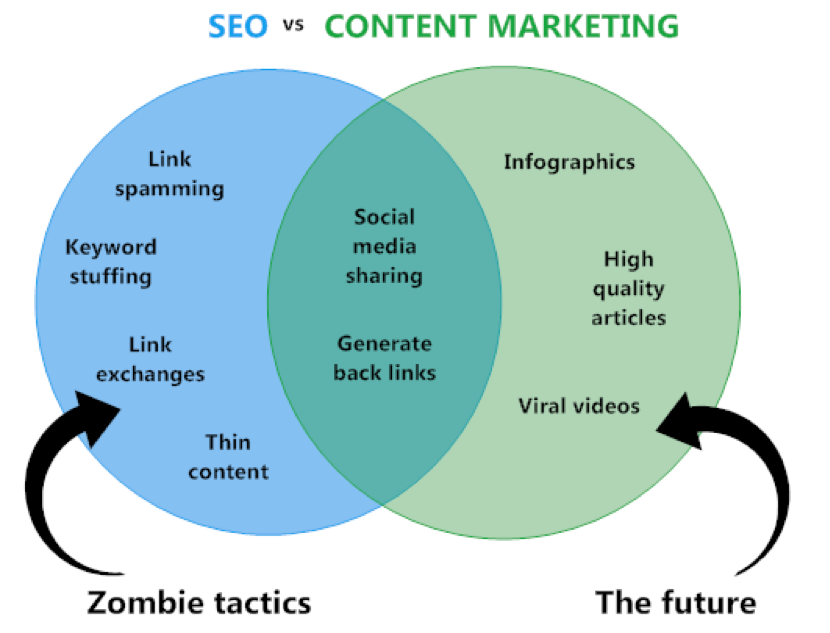 (source)
In much the same way that PR must embrace its differences, your SEO team must as well.
3. Find Well-Rounded, Talented Individuals for Your Team
It's easy to just look around for a journalist when you do public relations. After all, a lot of what you want to do revolves around words.
But all types of people can excel in this industry.
PR isn't just about transmitting messages — it's about solving brand problems and building relationships. Today, chief executives need more than a good wordsmith. They need someone to articulate and develop themes, orchestrate appearances, build media connections, research issues, express themselves and keep up with new technologies.
Similarly, SEO professionals require well-rounded talent.
Good SEO isn't just succeeding in one area (like, say, link building). The only way to truly succeed is to cultivate a variety of talents and skills that naturally evolve with the industry.
You can't get by without being a well-rounded professional. Look for these types of talented people when building an SEO team, or keep make it a priority to keep your skills up-to-date if you're going it alone.
4. You've Got to Have a Plan if You Want to Succeed
Promoting a new development in your business requires the cooperation of several departments, not just PR. And that requires a comprehensive plan and strategy.
In PR, strategic planning refers to the process of defining your overall framework, goals and focus for your on-going operation. And tactical planning brings your strategic overview into a specific time period (e.g. five years, annual or monthly).
In a similar fashion, SEO requires this same type of planning if you want to succeed over the long term.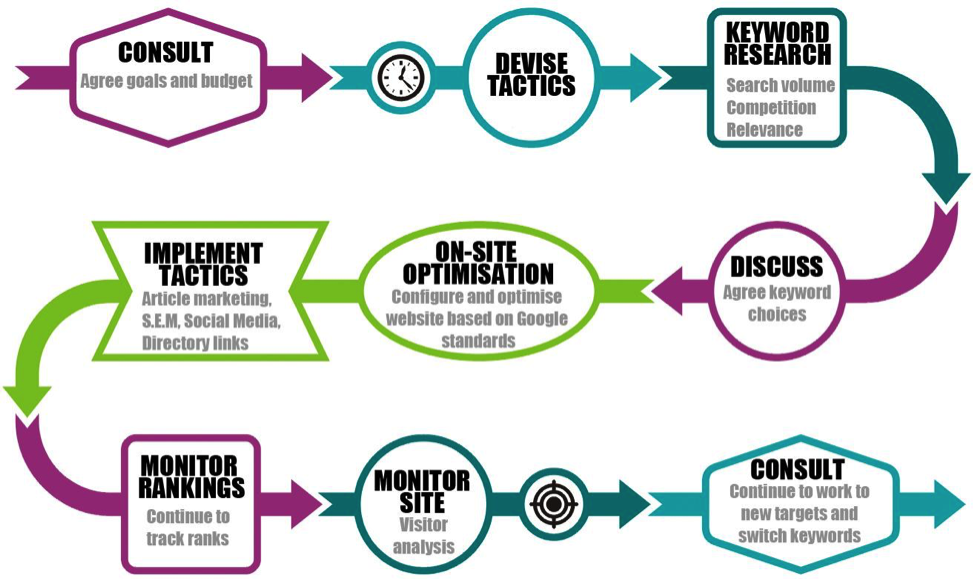 (source)
5. Always Ask About the KFD
When you're creating a PR campaign, "KFD" works as a helpful planning mnemonic. It's basically a way of asking, "As a result of this public relations effort, what should the target know, feel and do?"
This framework helps you go into an effort with a clear idea of your goals and keeps you on track as you go deeper into the communication.
SEO has its own mnemonics that can assist you in the planning process. Much like the KFD, these types of techniques can help you create a clear, effective strategy. One of my favorites is RACE: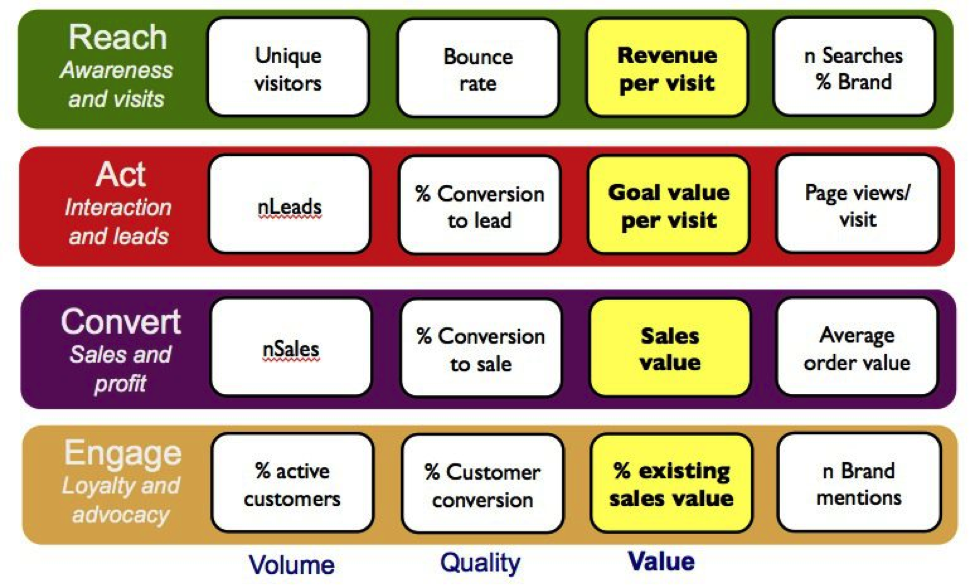 (source)
I love these techniques because they make planning, executing and measuring both PR and SEO campaigns much easier.
6. It's an Ever-Evolving Industry

I love this quote by Bernays. Not just because it speaks profoundly to the complex infrastructure of the public relations industry, but also because SEO is taking on this same type of development process.
We're seeing it with PR pros that are utilizing Twitter as a communication tool. The industry hasn't disappeared — it's just progressing.
The same holds true for SEO. The industry isn't dead. It's an ever-evolving infrastructure that will continue to progress in the years to come.
7. Good Media Relations Can Get You Everywhere
It's no secret that public relations thrives on strong connections with the media.
Media members can help you gain more attention, land prime promotions and spread your message. That's why PR professionals spend hours cultivating and growing these relationships.
And that investment often pays off.
As Google places more ranking importance on things like implied links, strong media relations are becoming increasingly important for website owners, SEOs and marketing professionals.
A great PR person knows how to build these relationships. And soon, we'll look to well-rounded SEO pros to do the same.
8. It's Not the End — It's the Means to an End
Great public relations professionals know that their job doesn't start or end with them. You'll build a reputation in your community, whether you want it or not.
And if you stop managing those relationships and that reputation, they'll still be there.
It's important to understand that SEO works in the same way. If you perform the other aspects of marketing well, SEO will happen with or without your management (to some degree, at least). And if you stop on-going optimization, rankings may still happen anyway.
But much like a successful PR department, the on-going management of SEO creates more success. Don't ignore it — manage it.
9. By-Lined Articles Give Great Coverage
In PR, professionals submit by-lined articles in an effort to raise awareness and build their brands. Doing so helps you connect with the readers of that publication and increases your exposure.
Over the years, PR pros have found a lot of value in this technique.
In the SEO world, we call this guest posts. And, much like by-lined articles, they give your brand the coverage and exposure needed to please both customers and search engine spiders.
It's also a great way to build backlinks, increase your domain authority and get higher rankings for specific brand and industry keywords. Basically, it's a win-win for both PR and SEO professionals.
What other important SEO lessons have you found from old school PR? I'd love to hear your thoughts in the comments below!