When it comes to product launch ideas, brands like Apple always manage to get it right. In fact, they managed to sell over 300,000 iPads on their launch date. Every business wants to make the most of their marketing investment, but not everyone is like Apple. The challenge is especially large when launching a new product. In this article, I'll share nine superb product launch ideas you can learn from the pros. 
Focus on people rather than products
Don't simply go on and on about the features of your new product. Place emphasis on how the product can affect and benefit your audience. For instance, if you're launching a product that will make it easier to do a certain task, talk about the challenges of accomplishing that task and how your product can help alleviate them. If there's a feature that makes it superior to similar products, stress how that features can be used in consumers' daily lives.
Launch a teaser campaign on social media
The whole point of these product launch ideas is to attract as much attention as possible. Yet you want to achieve this while spending as little as necessary. Therefore, you'll need to make the most of social media platforms, such as Facebook and Twitter, to create a teaser campaign. EMarketer reports that social network users are expected to reach 2.55 billion worldwide by 2017. A social media teaser is a great way to inform a large audience that something exciting will be happening soon.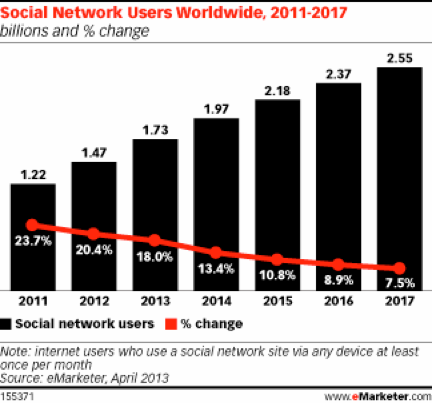 Your teaser campaign should be launched at least 20 to 30 days before the product launch date. This will ensure you have enough time to create buzz on social media. Brainstorm an intriguing code name that will keep your audience guessing.
Constantly post updates and images that will evoke curiosity. You can be practical and schedule your social media posts in advance, ensuring your content goes out at a time that will maximises audience and engagement. Take a look at how NVIDIA posted a teaser image on their Facebook page. They used the mysterious one-liner, "It's coming," to build anticipation for the launch of their GeForce product.

Create videos
It's true that producing videos takes more effort than text posts. But they can have a bigger impact on how your audience receives your new product. One of the best product launch ideas is using short videos to highlight some features of the product. Show specifically how the product can be used in daily life. You might even want to develop a whole web series with extremely short, catchy videos.
For example, Apple created a series of short videos to promote the Apple Watch in addition to providing a guided tour video of the product.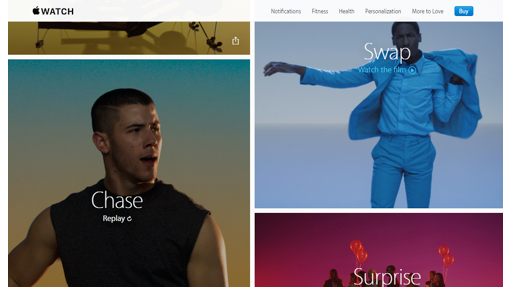 Make use of influencer marketing
According to McAfee's CMO, Penny Baldwin , 6% of Internet users manage to drive 80% of the Internet's impressions. This is perhaps why influencer marketing was considered the most cost-effective and fastest-growing marketing channel in a Tomoson study.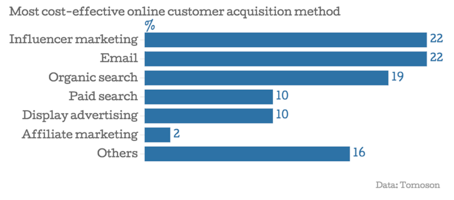 Influencers already have credibility and a significant online following, so they're the perfect people to market your upcoming product. Perhaps you can get influencers to talk about the new product on their blogs or websites. They could even reach out to their social media followers and talk about how excited they are for your product launch.
One of the best product launch ideas using influencer marketing effectively involves sending out the product early to influencers. Let them test the product and write a review on their blog or create buzz through Instagram and Pinterest posts. This will create a desire in their followers to get the product as soon as it launches.
Build suspense
Some businesses want people to know everything about their upcoming product. But building suspense and drawing out the mystery are product launch ideas that can create longer buzz. When you deliberately release minimal details about the product, you can drive your audience into a frenzy with the secrecy.
For instance, Taco Bell announced in January that they would reveal a new menu item during the 2016 Super Bowl ad. This built suspense with fans who couldn't stop wondering what the top-secret item would be.
Take pre-orders
It's common for businesses to overlook the effectiveness of taking pre-orders for their new products when thinking of product launch ideas. Some companies already have a loyal customer base who will buy practically anything they release. Therefore, they'll line up for your latest products as soon as you announce them.
As one of the most revolutionary brands, Apple usually gives the option to pre-order upcoming products. It's only natural that they'll sell thousands of units on the launch date itself. If you've already decided on a final pricing, it's smart to give your customers the option to pre-order your latest product.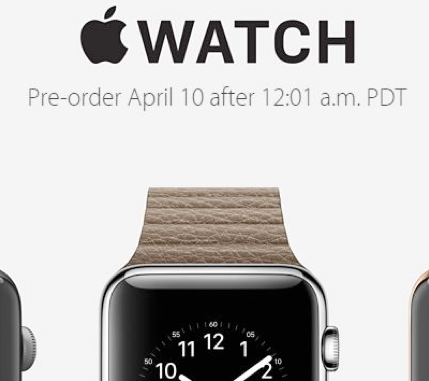 Plan an event around your launch
When Sony launches the latest Playstation, they don't just ship the units out to stores. There's usually an event or party held to celebrate the launch of this new product with a select group of people. Making your product launch a big deal is an excellent way to get the media and your audience to take it more seriously. This is another of the product launch ideas that can greatly influence how your product will sell.
Host contests and reward brand advocates
The best product launch ideas strive to capitalize on your social media following. You can do this by hosting a contest or giving rewards for loyalty. Either option will help drive engagement, which is especially useful for new product launches. Maybe you could make your contest's prizes be product samples, so people get to try before they buy.
Get people talking about your product
When you've reached major milestones, you should send updates to existing customers and inspire them to share the news. Perhaps you're launching an exclusive new feature or received a boost in your number of sign-ups. Send an email with a shareable tweet so people can talk about the upcoming product on Twitter. Check out how Product Hunt's Ryan Hoover took advantage of these product launch ideas. He sent an email about the company being featured in PandoDaily.
Examples of Great Product Launches
The best way to learn how to create a successful product launch is by learning from examples. Let's take a look at some great launches to help you get some product launch ideas:
Starbucks VIA Instant Coffee – The success of Starbuck's instant coffee was mostly due to people being involved in the launch through taste tests. The company made use of its Facebook following and invited 4 million people to participate. They also launched a print ad campaign as you can see in the image below. Two years after the product launch, it became the 5th best-selling instant coffee in the U.S.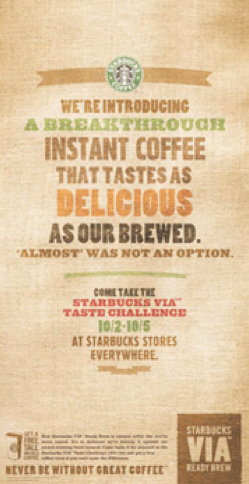 Conclusion
Although it's crucial that you learn from the experts, you shouldn't copy their every move. The bottom line is that you need to create a unique, effective strategy that suits your brand and your newest product. Establish a thorough plan using the above product launch ideas. Regardless of what you're launching, determine the information you'll release, the people you'll work with, and how you'll create a buzz.
Need more suggestions for great product launch ideas? Don't be shy! Leave a comment below or contact me.