Blogging is an art. And the art of blogging has blossomed in this digital age. With the rise in the demand for digital content, there has been a spurt in niche blogs. And in the crowd of blogs, it is hard for a blog to gain visibility and attract traffic. In this competitive digital space, new blogs adopt a number of techniques to get visibility and getting backlinks from high PR (page rank) blogs through commenting are one such technique.
But it is hard to get comments approved on high PR blogs and websites. These high PR blogs have strict approval mechanisms for blog comments, and it is not easy to get visibility with substandard comments. Do visit Elegant Themes and Content Marketing Institute's blog comment policies.
I would like to provide bloggers with some tips to get your comments approved on high PR blogs and websites. This will ensure that your fresh blog gets proper reach from relevant target audiences.
Anatomy of an ideal blog comment
Before offering blog comments approval tips, let me first analyze the anatomy of a perfect comment on a high PR blog. A perfect comment should ideally start from a salutation or greeting that attracts a reader through the greeting. This greeting can be anything from a friendly greeting to a formal greeting.
Think of it as the first conversation with the blogging community. You do not directly start blurting out information in real life when you meet a person. So it is ideal to greet first.
 After the greeting, you should make sure to compliment the blogger for their valuable insights related to the blog topic. Complimenting the person is a good gesture and helps the blogger value your comment than any other comment. Appreciating a blogger makes him feel good and gives you a greater chance of approvals.
Keep in mind that mere salutations and compliments will only take you so far. It is essential that your comments provide additional information about the topic — perhaps through personal experiences and anecdotes. In the end, do not end the comment abruptly. Make sure to promise the blogger to share his blog on social media and promote the blog post if you like the idea.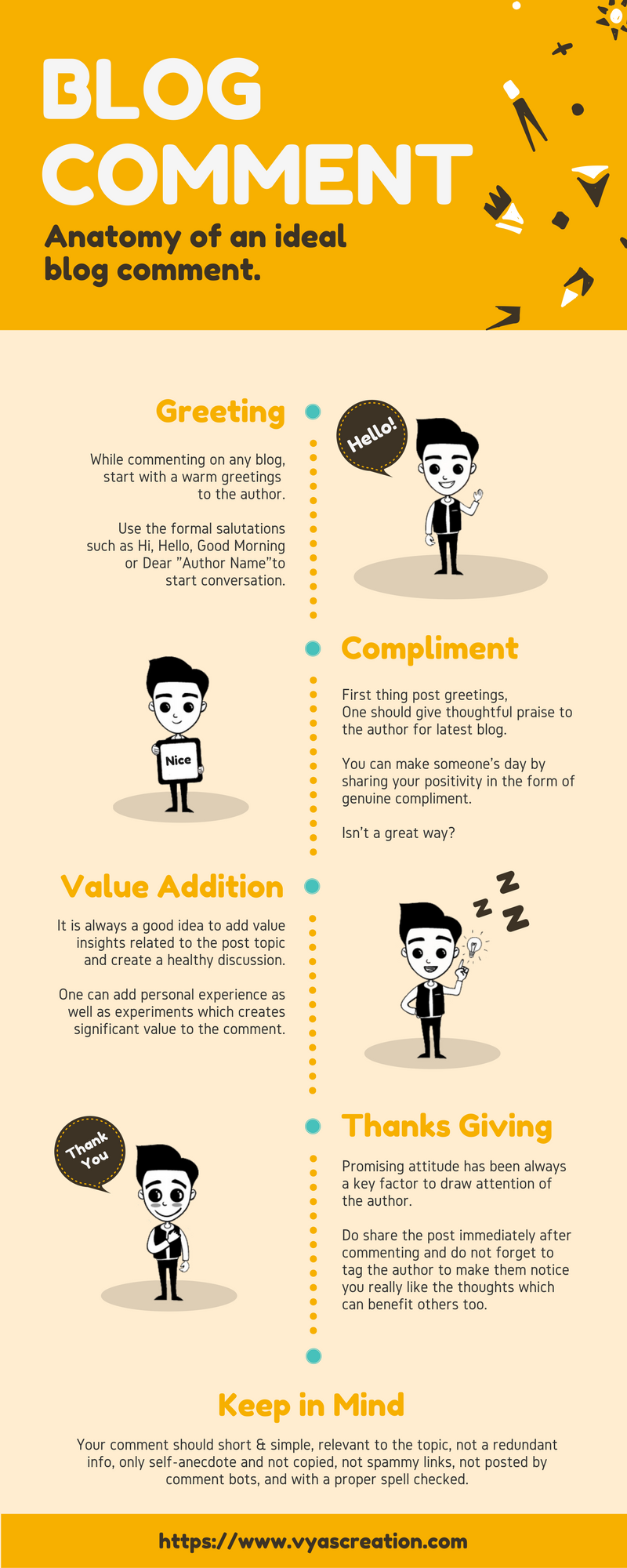 Keep in mind that mere salutations and compliments will only take you so far. It is essential for your comments to add value to existing posts in your comments by providing additional information about the topic. Make sure to add value to the subject, through personal experiences and anecdotes. In the end, do not end the comment abruptly. Make sure to promise the blogger to share his blog on social media and promote the blog post if you like the idea. 
Tips to enhance comment approval chances
 Keep in mind the tips mentioned below to enhance the chances of getting high approval rates of blog comment on high PR blogs:
Keep the comment short and simple
Often, to portray language supremacy, people use complex sentence structures and vocabulary in comments. One must understand that a blog is a personal anecdote. And using complex language in comments does not serve the purpose. A comment must provide valuable information while being crisp and simple.
It is essential that while commenting one must not fill it with junk info to showcase personal skills. Before writing down a comment, you must be very clear about the message and information you want to give. You must ensure you have some valuable insight to contribute to a blog discussion. It is beneficial if you completely read the blog topic, understand its essence and write something, which is relevant to the blog topic.
Manually post comments on high PR blogs
People use automatic tools to spam a comment thread of a high PR blog with irrelevant links. This results in a bad approval rate for people who look forward to back links through blog comments. Also, it is seen that bloggers with fresh blogs use automatic tools to post on a number of high PR blogs without any personalization. One should make sure to write personalized content according to perfect comment formula and manually post the comment on high PR blogs instead of using automatic comment posting tools.
Do not post redundant information in comments
A blog is meant to inform. And the comments section is meant for queries or adding relevant insights into the topic being discussed in the blog. Make sure not to repeat the same thing that has already been covered in a blog post. Redundancy leads to poor ratings of a blog commenter leading to high chances of disapproval by high PR blogs.
Share personal experience or anecdote
Write when you have something to add-on. And people look for personal experiences related to a discussion on a blog in comments. Make sure you add information related to the first-hand experience, if any, to enrich your comment. This increases reliability and relevance, making a comment better than other comments written down to spam a thread. If you have some more add-ons, you can share the same through the link, which will earn you a relevant back link. They create more value in Google page listings, serving the purpose of blog commenting.
Comment on others' comments too
When in a discussion, be a pro-active communicator. Do not just contribute; make sure to listen, read comments of other contributors and revert with relevant comments to ensure that a conversation is complete. This increases credibility while creating a network of like-minded bloggers who know your identity. And in the digital age, networking is the greatest tool to increase visibility. Once you start interacting on blog comments, your blog visibility will increase owing to increased activity.
Being humble and polite is the key. It is a common perception that sharing a link to the maximum number of blogs creates a strong visibility. But with improved algorithms in the digital world, the practice of sharing just links without personalization is termed as spam. Spamming is a highly condemnable practice in digital world. Posting irrelevant comments that spam a thread should be avoided in any form.
Use a proper profile with real image and name
It is essential that you have a credible digital identity while posting a comment on high PR blog. Even if you have a valuable point to make, having a bad digital profile can land your comment in junk by moderators and approvers of comments on high PR blogs. High PR blogs run because they are a credible source and to rank high; it is essential to develop a credible digital identity. One must ensure he has a uniform profile across digital portals with real name and profile image. One can use Gravatar that facilitates creating a uniform profile for blogs across the web.
Conduct a spell and grammar check before posting
Being clear is the key to great communication. It is essential that before posting a comment, you take care of spellings and grammar in your comment content. A clearly and correctly written comment can do wonders to your chances of being approved on a high PR blog.
So the next time you are thinking to get high PR links through blog comments, keep in mind the ideal comment formula along with the above tips. These will take you a long way in creating a digital identity for your personal or professional blog.