You envisioned treating yourself to a sumptuous Kobe Beef. But as you reach out to your wallet to check how much cash you have, the painful truth starts to kick in.
"You aren't getting a Kobe Beef tonight, Joe," you say to yourself… "with the amount of cash you have, you're heading to McDonald's for a $1.39 McDouble."
Life is cruel. It can be cold. So cold.
That's exactly how business startups feel at times.
Let's face it. A challenge that most startups have to contend with is the fact that their pockets aren't deep enough. Inasmuch as the founder wants to shell out funds to improve their services, grow their team, or to spend for equipment, these things normally have to wait until the business has enough traction.
Sadly, the same goes for the startup's marketing budget.
Are you struggling with the same issues right now? Are you itching to run the perfect marketing campaign that you envisioned, but all you have with you is a $1.39 McDouble-like marketing budget?
Don't let it get to you.
Remember that at the end of the day, it's all about results – and not how much budget you have.
Sure. Having a healthy marketing budget can work wonders for you (or for anyone for that matter), but that doesn't mean you're doomed to oblivion if your marketing budget looks like it's anemic.
Allow me to share with you a three step marketing strategy that can help skyrocket your business growth, even with a tight budget.
1. Create Quality Content
With how things are trending nowadays, whether it be on how Google is constantly tweaking its search algorithm, or how people are reacting towards content, you're better off if you do not compromise the quality of your content.
According to an infographic published by Jeff Kirby from Profitero, "88% of shoppers search for products online before buying offline."
Friends, I don't know about you, but 88%? That's grand. With that kind of figure, I hope I have solidified my point about how important content is.
In fact, if your marketing efforts are anchored on content that are both comprehensive and value-packed – one that truly helps solve your readers' problems – you'd be in a very good position to sell your products, improve your brand image, and nurture your relationship with your associates and customers (among others).
Quick tip - Don't be stiff about the things you publish. In addition to the usual "How Tos" and listicles that most people are publishing online, you can try to experiment on other unique types of content like jokes, and memes.
Publishing unique posts as such gives you a good chance of getting picked-up, linked-to, or shared by other websites.

2. Hire Someone to Do Your Outreach
* Note - This is the only part of the marketing process that you need to spend for.
Now that you have a website that's packed with quality content, your "homebase" is pretty much good to go. And should any of your target audience stumble upon it, they'll be mind-blown at how helpful your content is.
Not only does your content address the problems that they are facing, but it even takes a step further by giving them the tips and tricks that they need, to make their lives easier.
There's a caveat, however.
Just like what I mentioned above, the wheels will only start turning if your audience happen to "stumble upon" your website. Now there are bajillions of websites published today on the web. That being said, the chances are slim that someone (that's within your buyer persona) will simply stumble upon your website.
So... you need to make things happen.
You need to pursue them.
You need a clear plan of attack.
Of course, the plan of attack that I'm going to suggest is to do outreach.
Here's what you need to do...
While the process of mining data (websites), sorting them, qualifying them, looking for their contact info, and sending a guest post pitch is a simple process, the time it takes to do all these is quite brutal. And it's exactly because of this that you need to outsource this task.
I suggest that you go to Upwork and look for a freelancer that's within your budget to help you with the outreach.
Since you're on a tight budget, you might end up having to hire a budding freelancer to do the outreach, since their hourly rates tend to be more affordable.
#ThatsNotAProblem
I got you covered.
Let your freelancer read the steps that I'm going to detail below. This is the process that he/she will need to mine data and start pitching guest posts.
Step 1 - Set up your Chrome browser so it shows 100 search results instead of the default 10.

Click the gear-like button on the upper right part of the page → Click "Search settings" → Tick the radio button that says "Never show instant results" → Drag the gray box to "100" → Scroll down then click "Save."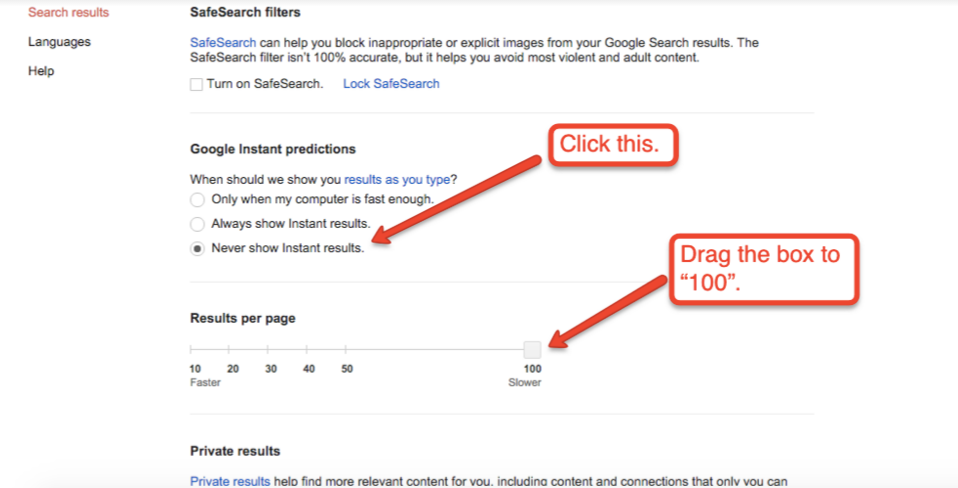 Step 2 - Add the SEOquake extension to your browser.
Go to  SEOquake.com → Click the the appropriate link based on what browser you are using (I'm using Chrome) → A pop-up will then appear → proceed installing the extension to your browser.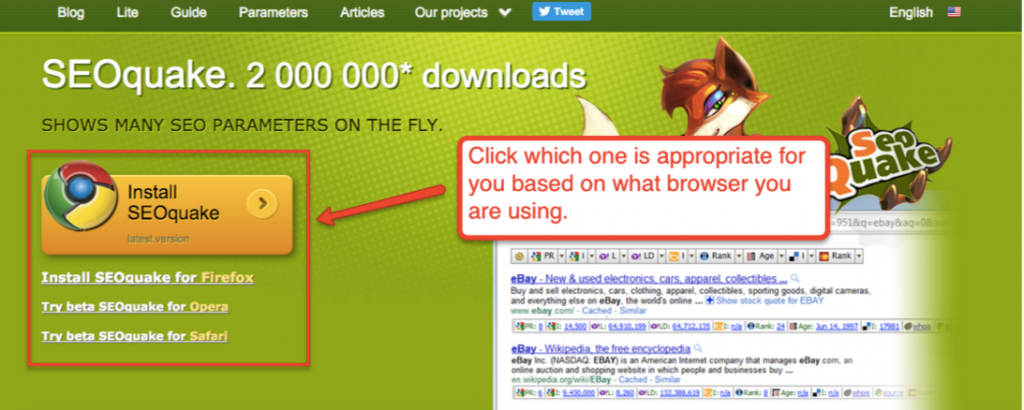 Once you've successfully installed the plugin, you should be able to see the SEOquake icon on your browser.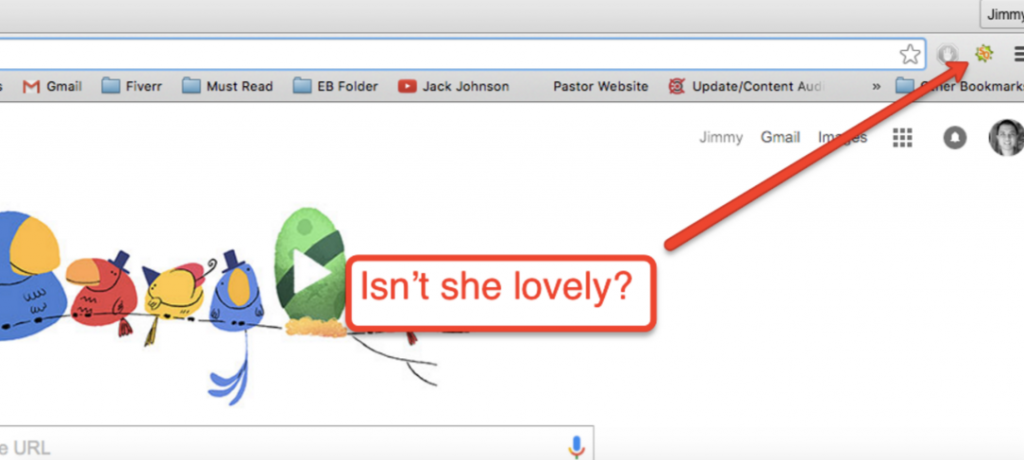 The SEOquake plugin is the tool you need to scrape the data from Google's search results.
At this point, once you visit Google's search results page, you'll notice that it looks very different. You'll see all sorts of data on the page.
Let's set that aside and then go to our next step.
Step 3 - Use Google's advanced search query to uncover keywords that will give you targeted results.
If you aren't into Internet marketing, you probably aren't aware that Google has advanced search queries that you can use to get a more targeted results from Google's search engine.
You can use Buzzstream's query generator to uncover the best advanced Google search queries that you can use to get websites that are highly targeted to your niche that accepts guest posts.
At this point, you have all the elements that you need to be able to find the high quality websites, then scrape the results from Google's search results page.
Step 4 - Scrape the data.
Let's say you are in the Internet marketing niche. And you are looking to uncover a list of websites that are internet-marketing related that accepts guest posts.
Here's a sample search query that you can use → "Keyword phrase" + "Write for us"
Since we're in the Internet marketing niche. Our search query is going to look like this → "Internet Marketing" + "Write for us"
If you'll use Buzzstream's query generator, it'll give you other search queries that you can use. But for the sake of this tutorial, let's use "Internet Marketing" + "Writer for us"
At this point, you just need to type in your advanced search query to Google's search box, then hit search.
Here's how it's going to look: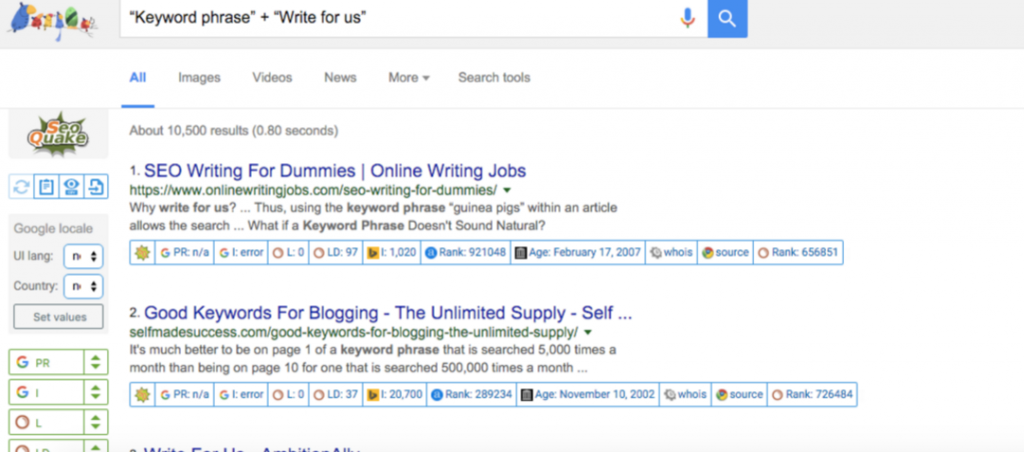 You then have to click the "view data as csv" button.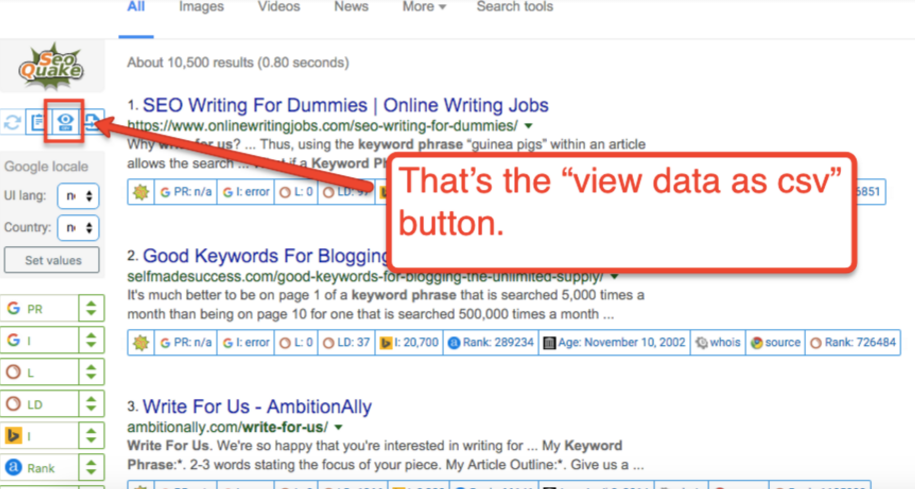 After clicking the button, you'll then see the URLs. You just have to copy everything by clicking inside the box then pressing ctrl + "a" on your keyboard to highlight everything. Then click ctrl + "c" to copy everything that you highlighted.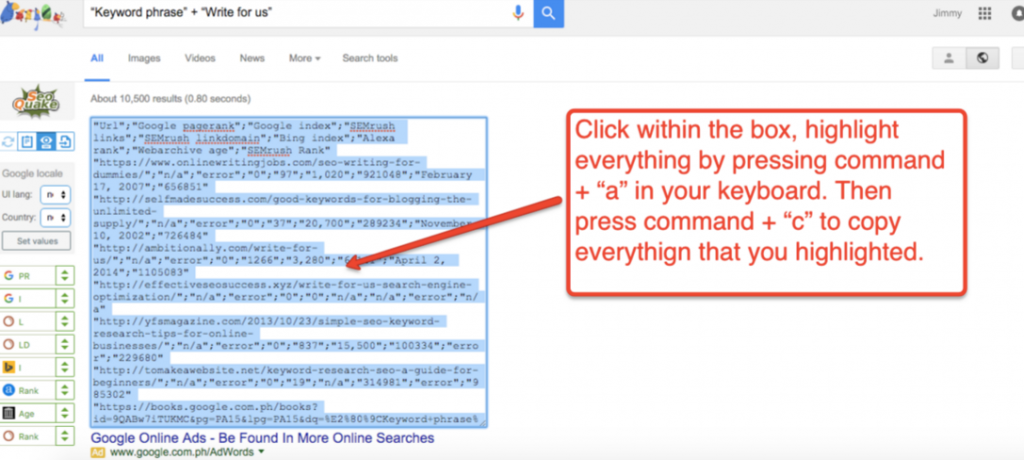 After copying everything, you can paste everything on your MS Excel file so you can remove the domain extensions.
To remove the domain extensions, you just need to click the column A → click the "Find and Search" button → put the characters "http://" on the box where it says "Find what" → leave empty the box where it says "Replace with" → click the "Replace all" button.
At this point, you'll notice that all the "http://" on the entire column will disappear.
You need to follow this sequence three more times.
But this time, you need to replace, "http://" with "https://", "www.", and "/*".
After having followed the steps, you'll only be left with the domain names and all the extensions will disappear.
From here, you need to review each website one by one, to make sure that they are ideal places where you should guest post.
Determine the website's quality.
Reviewing the website's quality is an entirely different animal in itself. If I were to write about it, it'd take a couple thousand more words. That being said, I'd like to point you to an article published by Henrik Bondtofte on SEMrush. It'll give you a better insight on how to evaluate whether a link is worth your time. After reading this post, you'll have a better idea on whether or not you should pursue guest posting opportunities on a specific prospect website or not.
Create a rockstar guest post pitch.
The thing with guest post pitches is that it'll make or break the success of your guest posting campaign.
Send a poorly crafted pitch, and you'll be ignored or declined.
Send an amazingly crafted pitch, and you'll get TONS of webmasters giving you the go signal.
Instead of writing about the "how tos" of creating a high converting guest post pitch myself, I'd like to point you to a resource published by Tudor Stanescu from 80proofdigital months back that really helped optimize my guest post pitches. His guide is packed with data and research, and it helped me create an outreach template that grew my reply rate by 12%. As a bonus, he also shared his sample outreach template.
Now that you've sent several guest post pitches to high quality and relevant websites (and are probably receiving several "Yes" answers), let's talk about the kind of content that webmasters tend to accept.
After all, even if you'll get a "yes" reply from the blog editors, if they find your articles to be poorly written, they'll just decline the piece.
In short – you've just wasted your time.
3. Create Quality Content for the Blog Editors and Webmasters.
There is more to creating quality content than simply making sure that your write-up reads well. It goes beyond making sure that you don't have any typos or grammar mistakes.
But you already know all of that, don't you?
Everyone's so keen on producing quality content, that the very definition of what "quality content" really means keeps on evolving.
I'd like to share with you my team's criteria of what we consider a quality content should be. While our criteria isn't certainly the be-all and end-all set of guidelines, I can at least tell you that we rarely get our articles declined once we send it to the webmasters.
Let's hop right in:
Use a killer headline.
Use subheadings.
Give it a minimum of 1200 words. The longer your write-up is, the better. But not to the expense of the article becoming fluffy.
Add images, infographics, videos and other elements that you feel will make your piece more interactive.
Use three lines maximum per paragraph. While this rule is bound to be broken, try to stay within its bounds. This will help make your write-up seemingly easier to digest, when compared to huge massive blocks of texts.
Have a clear call to action at the bottom of your post.
Do not be promotional. Make sure that your piece will help solve the problems that their community faces.
Write in a conversational tone.
Be sure to link to one of their articles or inner pages.
Add outbound links to reputable websites only.
Make your tips/advice actionable. The last thing you want to do is share cookie-cutter-ideas.
Back your ideas with data or quotes from experts. This gives your write-up more credibility.
While these guidelines might seem overwhelming, the more you read them, the more you'll realize that they are pretty simple to implement.
Just remember that when you write something, the core of your content should be all about providing value to your readers.
Tie Things Together:
So these are basically the three steps:
Create quality content.
Hire someone to do the outreach for you.
Create quality content. This time, for the webmasters.
Looking at the three-step process, I'm sure you'll notice how you only have to spend for the person you hired to do the outreach.
Sure. Creating quality content is by no means free. However, since you are serious about growing your startup (or at least I hope you are), you – personally – as the founder of the company, or as one of the top brasses, will have to write and produce content one way or the other.
I mean, think about it. There's a reason why executives like Richard Branson take the time to personally maintain a blog.
The kind of benefits that a business can garner when their CEOs are blogging is ginormous. Not only does it help promote brand loyalty and transparency,but it also makes the company a more attractive place to work on (among others). It's just a matter of you aligning your blog posts to the direction that your company is headed. Since you are going to blog anyway, why not leverage those by incorporating them in your marketing campaigns, right? Right.
That said, you already have your content covered, now all you need to do is to task someone to do the outreach to have a place for your write-ups to be published.
What's Next?
Did you find the post valuable? If you answered that with a "yes," I'll surely appreciate it if you'll take three seconds of your time to click the share button.
Thank you in advance for taking the time to read the guide, and I sincerely hope this helps you.
Jimmy Rodela is a Freelance Writer and a Content Marketer. He is the Founder of the Guild of Bloggers. He is a contributor on websites with millions of monthly traffic like Yahoo.com, Business.com, Monster.com, Business2Community and SocialMediaToday.com.
Follow him on: LinkedIn, Twitter, Facebook, Google +,  Read more about me