Recently I met up with the store manager of a local cherry food retailer in Michigan. They had fantastic products, especially attractive for the fall season. We chatted a little and I asked them about their social media and content strategy. I did notice that the comfort that the manager had while talking about her favorite products was not reflected in our content and media conversation. And, it's not uncommon.
Most small businesses focus on products more than digital trends. And for startups or businesses still getting a handle of new media, I'd like to share a simple content marketing process to help you succeed!
Step 1: Define Desired Buyer Profiles
21% small business owners in 2014 stated that their biggest concern has been attracting new customers. Unless you're aware of who you want to attract, it is hard to make a strategic plan. As a small business owner you need to know your buyer profiles. Based on that your campaigns, promotions and the platforms you choose may vary.
All your content as well social media platform choices will depend on the segments you are focusing on. Snapchat is used by a younger audience while Pinterest is used by more women. It does help to define and know details before you spread yourself thin on every network.
Step 2: Define Content That Will Add Value to Your User
One of the best pieces of writing advice I've ever adhered to is this: write for one person. Social media expert, Ann Handley dedicates an entire chapter in her book, Everybody writes on this topic. Ann recommends that as a marketing or business writer, you can adapt your writing by thinking of your favorite customer, or your desired buyer.
You need to define and set up actual ideas of what your users will find value in. Are you writing for intermediate social media users or complete newbies? Are your products for home owners thinking about styling or a those on a strict budget?
The kind of content that will add value to your consumers, must be in line with your brand and product goals. The kind of content that truly works is the one that addresses the needs of your audiences the best. Personalization by industry, geography and other such segmented ways can dramatically increase effectiveness.
Step 3: Think About Trust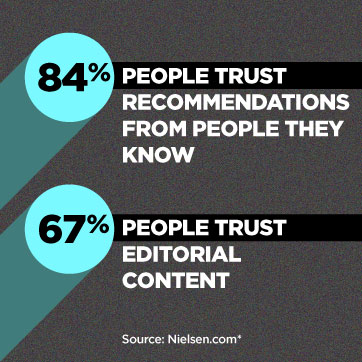 Edelman's trust survey in recent years has revealed some interesting results. Consumers trust experts, "a person like yourself" or a regular employee far more than the CEO of a company. In another interesting survey,  Nielsen discovered that 84% people trust recommendations from people they know. 67% people trust editorial content. All of this is much higher than the trust people place on adverts.
They key insight here is two-fold. Firstly, as a company, you need to develop more value added editorial content that is not overtly promotional. The second aspect is that if you need to know who to source the content from. Every blog post on your corporate blog (unless you are a one-man army) must not come from the CEO.
Step 4: Define business goals
Lead generation, community development and growth, more onsite traffic, brand recall or presence, audience interaction etc. require different kinds of inputs. At the beginning of any content marketing or social media exercise you need to be aware of what goals you're setting up for your team. Going viral is not a business goal. You need to refine it further and ask yourself, so what? What happens after your content goes viral or is that an end in itself?
For most small businesses, the work creating more selling opportunities or building a brand is the goal rather than merely getting famous. At the same time, it is important to develop social proof by investing in getting basic numbers for social media and your editorial content. Facebook guru Amy Porterfield has shared that at least 1,000 fans are needed before you can see the impact of increased traffic from your Facebook page onto your site.
Step 5: Think through distribution
80% of your time should be spent thinking about distribution of your content. After all, what's the point of creating wonderful content that no one reads?
Distribution by itself may include aspects such as connecting with influencers, thinking through strategies of what engages audiences on multiple platforms. This will also challenge the way and the kind of content you create. For instance, if quotes do well on Facebook or videos are the next frontier, then that's the kind of content you need to focus on.
Rand Fishkin has an interesting SlideShare on how content marketing fails and lists down "building content without a community" as a primary reason for failure. The question it begs is, who will amplify the content you are creating? This means, you need to be building relationships with your consumers, start a community while you're creating content.
http://www.slideshare.net/randfish/why-content-marketing-fails
Step 6: Think About Consistency and Quality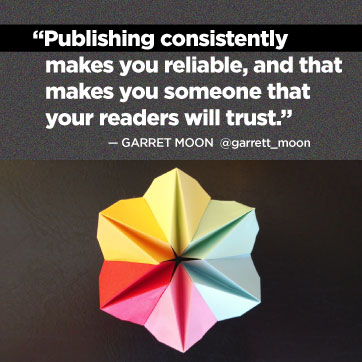 Most small businesses are unable to get the benefits of social media or content marketing because they give up too soon. Or, they are not consistent enough. Small businesses that blog over 3 times a week have 70% more leads according to Hubspot's research. Compare this to your blogs or social media that you're updating at a sub-optimal level.
If you have a small social media or content team, do not hesitate in leveraging help from outside-in. A remarkable gorilla technique adopted by Mitchell Harper's startup highlights how quality content - even outsourced and social push can help you create something special for your business.
Garrett Moon describes it just right and says, "publishing consistently makes you reliable, and that makes you someone that your readers will trust." Consistency and good quality is key to SEO, sustained traffic and quality leads that come through your blog.
Concluding Thoughts
As a quick recap of the ideal content marketing process think about the 4Ws and the 2Hs before you get going:
A) 4Ws: Who is the buyer, What value are you adding, Whose opinion are you sharing, What will the content do?
B) 2Hs: How will the content reach the user, How will you ensure consistency and quality?
As a rule of thumb before opening up any channel – a blog or a social media profile, think, can you create enough content for six months? Do you have a plan to build a community or a strategy to distribute your content?
How is your small business thinking about content marketing? What are some of the challenges that you're facing? Do share your thoughts with me in the comments below or reach out to me on Twitter.