Imagine if you had Harry Potter's broomstick — yes, the all-powerful 'Firebolt' — what would you do with it?
I bet, you'd be flying all over the world, connecting with every single customer of yours – whether they are in the North Pole or in the South Pole, to strike a personal rapport with them. Wouldn't you?
Yes! This is important for you because it's widely believed that establishing personal connections with shoppers generates more sales than simply sticking to your ruddy offline or online store.
And, more than anything, you'd be able to reach the right customers, at the right time, with the right kind of customer support.
Cases of product (read cart) abandonment would be almost negligible because you'd be offering only top-class customized services on a one-to-one basis. 
In the real world, however, employing Harry's broomstick seems to be a far-fetched idea. The current crop of innovations, be it drones or chat bots, could hardly match a broomstick's agility. So, the next best tool that marketers can rely on is personalized emails. "Browse Abandonment Emails," precisely. Such emails help establish a personal rapport with the customers and stop the not-so-ready-customers right in their tracks, inspiring them to go back to the sales funnel to complete their purchases. 
That doesn't mean you could simply fire away your browse abandonment emails just like that. You need to first study your customers thoroughly in terms of their on-site activities, purchase data, location details and so on, which would, in turn, fill in the gray areas in your email marketing campaign. Meaning, you'd be able to personalize your email content to such a degree that you'd be sending only the right information at the right time to the right customer.
What Are Browse Abandonment Emails after all?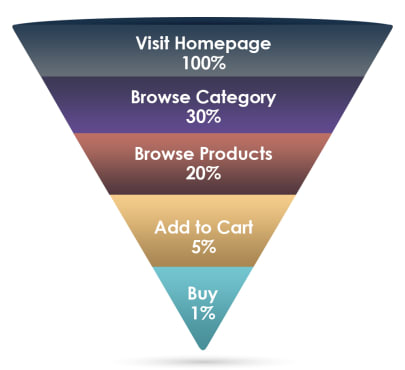 E-commerce sales funnel
Browse Abandonment Emails are one of the most bankable email marketing tactics that help e-commerce stores yield big conversions.
As you can see in the diagram, of the 100% visitors, only 30% make it to the category section and a meager 20% to the product page. The figures narrow down further on the cart page and the buy section page.
Step in Browse Abandonment Emails. These emails enable e-commerce owners to connect with seemingly disinterested customers, who may have happened to drift away in the middle of the sales funnel with personalized messages.
So, how do you bring these intrigued, but not-so-ready-visitors back? Nope, you don't simply embark on a blind email shooting spree. Rather, you need to segregate all your visitors into different groups first, based on where they dropped off the funnel first and then craft your browse abandonment emails accordingly. This ensures that shoppers receive only pertinent emails.
Let me explain:
For visitors who spent just a couple of minutes on your homepage and fled immediately, you could send Homepage Browse Campaign. The idea is to thank such visitors for stopping by and at the same time recommending some best sellers in the process.
For visitors who took some time out to view a category page, but then never took the pain to check products falling in that particular category, you could send a Category Browse Campaign. This email would highlight various products within that category.
For visitors who went to the extent of checking out your product pages but then avoided adding anything to the cart,you could send a Product Browse Campaign. The idea is that a small nudge, in the form of an email, might get the visitor to revisit a particular product once again, or other products. 
For a better grasp on how and when browse abandonment emails should be sent, check out these three examples:
#1. Homepage Browse Abandonment Email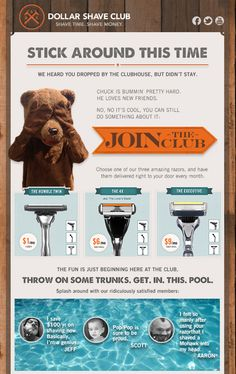 Homepage Browse Abandonment Emails
This automated email gives you the opportunity to target all window shoppers who visited your site but then left it without a second glance.Invite such window shoppers back with a friendly welcome back email, highlighting top sellers and site-wide best sellers.
Open Rate: 21%
CTR: 14%
Average Revenue Per Email: $0.43
#2.Category Browse Abandonment Email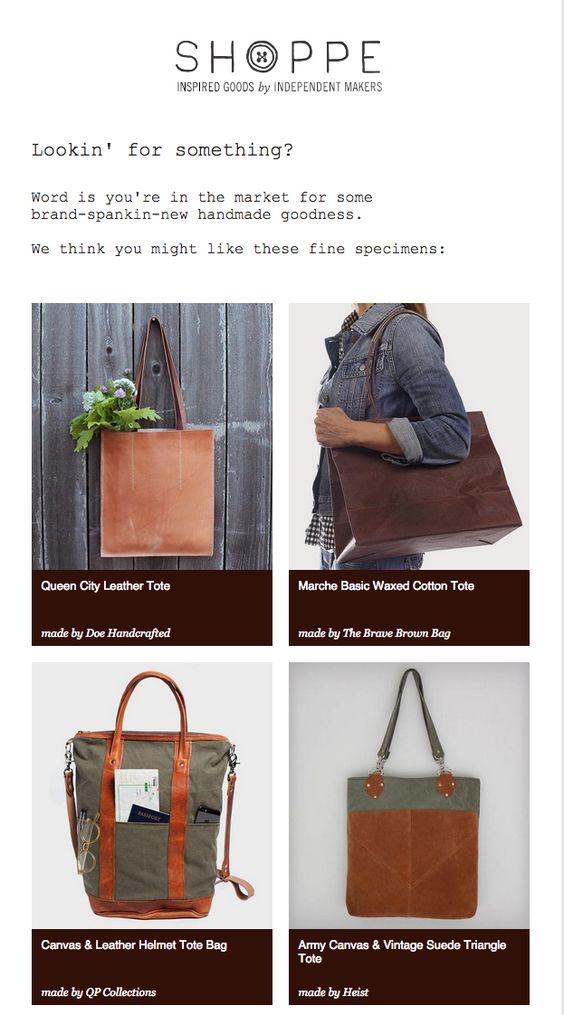 Category Browse Abandonment
The shoppers of this category already have shown some interest in your site and have gone beyond the home page of your site to check out the category pages. 
To draw such shoppers back to the funnel you need to peak their interest by displaying different products pertinent to the category they viewed. Plus, additional options that include site-wide top sellers.
Average open rate: 42%
Average CTR: 27%
Average revenue per mail sent: $1.71
#3. Product Browse Abandonment Email
a] Displaying a single product that visitors viewed at different sessions
Product Browse Abandonment Emails - 1
b] Displaying one main product along with several recommendations
Product Browse Abandonment Emails - 2
c] Displaying different products of different categories that visitors viewed at various sessions
Product Browse Abandonment Emails - 3
 As mentioned above, these shoppers have viewed specific products on your site but ditched them at the last moment for some good reasons.
You can connect with such shoppers saying that you've have noted their keen interest in a particular product or products and going by their high-interest, you would really want them to have it.
For such shoppers, a small nudge in the form of a specific product or products display would do the trick.
Average Open Rate: 56%
Average CTR: 23%
Average Revenue Per Email: $3.66
What makes Browse Abandonment Emails so effective?
 Given that they are highly personalized, it's more effective at converting than generalized messages of newsletters and promotional emails.According to smartmail.io, 81% of the shoppers are most likely to purchase from a site that sent them Browse Abandonment Emails.
According to smartmail.io, Browse abandonment emails reach vast a majority of visitors. In fact, the number is much larger than cart abandonment, post-purchase and transactional email visitors put together.
Why are Browse Abandonment Emails not commonly used?
Good question. If browse abandonments emails are that good, why aren't businesses using them in larger numbers?
Yes, Browse Abandonment emails are not commonly used because it's expensive. It needs a large development and marketing team for one. So only companies like Amazon could afford to send them.
But no more. With the arrival of email marketing software companies, even small businesses could take advantage of different email marketing campaigns including Behavior Abandonment Emails. 
Crucial do's and don'ts of Browse Abandonment Emails
Check out the conversion rates by sending out the first browse abandonment email. If it's working, send out more.
If the visitor is looking at the same item more than once, only then step on the gas.
If the subscriber clicks a particular product in an email to view the product page, then such subscribers should be targeted. 
If the visitor is looking for a particular product or category using site search, target them as well.
Avoid sending generalized recommendations.
Use an analytic tool to offer personalized recommendations only for every shopper.
The tone of your email should match the purchase intent of the visitor.
Browse abandonment emails should work in tandem with other emails. This is to make sure you don't flood your visitors with too many emails.
The subject line and email content should be A/B tested first to make sure of click-throughs and conversions.
The success rate of such emails depends totally on its promptness. So such emails should be sent within 24 hours.
Does your business use browse abandonment emails? If yes, what's the success ratio?