In 9 months, the Semrush PPC team grew revenue from non-branded PPC campaigns by 94%.
Semrush was able to generate these results using multiple automation tools. These gave us the ability to manage our daily tasks and processes at an optimal rate to improve our task management. As employees for a marketing automation platform, we understand how these tools can make such an impact on marketing results and save your efforts and money, but first of all – your time for more strategy-focused tasks.
We asked the Semrush PPC team to share its 15-piece toolkit that can be useful for all the paid traffic specialists who work in a never-ending circle "plan – implement – analyze".
Three of these 15 tools are by Semrush. It's not the case of a cobbler without shoes: we do use our own tools for keyword research. But we also love and actively use other solutions as well.
Keyword Research
(Note: the order is important. We tried mixing different tools, and for us the sequence described below proved to be the most efficient one).
1. Semrush Phrase Match report [freemium; monthly plans start at $119.95/mo]
Phrase Match report gives you a list of search terms containing the keyword you entered. Even one seed keyword is enough to spur a chain reaction:

SEMrush Phrase Match Report
230,798 keywords. Enough to start with, right?
Sort this list by volume, CPC, competition level, or just export it into a CSV file and play with it in Excel.
Our Tip: clicking on any keyword on the list brings you to another Phrase Match report, containing the keyword you clicked. This way you get literally endless possibilities to explore keywords for your campaigns.
2. Semrush Related Keywords report [freemium; monthly plans start at $119.95/month]
This report shows search terms that, based on SEMrush's proprietary algorithm, are considered related to the original keyword.
There are two tips that make this tool precious:
Tip 1: Related % column (1). This is the default sort type, and you will most likely see a lot of weird misspellings here. Don't set them aside! As their CPC is often very low, you can bid on these keywords using the exact match type and get a certain amount of clicks at a ridiculous price. The competition (2) will also be lower than for the "original" keyword:

SEMrush Related Keywords Report
Tip 2: Advanced filters. You can play with them until the crack of dawn. For example, this is how you find around 370 keywords with a reasonably good search volume and a CPC lower than $1.50:

SEMrush Related Keywords Report
We also use the "Com." parameter because it tells us how many advertisers are competing for this keyword in AdWords. Thus, the chances to be seen decrease dramatically if the Com. level is close to 1.00 (its maximum).
3.  Google Keyword Planner [free]
We can't help mentioning this keyword research tool. But, honestly, we don't use it often. We found it suggesting too many irrelevant terms, so only one keyword out of ten was valid. However, sometimes it helps. And it's huge and free – with these two advantages you already can get a lot out of it.
Our Tip: we use its 'Performance forecasts' feature to come up quickly with a media plan for a campaign. When we launch campaigns in new countries, we use it to calculate potential spends and decide where to go first.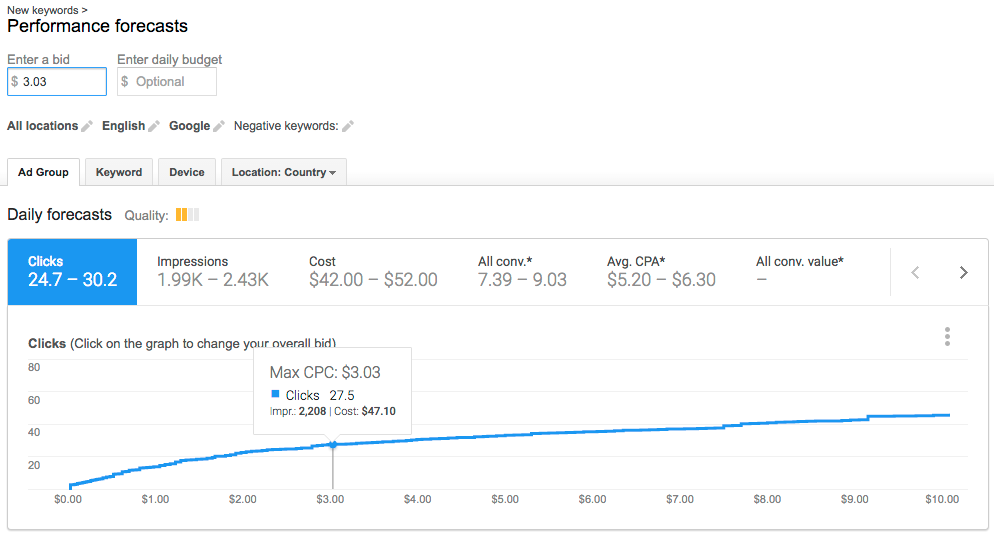 Google Keyword Planner Forecasts
4.  Keywordtool.io [freemium; monthly plans start at $69/month]
Brian Dean called it a perfect tool for generating long tail keyword ideas, and we agree with him. It provides you with keywords grabbed from Google Suggest, and you'll certainly find some priceless suggestions in the generated list. It allows you to see up to 750 long-tail keyword matches.

With the Pro version you'll also get search volume, CPC and competition level data for each keyword.
Our Tip: this tool is precious for collecting long-tail keywords in other European languages. In particular, the data in Spanish and Italian are awesome.
5. AdWords Search Terms [free]
This tool is useful when you have already created a campaign. In the 'Search Terms' tab you'll find some keywords that you didn't include in your campaign, but you still had real visitors coming from ads triggered by these keywords. Then you can add them to your campaign in one click.
Note that it works only when you use broad and phrase match keywords in your campaign.
Our Tip: it's also convenient to add negative keywords: choose irrelevant search terms and click the 'Add as negative keyword' button:
AdWords Search Terms
6.  Semrush PPC Keyword tool [freemium; monthly plans start at $119.95/mo]
One of the freshest Semrush tools helps remove cross-campaign negative keywords. For those of you managing many ad groups with intersecting keywords, the ad cannibalization is a pain. To find and remove all the search terms that make your own ads compete with each other, PPC specialists were spending hours. The PPC Keyword tool now allows you to do it in one (this is not a joke) click:

SEMrush PPC Keyword Tool
Our Tip: using the PPC Keyword tool we reduced our CPC by 15%. Read how we managed to do it removing cross-group negatives.
Landing Page Creation
7. Unbounce [freemium; monthly plans start at $90/mo]
We have a team of designers who usually build landing pages from scratch. But for some landing pages we rely on Unbounce. It has handy modules for collecting PPC leads (we love their lead generation templates). If we didn't have dedicated people, we would most likely use their pre-made templates or build our own with its simple drag-and-drop interface.
Our Tip: the data can then be easily collected and exported in CSV. Some useful integrations (Salesforce, for example) are also available.
Facebook Ads
8. Facebook Text Overlay Tool [free]
Everyone familiar with Facebook Ads knows its 20-Percent Text Rule. The explanation provided by the platform says that "...images with a lot of text may create a lower-quality experience for people on Facebook." To define if your created image fits Facebook requirements, use its Text Overlay tool. It breaks the image down into 25 grids, so no more than 5 of them can contain text: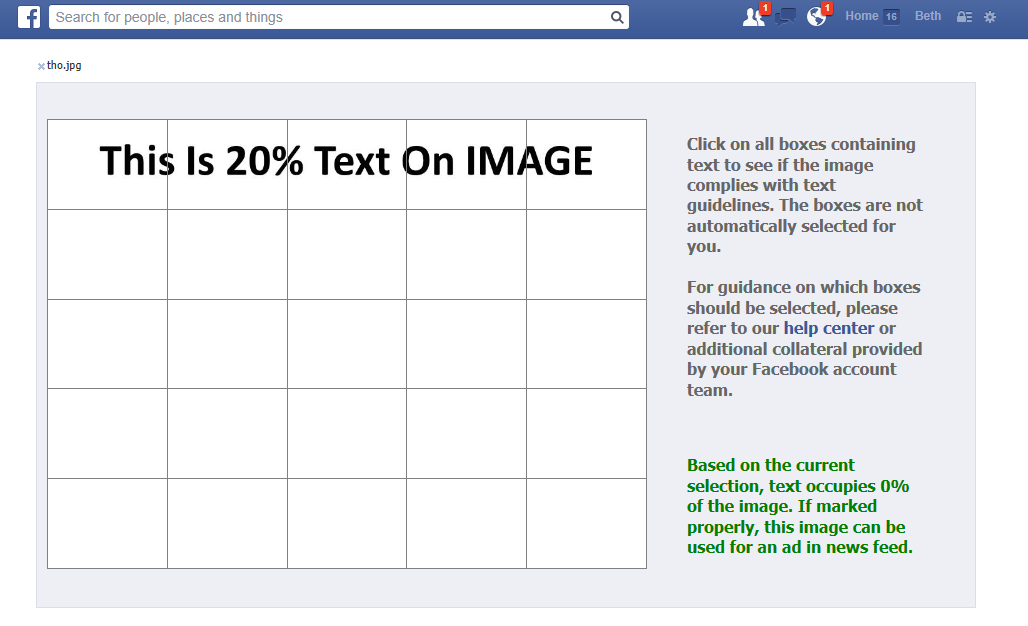 Image source: http://www.bethkanter.org/
Landing Page Optimization
9. AdWords Campaign Experiments -> Campaign drafts and experiments [free]
Our landing page optimization process is built on split tests. We always have several experiments running simultaneously.
Campaign Experiments, which is now replaced by Campaign drafts and experiments, is a convenient tool to test the performance of keywords, ads, ad groups or landing pages.
Our Tip: with an overview table you can quickly see at a glance all the key metrics: CTR, CPC, cost per conversion and others.

AdWords Campaign Experiments
10. Convert [free; a part of a big CRO tool]
A simple yet effective calculator to define how long will it take you to run a split test. Enter the current conversion rate, the expected improvement, the number of variations and the daily traffic. Note that the lower improvement you want to test, the more time you'll need (to distinguish the actual change from the margin of error).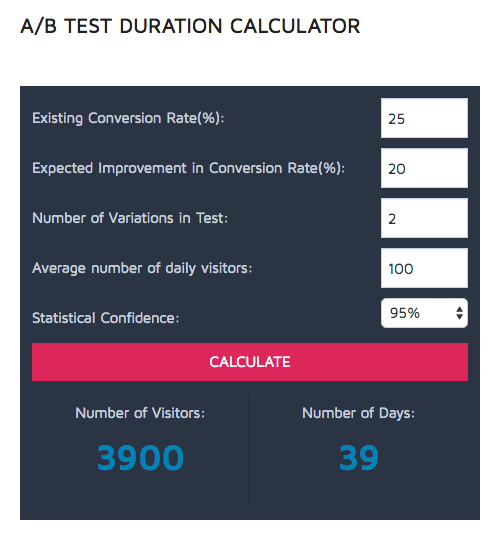 11. Inspectlet [freemium; monthly plans start at $39]
An incredibly insightful tool to monitor users' actions on a landing page. It provides you with heatmaps of every page and recorded tracking of every user's session.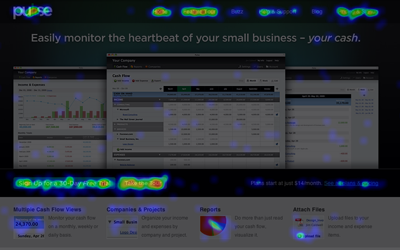 Inspectlet
Our Tip: Inspectlet helped us find critical UX errors many times, spotting visitors' mouse movements on page. Just watching a dozen of random visit recordings can already let you understand if, for example, a CTA button is not visible or if a form is too long.
To dive deeper into the art of split tests, read about our experience that has been distilled down to 3 landing page A/B testing rules we always follow.
Analytics
12. Google Analytics [free; premium version available]
You can do almost everything with Google Analytics. We mainly use it to get real-time snapshots and estimate the overall situation with traffic and conversions. But, as GA is aggregating data and we agree with Avinash Kaushik that "all data in aggregate is crap," we rely on different tools for a more detailed analysis.
Our Tip: we use GA for building remarketing audiences. You can create an audience with certain behavior characteristics (setting up a number of events) and then target it with an AdWords remarketing campaign.
13. BigQuery [free with paid options]
This Google cloud platform provides full, exhaustive and unsampled (this is vital) raw data. To benefit from it, you need to know a thing or two about its query syntax and functions, as well as be on a friendly footing with SQL. But if you manage to set up the whole process, you will be able to have almost all the data you could ever need at your fingertips.
14. AdWords [free]
AdWords provides information about ad spends that can not be taken from BigQuery or any other source. So this is our ultimate tool to estimate spends, ads' and keywords' performance and conversion cost.
Our biggest challenge was to match the data concerning costs with the data concerning user behavior on site. This was essential to reveal important trends and behavioral patterns that may not be evident but strongly influence the purchase decision.
This is why we were looking for a tool where all our data would meet and conform to the shape of friendly charts and diagrams.
And we found it:
15. Tableau [starting at $144/month per user]
"Just a tool building nice graphs," Tableau became a major resource for our marketing team. You can connect up to 44 sources of data, including BigQuery, AdWords, Salesforce and dozens of others, and visualize this data in a form of friendly graphs. Tableau made it easier to share our results with other teams. With four eyes seeing better than two, more actionable insights are generated now.
We integrated Tableau with BigQuery, and this was probably one of the biggest steps ahead in our analytics process. Read how  a combination of BigQuery and Tableau helped us implement a change that increased the number of active Site Audit users by 98%.
Your Essential Martech Tools
The number of tools used by marketers is increasing. 51 percent of organizations are now using 21 or more digital marketing solutions — a 42 percent increase from just three years ago. And we are almost sure you are among those who are always searching for more effective tools to skyrocket their productivity.
So we invite you to share your indispensable PPC tools for keyword research, ads creation, landing page optimization and analytics in the comments!