AR (Augmented Reality) provides you with visual information layered on the physical world. The technology uses a live picture and aligns it with the user's real-world environment. The final experience is both virtual and phenomenal. Augmented reality is all set to help businesses to provide some really fascinating user-experiences that improve business outcomes. The technology is growing at a fast pace gaining acceptance from both businesses and users alike.
Revenues from AR are expected to grow to $120 billion by 2020. -Retail Perceptions.
Actively used mobile augmented reality apps
Image Source: Tractica
Take a look at this example of an AR experience set up by Uber:
AR is here to influence how businesses are going to promote their products/services and also how they optimize for search rankings. It is important to note, AR will impact Search Engine Optimization.
Local SEO Becomes More Critical
Augmented reality makes it possible for users to scan their mobile devices and get information on the businesses in their area. The data includes everything from images to ratings to reviews. AR apps have the capability to provide users with location-specific offers and deals - all in a theatrical AR format. 
Apps like Yelp and Wikitude are already providing geo-location based AR experiences.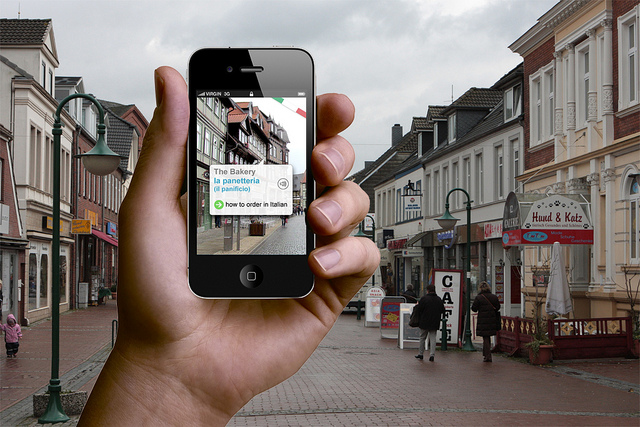 AI and local SEO
Image Source: Lozatech360 
So, if you were to scan a location with your camera, you would be able to see the details of that business along with its latest reviews, ratings, and offers. This will simplify the experience for those searching from a specific geo-location. You must, therefore, ensure and maintain the quality and freshness of your local listings. 
Here are some key aspects that you must take care of:
Optimizing Google My Business Listings
Optimizing your Google My Business listings will become more important than ever before. When a user scans a business location, they will see a virtual listing of the building along with competitor listings.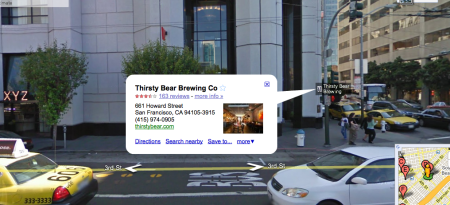 Optimizing Google My Business listing
Image Source: Screenwerk
Only if your listing is compelling enough will the prospective customer want to walk-in to your business location.
Strengthening Citations
Local directory listings have always been essential for getting in front of the right searchers.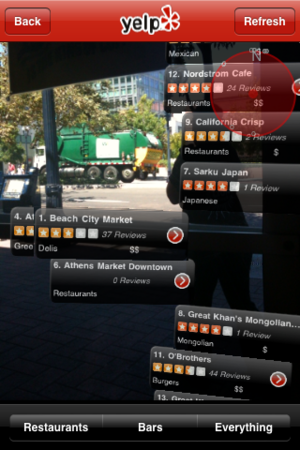 Strengthening citations
Image Source: Mashable
Getting yourself on directory apps that provide enhanced AR experiences to searchers will become a necessity in the times to come. This will make your listing stronger and help you stay competitive in the search space.
Ratings and Reviews
Augmented reality turns reviews and ratings real time. As a user one can find the newest reviews and ratings hover over the locations that one crosses. This makes reviews a very important factor for search as well as conversions. The more you encourage and achieve positive reviews and ratings for your business, the better it will be for your search results as well as revenues. Managing and resolving negative customer queries will also become equally critical.
Geo Location-Based Targeting
Augmented reality lets you send out offers and deals in the form of AR experiences to those who are close to your business location. These can be sent through AR apps downloaded in the user's smartphone. You could be walking past your favorite burger joint, and you might just see the image of a Burger Combo deal flashing in front of you. This is a form of Marker-based AR experience that is triggered by physical objects. A Marker-less AR experience is triggered by user-location/ preferences and search queries etc.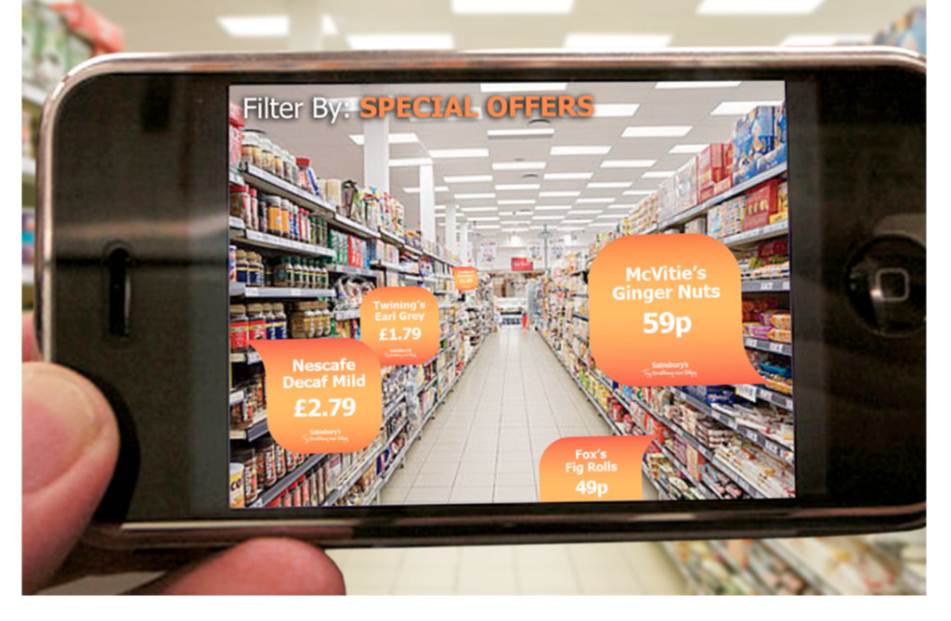 Geo-location based targeting
Image Source: Breed
What About Link Building?
Will building backlinks remain relevant when AR-driven content and experiences become more and more prevalent? The answer to this question is a simple yes. Quality backlinks will remain relevant and in fact, will become all the more essential. Three key things will happen when the search ecosystem adapts to AR and keywords become less relevant:
Relevant and quality content would become even more important.
The quality of the content source would take precedence. 
The time that the users spend with your content would remain an essential ranking factor.
Emphasis on Visual Search and Interactive Content
As a search engine, it is Google's mission to provide the most relevant answers to user queries. Google, in its endeavor to help improve searcher experience, uses factors such as user search history, location, and preferences to provide better search results. Voice search was also introduced for simplifying the experience of online searchers.
Google is now investing heavily in AR platforms like Tango and Daydream. The search engine is working on providing immersive and simplified experiences to searchers. This is a natural outcome of Google's vision to keep improving searcher experiences and thus maintain its leadership position as a preferred search engine globally.
AR-based content will, therefore, have a greater probability of ranking up higher on search engines. Forward-thinking businesses will start incorporating Augmented Reality into their content marketing strategy.
There are various types of Augmented Reality content that you can apply to your business - video, 3D objects, social sharing. Since visual search will take precedence over text-based search, I believe image optimization will become as crucial as text optimization.
Augmented reality improves the overall user-experience and enhances content interactivity. It makes content experiences more immersive and delightful. AR will take visual and video content to another level. Search and content marketers will have to match up to the new experiential standards that will soon become an integral part of the web space. 
Here are some of the ways you can provide superior content experiences to your target audience.
Helping Customers Try Out Their Possible Future Purchases
Augmented reality provides a huge opportunity for e-commerce companies. AR apps are helping buyers to try out shoes and clothing before hitting the buy button. The technology is helpful in letting consumers see how a furniture set would look when placed in their living room. Such experiences are not just fascinating; they make the online shopping experience extremely comfortable and more fulfilling.
AI app to try home furniture
Image Source: Nanalyze
Take a look at this example of an AR dressing room:
Another good example of how businesses are making use of Augmented Reality to enhance customer experience is the Sephora virtual artist.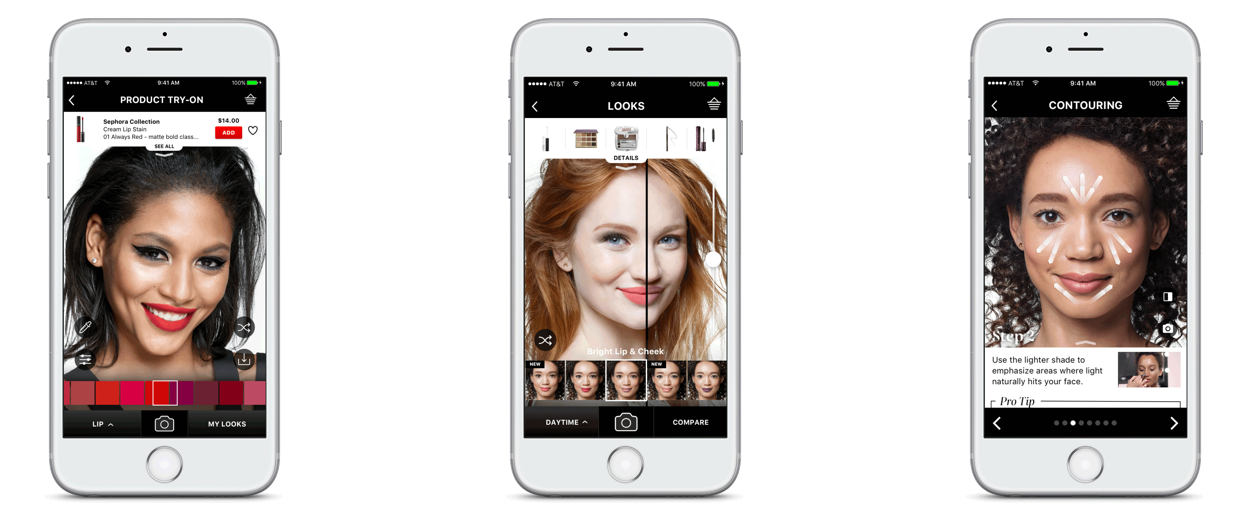 Sephora virtual artist
Image Source: Sephora Virtual Artist
The app lets you try on different makeup looks and see if they are matching with different outfits. It also provides users with virtual tutorials to learn how to do their makeup. These features help you to try on products virtually before making the purchase.
Immersive Website Experiences
Websites will increasingly use AR/VR technology to provide superior and more engaging user-experiences. These experiences could be completely virtual or a mix of physical and virtual. Take a look at this example from Twist and Drink: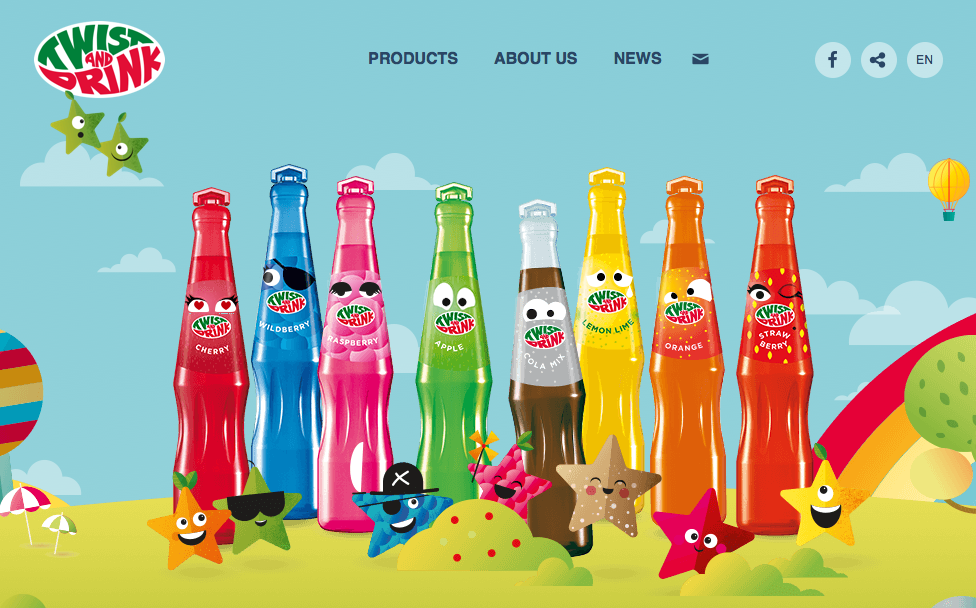 Twist and Drink website
Image Source: Twist and Drink
Innovative Social Media Campaigns
We are all aware of the power of social media engagement and social shares as a search ranking factor. According to recent reports, Facebook has already invited developers to build AR apps and plans to launch a new platform specifically for such apps. Technologies like face and image recognition will give way to innovative and exciting social media campaigns. Take a look at this example from Burberry:
Such campaigns will help you to get ahead of your game on social media and thereby improve your search rankings as well.
Let's Prepare to Leap into an Annotated World
Augmented reality does not just provide users with engrossing experiences; it is a technology that is mobile and geo-location specific. It gives businesses the opportunity to understand more about the audience and target them with contextual and customized campaigns.
With the advent of AR, brands will have to work more towards managing local search optimization and image search optimization, to ensure better visibility and business outcomes. Collaboration with apps providing local AR experiences will be another essential for better consumer reach. AR will help brands to level-up their web and social media campaigns through alluring and immersive campaigns using Augmented reality.
The annotated world as depicted in Sci-Fi movies is not far away and as businesses, we must start adapting and start optimizing - the sooner the better. 
What are your thoughts about the impact of Augmented Reality and SEO? I would love to learn from your experience. Please feel free to add them in the comments section below.