WordPress often is used to build websites that are meant to make money. Coaches use it to sell their coaching programs, bloggers use ads and affiliate marketing, and companies use their WordPress blogs to engage with their target market and customers.
There's a massive variety of goals you can achieve with a WordPress site, yet they all have one thing in common: Achieving your goal depends on your visitors taking a certain action.
Those actions might be buying a product, subscribing to a newsletter, clicking on an ad, or simply staying on the website for more than 15 seconds.
Split-testing is a strategy that helps you get more of your visitors take the desired action.
At ABCD Impact, we run these split-tests for our clients. That's why we have interesting data and experience in this field - and we're happy to share them with you in this post.
During the WP Summit, a recorded online event especially for online business owners who use WordPress, I used split-testing to get more attendees for the event.
The summit ended after ten days, and I ended up with 1,100 subscribers.
On my blog, I run split-tests to increase the conversion rate of my opt-in form in the sidebar.
When I started the experiment, I had a devastating opt-in rate of 0.16%. After testing a few variations with 4,000 visitors, I increased that conversion rate by 255.9%. Here's the full split-testing case study if you're interested.
I'm not telling you this to brag or promote my business, but to show you the power of split-testing done right. The great thing is that you can run split tests with a free tool.
Are you ready to learn a new skill that could potentially double the results you get from your website?
Let's get started!
Set Up Your Optimizely Account
For this tutorial, we'll use a free account at Optimizely.com. There are a few alternatives to Optimizely like Nelio A/B Testing or Visual Website Optimizer, but I found Optimizely to be straight-forward to use--and it's free.
So, head over to Optimizely and enter your details to create the free account.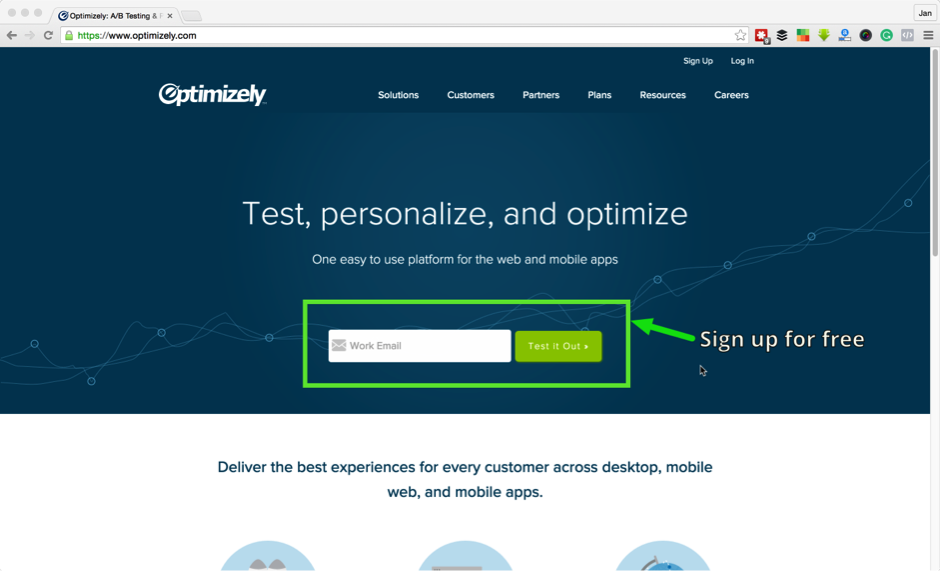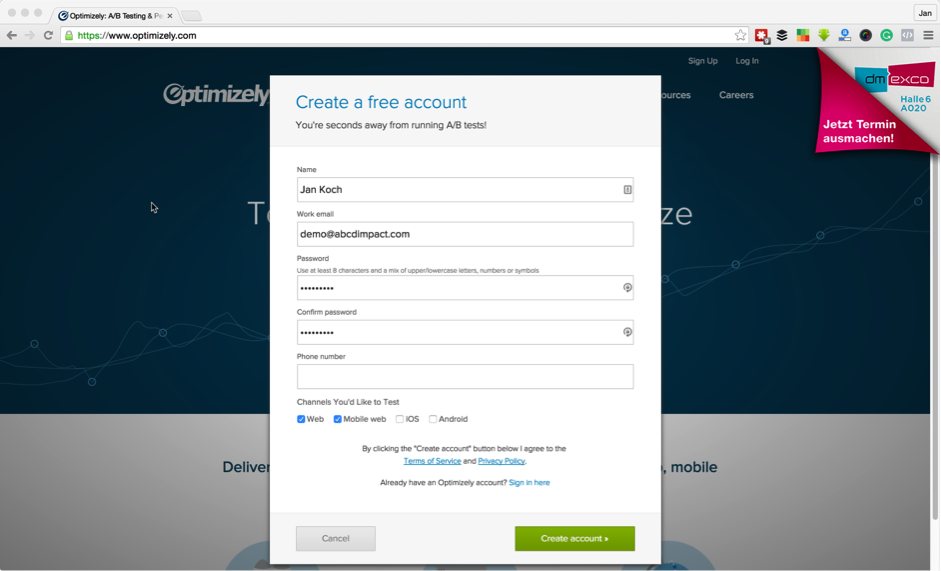 Once you entered your data, Optimizely lets you select what type of split-test you want to run. As we're testing a WordPress website, it makes sense to select the "Web Project".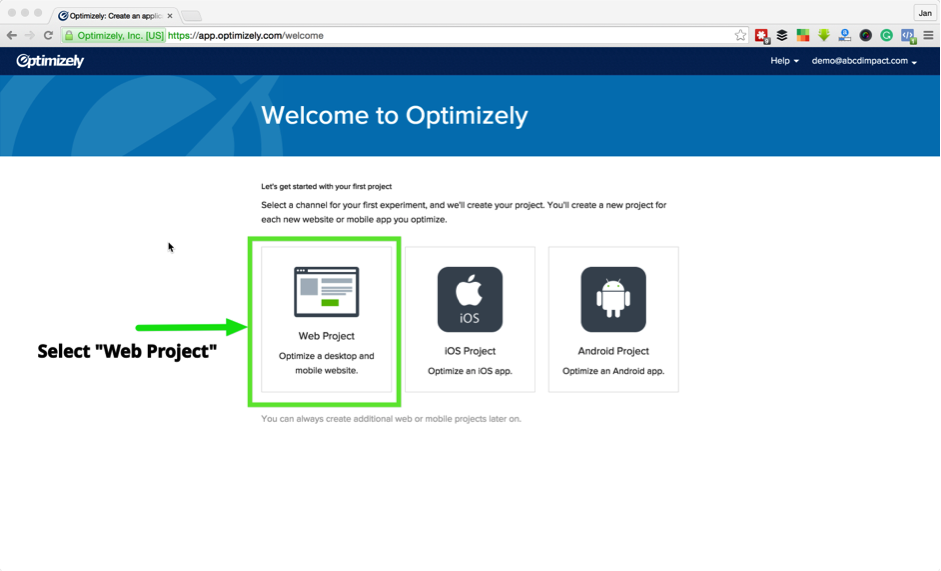 To set up the split-test, Optimizely needs to know which website you want to run the test on. In this tutorial we're running the test on the home page of the WP Summit, that's why I'm entering the full URL: http://thewpsummit.com.
What Optimizely now does is to load your website into the editor. It automatically sets up the basic configuration for your split-test, so that you can start editing your WordPress site right away.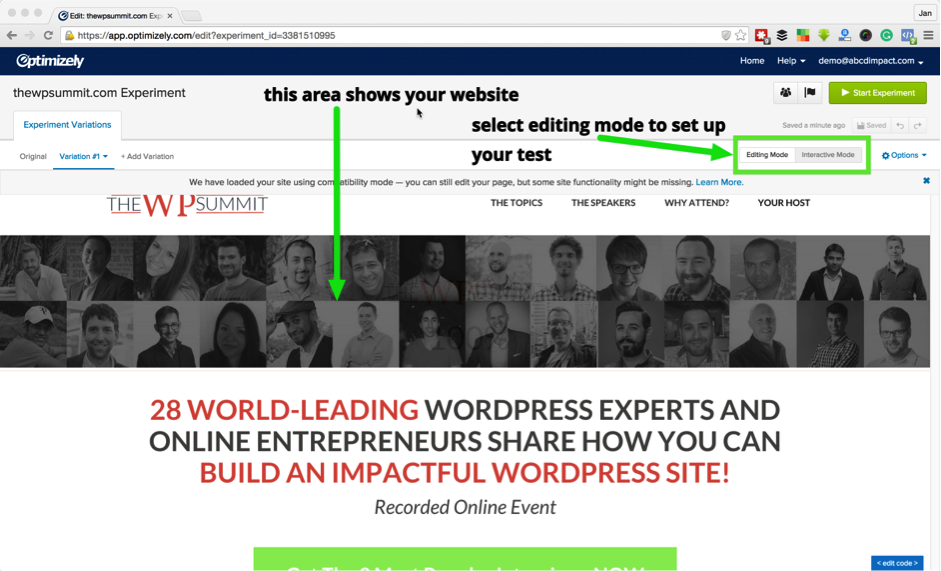 In this tutorial, we'll run an A/B test, so we're testing the original home page against a modified one.
There are several split-testing best practices you want to follow if you have no experience with this, but explaining those would make this tutorial way too long.
Here's a post on A/B testing best practices that will give you all information you need to run your first test successfully.
Back to the tutorial.
In the editor, left-click on the element you want to edit. It brings up a small context menu in which you can decide how you want to edit the element.
You can edit texts, replace images, hide elements, or add new ones - it's totally up to you. You can also set up a URL redirect, so you can test two completely different layouts you built inside WordPress (but that's stuff for another tutorial).
For demonstration purpose, I'll click on the main headline and show you how to edit the text.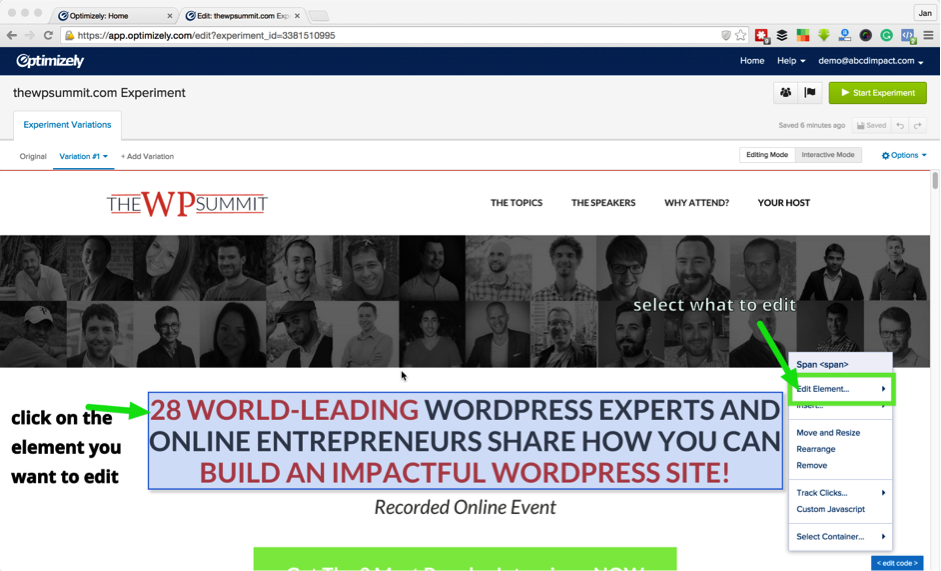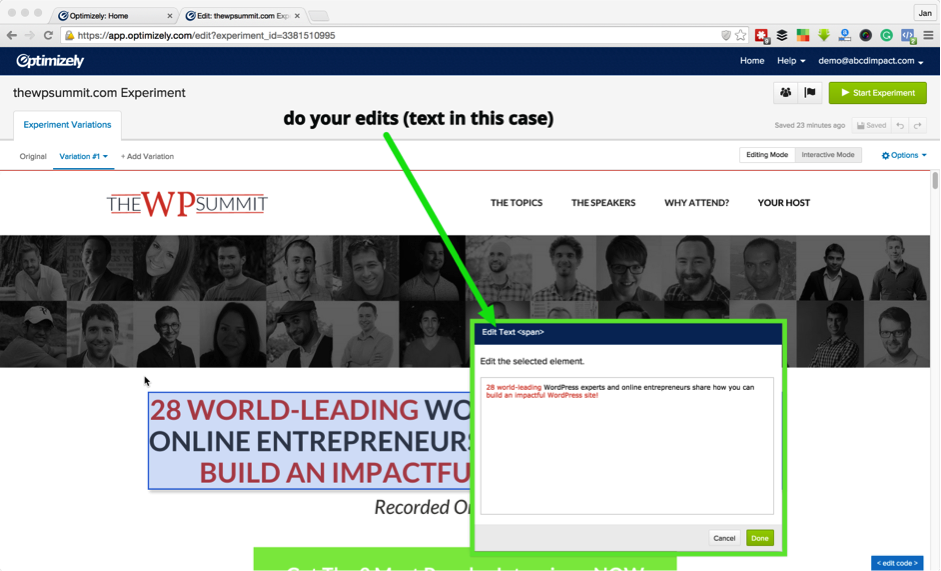 When did all edits, don't forget to save your changes. Optimizely will ask you to save them before you start the experiment, but better be safe than sorry.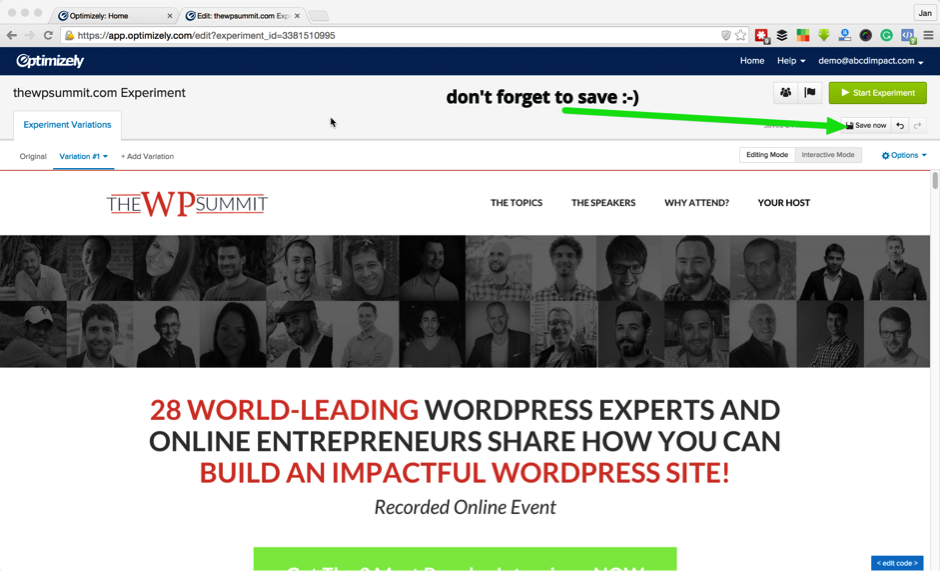 Then you can start the experiment by clicking on the green "Start Experiment" button.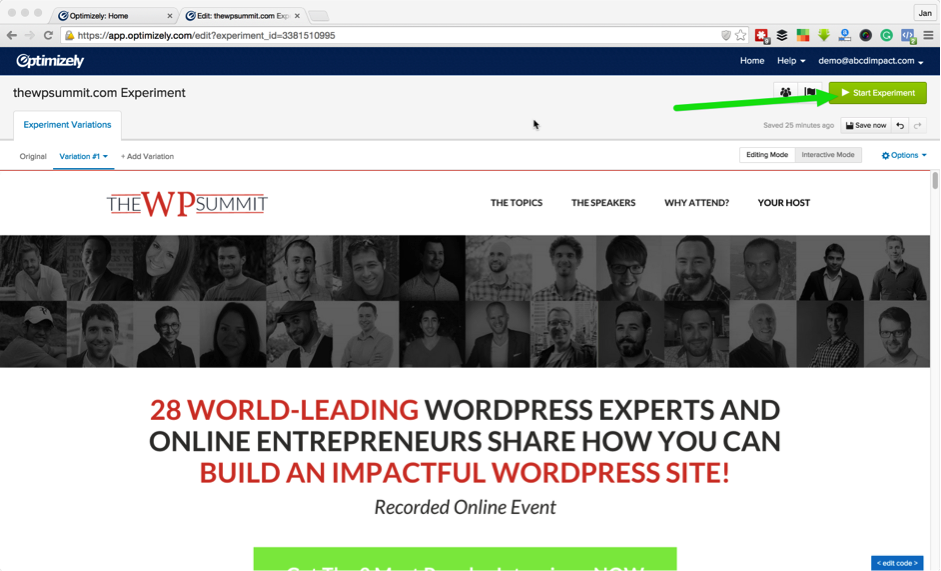 Optimizely will now ask you to sign up for their free Starter Plan. Without that, you won't be able to deploy the split-test to your website. However, this is free and subscribing to that Starter Plan won't change that.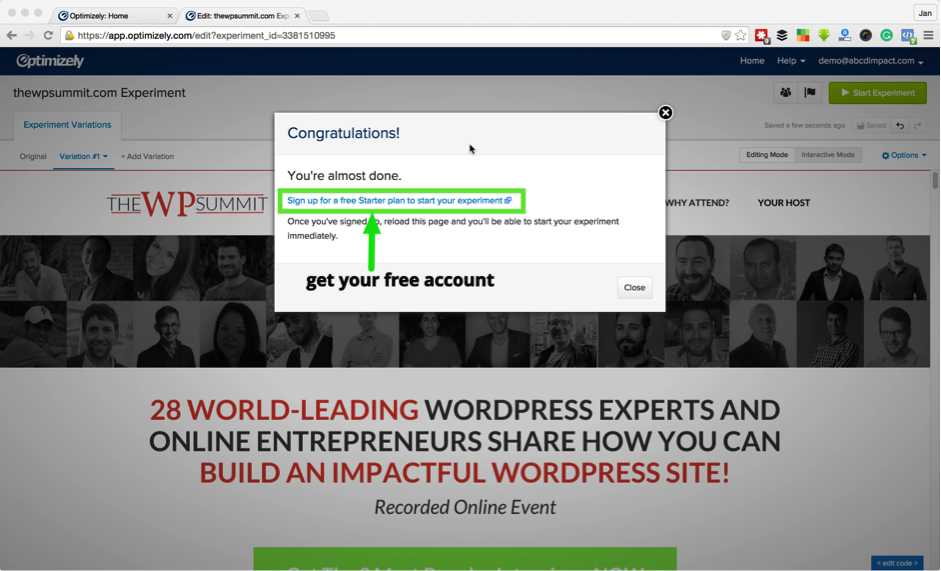 Once you're subscribed, head back to your "Home" section in Optimizely and click on the "Settings" tab. This view should show you the tracking code that you need to add to your website - otherwise Optimizely can't run.
Copy that tracking code to your clipboard, as we'll need it later. You can of course just email that code to your developer as well.
Now that you've got the tracking code, it's time to log in to your WordPress website. But don't close Optimizely yet, we'll need it for one last step.
I also like to use a free plugin called "Tracking Code Manager" to add the Optimizely code to any website I work on. If you're comfortable with code, you can enqueue that script directly in the header.php of your child theme as well.
Did the last sentence confuse you? Ok, let's go on with the Tracking Code Manager plugin then. If you don't have it already, go to "Plugins" -> "Add New" and install it from the WordPress plugin directory.
When you installed the plugin, open its settings page in "Settings" -> "Tracking Code Manager".
It'll show you a button to add a new tracking code, which you have to do to add the Optimizely code to your site.
Here's how to configure the tracking code:
After saving the code in your WordPress admin area, head back over to Optimizely.
There's only one thing left to do ...
While you configured and started the split-test experiment already, you need to tell Optimizely that the website now is connected using the tracking code.
To do so, you need to go to the "Home" section in your Optimizely account and start the experiment itself.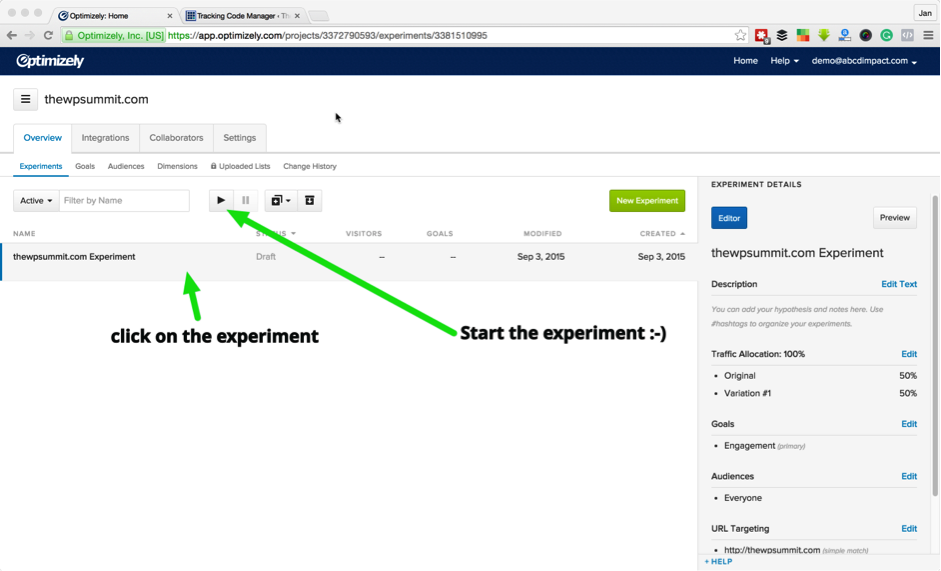 Only then you're split-test will be live.
Here's a pro tip:
If you're using a cache on your website or your host has caching integrated, make sure to delete that cache. Otherwise, Optimizely might not see the tracking code on your site and thus can't run the split-test.
Now, these were 14 graphics showing you how to set up a split-test on your WordPress site with a free tool.
I thought it might also be helpful to see this process in a video, so here you go: