Before you start: what do you know about SEO split-testing? If you're unfamiliar with the principles of statistical SEO split-testing and how SplitSignal works, we suggest you start here or request a demo. 
---
As we always do, we have asked our social media followers to vote on what they think will happen before we publish our results: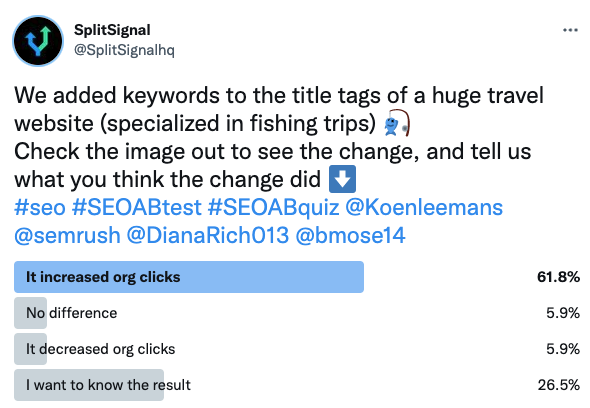 This is how they voted. Unsurprisingly our audiences did not disappoint us with a very high guess rate. Of course, we have also asked them to give us a bit of an explanation as to why they voted the way they did. The votes were gathered on Twitter, while we took the explanations from wherever we could get them (mostly LinkedIn).
So, let's take a look at what some reputable digital marketers had to say about this attempt to improve the rankings of our client.
Uroš Stanimirović, Content Writer & Editor / Social Media Editor at Brid Video, DOO:
Intuitively, I'd say the CTR would improve.
However, I'm also curious to know the position the website currently ranks at. Are we talking about pos 1–3 or top 10 on page 1?
The lower P1 spots need to stand out more with the titles to draw attention, so I think the % change for those could be higher than for the top 3 positions (which get clicked most of the time anyway).
Trevor Stolber, Digital Marketer at STOLBER.com:
I think for this specific case it will get more clicks with the addition to the title—some I am going with after is positive.
Sandra Parra, Digital Marketing Manager at Discovery Cube:
I'm clicking on the complete guide 🤗
The Case Study
Greetings, SEO enthusiasts!
Today, we have a great SEO split test for you to go through. This one comes from a combination of two concepts in SEO. The first is considered "common knowledge"—"add keywords to your title" and one that most search engine marketers forget—"Uniformity."
Now, to be clear, we know that most people probably know that following some rules in terms of title tags, meta descriptions, or other factors of your blog posts will help you. Also, many people make sure to keep their pages looking the same.
But, the fact is, most people don't think about it as an actual thing. In this SEO case study, we will take a look at precisely what happens when you combine these techniques to try and improve your search engine rankings.
Allow us to explain.
The Hypothesis
The testing website we got to "play" with is a big fishing-oriented website. They used this as the original setup that was the basis for our control group: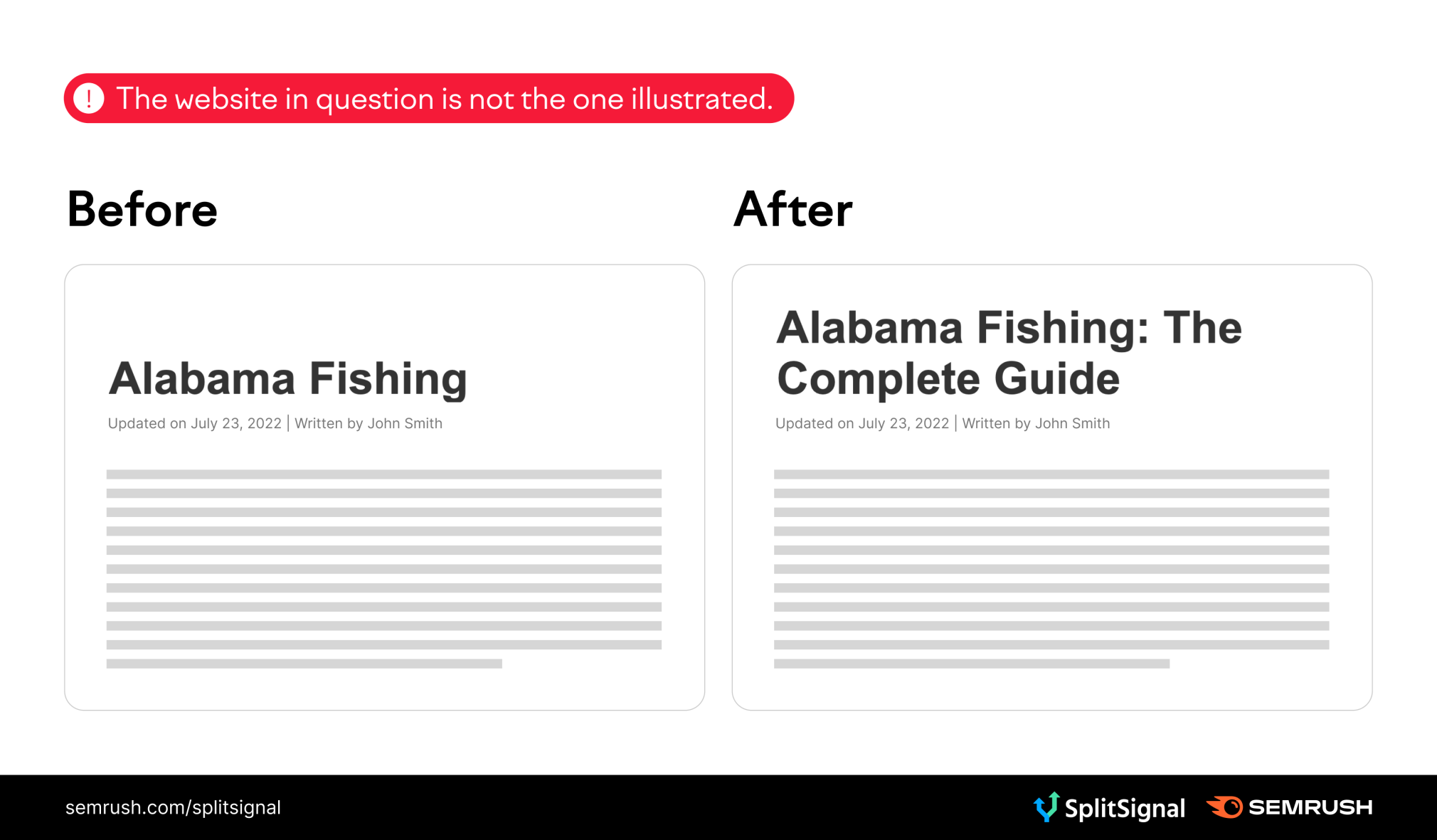 As you can see, they used a very bare-bones approach with their titles. So, we decided to try and validate whether or not this double-whammy of an approach would be enough to give us a statistically significant positive change on our testing pages.
The Test
As always, we used our fantastic tool SplitSignal to set up the test and analyze the results. And we have decided to run this test on around 220 pages. We have changed roughly half of those pages to include a long-term keyword at the end. In this case, it was "Fishing: The Complete Guide" after the name of every city for location.
Now, 220 pages wouldn't be too hard to test even manually, but, thankfully, we didn't have to. We used SplitSignal to make these changes in literally 2 minutes (we measured).
All we needed to do was install a single line of JavaScript code on the website and use the tool's basic functionality to make the changes.
The Results
How to Read SplitSignal Test Results?
We ran this test for a total of 23 days. And, this time around, there were no nasty surprises. The test group of pages came back POSITIVE compared to the control group.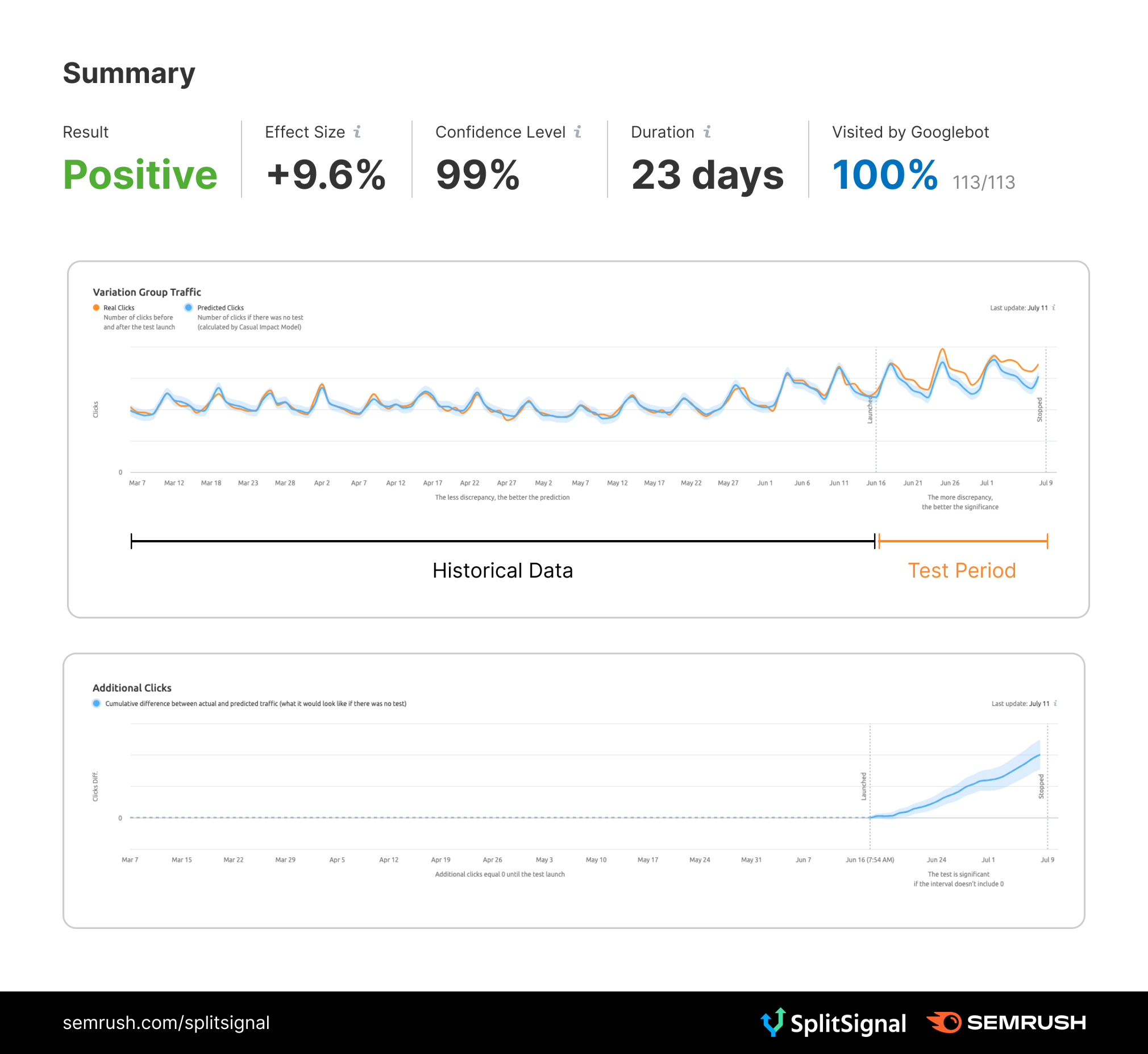 So, versions of pages with additional keywords in the title performed better. And not just a little. In this SEO test, we expected to see a benefit, but we had a 9.6% increase with a confidence level of almost 100%.
Understanding the Test Results
Don't you love it when test results make sense? We most certainly do. While getting unexpected results may be more helpful in the long run, there is just something so satisfying when you get what's going on.
So, why do we think this works?
Well, if you ask John Mueller, he will tell you that title tags are a tiny ranking factor. But is that true? Time and time again, we have tested this and found that changes to title tags can give us excellent results.
Now, one thing that John is definitely right about is that your title tags should accurately represent what the page is about. And, of course, adding "Fishing: The Complete Guide" to the location pages of this website sends a very clear signal to Google and the users regarding what this page is about.
However, what we think is really the most important aspect of this change is the user experience. Namely, when someone is searching for fishing-related content, they have certain SERP results in mind. Even if they don't even know what they are looking for, they will turn toward the results with more descriptors.
After all, which would you be more likely to click on?
A title named "Alabama" or a title that says "Alabama Fishing: The Complete Guide"?
We know which title we would choose.
Furthermore, adding keywords to the title isn't going to hurt your efforts even without this argument. Titles are a ranking signal, as has been made abundantly clear by numerous tests we have done before.
By adding this title to your page, you are telling Google exactly what the content inside will represent. Now, will Google still sometimes ignore your efforts and replace your title with their own alternative version? Sometimes.
But, by making your titles more contextual in nature, you will reduce the odds of Google's algorithm feeling the need to interject.
Now, let's talk about the Uniformity of the title tags. Naturally, nothing suggests that Google will care about it, so should you? As with all things in SEO—it depends. But, our client here has a huge blog, and they publish various different types of content. So, by making this change, they have sent a signal to both Google and all of their visitors that these "complete guides" are indeed location-based guidebooks for their customers to use as they choose the location for their next fishing trip.
And, after all, while SEO experts do aim for Google's approval, the bottom line of our work is that our visitors need to be happy with what they see. Even if you don't see direct SERP benefits, these quality-of-life changes should not be ignored.
What do you think about this test and our ideas?
If you want to run a few tests of your own, please contact our SplitSignal Team.